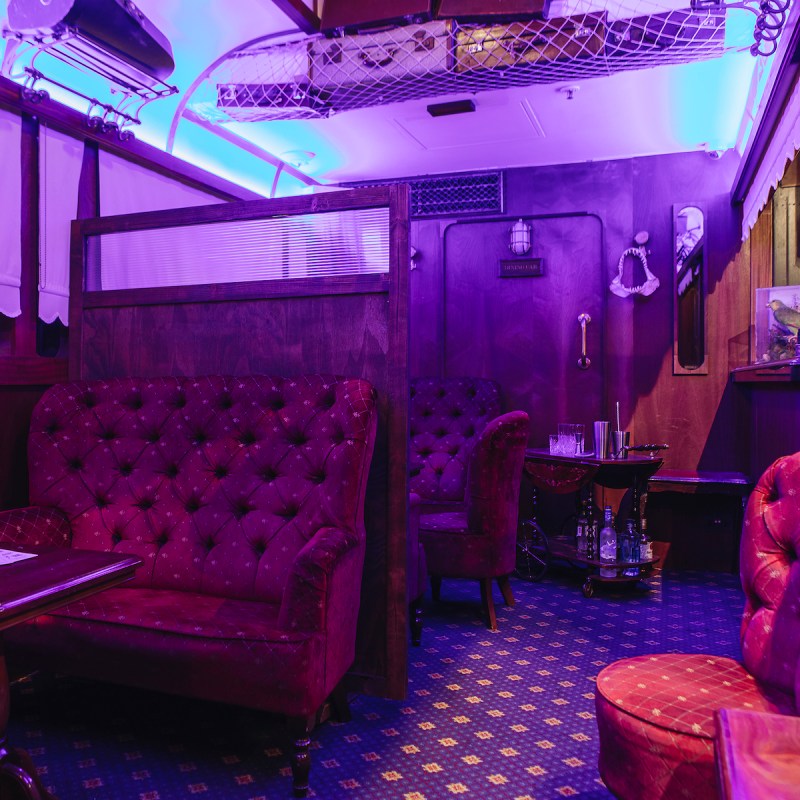 I don't know what it is about trains, but they generally have that extra bit of magic when it comes to travel. Whether it is just that touch of old-fashioned travel, or the beauty of the carriages together with the choo-choo feeling of going on an outing, they still always intrigue me. Even if they are not going anywhere.
And it looks like I am not the only one. There is a definite attraction in train journeys, luxurious and abroad, or on a budget closer to home, but there seems to be an equal attraction of staying overnight in vintage carriages that have long stopped chugging along on the rails.
There is an appealing selection of vintage trains that have been turned into various places to stay, from luxurious to budget, from hotels to bed & breakfasts, from quirky to classy. And you don't need to be a train enthusiast to love swapping your hotel for a stay on a train, you just need to love the idea of travel.
Here I have selected a few examples of what you can find around the globe if you want to forgo a traditional hotel for a vintage train carriage.
1. Kruger Shalati
Kruger National Park, South Africa
This one is on the top of my list when it comes to something a little out of the ordinary and featured in my Most Unusual Places to Vacation just for that reason. This vintage train is parked on a bridge spanning a valley right in the Kruger National Park and offers luxury cabins, a bar and restaurant inside the train, and, adjacent to it, a pool and decks to sit and enjoy the spectacular views. You can tour the area from the train or use it as a stop-off when on a road trip.
Pro Tip: Kruger National Park is one of the most-visited destinations in Africa, so here is what you need to know before you go. 
2. Undara Experience
Queensland, Australia
In Australia's Outback, a few hours' drive from Cairns on the Queensland coast, you find a volcanic national park that offers lava tubes, craters, amazing landscapes in the middle of nowhere, plenty of kangaroos and other wildlife, interesting hikes and experiences, a bush breakfast with your bread toasted on an open fire, and more. But what did I like best about this place? It was staying in a disused, vintage railway carriage rather than the cabins or tents provided. Admittedly, it was my first time sleeping on a non-moving train, but it was such fun that I felt like a kid on an adventure. Not luxurious, with no en-suites, but instead shared bathrooms in another carriage, but fun, nevertheless.
Pro Tip: There are plenty of self-guided walks around the area, but make sure you go on at least one guided walk to learn about the wildlife in this unusual habitat. There are around 120 species of birds alone. Plus, lots of bats …
3. Seabank Selsey
West Sussex, UK
Imagine a place to stay, painted cream and aqua, with blue and white blinds on the windows, blue and turquoise accents, and the windows looking out across the beach and the sea. Not quite the Hamptons, but Selsey, on England's West Sussex coast. This is a stand-alone self-catering house, which has been built around two vintage train carriages, making for quirky and ever-so pretty bedrooms. You are secluded on the beach, so close you can nearly touch the water from the front door, but also near the pretty town of Chichester.
Pro Tip: When you go for long walks on the beach, don't miss the scenic Selsey Lifeboat Station, particularly photogenic during the golden hour of the afternoon.
4. The Old Railway Station
Petworth, UK
And while you are in West Sussex, you can also go and stay in the picture-perfect little railway station in Petworth, just inland from Chichester. Alongside this lovely, historic station house dating to the mid-1800s, which also has rooms, there are some gorgeous vintage Pullman carriages. Lovingly restored, with gleaming wood paneling and large comfy beds, antique furniture, and old-fashioned glamour but modern amenities. In the station building, there is a tearoom, and you can even have your breakfast or afternoon tea delivered to your Pullman Carriage.
Pro Tip: Don't miss a visit to Petworth House and Park, a Tudor manor house dubbed the English answer to Versailles. 
5. Train Station Inn
Tatamagouche, Nova Scotia, Canada
A caboose is — as you all probably know but I only recently learned — a railway wagon that provided accommodation for crewmembers and was typically attached to the rear of a train. At the Train Station Inn, there are several cabooses ready and waiting for guests. These are seriously quaint little carriages in an even quainter setting. Not only do they park outside a train station, but Tatamagouche lies right on the Trans Canada Trail, opposite Prince Edward Island in the Northumberland Strait, off the Gulf of St. Lawrence. The Inn provides not just cabooses, each different from the next by color, design, age, and history, but also a bar and restaurant.
Pro Tip: Between June and September, there is live music on the platform every Wednesday and Friday from 5:30 p.m.–7:30 p.m.
6. Ruwenzori
Mudgee, New South Wales, Australia 
Mudgee, 165 miles inland from Sydney, lies in lush green bushland, surrounded by lakes and valleys. The region is known for its wine, and the UNESCO World Heritage-listed Wollemi National Park offers great hikes as well as countless other activities. And after a day's exploring, you can stay in Ruwenzori, in a selection of vintage railway wagons, ranging from luxury Pullman carriages to a caboose, to a guard's van. All meticulously restored and placed in a simply gorgeous setting, where you can drink in the views, while also drinking the locally grown wine. The site has a game room, various dining options, and, very appropriately, a railway museum.
Pro Tip: This is an outdoorsy as well as a foodie destination. There are several hikes, and the region is studded with vineyards, olive growers, cheese makers, honey producers, and plenty of good restaurants.
7. The Chattanooga Choo Choo Hotel
Chattanooga, Tennessee
Apart from the absolutely fabulous name for this hotel, the Choo Choo Hotel in downtown Chattanooga is located in a historic railway terminal that was opened in 1909 as the first train station in the South and today is not only listed on the National Register of Historic Places but also offers guests an all-round train-cum-hotel experience. Inside the terminal building, there are some guestrooms and suites, as well as an in-house dining and bar area in an industrial setting. The platforms have been modified to accommodate space for games and dining, and there are a few train cars that also offer accommodations in beautifully refurbished wagons. At the time of writing, these were temporarily unavailable, but will hopefully be again soon.
Pro Tip: Chattanooga has been voted one of the top places to see in the United States and offers plenty to see and do, so take a train, and stay awhile.
8. Private Cabin With Red Train Caboose
Knox, Maine
This guest space allows you to get the best of both worlds: to have the opportunity to sleep in a caboose wagon or choose to stay in a cabin on a farm in Knox — rural Maine. This Airbnb property offers two different options, which, however, could be rented together. It is ideal for an entire family traveling together, accommodating a train enthusiast as well as maybe grandchildren who will be thrilled with the countless chickens and ducks, an emu, and goats; plus the visiting wildlife from the surrounding countryside. There is a hike nearby and a lot of peace and quiet.
Pro Tip: According to the host, the season for the caboose only runs between May and October because of the exposed water lines to the wagon.
9. Mr Fogg's
London, UK
And, at the end of the list, something a little different. Not a hotel, but instead a cocktail bar just between Charing Cross Station and Covent Garden in London. That is one train connection, but there is another: the venue has two life-sized Victorian train carriages onsite, offering Mr. Fogg's Society of Exploration. A little bit of steampunk, a little Phileas Fogg, as the name suggests, some plush railway seats, lots of intriguing knick-knacks, and some extraordinary mixology all make this unusual cocktail bar a worthy stop-off point in London.
Pro Tip: To stay the night at another railway-inspired hotel, treat yourself to the St. Pancras Renaissance Hotel at St. Pancras Station. Not only is this the most beautiful station in London, if not Europe, its international trains also take you straight to Paris, and who can resist that?
A Note On Accessibility
With the majority of the above-mentioned types of accommodation being vintage railway wagons, accessibility can be a problem. Please check with the individual destination to get the correct information.
Train travel, whether modern or vintage, still captures the imagination of many travelers: