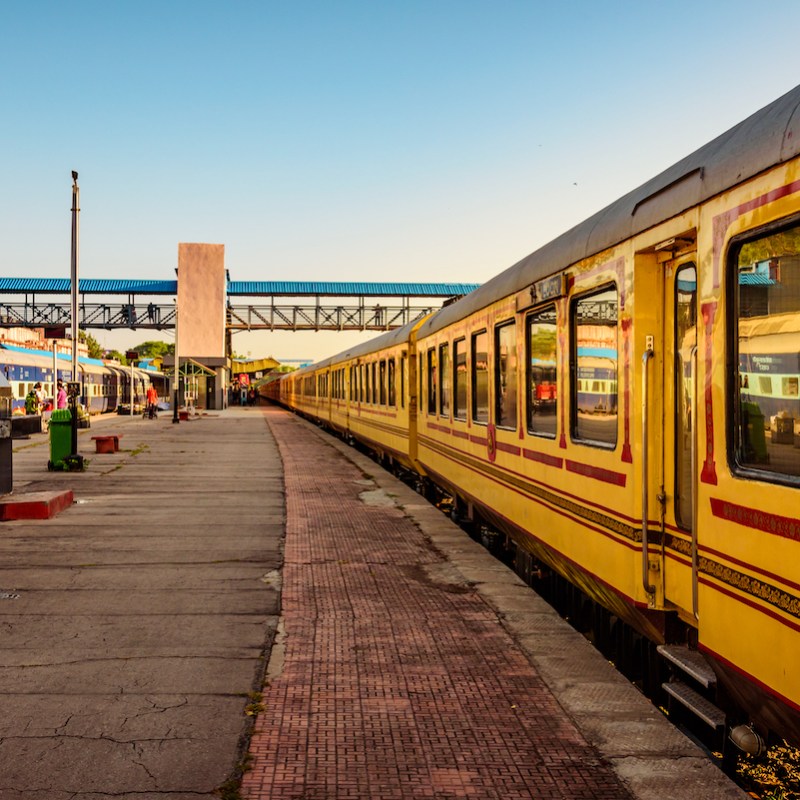 There is not much that I love better than hopping on a train heading toward a great destination, even better if there are amazing stops along the way, and plenty of pampering involved when on board. With train travel, it is just as much the journey as the destination that matters. In the itineraries listed below, the journey takes precedence over the destination, as a trip on a luxurious train is like flying first class, only for a few days in a row, plus you get to move about and get out for day trips.
A few years ago, I was lucky enough to travel on the Palace on Wheels (pictured) through northern India with my husband and daughter. We had a great cabin with an en-suite bathroom and a butler dedicated to looking after the three suites in our carriage and who took the opportunity to spoil my daughter rotten. And on day trips, we received preferential treatment everywhere, including being allowed onto the grounds of the Taj Mahal before it opened to the public in the morning.
It was a wonderful week-long journey, and I remember one German couple, who lived in Mexico, and who were on a world circumnavigation by luxury train. They had boarded our train after having just crossed Thailand into Singapore and showed us the most wonderful pictures.
This still remains a dream for me, most likely one that will not happen because however wonderful these journeys are, they also cost a lot more than a normal person's travel budget will allow, unless for the occasional special treat.
But that is what these luxury train journeys are supposed to be: something to dream about, to aim for, and to plan for an upcoming special treat. So read on and see which train you will board one day.
1. Palace On Wheels, Rajasthan, India
While there are a few more luxury train journeys through India now, taking in different parts of the vast country, this one was the first and is still the best known. The Palace on Wheels sets off from Delhi and stops in the Rajasthani cities of Jaipur, Jaisalmer, Chittorgarh, Udaipur, Jodhpur, Agra, and more, with even an early morning tiger safari along the way.
You will see historic sights such as the pink Palace of the Winds and stop for lunch in former palaces of Maharajas, such as the amazing Palace in the Lake in Udaipur, which many will know from James Bond's Octopussy. You'll also visit imposing forts such as the towering Amber Fort before you visit the Taj Mahal at the climax of the journey.
Every day brings another jaw-dropping destination, and the only negative for me was that while you have some time on the train for meals or drinks in the bar, I wished that there was a little more time to enjoy the luxuries of the train itself.
Pro Tip: Spend a few days in Delhi before you board the train to get over any jetlag and to adjust to India. India is an assault on all the senses: The crowds, the smells, the sights, the amazing history all take a while to get used to. So book a nice hotel and a few excursions in and around Delhi first to get into the mood.
2. Venice Simplon-Orient-Express, Paris To Istanbul
The Orient Express is synonymous with luxury train travel and going along the old route, which connected Western Europe to the gateway to the Orient in style, is still a journey of a lifetime. The Belmond Venice Simplon-Orient-Express brings back the glamour of the Golden Days of travel, the style of which is often sadly lacking on many modern journeys, however pricey. On this trip, you will set off from Paris' Gare de l' Est, and over a 10-day journey enjoy stops in Budapest, Sinaia, Bucharest, Romania, and Bulgaria before reaching Istanbul. On this trip, the train is the main feature, as you will spend days being pampered with superior food, plenty of champagne, and vistas from the windows as you cross the Alps, follow along the Danube, and see the ever-changing countryside Europe has to offer.
Pro Tip: You can also experience the luxury of the Orient Express on shorter trips, such as this one from London to Venice, allowing you to enjoy the French countryside, crossing the Alps and northern Italy, while enjoying the riches of the journey.
3. Seven Stars, Kyushu, Japan
The southwestern island of Kyushu is known for its stunning volcanic landscape dotted with national parks and hot springs. The Seven Stars train travels through the landscape with thoughtfully planned stops that include a traditional pottery experience and a beautiful lakeside, and an overnight stay in a traditional Ryokan (Japanese inn), depending on whether you choose a 2-day, 1-night or 4-day, 3-night itinerary.
But it is the train that is the most important player on this trip: Custom-built as the world's most luxurious sleeper train, the seven carriages gleam with wooden parquet flooring, wood paneling interspersed with intricate artisan fretwork, all dotted with the shiny brass logo of the company, and, yes, the en-suite bathrooms feature not only hand-made porcelain basins and separate showers, but also a so-called singing and dancing Japanese toilet.
When in the restaurant car, all plates, or bento-boxes of food are like a piece of art each time and offer the best of Japanese cuisine.
Pro Tip: The journey starts in Fukuoka, the island's capital, which you will fly into via Tokyo, so allow for some extra time for a layover.
4. El Transcantábrico Gran Lujo, Spain
This luxurious train trip offers you the chance to tick two great journeys in one: Walk the Camino de Santiago in northern Spain, a hard trek allowing you to think and go back to basics, and then, as a reward, take a luxury train back the same way, taking your time, sitting back and enjoying the scenery, without any of the hardship. The journey is an 8-day, 7-night extravaganza connecting the foodie city of San Sebastian with Santiago de Compostela, allowing you to take in numerous stops, including Bilbao, along the way.
Pro Tip: To make sure you have some non-crumpled nice clothes left for the train and don't have to worry about carrying your suitcase while trekking along the Camino, send the luggage ahead.
5. Blue Train And Rovos Rail, South Africa
In South Africa, along the route between Pretoria and Cape Town, you are torn between a choice of two luxury trains traveling down the exact same route: the Blue Train and Rovos Rail. Both tout themselves as the most luxurious in the world — and both are truly opulent, offering the same stops along the way, such as at Kimberley for the mining museum. Both trains feature rich wood-paneled decor, butler service, fine dining, and luxurious cabins. The main difference seems to be that Rovos Rail takes a day longer to reach Cape Town, making it somewhat more expensive. So which one you choose really depends on whether you want to spend longer on a sumptuous train, looking out at the magnificent African landscapes unfolding before you, or whether two nights on a train are enough.
Pro Tip: Rovos Rail does offer other routes besides the above, including one to Victoria Falls and a 9-day safari spectacular. You have options — if your budget or occasion allows it.
6. The Ghan, Australia
Traveling right across Australia is a worthwhile, but seriously hard, and at times somewhat tedious, undertaking. Unless you hop on a train, that is. The Ghan train takes you from Adelaide in South Australia to Darwin in the Northern Territory, neatly bisecting Australia. A journey of 3-days, 2-nights through the Outback and the Red Centre, with stops in Marla, Alice Springs, and Katherine. Though not quite as luxurious as some of the trains mentioned here, it makes up for it with scenery and the fact that you are crossing an entire country and continent. That said, the Platinum Service pampers you rather well throughout the journey.
Pro Tip: You can also opt for the Ghan Expedition, taking one extra day and night, with more excursions.
7. Belmond Andean Explorer, Peru
This is one of the highest train journeys in the world, and one of the most elegant. With only 48 passengers maximum on board the Andean Explorer, and two dining and two bar cars looking after them, it features an interior of understated sophistication and colorful hand-woven cushions dotted throughout. There are four different routes to choose from, all lasting one or two nights, making this still a treat, but a more manageable treat. On board, you will dine in style, drink champagne in the piano bar car, and even have access to a spa carriage while enjoying marvelous views of Peru and the Peruvian Andes. From Cusco to Lake Titicaca, you will see Peru from its best side.
Pro Tip: If, like my husband, you are prone to altitude sickness, a slow train journey is a good way to adjust to the altitude of some 14,000 feet. Also, each cabin is equipped with extra oxygen, should you require a boost. And then, upon arrival, you are ready to go and explore Peru in more detail.