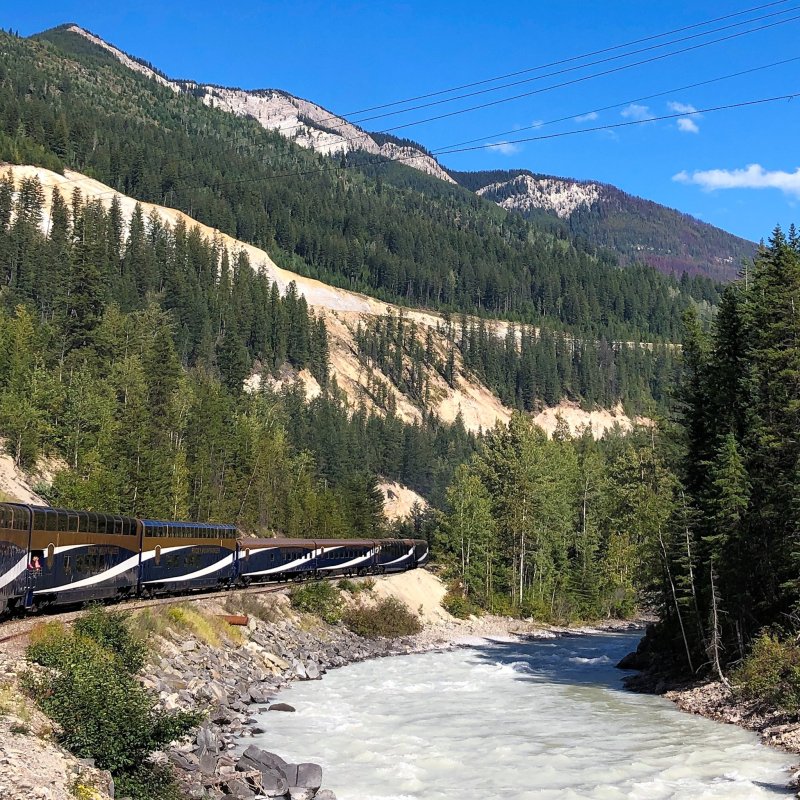 A Rocky Mountaineer rail excursion is high on many travelers' wish lists, and we were no exception. The dreamy television commercials and brilliant catalog photography depicting resplendent Western Canada landscapes had long beckoned us. It's not an inexpensive vacation, but after much consideration, we booked it.
Rocky Mountaineer is a Vancouver-based luxury rail-tour company operating three routes through the Canadian Rockies. Two- and three-day routes can be combined for a round trip to or from Vancouver. Land extensions also can be added.
Two service levels are offered, SilverLeaf and GoldLeaf. Both are impeccable, but GoldLeaf Service, which we selected, comes with significant extras and a higher price tag. I'll explain the differences as you read further.
Our route, First Passage to the West, is the most popular. It's a two-day journey that started in Vancouver and ended in Banff. (You can travel in the reverse direction as well.) We traversed nearly 600 miles and scaled more than 4,000 feet in altitude. Along the way, the landscape spectrum ranged from crystal waters to rugged wilderness, and from old-growth forest to snow-crested mountains. We spotted herds of bighorn sheep and a couple of camera-shy bears.
Was our Rocky Mountaineer train trip worth the cost? Absolutely! Here's why:
1. A Spirited Send-Off
Early on the morning of the first day, we entered the grand hall at the Rocky Mountaineer Station in Vancouver. It's a massive, high-ceilinged space with a glass curtain wall separating us from the gleaming navy-and-gold train we would soon board. A musician seated at a lacquered grand piano filled the air with strains of "Waltzing Matilda," and uniformed butlers passed out orange juice, tea, and coffee.
Our attention was called to a skirted podium flanked by flags of Canada, British Columbia, and Rocky Mountaineer. After a brief welcome speech by corporate VIPs, we were invited to follow a red carpet to our respective coaches. A bagpiper in full regalia accompanied us with marching tunes. As the train pulled out of the station, a retinue of ground-staffers lined up alongside the tracks and waved us off.
2. Superb Seating
Our assigned leather-bound seats were ultra-comfy for lounging. My husband is 6 feet, 3 inches tall, and he had ample room for his sprawling legs and stiletto elbows without jostling me. All seats recline, and they can rotate 180 degrees, so parties of four can sit face-to-face. GoldLeaf seats also have seat warmers.
Wi-Fi isn't available, but electrical outlets and charging ports keep your electronics at peak performance.
A GoldLeaf feature we loved is coaches are double-decker with seats on the upper level. That meant we sat higher above ground. It was like riding in an SUV rather than in a Corvette. The dining room and two modern, accessible restrooms are on the lower level. If you're unsure about navigating the enclosed spiral staircase between floors, take the automated lift. SilverLeaf coaches and restrooms are on one level.
3. Windows To The World
Custom-designed coaches feature oversized dome windows to maximize your viewing. The windows are kept spotless, so go ahead and take photographs from your seat. You'll avoid glare by turning off the flash and pressing your camera lens against the glass.
In SilverLeaf coaches, the upper windows curve gently overhead. GoldLeaf's more expansive windows wrap most of the roof. On hot, sweltering days, hosts can flick a switch to tint them automatically.
4. A Top-Flight Team
All Rocky Mountaineer coaches are staffed by two to four energetic hosts who keep the drinks and snacks flowing. Their entertaining patter recounts tales of early pioneers, the logging industry past and present, wildlife habitats, and engineering marvels like the bridges and tunnels that made British Columbia accessible to the rest of Canada.
Hosts alert you to upcoming major sights, so you have time to get your camera ready. Trains travel at a leisurely 35 miles an hour, but they slow down before scenic photo ops.
5. Route Reading
At our seats, we found two souvenir publications that supplemented our hosts' commentary. We followed our route in Milepost, a handsome tabloid newspaper that explains prominent features at various trackside mile markers. It also contains maps, photographs, and articles about Western Canada's history, lore, flora, and fauna. RM is a 4-color magazine chock-full of in-depth articles and gorgeous photography of regional culture and attractions.
6. Delectable Dining And Drinking
The dining experience on a Rocky Mountaineer train is reminiscent of a fine restaurant, with starched white tablecloths and attention to the smallest details. Daily fare includes a gourmet breakfast and lunch plus snacks and an all-day full bar. Menus are prepared under the direction of internationally renowned executive chefs Frederic Couton and Jean Pierre Guerin.
Mealtime is another amenity where GoldLeaf Service shines. For starters, the menus are more extensive. Also, SilverLeaf guests dine at their seats.
GoldLeaf guests retreat to the graciously appointed dining room with large picture windows. Meals are served in two shifts according to seat numbers. If you are in the first seating one day, you'll be in the second seating on the other. While you wait for your second-shift breakfast, hosts bring you a warm cinnamon scone with butter and jam at your seat to tide you over.
One of our breakfast menus listed freshly baked pastry, a fruit creation, and a choice of 7 main dishes such as eggs Benedict and an egg souffle with spinach and feta. A 3-course lunch consisted of soup du jour or seasonal salad; 5 entrees including roasted Fraser Valley chicken and oven-baked Pacific salmon with loads of trimmings; and a chocolaty dessert. Vegetarian and gluten-free options are available.
On the all-day beverage list are British Columbia wine and beers, name-brand spirits, and non-alcoholic choices. I confess I grew quite fond of Sumac Ridge unoaked chardonnay from the Okanagan Valley!
7. Outdoor Observatories
At times we wanted to step outside to breathe authentic Rockies air and grab some unimpeded nature photographs. GoldLeaf coaches are designed with an exclusive, full-width viewing platform open on both sides. A nifty shot to take is when the tracks round a curve: Lean over the railing a few inches and capture the train heading into the landscape. In SilverLeaf, the outdoor space is a small platform between coaches.
8. Sweet Slumber
Rocky Mountaineer travels in daylight only, so you'll sleep in a real bed in a real hotel rather than a cramped train roomette. After 8 to 10 hours of mostly sitting, we were ready to stretch. Hotel assignments, which are included in the overall price, are made according to SilverLeaf or GoldLeaf service. Rocky Mountaineer promises moderate standard accommodations with essential services, but ours exceeded that.
We stayed at the recently renovated Delta Hotel by Marriott in downtown Kamloops. Our spacious guest room with two queen beds was decked out with plush white bedding, lighted vanity mirrors, an assortment of Soapbox toiletries, large-screen television, and Wi-Fi. The hotel also has a fitness center, rooftop swimming pool, restaurant, bar, and room service. We would have been content to hang out there for the evening but decided to explore the neighborhood.
Dinner was at our expense, and restaurant choices were plentiful. We ate at Frick and Frack Tap House, where the menu features creative pub cuisine. Afterward, we strolled to Riverside Park on the Thompson River to see the all-volunteer Kamloops Mounted Patrol. There was more to do, but we had an early wake-up call to re-board the train.
9. Complimentary Connections
Upon arriving in Kamloops, we were met by a motorcoach that drove us to the hotel. Our luggage, which had been transported by truck ahead of the train, was waiting in the lobby. The next morning, our luggage was picked up by porters, and the motorcoach returned us to the train. Red carpets, flags, and smiling hosts once again welcomed us as we boarded. All transfers are complimentary.
Be sure to pack a day bag with glasses, camera, medication, valuables, and anything else you'll need on the train because you won't have access to your luggage.
Pricing Notes
The per-person cost of a Rocky Mountaineer trip depends on the route and time of year you travel. The train season runs from mid-April through mid-October. Prices are highest between May and September. (Check the website for promotions.) For our two-day First Passage to the West excursion in September, the price difference between SilverLeaf and GoldLeaf service was about $600 each.
Our memories of this extraordinary trip are priceless!
Pro Tips
Book early for GoldLeaf Service because seats are limited and fill quickly. If you have special needs, Rocky Mountaineer will make every effort to accommodate its guests' mobility and dietary needs. If you require assistance, let your reservations agent know at the time of booking.
Seeing Canada by train — or car — is an incredible experience. Here are some of our favorite road trips in Canada.