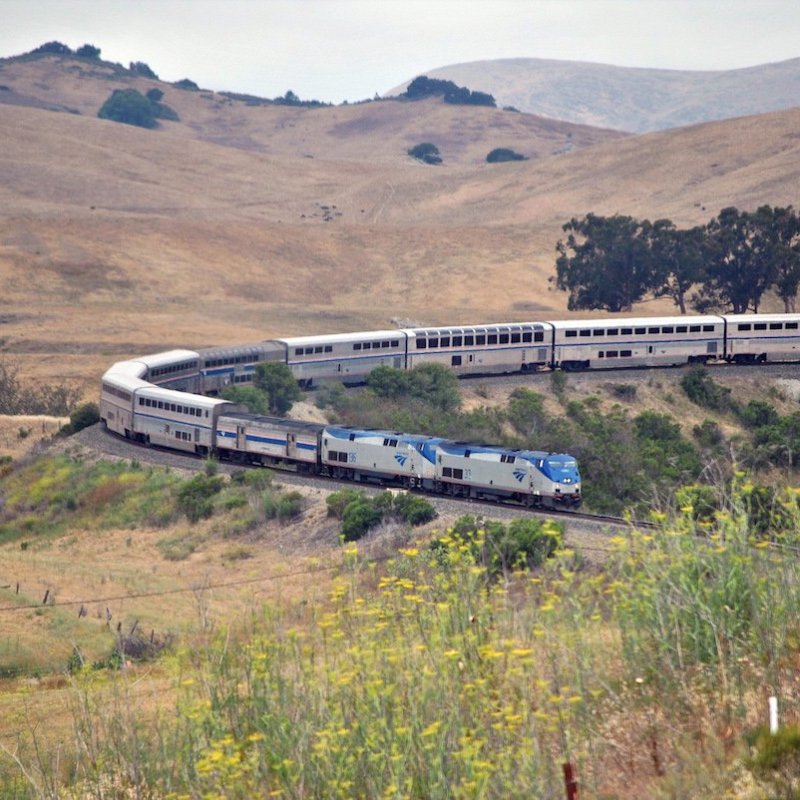 Though the U.S. is not known for having an extensive train system, there is a surprising number of routes that run hours — even days — from start to finish. Here is a collection of some of the most breathtaking and affordable trains in the U.S. Some recommendations take only a few hours, whereas others take you halfway across the country.
Coast Starlight
Route: Seattle to Los Angeles
Travel Time: 35 hours
Ideal For: Pacific Northwest travel
Coast Starlight starts up north in Seattle and winds its way all the way down to Union Station in Los Angeles. This 35-hour one-way journey is perfect if you want to see the West Coast tip to tip.
Coast Starlight stops at some of the best spots in the Pacific Northwest, including Portland, Klamath Falls, Sacramento, San Luis Obispo, and Santa Barbara.
Ticket rates depend on where you are boarding and how far north or south you are traveling. Multiple lodging and dining options are available.
California Zephyr
Route: Chicago, Illinois, to the Bay Area, California
Travel Time: 51 hours and 20 minutes
Ideal For: (Partially) cross-country travel
Starting in the middle of America in Chicago and traveling as far as the Pacific, this 50-plus-hour journey is for travelers who don't mind taking their time.
The California Zephyr route's scenery is spectacular because you see some of the country's greatest natural wonders within just a few days. Stops include Omaha, Denver, Salt Lake City, Reno, Sacramento, and ultimately leading to the San Francisco area. You can find a full map here.
Prices range by pick-up and drop-off locations, room of choice, and dining options. Accessible accommodations are available.
Grand Canyon Railway
Route: Williams, Arizona, roundtrip
Travel Time: 8 hours and 25 minutes
Ideal For: Travel through a national park
Grand Canyon Railway takes you through the Grand Canyon for as little as $70 per adult. There are six car options ranging from the most affordable Pullman Class to the Luxury Parlow.
The full-day excursion departs from Williams, Arizona, at 9:30 a.m. The train drops travelers off midday at the Grand Canyon's South Rim at the 1910 Grand Canyon Depot. You have 3 hours to explore the national park before boarding the train once more at 3:30 p.m.
Though the excursion isn't a full-day train ride, it's a great way to see the canyon safely from a train car and also have time to explore on foot.
Cape Cod Central Railroad
Route: Buzzards Bay, Massachusetts, roundtrip
Travel Time: 2 hours
Ideal For: A short-and-sweet, informational trip
Cape Cod Canal Narrated Excursion offers travelers a fascinating history of Cape Cod, including factoids about the area's coastal ecology and local industry. The route goes through the oldest village on the Cape, Sandwich.
Cape Cod's scenery is reason enough to hop aboard, but rates for the 2-hour ride start as low as $30 per adult. Food and beverage are available onboard. The train does not currently accommodate wheelchairs, so keep that in mind as you plan your trip.
During the holiday season, there's even a Polar Express train ride.
Vermonter
Route: St. Albans, Vermont, to Washington D.C.
Travel Time: 13 hours and 45 minutes
Ideal For: Leaf peepers and winter travel
Similar to other Amtrak offerings, the Vermonter promises multiple scenic stops. Notable stops include beautiful Montpelier, Vermont; New Haven, Connecticut; New York City; Philadelphia, Pennsylvania; Baltimore, Maryland; and finally, D.C.
The Vermonter rolls through eye-catching scenery year-round, but we highly recommend booking a ride during the fall season so you can witness a Vermont autumn. The season hosts a kaleidoscope of fall colors. The route is also great for the ski season in Vermont.
Prices vary by when you hop on or off the route.
Adirondack Railroad
Route: Multiple routes in New York
Travel Time: Varies
Ideal For: Fun, creative routes
Adirondack Railroad has departure stations in Utica and Thendara. What we like about this railroad is that there are quite a few journeys to choose from, including fun seasonal experiences like Pumpkin Train, Haunted History Evening Excursion, Adirondack Christmas Train, Beer and Wine Train, and Easter Bunny Express.
For a more traditional train journey through the Adirondacks, train journeys vary from 1.5 hours to 10 hours. Prices vary depending on the season.
Related Articles: