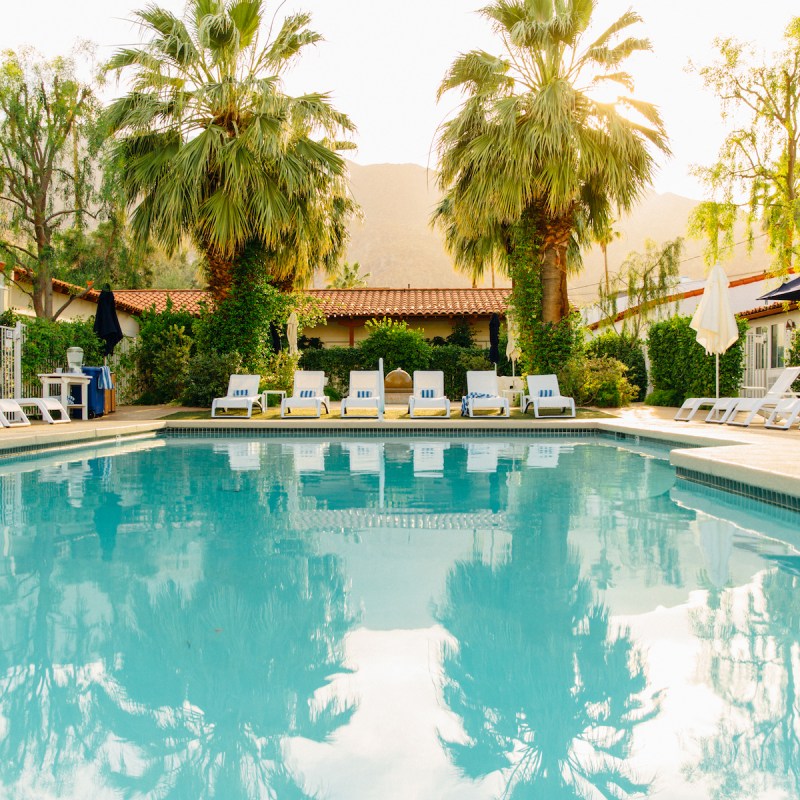 If the mention of Frank, Sammy, and Dean raises an eyebrow, then you are in the right place. These small, retro boutique hotels in Palm Springs have the perfect blend of style, great personal service, and friendly, individual ownership as opposed to the big anonymous chains. All are recognized as Palm Springs Preferred Small Hotels, a group of independently owned boutique hotels that are an essential part of this desert resort town's small hotel culture and economy. 
From wildly fun to hideaway, romantically secluded to bare it all, or Mid-Century Modern to Hollywood Glam, stay independent and find yourself in the authentic Palm Springs. In no particular order, I've chosen 12 from many dozens of boutique hotels in Palm Springs, from the quirky to charming, all in this historic desert resort setting.
Note: Palms Springs Preferred Small Hotels hosted me at the Old Ranch Inn. All opinions are my own.
1. Ingleside Inn
The Ingleside Inn and Melvyn's Restaurant, fashioned from a gracious estate, was featured as one of the Top Ten by Lifestyles of the Rich and Famous. The 30-room, 2-acre property offers luxury lodging and suite accommodations that are a throwback to the Golden Age of Hollywood. Ruth Hardy owned the property in the 1930s, where Greta Garbo, Clark Gable, and Howard Hughes stayed at her invitation. Later, Melvyn Haber restored the inn in the 1970s and wrote about the hotel adventures in his entertaining book, Bedside Stories From The Ingleside Inn. 
Relax, refresh, and re-energize at this legendary restored boutique hotel with iconic dining experiences at Melvyn's, where Frank and his pals hung out.
2. Dive Palm Springs
With a French Riveria vibe from the 1960s, the Dive Palm Springs features a petite, 11-room boutique resort with an essence of elegance and magic; oh, and it's for ages 21 and older. A place to live in the present and revel in the past, Palm Springs's newest resort offers lush grounds, elegant furnishings by Serena & Lily, and a restored original Libott pool. 
Most king rooms include a plush pillow-stacked oversized daybed on an outdoor patio. The orchard suite boasts a private terrace with a hot tub, the only three-hole golf green in all of Palm Springs, a full-sized rattan bar cart stocked with delicious spirits, and direct access to the orchard from the private patio.
3. Alcazar Palm Springs
Centered in the bustling Uptown Design District, the 34-room Alcazar Palm Springs offers guests the classic Palm Springs experience. It's a peaceful, luxurious retreat, open since 2011, and every room is unique. The outdoor salt water purified pool surrounded by cooling misters, sleek fire and waterfalls, and chic, serene garden courtyard offers the authentic Palm Springs essence amid 1929 Spanish-Mediterranean architecture. Savor complimentary coffee, espresso, and fresh pastries from Cheeky's next door, plus Birba, so you have easy access to delicious meals, an outdoor cocktail lounge, and entertainment. Townie Bikes are easily accessible to get around to Villagefest, restaurants, and shops.  
4. The Weekend Palm Springs
A small mid-century modern, luxury boutique hotel centered in the celebrity famous Old Las Palmas neighborhood, The Weekend Palm Springs is a short walk away from the newest bars and restaurants on the north side of town. A 700 square foot poolside suite boasts a king bedroom, master bath, living room, and walk-in closet with back patio. Savor comfortable robes, rain showers, microwave, kitchenette, mini-fridge, laptop safe, Keurig coffee maker, smart TVs, and Frette linens and towels. A premier one-bedroom suite at 800 square feet offers all the amenities plus the option to unlock a second bedroom with a full bath for an additional fee. Choose from a total of four suites, including one ADA premier suite.
5. Inn At Palm Springs
Nestled between the renowned Little Tuscany, the Uptown Design District, and the Palm Springs Aerial Tramway, the 18-room Inn At Palm Springs boutique hotel offers small families, couples, or hiking enthusiasts an exceptional stay poolside. The hotel is a short walk to Gypsyland and across from the Racquet Club Center with fine dining or fast food just a stone's throw away. Cruiser bikes are available to tour Hollywood legends' neighborhood homes or see spectacular views of the Coachella Valley nearby. This inclusive inn is dog-friendly with 4Paws across the street for a "pup cup" or adult gourmet coffee or tea.
6. Orbit In
Lounge in Orbit In's luxurious mid-century modern ambiance, a throwback to the Rat Pack glamour days, with breathtaking mountain views, a saltwater pool, lush landscaping, and a classic courtyard. In Palm Springs Historic Tennis Club Neighborhood, Orbit In is a short walk to shopping, galleries, and the finest restaurants. Sip a complimentary Orbitini at the poolside Boomerang Bar at sunset, then stroll to your fine dining destination for dinner. Surrender to the vacation lifestyle in the Rat Pack, Atomic Paradise, or Leopard Lounge, three of nine rooms available.
7. Del Marcos Hotel
Designed by iconic architect William F Cody in 1947, this classic mid-century modern 17-room hotel Del Marcos Hotel offers comfortable standard rooms and large deluxe suites. Furnished in Mid-Century Modern style, this jewel of the desert boasts private patios, balconies, kitchenettes, or full kitchens. Conveniently located one block from downtown, there is no need to drive since you are within walking distance to shopping, restaurants, and galleries. You'll notice that the orange accent color throughout the hotel brings the Palm Springs fantasy together. This adult-only hotel is wheelchair accessible.
8. La Serena Villas
Designed to create your perfect Palm Springs getaway, this historic luxury hotel La Serena Villas was constructed in 1933, sitting on more than an acre of desert landscaped grounds in the heart of downtown. Redeveloped as a luxury hotel in 2016 by award-winning architect May Sung, the 18 guestrooms, spa, restaurant, bar, and rooftop lounge create modern amenities of a five-star hotel with the stunning San Jacinto Mountains as a backdrop. Secluded villas have a private patio, fire pit, romantic claw foot tub, and built-in benches. Conveniently within walking distance to the famous Palm Canyon Drive, access the best restaurants, galleries, and boutiques. Serving modern flavorful contemporary cuisine, Azucar restaurant sits within La Serena Villas. The unique rooftop deck, Sugar High, is the perfect place to sip creative cocktails, snack on sophisticated small plates, and watch the sunset.
9. Old Ranch Inn
Dating back to the 1930s, the intimate hideaway Old Ranch Inn, situated in the Historic Tennis Club neighborhood, is a stroll away from downtown Palm Springs. The eight suites all include back patios, Keurig coffeemakers, and kitchenettes with refrigerators and microwaves. The gorgeous turquoise pool is the centerpiece of the romantically secluded property. Well-behaved pets are welcome at a premium, and guests must be 21 and over. Inspired by the history of the Old West and Coachella Valley, the hotel is steps away from beautiful hiking trails plus luxury shopping, exciting nightlife, and exceptional dining. Innkeepers Troy and Jason thought of everything to make your stay a memorable one.
10. Los Arboles Hotel
The Castaneda's restored Los Arboles Hotel to its original Spanish colonial mission style, adding the iconic El Mirasol Mexican Restaurant and bar on the premises, making the traditional hacienda a family affair. The 21 well-appointed rooms and suites surround a relaxing courtyard pool and Jacuzzi hot tub, creating a retreat to discover your dreams. Hotel guests enjoy legendary spa activities, Palm Springs weather, golf, downtown shopping, dining, and nightlife. Enjoy sipping mescal and small plates on the rooftop as you watch the sun settle behind the San Jacinto Mountains. A small poolside room is a great place to gather a group for meetings, exceptional dining, or private functions.
11. L'Horizon Resort & Spa Palm Springs
Designed in 1952 by famous architect William F Cody as a private family getaway for legendary oil tycoon, television producer, and hotelier Jack Wrather and his Hollywood actress wife Bonita "Bunny" Granville, Wrather was an important figure of the 1950s. Known for producing Lassie and The Lone Ranger, building the Disneyland hotel, opening the Spruce Goose and the Queen Mary, Wrather created a 20-room guest house. He named the residence L'Horizon with a pool for his Hollywood friends like Marilyn Monroe, Betty Grable, Presidents Nixon and Reagan, and other stars.
Today, L'Horizon Resort & Spa has returned to its former glory with additions and renovations by renowned designer Steve Herman as a deluxe luxury resort. Twenty bungalows spaced across 3 acres of a gorgeous desert landscape with a dramatic mountain backdrop is an adult-only award-winning resort, earning the title #1 Resort in the World by Conde Nast Traveler magazine. Hotel guests dine at the intimate So-Pa for breakfast, lunch, and dinner.
12. Holiday House
A 28-room boutique hotel designed by architect Herbert W. Burns, opening in 1951, interior designer Mark D. Sikes reimagined Holiday House, featuring mid-century elements combined with a whimsical and communal atmosphere. Creating a cooperative environment, the hotel does not have televisions in the rooms. Rooms feature oversized showers, custom textiles, curated artwork, Cowshed bath amenities, and a continental breakfast of charcuterie, fruit, yogurt, granola, cheeses, and homemade pastries. The Pantry restaurant offers breakfast and daytime selections like a lobster roll, niçoise salad, and shrimp cocktail. At dinner, savor Fra Diavolo pasta, Chilean sea bass, or heritage ranch pork chop. Cocktails abound as well.
Pro Tip: Subscribe to the monthly e-newsletter Boutiquely Palm Springs for the insider's guide to everything Palm Springs, things to do, see, the best dining, interviews with hoteliers, and where your patronage supports the local community in meaningful ways.
While you're in Palm Springs, take advantage of these recommendations: