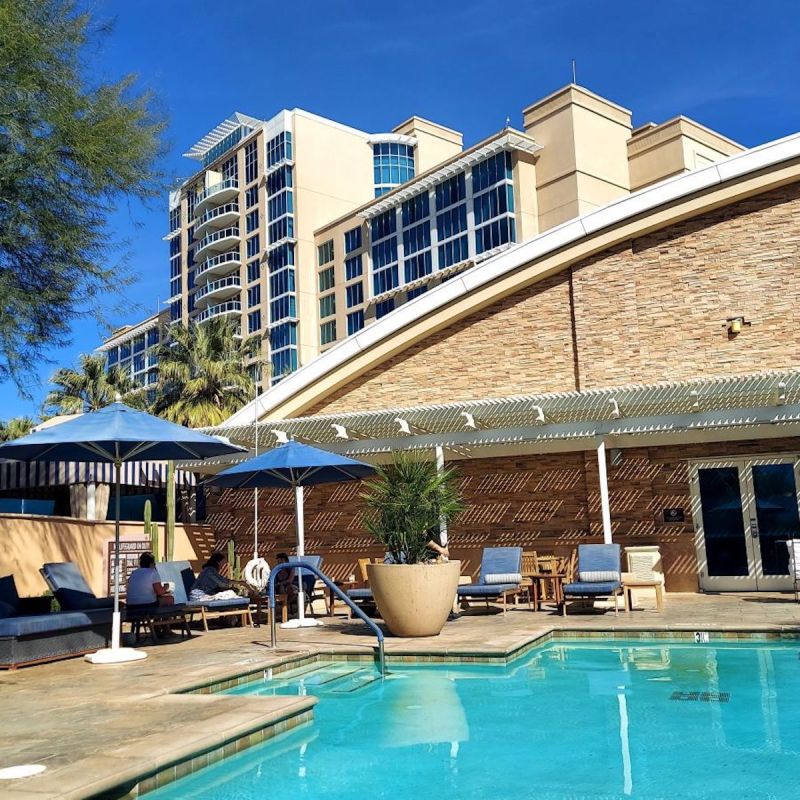 Palm Springs, California, does not disappoint. Nestled between our beautiful mountains lies a valley known for its great weather and restful vacations. Our amenities for relaxation include golfing, swimming, poolside lounging, fine dining, and first-class spas that can help relieve stress or provide a beautiful refuge from the outside world.
Many of the large hotels have spas in the Coachella Valley. Below are some of the larger hotels that welcome guests and locals by providing an opportunity to purchase a day pass.
While I was comped for the massages, all experiences and opinions are my own.
1. Spa Desert Springs
JW Marriott Desert Springs Resort And Spa
When you approach the JW Marriott Desert Springs Resort and Spa, you immediately sense this is going to be a unique experience. Pink flamingos glide on the palm-tree-surrounded pond along the driveway with seemingly not a worry in the world.
Watch for signs for the Spa Desert Springs. This co-ed spa offers places to meet and relax at the pool, the lounge, or dine together in the bistro.
I was in awe at the beauty of the walnut-colored wood paneling everywhere; even the lockers were beautiful. Everything you need is here, including a spinner to help dry out your swimsuit before you head home.
Don't Miss: One of the special features of this spa is that it has three saunas: one very hot, one normal, and one infused with lavender. Oh my, I could have stayed in that for hours, though, of course, it's not recommended.
My massage was heavenly in a quiet, elegantly appointed room with lavender permeating the air. The 60 minutes went by way too fast and reminded me that a massage should not be considered just a luxury but a necessity to keep one's body in stellar shape.
Feeling relaxed and happy, I wandered outside to the warm pool surrounded by umbrellas and staff waiting to take my order for a drink or a bite from the bistro.
Pro Tip: No reservations are necessary for a day pass, but for massages, body treatments, or facials, you can make them online at Spa Desert Springs or by calling. They do not have hair, nail, or pedicure services available.
2. The Well Spa
Miramonte Indian Wells Resort And Spa
The Well Spa is a separate building on the sprawling, citrus-covered grounds of the Miramonte Indian Wells Resort and Spa. After parking your car, ask for directions. The building is hidden away on the grounds.
One of the special features of this spa is the unique hot tub. Stone walls and waterfalls divide the space so guests have privacy while they bask in the 102-degree water.
The waiting room was well-appointed and the cinnamon tea available to all guests while you waited for the treatment was superb. I was escorted to one of the treatment rooms with eucalyptus scent greeting me. While most treatment rooms are upstairs, there is an elevator and larger rooms available to accommodate wheelchairs.
Don't Miss: This is a pretty strong statement, for I have had many massages, but I honestly can say the "Rain Massage" was undoubtedly the best massage I have ever received. Granted, I had been on a cross-country airplane journey, but the masseuse found every spot I didn't know needed attention. Five essential oils dripped onto my back and gently urged the tight muscles to relax. I was delighted with the scalp massage and my feet were so happy.
The next stop was the eucalyptus steam room and a cool pool to complete the process. Feeling refreshed with no care in the world, I headed outdoors to the hideaway patios, which are co-ed, as is the outdoor spa and pool.
You can have food delivered to the patio, or you can keep your robe on and head to the restaurant, where the menu offers a variety of options. I headed to the restaurant, took my food outside, and ate under the citrus trees.
Pro Tip: Reservations are required for a day pass. Hair, nail, and pedicure options are not available. Call and make arrangements for all other spa treatments at The Well Spa.
3. Sunstone Spa 
Agua Caliente Resort Casino Rancho Mirage
When you hear the Sunstone Spa has been rated one of the top spas in California and is in your neighborhood, how can you not be tempted to check it out? 
The entrance to the Sunstone Spa building is tucked away down a path, so keep your eyes open for the gate.
The contemporary-themed women's locker room had more amenities than anyone could need; even little bamboo toothbrushes with toothpaste carefully packaged. The quiet room, where you wait for staff to get you for your treatment, was dimly lit with an array of snacks and water infused with various ingredients that encourage you to return for more.
Lavender filled the air as I walked in for a massage. After an hour, I put on my robe, poured myself some more water, and headed out to the spa's private co-ed heated pool, surrounded by umbrellas which was the perfect place to lounge and relax under California's sun.
Don't Miss: Once you have found your perfect spot outside, check out the food and drink menu. My eyes quickly landed on three varieties of energy drinks — mocktails as they called them — and I choose a cranberry one, and then discovered all mocktails are free.
This spa offers exceptional service and staff making this day pass a great value while feeling totally pampered.
4. The Spa At Sec-He
Excitement had been building because, not only would downtown Palm Springs now have The Spa at Sec-he, but it would also be five stars. The spa opened on April 4, 2023, much to the delight of visitors and residents.
Don't Miss: This is the only spa in Palm Springs with hot mineral springs known for their healing abilities. The Agua Caliente Tribe calls it "taking the waters," so you will want to bring your swimsuit and enjoy the private tubs and the outdoor pool.
With eight different kinds of massages, numerous body scrubs, and wraps, you are sure to find one you especially enjoy. Or perhaps, it is time to live on the edge and try something different. The choice is yours.
Amenities with the day pass include salt rooms, a grounding room, a healing water tub, a menthol sauna, and an aromatherapy shower, to name a few.
This beautiful spa has many lovely lounging areas and two restaurants. When you decide to get a day pass, I suggest you come as soon as they are open. I assure you that you will not want to leave the premises all day.
Pro Tips: Palm Springs Spas
The spas are open all year long. However, be sure to call to ensure you know their exact hours. I found I was enjoying my pool time, only to discover the staff wanted to go home to their families.
People with disabilities will discover their needs can be met at any of these spas. All four resorts have their prices online for various services. Day passes are in the $40–$145 range but call and check online to see individual spas' specific charges. The day pass fee will be waived if you have any treatment, such as a massage or facial.
Related Reading: