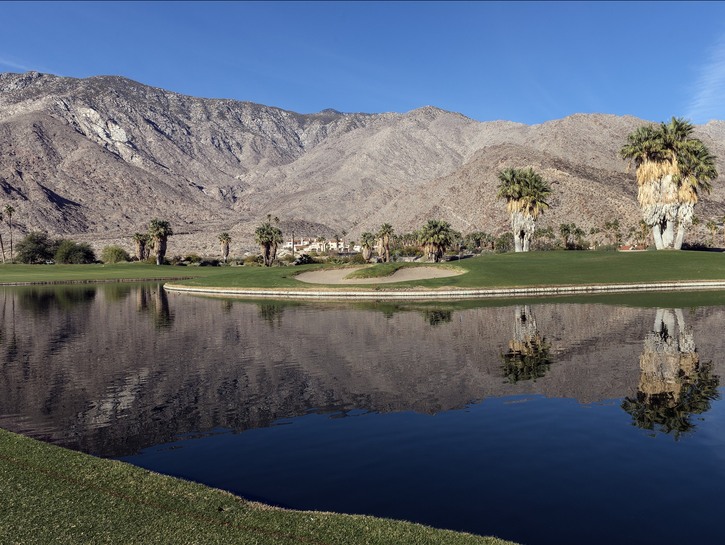 Every President's Day weekend, a quartet of my oldest girlfriends and I pack our bags and head somewhere warm. This year, our destination was Palm Springs, California. It had been years since I'd visited this Sonoran Desert oasis and I was ready to unwind.
Our trip spanned a four-day weekend, but I've taken the liberty of condensing the best of the best into a 24-hour must-see guide to Palm Springs.
Where To Stay In Palm Springs
If you're planning to go for the President's Day weekend, be forewarned: that's Modernism Week in Palm Springs. The popularity of this celebration of mid-20th century architecture and culture guarantees that most hotels and restaurants will be booked.
We opted instead to rent a house on AirBNB – and it turned out to be the former residence of Bing Crosby! It's a cute four-bedroom affair with a pristine pool and cabana, now allegedly owned by Francis Ford Coppola's son.
Palm Springs is known for its amazing architecture, so if you're traveling with a group, check out VRBO or AirBNB. We found everything from modest bungalows to multi-million dollar mansions. If mid-century modern is your thing, then you'll be in heaven.
If you're not up for sleeping in someone else's space and you're looking for big-time cool factor, splurge and stay at the Parker Palm Springs, which has some of the chicest decor, the best people watching, and the greatest food (Mr. Parker) in town. That said, it was a little too much for our group. I guess we're just not as out there as we once were!
My favorite place to stay in all of Palm Springs is a tiny resort called Smoke Tree Ranch. It's been around since the 1930s, and Walt Disney used to have a house on the grounds. It's one of the most laid-back, lovely resorts I've ever visited.
8 AM: Breakfast
Every single person who I told I was going to Palm Springs insisted I had to visit Cheeky's for breakfast. Thankfully, they also warned me to go early because there's a massive wait. Cheeky's opens at 8am. We were there by 8:15 and still had to wait over an hour for a table. That was okay, because it gave us the chance to walk the idyllic Brady-bunch-esque streets of neighboring Old Las Palmas, which boasts the largest number of celebrity homes in Palm Springs. The streets were packed with looky-loos like us, soaking it all in. We returned to an even longer line at Cheeky's, but our table was ready.
Breakfast was delicious. I had the spicy tamale with eggs, and my girlfriends both had frittatas. Literally every single thing they brought out of the kitchen looked divine. They even have Gluten-Free waffles if you're celiac.
If you don't have the patience (or the stomach) to wait an hour for a table, check out the nearby Jake's or Mod Cafe.
10 AM: Easy Morning Hike
We wanted to do something athletic during our stay in Palm Springs, but we didn't want to exhaust ourselves. The Tahquitz Canyon Falls hike was a perfect choice. It's a short 1.8M round trip hike that leads you past a striking 60-foot waterfall. The only downside is that you have to pay $12 for the privilege. But the trail is well-maintained, well-traveled, and it offers panoramic views of the city. The entire hike took about an hour and a half, including time for rest and reflection at the waterfall. I will admit – there were some parts of the hike that included bigger steps and tricky footwork, so you might want to bring a walking stick. If you don't have your own, they're free to borrow at the trail house.
Noon: Pool Time
After our hike, we had earned a little R&R, so it was back to the house catch some sun. We sat by the pool, read, and gabbed for a few hours, nibbling on snacks and a mixing a few cocktails. Most of the rental properties we considered in town came with a pool, but many charge you extra if you ask to have it heated. Our trip was in the middle of February when temperatures were only in the 70s, so we paid $50 to turn the heater on. (Temperatures were in the teens back home, so – we won!)
If lounging by the pool isn't your poison, try a little retail therapy, or check out the amazing art and design galleries around town. I really like this Chairish guide to Palm Springs shopping.
5 PM: Drinks And People Watching At Lulu's
After a quick power nap and shower, we were ready to paint the town. A friend suggested we stop by Lulu's for refreshments and people watching. Even though we were there early, the joint was jumping! It took a little while to get a seat at the bar, but once we did, the drinks were great. We noticed that the menu offered plenty of vegetarian and gluten-free items; I'd describe the spread as a mix of Californian and American. Think healthy, fresh classics. And good cocktails.
7 PM: Dinner At Workshop
By far the best meal we had in Palm Springs was at a restaurant called Workshop in the heart of the uptown design district. It was a little pricey, but well worth it! We opted for shareable appetizers and desserts, but our own main courses. The scallops were amazing, as were the brussels sprouts and duck fat fries. We overheard from the next table that the burger was one of the best of the eater's life. I can't attest to that, but I can say everything we ate was delicious. Workshop won a James Beard award in 2015, so you'll definitely need a reservation. If it's nice out, they also have a lovely patio with great lighting and plenty of heaters.
10 PM: Nightcaps Poolside
After a round of dessert (the flourless cake and apple tarte), we were full, happy, and ready to head home. We enjoyed a final glass of wine by the pool under warm blankets, then trundled off to bed. If you haven't spent much time in the desert, be prepared: it can get pretty chilly after dark. Don't leave home without a jacket and a sweater, or you'll have to pick one up when you get there.
Overall, Palm Springs was the perfect mix of sun, fun, culture and adventure – and we can't wait to go back!