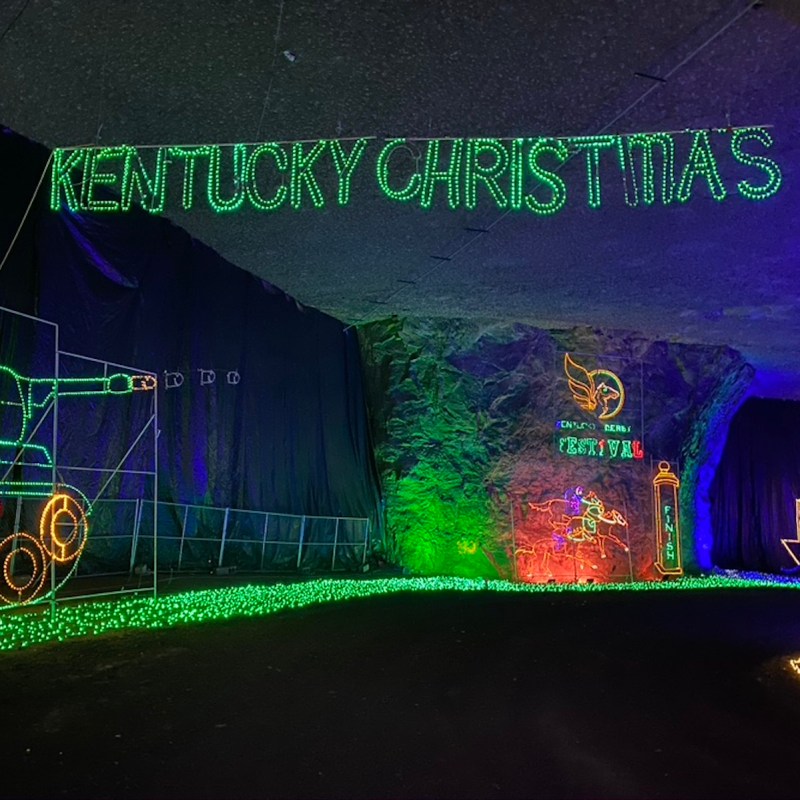 With the cold, dark days of winter approaching, it's time to start thinking about festive lights. Those who aren't inclined to imitate Clark Griswold's famous display from National Lampoon's Christmas Vacation are in luck; Lights Under Louisville will soon be opening its underground light extravaganza to the public from November 12 to January 2.
Lights Under Louisville is a holiday light tour that takes place in a unique setting: a repurposed limestone mine that is now known as the Mega Cavern. According to the show's website, the 17-mile underground trail, which runs underneath the Watterson Expressway and Louisville Zoo, features around 900 displays with over 4,000,000 individual points of light. Visitors can see traditional Christmas lights alongside depictions of film and cartoon characters along the route.
There are several different ways to experience Lights Under Louisville. If you prefer to load up your own vehicle with blankets, hot beverages, and your favorite music, you can book tickets online in advance and drive the route yourself. A Priority Pass is available for an extra fee that allows visitors to skip ahead of the lines to the main event.
Those who would prefer to sit back and relax can also book tickets for the Christmas Express, an open-top trailer that will take viewers through the displays without the stress of navigating through traffic. When considering which of these options is right for you, consider that the trail takes about 30 minutes to drive through.
The Louisville Mega Cavern
Louisville's Mega Cavern originally served as a limestone mine but has since been repurposed for a variety of recreational activities. Aside from hosting Lights Under Louisville, the cavern is home to tram tours, ziplining, and mountain bike trails. At around 4,000,000 square feet, this cavern certainly is "Mega." Interestingly enough, the cavern is legally considered a building due to the way it's supported, making it the largest building in Kentucky. A similar, larger complex known as SubTropolis can be found in Kansas City, Missouri.
Know Before You Go
On opening day, November 12, the tour will be open from 6 p.m. to 10 p.m., while regular hours are from 9:30 a.m. to 10 p.m. The only two exceptions are Thanksgiving Day and Christmas Day when the hours are 6 p.m.-10 p.m. and 5 p.m.-10 p.m. respectively. The final day that the attraction is available is January 2, 2022.
Ticket pricing depends on what vehicle you wish to tour with. For full pricing details, check out the Lights Under Louisville website.
Lights Under Louisville is an ideal attraction for people who are concerned about the spread of COVID because tickets are booked online in advance. Drivers simply pull up, show a barcode to an attendant, and begin the tour. Lights Under Louisville will not be accepting cash as payment this year.
The light tour does have some rules to keep things moving and ensure the safety of guests. Here are some of the important ones:
Personal vehicles must turn off their headlights
Drivers should keep their vehicles at idle speed
No smoking
Photography is welcome
No stopping of vehicles
Guests must stay in their vehicle
For more on Louisville, check out the following articles: