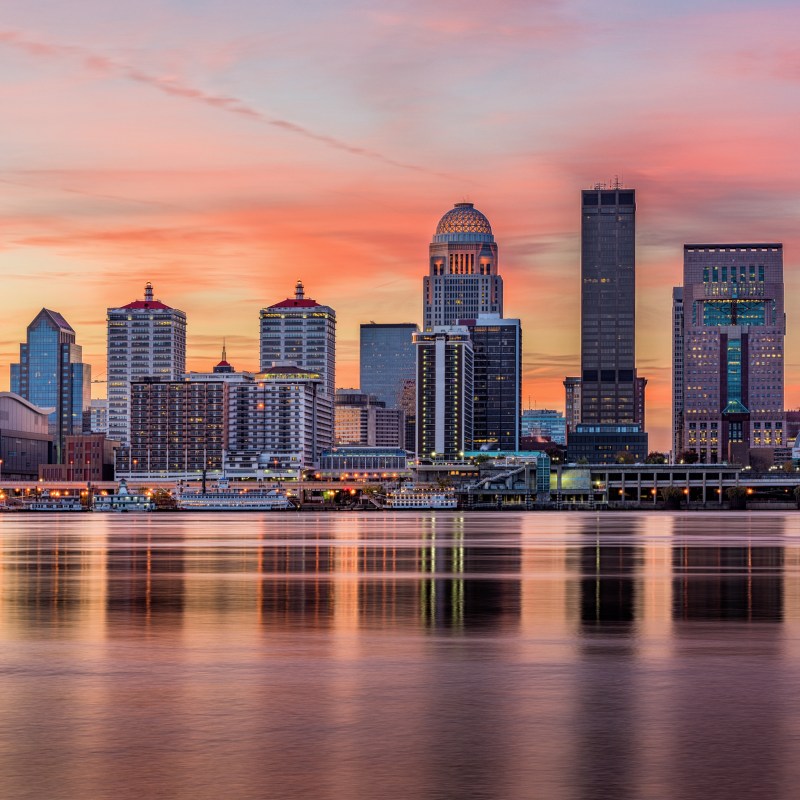 Mention Louisville, and people most likely think of horse racing and bourbon. Now, Louisville Tourism is working to specifically recognize — and celebrate — African Americans' contributions to those industries as well as the city's overall history and culture.
Collaboratively created with local museums and attractions, the program features immersive experiences to educate people about Black history in Kentucky.
"Although these leisure tourism experiences began two years ago as an effort to curate the rich cultural assets involving Louisville's Black history and heritage, they are coming to fruition at a very timely moment, on the heels of a national social justice push, further increasing our urgency and sense of purpose," said Cleo Battle, Louisville Tourism's chief operating officer.
The new programming, known as the Unfiltered Truth Collection, includes seven attractions that all make use of both exhibits and immersive tours to "share the perspective and history of African Americans who made a lasting impact on Louisville's history and heritage," Louisville Tourism explained.
Let's take a look at the experiences.
The Ideal Bartender Experience
At the Evan Williams Bourbon Experience, which is located on Louisville's historic "Whiskey Row," visitors will be able to step into a speakeasy during Prohibition. Once there, they'll meet bartender Tom Bullock — who happens to be the first Black American to write and publish a cocktail book (in 1917) — and learn about his life and legacy.
During the 45-minute presentation, guests over the age of 21 will be able to taste whiskeys.
Songbird Of The South
Songbird of the South is the first in the Kentucky Center for African American Heritage's Soul of Walnut Street Experience Series. Visitors will learn about the life and experiences of rhythm-and-blues singer Mary Ann Fisher — from her childhood in Henderson, Kentucky, to performing at New York's Carnegie Hall. Over the years, Fisher — one of the first African American women to have a career as a rhythm-and-blues singer — is notable for having performed with Ray Charles, Marvin Gaye, B.B. King, and James Brown, as well as Jackie Wilson, Bobby Dinah Washington, and Billie Holiday.
Frazier History Museum
The Frazier History Museum is the official starting point on the Kentucky Bourbon Trail.
Visitors at From Enslaved to Empowered: Kentucky's African American Experience through Bourbon, which is told from multiple point of views, will learn about the contributions of African Americans to the bourbon industry. The "journey" begins right after World War II and leads up to now.
The Enslaved At Locust Grove
Locust Grove, a National Historic Landmark, was a 55-acre farm and mansion of the Croghan family. At Unfolding the Story — The Enslaved at Locust Grove, visitors will learn about the lives and history of the enslaved by following an enslaved laundress and enslaved distillery assistant as they go about their daily lives — in 1816. The tour is 90 minutes.
Roots 101 African American Museum
Roots 101 African American Museum works to "promote understanding and inspire appreciation of the achievements, contributions, and experiences of African Americans using exhibits, programs, and activities to illustrate Black history, culture, and art." Located on historic Main Street in downtown Louisville, the museum showcases both local and national artifacts. Visitors will learn about the African American journey — reaching back to Africa.
Due to the rising numbers in COVID-19, visits to Roots 101 African American Museum are currently by appointment only.
Kentucky Derby Museum
African Americans have been central to the development of thoroughbred racing. To recognize that heritage, the Kentucky Derby Museum is introducing two experiences focusing on the contributions of Black Americans.
In the first 90-minute experience, African Americans in Thoroughbred Racing Tour, guests will walk the Churchill Downs Racetrack and make stops along the way to learn about the impact African Americans made on horse racing. For example, in the first Kentucky Derby, 13 of the 15 horses were ridden by Black jockeys. What's more, 15 of the first 28 Derby winners were ridden by Black jockeys. This tour is available Saturdays at 1 p.m.
The Kentucky Derby Museum's second experience is Proud of My Calling, An African American Experience in the Kentucky Derby, which will begin March 27. During this 60-minute experience, visitors will meet jockeys, trainers, farriers, and grooms of the Kentucky Derby through the use of costumed actors and historic paintings, as well as photos and objects.
Louisville Slugger Museum And Factory
Visitors to the Louisville Unions Rediscovered exhibit at the Louisville Slugger Museum and Factory will help solve a mystery. In June 2018, the museum acquired two photographs of baseball players who appeared to be players on the Louisville White Sox, a Negro Leagues team in 1931. It turns out, however, the players were actually members of the Louisville Unions — a pre-Negro Leagues team in 1908.
The team experienced racism while defeating teams with white players. But what happened to them, and why has nobody heard of the team? In this hands-on experience, visitors will help look for clues while learning about the team and tracing their connection to baseball today.
Know Before You Go
Following restrictions put in place due to the COVID-19 pandemic, the State of Kentucky currently has a mask mandate, so all guests must wear a face mask. Many museums and attractions are also limiting capacity so visitors can maintain social distancing.
Be sure to check with a museum or attraction when planning your trip for specific information.
Related articles: