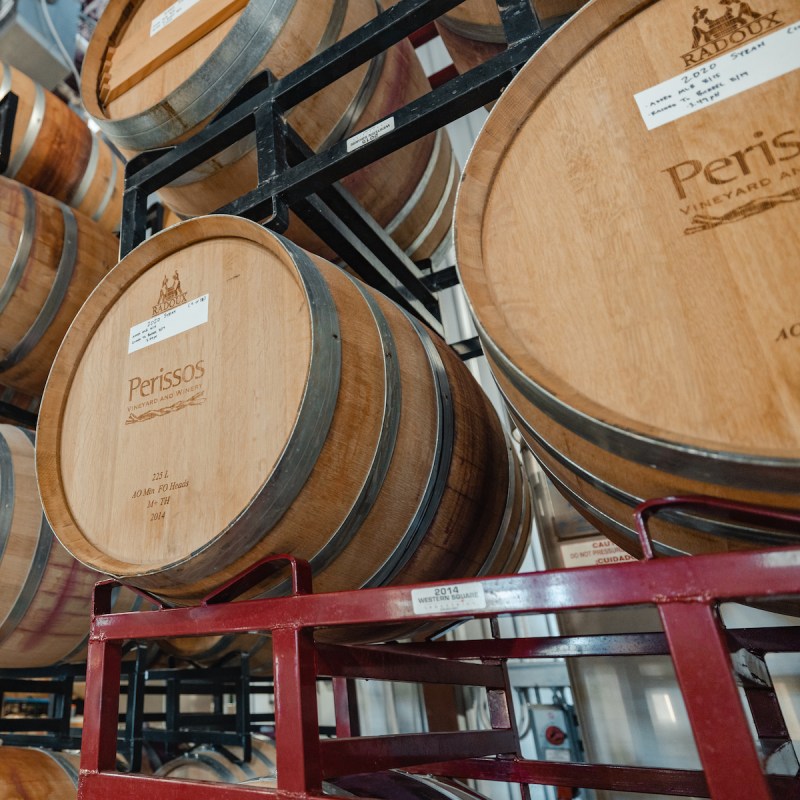 Horseshoe Bay, located on the shores of Lake LBJ, is surrounded by dozens and dozens of wineries. Take a tour of several wineries, sip some of Texas' award-winning wines, and take home your favorite bottles to add to your collection. Here are my dozen favorite wineries near Horseshoe Bay in no particular order, chosen from 67 wineries in the area, and most accept the Christmas Wine Affair Event Passport.
Pro Tip: Savor all that Texas Wine Country has to offer this holiday season with the Christmas Wine Affair, November 29 through December 24, sipping and sampling award-winning wines at approximately 40 unique Hill Country wineries. When you purchase the digital Event Passport, you can taste up to four wineries a day through December 24, as well as receive exclusive discounts on bottle purchases. See the list of participating wineries here. Call the winery ahead to make reservations, if needed.
1. Torr Na Loches Vineyard & Winery
Overlooking both Inks and Buchanan Lakes, high above the Colorado River valley, Torr Na Loches Vineyard & Winery loosely translates from Gaelic to "Hill Over Lakes." In September 2015, the tasting room opened, after Blake and Karen spent two years of weekends preparing and planting the vineyards. Don't miss the 2018 Malvasia Bianca, a floral off-dry lemon-colored wine with green apple and white peach on the palate. The 2018 Montepulciano, the most popular red varietal, is back! I love the new award-winning release 2018 Estate Malbec paired with the charcuterie board or bruschetta platter. The winery has pizza on occasional weekends and live music on select Saturday afternoons. Check the event schedule for more activities.
2. Perissos Vineyards And Winery
Perissos Vineyards and Winery begins with the Greek word Perissos, a Biblical term meaning "exceeding abundantly, beyond what is expected, imagined, or hoped for." Having received seven Best of Class Awards from the prestigious San Francisco Chronicle Wine Competition over the years, a Winemaker's Tour and Tasting is the perfect Saturday or Sunday afternoon event to learn more about the wine. The Best of Class 2019 Reserve Roussanne, is aged in acacia barrels, the same material used to build the Ark of the Covenant. The 2017 Petite Sirah, 100 percent estate-grown, offers inky black fruit, spices, vanillin, and dill on the nose, with a lingering good body, medium acidity, and firm tannins.
3. Spicewood Vineyards
Wine is a celebration of life here at Spicewood Vineyards, where you can visit the 32-acre vineyard, taste the award-winning wines, and enjoy Texas hospitality. There are plenty of reds available; the 2018 Tempranillo, Texas High Plains, boasts aromas of fig and leather with flavors of cocoa powder and blueberries. The 2017 Cabernet Claret offers aromas of blackberries and dark mocha with baking spice and black cherry flavors. Blackberries, pomegranate aromas with flavors of dark cherries, and blueberries encompass the 2017 Estate Syrah. Check the upcoming events for live music and personal wine tasting with owner Ron Yates.
4. Hawk's Shadow Winery & Vineyards
With sweeping Texas Hill Country views, Hawk's Shadow Winery & Vineyards presents handcrafted wine in a relaxing atmosphere with picnics on the patio and dinners in the cellar. Enjoy the 2017 Juliet, a delicious dry German-style riesling. Taste the exquisite 2015 Kourtney, a 100 percent Narra Vineyard Malbec with aromas of dried violet and a spicy dark berry lift. Invest in the 2011 HSV Estate Blend with black cherry, currants, and oaky sweet violets, and a hint of dark chocolate. Book a private tasting and tour and learn more.
5. Kuhlman Cellars
At Kuhlman Cellars, it's all about the wine. Enjoy a wine and food experience with an educational 45-minute seated tasting, including a sample of five wines paired with chef-prepared small bites, plus a selection of the famous herbed almonds. Learn about the Estate Experience with a fascinating review of the working winery, the grape growing philosophy, and a behind-the-scenes glimpse of the winemaking facilities. Enjoy a tank or barrel sample, learning about how wine ages. Explore the Vina Vita Wine Club, where some of the experiences are complimentary. Appreciate the 2020 Estate Roussanne, a limited production, with a white jasmine and peaches bouquet and passion fruit and guava flavors. Don't miss the Lone Star 2021 Gold Stars, the 2017 Barranca, and the 2017 Gypsum.
6. Bell Springs Winery
Located in Dripping Springs, Bell Springs Winery is the place for walk-in tastings with no reservations required, or buy wine by the glass or bottle. Reservations are required for the patio seated wine tasting with a charcuterie board and reserved table. The 2018 merlot exudes luscious blackberry, red apple, sage, and oak, perfect for grilling. The first release of 2019 Rosé 100 percent Montepulciano unfolds guava and strawberry on the nose, with ripe watermelon and grapefruit mingling on the palate. The Sparkling Methode Champenoise, 100 percent chardonnay, is dry and pairs well with scallops or prime rib.
7. Texas Hills Vineyard
Established in 1995 in Johnson City, Texas Hills Vineyard land was purchased by the Giltraps because it reminded them of their favorite Tuscan countryside. Explore the new releases, Malbec NV 2015, Cinque 2015 Vino Rosso, 2017 Rosato di Sangiovese, the 2013 Syrah Estate 13, and the Orange Moscato 2013. The 2015 Malbec RV features dark berry jam, loganberry, and blackberry with soft tannins like the Bordeaux region. Check the schedule for upcoming wine club member events like music on the patio, the famous Black Friday Saturday sale, and the San Saba sip n' stroll lighted Christmas event.
Pro Tip: Stay at the Crossroads Inn in Johnson City, a charming wine country inn on six acres.
8. KFire Winery & Vineyard
The Fowlers welcome you to KFire Winery and Vineyard, where you can purchase a flight, glass, or bottle of wine to enjoy on the patio overlooking the vineyard and countryside, along with an assortment of snacks. See the events listings for information on a sip and stroll with an onsite food truck and live music. Savor the Engine 12, a Rhone blend of viognier, roussanne, and marsanne. The Rescue is a Cinsault rosé with floral, ripe strawberry, and black currant flavors. Engine 39 touts a Barbera with dark cherry, plum, blackberry, with notes of vanilla. Top it off with the Extinguisher, a dessert, port-style wine that ends with a kiss. See the website for complete details on the wine membership.
9. Hye Meadow Winery
Visit Hye Meadow Winery, a working winery on gorgeous property under towering oak trees that boasts "serious wine, fun people." Discover wine, Texas hospitality, and scenic beauty overlooking 42 oak trees from three decks, with relaxing attitudes and an experienced staff that speaks wine fluently. Indulge in expert wines along with artisan cheese plates or seasonal, seated paired brunches. Two of the four new releases are sold out. These two are available, the 2018 Il Sensio, a blend of 40 percent teroldego, 25 percent Montepulciano, 25 percent Mourvedre, and 10 percent Aglianico with fresh raspberry and toasted vanilla and notes of tart cherry and blackberry. The 2017 Full Monte features jammy aromas of cherry and blueberry lingering around French oak undertones, plum, boysenberry, and an Italian hint of black licorice. Enjoy onsite paninis, cheese boards, and small plates like hummus and Italian olives with bread.
10. Wedding Oak Winery
The Burnet Wedding Oak Winery tasting room is now open on the courthouse square near Lake Buchanan and Inks Lake. See the restored two-story 1888 Badger Building with 8,500 square feet, including a rooftop terrace, large patio, and accessible elevator. For wine lovers, the Just Married Moscato 2020 is a new favorite. Sample the Bridal Bliss 2018, a bubbly Muscat Canelli. You must try the TexItalia 2019, a superb red blend using Italian varietals from the Texas High Plains. Check the events calendar for wine pairing dinners, venison chili, vino pairings, way out wineries holiday road trip, the Wedding Oak Wine Train to Burnet, the Christmas Wine Affair, and San Saba sip and stroll. Visit the San Saba Tasting Room and the Fredericksburg Tasting Room.
Pro Tip: Stay at The Verandas Guest House in Burnet, one block off the square, originally a historic stage stop and a hotel with a hand-dug well on the front porch to provide water to travelers and horses.
11. Solaro Estate Winery
Texas Hill Country Winery of the Year, Solaro Estate Winery boasts spectacular vistas high above the clear spring waters of Barton Creek. The family-owned vineyard and winery in Dripping Springs cultivated on an ancient fossil bed by Robert and Barbara resulted in limited production, internationally award-winning wines. The Borgo Fulvia Pinot Grigio is a light floral and silky pear freshly finished paired with shellfish and game fowl. Enjoy the 2013 Tempranillo, and 2014 Barbera Barrel Reserve boasts three silver and one gold medal awards. The 2010 Cabernet Franc Merlot Reserve is aged for 24 months in French oak barrels, then the rich dark fruit and smoky aromas age in the bottle for another 24 months.
12. Tejas Winery and Vineyards
Explore great wines from a small, boutique winery in Hye in the heart of the Texas Hill Country, Tejas Winery and Vineyards. Enjoy new releases like the Souzao 2015 with stone fruit and dark purple berry, woodsy aroma, with velvety light tannin. The 2019 Grenache Rose boasts a burst of red fruit flavors, delicate green apple notes, culminating in a sweet lemon-like finish. The 2016 Tempranillo delivers flavors of spicy black cherries, vanilla with lightly dried fruit overtones. For exclusive access to new wines join the wine club.
Pro Tip: Make Horseshoe Bay Resort your headquarters for your wine tours and tasting adventures.
Try these other Texas specialties during your Lone Star visit: