On a quest to find a great pair of comfortable walking shoes? We were too, so we surveyed our team, our writers, and enlisted the help of our TravelAwaits Community Facebook group. We asked our travel-savvy members, "What's your go-to walking shoe when you're traveling?" They delivered with suggestions for comfortable and supportive shoes for both men and women.
Now we're not claiming that these shoes are affordable or stylish, just comfortable for walking. From slip-on sneakers to lace-ups, treat your feet to a new pair of comfy shoes from our recommendations below.
Comfortable Walking Shoes For Women
Buy Now
"Kane Footwear prides itself on its sustainability and performance. The Kane Revive shoes are made from sugarcane-based EVA foam from Brazil, making them eco-friendly and incredibly durable. The six recovery features the shoes focus on are breathability, stimulation, support, rebounding, cushion, and grip. You can certainly feel these features while you're wearing the shoes. I chose the black/cream color because they match more outfits I own.
"Before owning this shoe, I primarily used Crocs. Crocs are similar to the Kane Revive but are less stylish and offer less support. The Kane Revive offers plenty of support, especially around the arch of the foot. I couldn't imagine going on a hike with Crocs, but I could with the Kane Revive. As for travel, the Kane Revive is fairly easy to put on and take off. Crocs are easier to slip in and out of during the security line but don't offer the breathability, cushion, and grip of the Kane Revive.
After wearing the Kane Revive for a while, I found a great combination that helped my feet and legs. Combining the Kane Revive with compression socks helps to maintain proper blood flow through the legs and feet. After a long day of walking, this combination ensured my feet were not tired or in pain. If you are struggling to find a supportive shoe to help you get through the day or long activity-driven days, the Kane Revive is for you." — Maria Hernandez, Editor at TravelAwaits
Buy Now
"When it comes to sneakers, I've been wearing New Balance 574s almost exclusively since high school (so a long time!). I can't do without good arch support, so while I like the look of some trendier fly-knit sneakers, I never found a pair that worked until I got myself Kizik's Roamer just in time for the holidays.
Kizik's claim to fame is their step-in technology, which I expected to be more mechanical and maybe a little awkward. Not so. These really are the perfect sneaker for everything from running errands to getting through the airport thanks to the way the soles are molded. You can step into them completely hands-free with or without socks, which I absolutely love (my feet tend to run cold because I have Raynaud's).
While Kizik has a whole lineup of step-in sneakers, the Roamer just exudes cool. I've been wearing them daily for nearly a month and have gotten plenty of compliments and all the arch support I need." — Linsey Stevens, Managing Editor at TravelAwaits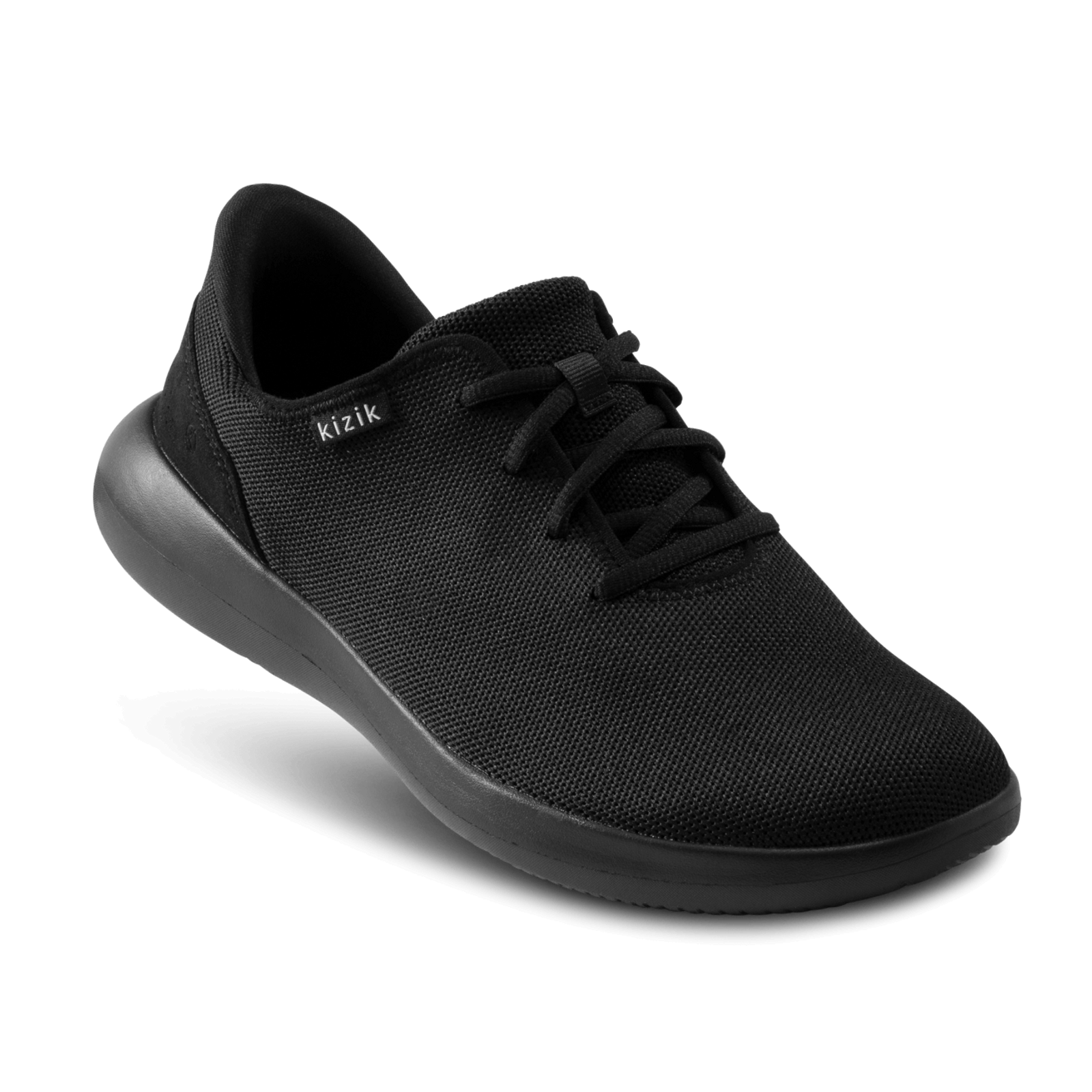 Buy Now
"I picked up a pair of Kizik's Madrid Eco Knit walking shoes and have been wearing them for a couple of months now. They are an extremely solid and supportive shoe, but also super easy to put on and take off, even hands-free.
I am able to wear them all day and my feet don't get tired or begin to hurt like they do in other shoes that I have tried. When I accidentally spilled something on them, I was able to get them clean with no issues, which is a huge benefit. And, the sleek black color and texture is great for hiding any dirt or grime that I come in contact with. I will be looking to add another pair to my wardrobe as soon as I am able." — Jana Kell
Buy Now
"I was looking for a comfortable white sneaker, and the Kizik Woman's Lima in eggshell white looked like the perfect shoe. These are definitely more than just a fashion statement!
"The eggshell white is a great color as I did not want a bright white shoe. The Lima comes in 12 different colors, and they also have men's sizes.
"Not only are they super comfortable and lightweight, but the shoes are also perfect for someone who has trouble bending down to tie the laces. The slip-on feature is fantastic. I was a little skeptical about the backs staying up, but they stayed in place. They are stiff but by no means uncomfortable. My grandson even slipped them on and thought they were pretty cool.
"The breathable knit makes these shoes great with or without socks. If you're wondering what size to order, mine ran true to size. These are my new go-to shoes for all of my errands. I highly recommend them, especially if you have arthritis." — Gloria Kemkes, retired teacher
Buy Now
"Kizik patented the original hands-free shoe. They are reinforced on the heel so you can just put your foot right into the shoe — no bending necessary! Kizik shoes are perfect for people like my husband, who smush down the backs of their tennis shoes because they don't bother putting them all the way on.
I love them because they are so easy to put on and take off. I don't wear shoes in the house, but I do when I go down to the basement to do laundry. On laundry day, I keep my pair of Kiziks by the stairs so I can step into them quickly, even with my hands full.
Kizik offers several styles of shoe, but I chose the black Athens tennis shoes since that's what I was in the market for. As my delivery guys can attest, I order a lot of shoes — most of which are returned because I am so picky — but I am keeping my Kiziks!" — Laura Ray, Content Strategist at TravelAwaits
Buy Now
"I found out about these shoes from another TravelAwaits article. My feet always swell badly when I fly, and if I take my shoes off, I can't get them back on. Plus, just the thought of how many feet have been on my plane before me keeps my shoes on.
I hate an ugly shoe but bit the bullet and purchased the Orthofeet Sanibel. What it lacked in attractiveness it more than made up for in comfort. When shopping the Orthofeet website, you can search for shoes based on your needs, in this case, swelling feet.
I love all the Velcro adjustments as well as the stretchable mesh incorporated into the shoe. I am about halfway through a 10-hour flight, and my feet have begun to swell. I made a few adjustments to the Velcro fastenings, and my feet are very comfortable. Each shoe comes with arch supports and various liners so you can customize the shoe to fit you perfectly." — Peggy Cleveland, Writer at TravelAwaits
Buy Now
"I've been on the hunt for a replacement for my favorite pair of sneakers, so I was stoked when BALA reached out to let me try their Twelves. When it comes to tennis shoes, I'm a real Goldilocks. I can't tell you how many pairs of shoes I've ordered, tried on, didn't like, and returned. They're either too tight, made of material that doesn't breathe, or the design is flawed.
When I first slipped on the BALA Twelves on my way to tennis, I was trepidacious about trying out a new pair of shoes on the court. Should I bring my old favorites just in case? I had no need to worry because the BALA Twelves are great! They're comfy yet supportive, breathable, and fit just right. BALA designed them for nurses, so if you or someone you know is on their feet all day, I would totally recommend them. But they're also great for working out or just running errands.
The only thing I would warn you about is that they snap over where the shoelaces knot, which could be difficult for those with arthritis to use." — Laura Ray, Content Strategist at TravelAwaits
Buy Now
"I liked my Vionic sneaker more than I thought I would while walking all over Europe. I did regret the choice of white here or there." — Missy Glassmaker, SVP at TravelAwaits
Editor's Note: Don't want white? Choose from 11 other colors.
Buy Now
"We took a port-heavy Mediterranean cruise and walked all over about 10-14,000 steps a day. I was amazed how well these Sketcher Walking Shoes wore and as slip-ons they had the right amount of wiggle room in the afternoon when feet get a little swollen." — Juliet Lyon Caruso
Buy Now
Comfortable Walking Shoes For Men
Buy Now
"I super highly recommend the Nike Air Max series. I have the Air Vapor Max which are stylish and the most comfortable sneakers I ever owned. And the Nike Air Max which is even more supportive and even more comfortable. They are more pricy than the average run-of-the-mill sneakers, but boy are they the most comfortable sneakers I ever owned, and I have owned hundreds of kicks. I mean, aren't your feet worth the very best?" — Benjie Hawkins, TravelAwaits Community Facebook Group
Buy Now
"New Balance cross trainer…I have the 621 right now." — Mark Morelli
Buy Now
Related Reading: