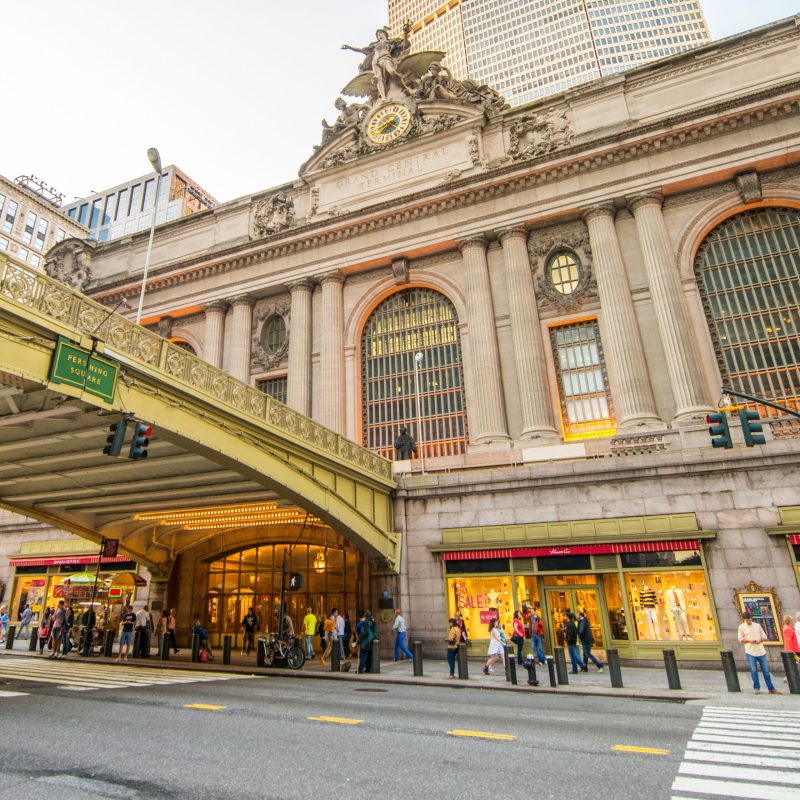 It's about trains, sure, but it is also about fine dining, entertainment, shopping, history, luxury, and more. You can call her Grand Central Terminal, Grand Central, the Terminal, GCT, and Grand Central Station (which refers to the old underground station).
On February 2, 1913, Cornelius Vanderbilt's vision became a reality when architect Whitney Warren's magnificent Grand Central Terminal was open for business. Today, Grand Central hosts over 750,000 visitors and tourists daily and is open between 5:30 a.m. and 2:00 a.m.
1. The Station's Celestial Ceiling Has A Flip-Flopped History
The centerpiece of the Main Concourse is its celestial ceiling, which features the 12 zodiac constellations. At some point during the design, the order of the constellations was painted in reverse, with west and east flipped. The design was eventually corrected, but Orion still faces backward.
In June, 1945, renovations on the roof of the Main Concourse were completed. The mural, which had fallen victim to numerous leaks, was repaired, and a new, duplicate mural was painted. The 12 constellations are composed of thousands of gold leaf stars, with some twinkling lights dotting the sky.
If you look up at the giant zodiac on the ceiling, you'll find a small, dark brick next to Cancer, the crab. This brick is a reminder of what the station's ceiling looked like before it was cleaned during the 1998 restoration project. According to John Canning Company, which cleaned and restored the mural, the brick represents the two-inch thick grime covering the ceiling, caused by decades of air pollution.
2. The Whispering Gallery Keeps No Secrets
Commuters and tourists causing a noisy tromp around Grand Central cannot drown out the tiniest whisper on the lower level. In a four-arched entryway designed by Spanish tile worker Rafael Gustavion, there is a secret: You can whisper into one arch and your partner or traveling companion can hear what you're saying in the other arch — diagonally across from you, 30 feet away.
This is a phenomenon caused by the perfect curve of the arches and sound traveling along the tiled walls. Urban legend has it that many marriage proposals and a few infidelity revelations have happened in this peculiar gallery!
3. A Multi-Million Dollar Clock Greets You
Estimated to be worth as much as $20 million, the Grand Central Information Booth Clock is the grand dame of the terminal. The phrase "Meet me at the clock" refers to this clock only and is understood by every New Yorker. Not only is it a very busy information booth, it has been featured in countless movies and is a prime spot for a quintessential New York City photo.
With a stunning brass design and four opal glass faces, this clock is a showstopper, not to mention extremely valuable. On the top of the clock is a brass acorn, one of the trademarks of the Vanderbilt family.
4. The Beauty Of Tiffany Is High Above 42nd Street
Have you ever dreamed of receiving an iconic Tiffany blue gift box? Well, the 14-foot-diameter Tiffany glass clock that watches over 42nd Street and Park Avenue is a gift for every New Yorker and visitor. The grand clock is atomically calibrated so you will always be on time.
In 1992, Rohit's Studio began a 12-year journey to renovate and restore Grand Central's Tiffany clock. The process of removing the glass pieces was complicated by the narrow stairway in the clock tower. You can view the tiny staircase in a short clip presented by the History Channel.
5. The Gods Of Transportation Are Watching
Surrounding the Tiffany clock is the Transportation statue. This 1,500-ton, 48-foot-high statue presides above the south-facing entrance.
The statue depicts three Roman gods watching over the people of New York. In the center stands Mercury, the god of merchants and travelers. On the left is Hercules, the god of strength and travel. On the right is Minerva, the goddess of wisdom and commerce. In choosing these three gods for the statue, artist Jules-Felix Coutan incorporated all aspects of travel and transportation coupled with artistic grace and beauty.
6. There's A Secret Underground Platform
A secret transportation platform in New York at a swanky hotel? Say it isn't so! Under the Waldorf-Astoria Hotel is an abandoned platform and track. Legend has it the platform once transported VIPs including Franklin Delano Roosevelt, Adlai Stevenson, and General Pershing, among others, to waiting automobiles or private rail cars. The platform allowed the Waldorf-Astoria guests a way to escape and avoid the eyes of the press.
According to Joseph Brennen, an expert on abandoned stations, the platform existed before the famous hotel was built. It was pressed into service at the request of high profile guests.
7. You Can Have A Game Of Tennis While You Wait
Fancy a quick game of tennis while you wait for your train? On the fourth floor overlooking Park Avenue is the Annex, home to the Vanderbilt Tennis Club. The club is open to the public and has a regulation-size court, practice courts, and a fitness center. You can access the club from inside the Terminal on the ramp for tracks 100 to 117 or use the street entrance on Vanderbilt Avenue.
You can reserve a spot on this deco hard court by calling their reservation line: 212-599-6500.
8. Artisan Gifts Are Available In Glorious Vanderbilt Hall
A traditional Holiday Fair is held in historic Vanderbilt Hall each year beginning mid-November and continuing through Christmas Eve. The fair showcases local artisans who sell everything from one-of-a-kind paintings and children's toys to clothing, unique soaps, and many other types of goods. It is a time-honored event where you can find locally crafted gifts for everyone on your shopping list.
9. There's A Miniature Replica Of New York City
Grand Central knows a thing or two about trains! For the past 18 years, From mid-November to mid-February, the New York Transit Museum's Grand Central Gallery has hosted a miniature version of New York City and a delightful electric railroad. The O-gauge model train layout is the star of the exhibit as it chugs through the New York City landmarks. If you look closely, you may even spot Santa!
From starlit skies to underground railway commuters, the Holiday Train Show has something for the young and young at heart.
10. Spectacular Events Are Hosted At Grand Central
You can book a public or private business event in the luxurious Vanderbilt Hall. Unfortunately, weddings cannot be accommodated, which is a shame, because the space is spectacular.
Vanderbilt Hall is 6,000 square feet with 48-foot-tall ceilings and five gorgeous chandeliers. Restored to its original grandeur in 1998, the hall is located off East 42nd Street and Park Avenue, meaning it has a very fancy address that gives events a certain cachet.
11. Eats Range From Grab-And-Go To The Michelin Starred
Grand Central Terminal boasts everything from a Michelin-star restaurant to grab-and-go delights.
The Grand Central Market is modeled after a European-style market and houses 13 local purveyors. Open daily, the market is located near track 19, east of the Main Concourse. The market features vendors offering chocolate, cheese, spices, meats, home goods, gifts, and souvenirs.
The lower level Dining Concourse showcases local restaurants like Shake Shack and Magnolia Bakery — two of New York City's signature establishments. With a choice of 20 restaurants, you will find something to strike your fancy.
Agern, a one-Michelin-star establishment run by chef Jeppe Kil Andersen offers fine Nordic dining. If you are visiting New York City for some Christmas shopping and holiday decoration viewing, secure a reservation for Julefrokost for a sumptuous, traditional Danish Christmas lunch.
The Campbell Bar is a New York City institution. You have the option to dine in the country club-inspired bar, the indoor oasis lounge, or the outdoor covered veranda. Relax with a classic cocktail coupled with a few delicate dining selections that will send you back in time to the days of elegant rail travel.
Finally, Grand Central Oyster Bar and Restaurant has been serving up seafood in New York City for over 100 years. In 1974, the restaurant underwent a renovation and reinvention, becoming the shining star it is today. They offer an amazing five-page oyster menu.
12. Private Tours Unlock Grand Central's Story
Behind-the-scenes tours are an interesting way to see the inner workings of Grand Central. The hidden staircases, underground rooms, and many nooks and crannies of historic Grand Central Station and the current day terminal are yours for the taking when you commit to a tour.
Untapped New York offers a walking tour of Grand Central focusing on its history and architecture. If you are a foodie, try the gourmet lunch tour, which includes tasty nibbles, lots of history, and hidden secrets.
Grand Central Station or Grand Central Terminal, no matter what you call her, is a glorious building of grand stature that presides over central New York City. Plan to spend a few hours exploring this classic landmark uncovering a wealth of history and grandeur and making wonderful New York City memories.
NYC bound? Read up on