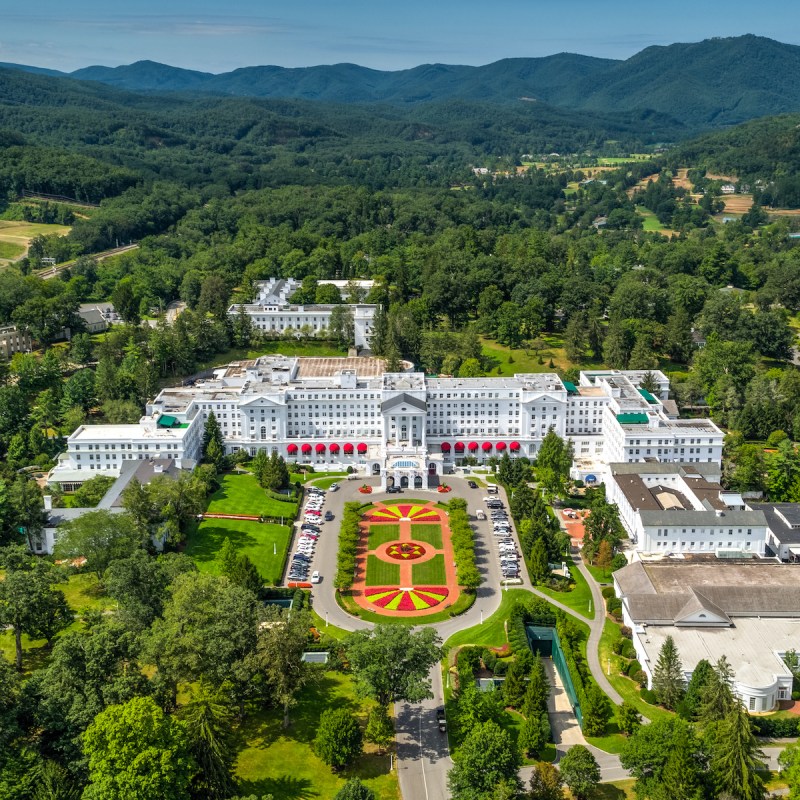 The Greenbrier Resort and Hotel sits majestically in rural West Virginia, a bastion of elegance that has been known as "America's Resort" since the area's natural hot springs started attracting visitors to their healing properties in the late 1700s. The original hot springs, while no longer in use, are still at the center of the property in recognition of this historic resort's roots.
1. The Greenbrier's History Will Become Part Of Your Own
Set among the Greenbrier Valley: WV Vacations | Weekend Getaways Allegheny Mountains, The Greenbriar covers over 11,000 West Virginia acres and has hosted 28 presidents, royalty, celebrities, and business leaders. It has been a tradition within many families throughout generations to gather and vacation at the resort that has grown far beyond a hot mineral spa retreat.
It is a touchstone for many families, and their children grew up learning how to play tennis or golf, meeting other kids, then returning for those kids to be married at The Greenbrier. A few years later, all three generations return with their grandchildren, starting new family traditions. There are many stories of generations spending their holidays at America's Resort and it is the perfect multi-generational family escape, reunion, or getaway.
To maximize the multi-generational family vacation, look for some of the things that The Greenbrier offers or, better yet, make The Greenbrier your center for family fun. One thing that helps in family gatherings is space and variety and this resort has both in spades. It is enormous with hotel rooms and suites of many sizes, 710 in all, 10 lobbies, 40 meeting rooms, and dozens of restaurants and retail stores.
2. Keep The Family Together At A Self-Contained Paradise
Drive up to the majestic Greenbrier, leave the valet your keys, and, except to visit charming local towns, you won't need your car until the dreaded checkout day. The Greenbrier is a vast property but safe and completely self-contained. A series of shuttles get both adults and children to their selected activities and an array of restaurants make sure no one goes hungry. For the adults, The Greenbrier's historic watering holes like the Lobby Bar have hosted thousands of luminaries and countless friendships have been formed there and business deals scrawled on the back of napkins. It's that kind of bar!
3. Dining Choices Abound — For Everyone
There is always coffee and tea in the main lobby in the mornings, but the amenity most guests try not to miss is the daily high tea where hot or cold tea and a variety of desserts get visitors through their afternoon lag.
Enjoy breakfast in your room, grab a coffee at the Greenbrier Gourmet & Coffee Bar, or enjoy the regal elegance of the Main Dining Room. The Coffee Bar is open all day and transitions to sandwiches later. An ice cream parlor is also right next door. There are several cafes for lunch or shuttle out to the golf courses for Sam Snead's restaurant and Slammin' Sammy's bar and grill. At the pool, Tree Tops Cafe takes care of food and drink all day long.
Dinner can be an elegant, many-course meal at the Main Dining Room where a dress code is enforced or head to The Pizza Shoppe for a casual salad and pie. Perfect for all ages, The Forum and Prime 44 West SteakHouse allow families to mix up their dining choices or mom and dad can have a romantic dinner while the kids grab a pizza, even delivered to the room.
4. Active Sports Enthusiasts Will Never Be Bored
The Greenbrier is known worldwide for its golf courses and they are breathtaking. Designed by Sam Snead and then updated by Jack Nickalus and other golf course designers, the highly respected Old White course has hosted Ryder Cups and PGA tournaments. Every hole has a story and getting a tour of the course is a special treat. The Meadows and The Greenbrier are two more 18 hole courses and the Ashford Short Course copies some of the most famous holes in the world. A golf center with a pro shop, lessons, swing clinics, and an excellent pro staff rounds out the incomparable golf program.
Tennis is another world-class sport at The Greenbrier and the resort hosts several tournaments annually. Outdoor courts stretch over many acres and indoor courts can be reserved on those rainy or cold days when avid tennis players just "have" to play. Pickleball players are also welcomed at The Greenbrier courts.
An enormous infinity pool is where I like to spend days at the resort. A kids pool, plenty of room in the shallow end, and an infinity edge that overlooks The Old White are awesome features. There are chairs and towels aplenty and service here, as everywhere, is outstanding. Just charge it to your room.
Outdoor exploration is also on tap with mountain bike trail rides, ATV tours, aerial adventure course and climbing tower, gun club, and ice skating in winter. Head to the activities desk and arrange your day or week. Next time, I plan to fish one of the streams winding through a golf course for a maximum outdoor immersion. Or maybe it will be a falconry class.
5. The Grandparents Will Not Lack For Things To Do
Although many grandparents will happily play a round of golf or a game of tennis, if the older adults would rather slow it down after a day at the pool, maybe a game of shuffleboard or a round of croquet is more appealing than sweating.
Horse-drawn carriage rides around the resort property are popular and the resort's main building is full of nooks and crannies perfect for curling up with a book or Kindle. Of course, the spa and indoor pool are there for relaxation and recovery.
6. Rainy Days Are Never Boring
Although The Greenbrier is built to indulge outdoor and sports enthusiasts, being stuck inside is not too bad. The glamorous, tiled indoor pool on your way to the spa is a true nod to the history of America's Resort, and the spa is rated one of the top 20 in the world. Of course, the spa is built around the natural hot springs and their therapeutic powers but facials, massages, and wraps round out the menu.
The original bowling alley has been preserved and is truly reminiscent of the early highly polished manual lanes. An arcade takes care of pinball and video game urges. Two escape rooms for kids or adults encourage families to strategize together and against each other. Both kids and adults can do crafts like jewelry making or glassblowing or a collectible toy experience.
The Bunker Tour is the ultimate indoor experience and, while small children will not appreciate the 90-minute historical recounting, adults of all ages, especially those that remember the Eisenhower-Era nuclear fears, will be in awe of the fact that an entire government facility and small city was hidden by The Greenbrier, tucked into a hillside and disguised as the construction of a conference center. For 30 years, the bunker was maintained at the ready to accommodate the entire house and senate representatives in the event of an attack.
7. Evenings Can Be Spent Dining, Dancing or Gambling… Or All 3
On the lower level of The Greenbrier is a sophisticated casino designed for those that like to play slots or cards but The Casino Club is also known for dining, live music, champagne toasts nightly, and dancing to the DJ-directed tunes late into the night. Of course, babysitters can be hired through the hotel.
8. Color And Patterns Are Everywhere Thanks To Dorothy Draper
One thing that attacks the eye and refuses to let go is the interior design at The Greenbrier. Famed New York decorator Dorothy Draper was given full control to make The Greenbrier memorable and, even now, her success with color, graphics, patterns, bold carpets, and rich wallpapers is undeniable.
How Draper put together such incredible textiles in seemingly random fashion and the fact that they worked then and continue to set a high bar for design, is testimony to Draper's creativity and that of her successor and apprentice Carleton Varney. You will not forget your visit to The Greenbrier and daily memories are guaranteed to last lifetimes.
Pro Tip: Take a day off from all the activities at The Greenbrier and visit the adorable town of White Sulphur Springs with its barbecue wine shop and boutiques, or charming downtown Lewisburg, full of theaters, museums, galleries, and other arts inspirations.
While The Greenbrier is a destination all its own, there are nearby areas that also beckon travelers:
8 Reasons To Visit Lewisburg, West Virginia
10 Quaint Small Towns To Visit In West Virginia
How To Spend A Fantastic Long Weekend In Charming Morgantown, West Virginia