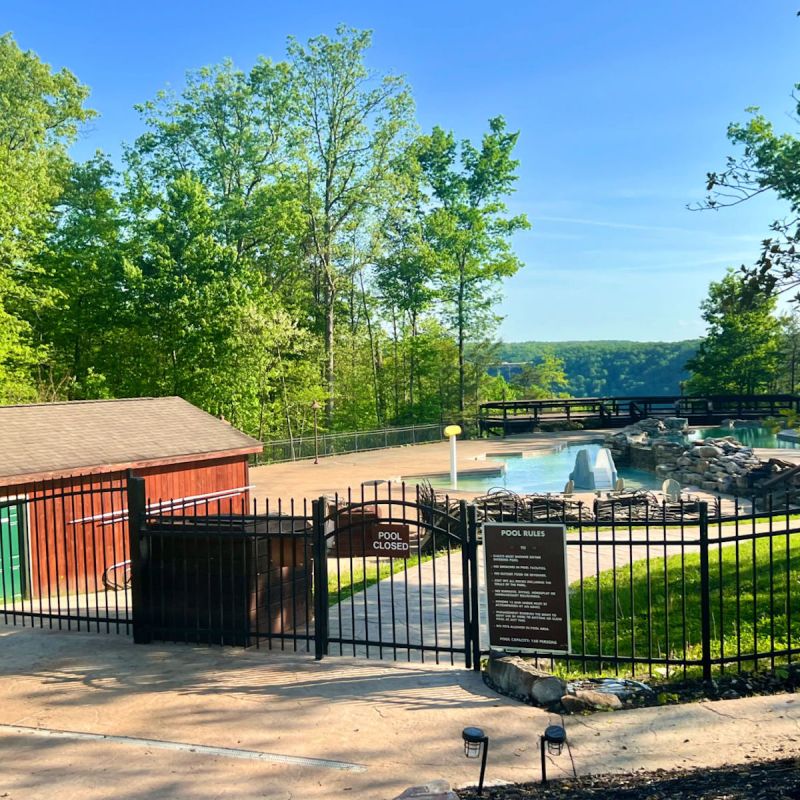 Welcome to wild, wonderful West Virginia! This magnificent state is a treasure trove of beauty and charm waiting to be discovered as soon as you cross the state line. For too long, the wonders of West Virginia have either been overlooked or kept secret by those who adore its small mountain towns.
But now, with the addition of the New River Gorge as the 63rd park in the National Park System, this hidden gem is set to welcome an influx of new visitors. To help make the most of your visit, a local has graciously shared some of their favorite quaint small towns in West Virginia. These are towns that have left a lasting impression and sparked enthusiastic recommendations to others along their journey. Come, explore the magic of West Virginia's small towns and create your own unforgettable memories.
1. Fayetteville
Fayetteville was voted one of the Coolest Towns in America by Budget Traveler. Here, you'll find a Bohemian spirit with oodles of outdoor opportunities. If you've ever wanted to go whitewater rafting, this is your chance. You'll find some of the best rapids in the country and instructional teams at Adventures on the Gorge to ease your beginner fears or bring out the daredevil for experienced rafters. You can also find lodging (cabins, glamping, RV sites, campgrounds, and vacation homes) for every budget. Enjoy a fantastic gourmet sandwich from Secret Sandwich Society and a side of Pimento Cheese Fries. The Truman is my fave, with turkey, peach jam, blue cheese spread, and crispy onions.
Pro Tip: Views from Adventures on the Gorge's infinity pool are breathtaking.
2. Thomas/Davis
When I visited Thomas a few weeks ago, I was blown away by the vibrant art scene and trendy shops that have recently emerged. Not only that, but you can also find a fantastic coffee shop, a Christmas store, and several charming boutiques. But that's not all — Thomas is also home to one of the best music venues in the state, The Purple Fiddle, where you can enjoy live mountain and bluegrass music performed by the incredible house band.
And when it comes to food, you won't be disappointed either. From slow-cooked carnitas tacos to a delicious bowl with rice, beans, queso fresco, pickled slaw, and a fried egg, Picnic is the perfect takeout spot with ample outdoor and indoor seating for picnicking. And if you appreciate history, you'll be thrilled to know that the area boasts 50 buildings that are listed on the National Register of Historic Places.
Three miles away in neighboring Davis is an adorable retro-chic motel that I didn't have the chance to stay at, but not for lack of trying. The Billy Motel and Bar is highly popular and looks like it belongs on Route 66 rather than rural West Virginia. Have drinks at the bar and take in the cool ambiance.
3. Shepherdstown
One of West Virginia's oldest towns is Shepherdstown in the panhandle region of Jefferson County. Enjoy scenic views of the Potomac River or soak up the wonders of the town that was a runner-up for our nation's capital. I enjoy staying at the Bavarian Inn Resort & Brewing Company, with award-winning German cuisine (think schnitzel, apple strudel, and sausages), comfortable, elegant rooms, and a fantastic infinity pool. Shepherdstown has a colonial feel to it, which you'll notice at once. Stop in O'Hurley's General Store for a stroll down memory lane and an incredible selection of home décor, clothing, jewelry, souvenirs, toys, gourmet foods, and such.
Shepherdstown is 10 miles away from historic Harpers Ferry National Historic Park, where one of the most precipitating factors of the Civil War took place.
4. Summersville
Calling all you boaters and campers… Summersville (Nicholas County) is the place to be in West Virginia. You'll be in awe of the beauty of this popular human-made (rock-fill dam) 327-foot-deep lake only 20 to 25 minutes from Fayetteville. Find yourself a quiet cove for fishing or relaxing, or you can get out on the vertical cliff-surrounded lake for ultimate boating fun. Summersville Lake has a full-service marina and public beach area.
Camp on your own or rent a cabin or yurt at Mountain Lake Campground, which is also pet-friendly and offers golf rentals. Sarge's Dive Shop is open for paddleboard and kayak rentals as well as diving excursions. Pontoons and speedboats are also available for rent at Summersville Lake and make for a great day on the beautiful clear water. If you've ever considered getting scuba certification, Summersville is an excellent place to do it.
Head into downtown Summersville to enjoy a delightful meal from The Vault on Main, a restaurant and wine bar in the historic Nicholas Bank. It features live music on weekends and has a noteworthy speakeasy downstairs. The Strawberry Salad is one of the most popular lunch items.
5. White Sulphur Springs
White Sulphur Springs is a pristine community with my favorite resort in the country – The Greenbrier, America's resort since 1778. This place will literally knock your socks off with its luxury accommodations, high-end shopping, gambling, historical tours, golf, year-round Christmas shop, and sprawling grounds with incredible pools. White Sulphur Springs itself is a picturesque town with adorable little shops and quite a few festivals. If fishing is in your wheelhouse, cast your line and be prepared to pull in some tale-worthy big ones.
Looking for some well-deserved pampering? Just a short drive away, you'll find POMONA Salt Cave & Spa (closed on Wednesdays), a hidden gem where you can unwind in a unique hobbit-like cave adorned with Himalayan salt. Experience the rejuvenating effects of Halotherapy while treating yourself.
And after, why not indulge in a delightful lunch at 50 East Casual Dining & Spirits on Main Street? I recommend the Irish nachos or a flavorful avocado chicken wrap. Top it all off with the Instagram-worthy Bountiful Bloody Mary.
Fun Fact: Jerry West graduated from my high school. Honoring the NBA legend and man's silhouette that still graces the basketball, Prime 44 West at the Greenbrier is a top steakhouse in the state.
6. Marmet
A few minutes from Charleston, WV's capital city, is Marmet, population 1,625. Besides having the best West Virginia hot dogs of all at Chum's (you've got to try the yellow mustard slaw!), it is a town with a timeless annual tradition that is worth a visit.
Join the locals and visitors in Marmet as they roll out the red carpet for the Marmet Labor Day festivities and parade. Gather around MacCorkle Avenue to watch a small-town American parade honor the labor workers with bands, nearby fire departments, politicians and labor party representatives, children's organizations and church groups, candy-tossers, and much more. Following the parade are fireworks, carnival-style fun and games, music, and good home cooking at Ben Morris Field.
7. Seebert
Discover the charm of Seebert, a beloved town in West Virginia's picturesque Pocahontas County. This welcoming community is perfectly situated by the scenic Greenbrier River and the renowned Watoga State Park. Don't miss a visit to Jack Horner's Corner, your go-to destination for kayak and tubing rentals. Embrace the local way of life by immersing yourself in the refreshing waters. If you're new to river tubing, simply don your swimwear and water shoes, grab a tube, and enjoy a leisurely float downstream. Need supplies? Jack Horner's Corner also offers groceries, pizza, and other convenient items.
You can camp in the state park or stay in the charming waterfront Greenbrier River Cabins for lodging. Motorcycle touring is another popular way to see Seebert, with fantastic scenery and some of the curviest roads in the state. Discover the Pearl S. Buck Birthplace Museum, just a stone's throw away, in charming Hillsboro. Open from Mother's Day to the end of October, this unique attraction greets visitors every Friday and Saturday from 10:30 a.m.–5 p.m. As part of the esteemed Quilt Trail of Pocahontas County, this historic home offers a fascinating glimpse into the life of the renowned Nobel Prize winner. Admission for adults is $10, granting you access to this treasured piece of history.
8. Sutton
Check out Sutton, a charming town in Braxton County! Explore the darling downtown, where you can indulge in a delicious meal while ax-throwing at Bad Axe Bistro. Then, go shopping for unique West Virginia souvenirs at the Mountain Laurel Country Store before immersing yourself in local lore at the Flatwoods Monster Museum on Main Street. For a memorable stay, book a room at the stunning Elk River Hotel and Cafe, which also offers the option of glamping in cozy domes along the picturesque Elk River.
Nearby is the paranormal giant, the Trans Allegheny Lunatic Asylum. Formerly the Weston State Hospital, this 160-year-old asylum is where countless lobotomies were performed. And if you hadn't guessed, it is highly haunted and featured on several Ghost Network shows. I highly recommend a tour of this National Historic Landmark.
9. Dunbar
Dunbar is a stone's throw from Charleston, with the best bingo in the state. I'm not talking about your run-of-the-mill bingo hall. The Dunbar Athletic Boosters Bingo Hall has hundreds of people cashing in on big jackpots, pulling tips (if you know, you know), and munching on homemade pies, cakes, and a wide array of dinner options. Saturday nights, you can play bingo for less than $35, which lasts several hours into the evening. Funny, this thrilling weekly entertainment and camaraderie is the one thing I miss most about living in West Virginia.
For overnight accommodations, the vibrant Mardi Gras Casino & Resort is 10 minutes away.
10. Lewisburg
Immerse yourself in the true American vibe of downtown Lewisburg. Discover a charming landscape filled with local shops, delightful restaurants, stunning flower displays, and enchanting street flags. Take a leisurely stroll through meticulously maintained parks, all nestled in the picturesque Allegheny Mountains.
Indulge in a world of high-end shopping with Wolf Creek offering fashionable apparel for ladies, Yarid's providing stylish shoes, and Bella the Corner Gourmet showcasing upscale kitchen items. For unique and eclectic gifts, head to Harmony Ridge Gallery where you can even find a selection of fine wines. Treat yourself to a sophisticated dinner at The French Goat or a little less casual but equally as delicious spread from Stardust Cafe.
And when it's time to rest, treat yourself to a luxurious stay at the historic 1929 General Lewis Inn. Relax in a beautiful room and savor the incredible craft cocktails served here.
Pro Tip: Don't miss Lewisburg's Carnegie Hall — one of the four remaining Andrew Carnegie centers in the world.
11. Wheeling
Wheeling is well-known for Oglebay Resort, a year-round resort with cottages and a lodge that really comes to life at Christmas when the Winter Festival of Lights offers some of the best holiday displays in the country. Oglebay's grounds are immaculate — you may not want to leave. A few miles away in Moundsville is the Prabhupada's Palace of Gold (Hare Krishna devotees), easily one of the best religious wonders in the country. Wheeling is great for leaf peepers, a perfect Italian dinner at Figaretti's Restaurant, and playing the slots at the Wheeling Island Hotel Casino and Racetrack.
Related Reading: