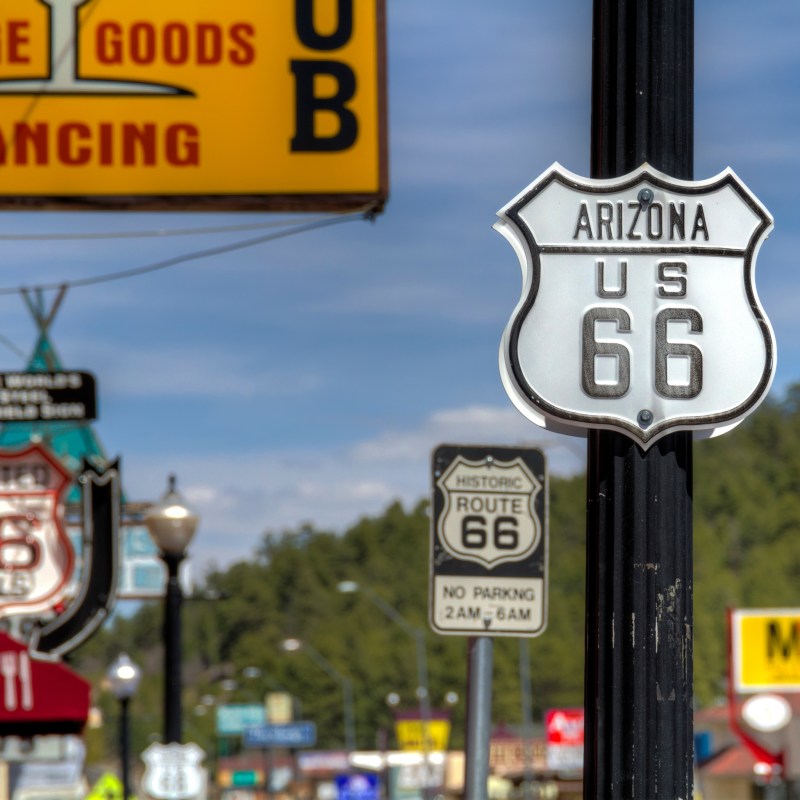 At about an hour's drive from the Grand Canyon, Williams has long served as the gateway to Arizona's stunning natural wonder of the world.
Generations of visitors to Grand Canyon National Park have stopped in Williams — conveniently located along Interstate 40 and the old Route 66 — for meals and refreshments, overnight accommodations, and a wide range of entertainment options.
Although the tourism-oriented town of Tusayan is closer to the Grand Canyon (at just a few miles south), I believe Williams offers a more authentic and well-rounded experience.
With a history that dates back nearly 140 years, Williams has a spirited downtown, a vintage railroad, a drive-through wildlife experience, and a scenic mountain lake about 19 miles south of town.
Over the years, the town of just over 3,000 population has evolved from a Western outpost into a thriving little city with a range of dining and hotel choices typically found in larger communities. Still, Williams retains a small-town feel and is the perfect stopping-off point before heading north to the state's premier tourist attraction.
Things To Do In Williams
Despite its proximity to the Grand Canyon, Williams has an identity that is separate from its gateway status. Groups of families and friends regularly gather on the historic downtown streets and flock to Williams's wildlife experience, Bearizona.
Here are some of the best things to do in Williams.
Explore Downtown Williams
Over its 139 years of existence, Williams has had a number of roles: Old West gathering spot, early railroad town, Route 66 hamlet, and Grand Canyon tourist spot. Today, it's all right there on display in Williams's wonderfully eclectic downtown.
Walk the streets of the downtown, and don't be surprised if you find a historic hotel that once served as a bordello on one side, and a zip-line ride carrying screaming teenagers on the other. In between are shops selling Mother Road memorabilia, plus local breweries and art galleries.
For a peek into mid-century travel, be sure to stop by Pete's Route 66 Gas Station Museum — a colorfully restored replica of a 1950s-era service station, complete with vintage cars and garage equipment. The museum is located along Williams's stretch of Route 66.
On the other end of the entertainment spectrum, families are sure to enjoy the high-flying Route 66 Zipline, which takes riders soaring above the route of the famous road that once served as the main highway across America.
Ride The Grand Canyon Railroad
As a fun alternative to driving the 55 miles to the Grand Canyon, consider taking "a trip back in time" on the Grand Canyon Railway. The train departs daily from downtown Williams and travels along the more than century-old route to the South Rim of the Grand Canyon.
"Grand Canyon Railway is more than just a mode of transportation; it's a trip back in time on lovingly restored rail cars," according to the train's website. The ride features entertainment by musicians, as well as antics by cowboy characters who sometimes stage an amusing train hold-up.
From the high desert/forest terrain of Williams, the train passes through prairie land before transitioning back to pine trees. Ultimately, the route ends in the midst of the scenic Grand Canyon Village.
The Railway offers a range of price options — from Pullman class to coach class to first class to luxury parlor.
Check Out The Local Wares
True to its Western and Route 66 roots, Williams has a number of shops that offer everything from finely crafted cowboy boots to Route 66 t-shirts.
For classic Williams shopping options, step into Cruise'n on Route 66 for its variety of souvenirs, Western Outfitters for its cowboy boots, hats, and spurs, and The Gallery in Williams for its arts and crafts of Northern Arizona.
Spot Bears And Wolves At Bearizona
The wild animals of North America are on display at Williams's sprawling wildlife park, Bearizona. From the comfort of their cars, visitors can catch sight of a range of wild animals, including black bears, wolves, elk, mule deer, bighorn sheep, and bison.
The park consists of about 160 acres and allows for visitors to drive through its ponderosa pine forest terrain or walk through a 20-acre area along winding paths that are in more of a zoo-like setting.
Kayak Or Fish At White Horse Lake
If all of the sightseeing and shopping has you yearning for a tranquil forest setting, the Williams area boasts the scenic White Horse Lake. Located about 19 miles southeast of town, the pretty mountain lake lies in the midst of the ponderosa pines of the Kaibab National Forest.
The lake is a popular spot for camping, fishing, and watersports, and it also features a hiking trail following the lakeshore, as well as a trail to the nearby Sycamore Canyon Vista. Note that although a portion of the road to White Horse Lake is paved, the final 10 miles or so of the trip is via a dirt road that includes some steep, twisting sections and rough spots.
Hike Bill Williams Mountain
Dominating much of the landscape in Williams is its signature 9,170-foot-elevation Bill Williams Mountain, named after 1800s-era mountain man and scout Old Bill Williams.
The moderate-to-difficult day hike at Bill Williams Mountain Trail #21 offers great views of the valley below and the peaks in the distance. The 8.5-mile route, which passes through lovely stands of aspen and fir trees, gains about 2,300 feet in elevation. Expect to take about five hours to complete the trail. The best time to hike the trail is from early summer to early fall.
Explore The Grand Canyon
Although Williams has plenty to offer on its own, the real draw to the area remains the Grand Canyon. A visit to Williams would not be complete without venturing north to the national park.
There are plenty of ways to explore the canyon, some difficult and some easy. For an enjoyable option, consider renting a bike at the Bright Angel Bicycles shop near the park's Mather Point. From there, it's convenient to get on the paved Rim Trail that follows the edge of the Grand Canyon for about 13 miles. There are many variations for riding or hiking shorter sections of the Rim Trail. The trail is relatively flat and is rated as easy.
Much more difficult hikes are available below the South Rim on the Bright Angel Trail or South Kaibab Trail. Tips for hiking those trails are among our best tips for hiking the Grand Canyon.
Best Restaurants In Williams
The Williams area boasts a range of dining options, from traditional diner comfort food to trendy brewery fare. Depending on your cravings, here are several options.
Cruiser's Cafe 66 Bar And Grill
With its red decor and its diner fare, Cruiser's Cafe 66 on Williams's main drag evokes the heyday of Route 66 in the 1950s. Burgers, sandwiches, and barbecue are Cruiser's claims to fame, and the menu includes more than a dozen variations. For a combination of all of Cruiser's signatures, try the slow-roasted beef brisket sandwich served alongside Arizona Toothpicks — shredded onions and diced jalapeno battered and deep-fried.
Historic Brewing Company
Sixteen craft beers and a menu of elevated brewery fare await at the Historic Barrel + Bottle House. A shady patio offers a great view of the bustling downtown. For something hearty, try the woodfired mac 'n' cheese with panko and parmesan. Or for the lighter appetite, the brewery offers a range of fresh salads including the Arugula Insalata with parmesan, tomatoes, and lemon vinaigrette.
Station 66 Italian Bistro
Woodfired pizzas and beer are the specialties at the casual Station 66 Italian Bistro located along Williams's Route 66. Diners can sit in the shade under umbrellas on the outdoor patio, right next to the downtown action. Menu specialties include the Romeo and Juliet pizza with mushrooms, pepperoni, red peppers, and black olives, and the funghi pizza with wild mushroom ragu, goat cheese, and thyme.
Best Hotels In Williams
The Grand Canyon Railway Hotel
Located next to the train depot and a block from downtown Williams and historic Route 66, the refurbished Grand Canyon Railway Hotel offers the luxury of a bygone era, along with a range of modern conveniences. Visitors can choose packages that include a hotel stay and a train ride to the Grand Canyon.
The Grand Canyon Hotel
For another Grand Canyon-themed accommodation, downtown Williams features the boutique 29-room Grand Canyon Hotel. The historic two-story European-style hotel dates back to 1891 and is among the oldest hotels in Arizona. It is located two blocks from the train station on Route 66.
Williams also has a number of moderately priced chain hotel options not far from the interstate and downtown, including the Holiday Inn Express and Suites Williams and the Best Western Plus Inn of Williams.
Pro Tip: For a signature Williams experience, plan to visit on a warm summer evening, when crowds begin to fill the downtown streets for dinner and a Western show. At 7 p.m. every night from late May through early September, a re-enacted shootout of the outlaw Cataract Creek Gang takes place on the streets of Williams.