Set in locations like Connecticut and Salt Lake City, most Hallmark Christmas movies feature winter wonderlands filled with snow scenes and halls decked to the fullest. While December snowfall is not guaranteed throughout the Land of Enchantment, when you visit any of these charming New Mexico towns this holiday season, you're still sure to fall in love — not necessarily with a tall, dark, and handsome stranger — but with experiences you can only have in New Mexico.
What makes New Mexico so unique? The 47th state is a rich blend of the Pueblo, Hispanic, and Anglo cultures. While the state's multicultural heritage is visible year-round, from a commitment to preserving the Navajo language to a state constitution that provides equal support for Spanish and English, it shines most brightly during the winter holidays. So regardless of your cultural background, when you celebrate the holidays in New Mexico, you'll embrace traditions and foods that you won't typically find elsewhere in the other 49 states (or in any of this year's Hallmark movies).
Christmas In New Mexico
From celebrations to decorations to food, Christmas in New Mexico is unique.
While communities from coast to coast may celebrate Christmas with a pageant, procession, or nativity play, many New Mexicans commemorate the season with Las Posadas. Literally translated as "the inns," Las Posadas commemorates Joseph and Mary's search for lodging in Bethlehem. Using a lantern to light their way, a young couple leads a procession as they ask for a place to stay at multiple "inns." Each inquiry is met with a denial, and the journey ends by celebrating Mass.
When it comes to holiday decorations, look for luminarias ("festival lights") in lieu of electric strings of multi-colored Christmas lights. These little lanterns are made by folding down the sides of a small paper bag, adding a scoop of sand, and placing a lighted tea candle in the center. They certainly add an element of magical beauty to Christmas in New Mexico! In Northern New Mexico, luminarias are often called farolitos ("little lanterns"), so don't let that confuse you!
Lastly, there is the food. While many Americans serve turkey or ham with an assortment of side dishes that loosely resemble a traditional Thanksgiving meal, New Mexicans often enjoy Christmas tamales, Christmas enchiladas (which feature both red and green sauce), and steaming bowls of the "chicken noodle soup alternative" posole. Instead of gingerbread men or decorated sugar cookies, look for biscochitos, crisp cookies flavored with anise and citrus and dusted with cinnamon sugar that have earned bragging rights as the state's cookie.
And now back to the best New Mexico Christmas towns!
1. Taos
As the first snowflakes of the season start to drift into Taos, so does holiday magic start to fill the air. Kick off the holiday season with Lighting Ledoux and Bonfires on Bent Street. As you stroll through the streets illuminated by the soft glow of farolito lanterns and pinon-log bonfires, enjoy live music, delicious holiday foods, and warm beverages.
Finish your Christmas shopping by supporting the merchants at John Dunn Shops, a pedestrian shopping district near the historic Taos Plaza, and find unique and handcrafted gifts at Taos Folk, a famous pop-up store with jewelry, home goods, apparel, and other goods for sale.
As Christmas Eve draws near, witness the moving way the Taos Pueblo embraces the winter season through ceremonial dances. You may wonder why Christmas, a Christian holiday brought to North America by Europeans, is celebrated by Native Americans. When the Spanish arrived in this area centuries ago, they worked hard to convert the indigenous people to Catholicism. As a result, today's Pueblo people celebrate the holidays by pairing their tribal traditions with a drizzle of Spanish culture and a sprinkle of Catholic faith. The Indian Pueblo Cultural Center shares this detailed list of pueblo feast days for all 19 pueblos of New Mexico. Remember that when tribal members are singing and dancing, it is a form of prayer, so be sure you understand the appropriate etiquette before you go. 
$224/avg nightly
Rent Now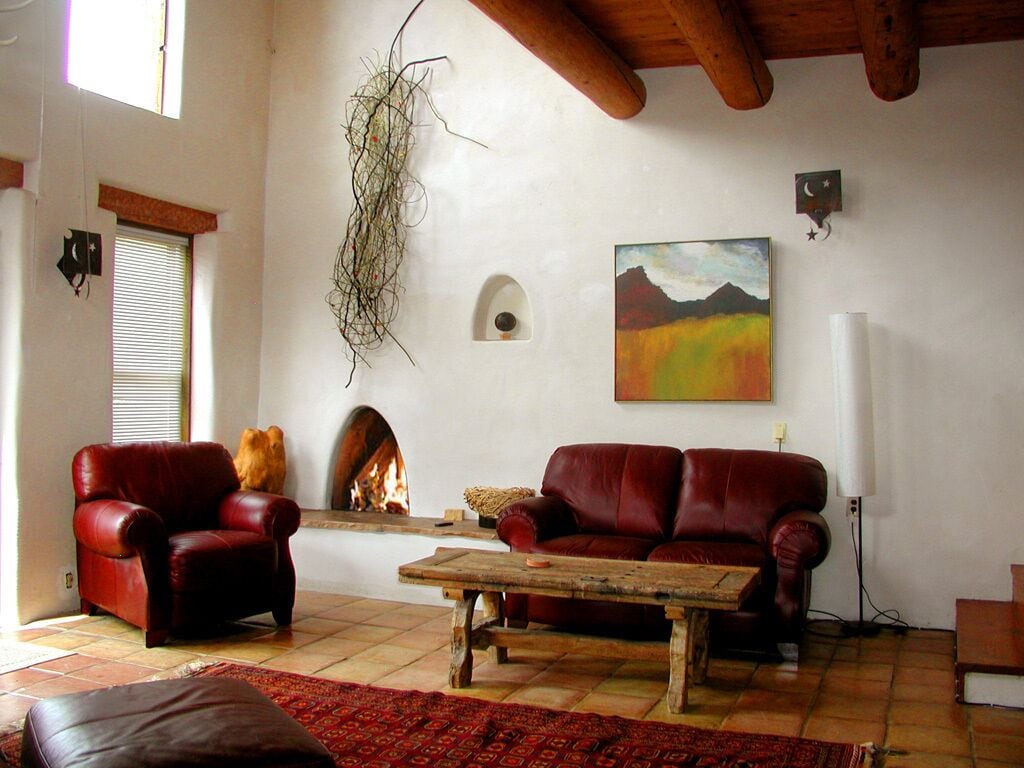 $630/avg nightly
Rent Now
Stay for even more magic between Christmas Eve and New Year's Eve with the torchlight parades during which skiers guided by torchlight gracefully glide down the area's ski resorts against a backdrop of colorful fireworks.
Pro Tip: Regardless of when you visit Taos, enjoy this self-guided walking tour that begins at the Taos Plaza and discover other great things to do outdoors or over a long weekend in Taos.
2. Santa Fe
About 90 minutes south of Taos, Santa Fe is another beautiful New Mexico town that pulls out all of the stops during the holidays. Get in the Christmas spirit the day after Thanksgiving with the Plaza Lighting Ceremony on the historic Santa Fe Plaza. Then return to the Plaza in mid-December to participate in Las Posadas.
On the western edge of Museum Hill, the Santa Fe Botanical Garden is illuminated with thousands of lights during GLOW. And near the Plaza, the 150-year-old Gothic Loretto Chapel is filled with the sounds of Handel, Vivaldi, and traditional carols during its Baroque Christmas series.
If Santa Fe were a Hallmark Christmas movie location, the climax would surely occur during the Canyon Road Farolito Walk. While viewing holiday lights is a common Christmas Eve activity across the country, the Santa Fe version is truly breathtaking. As the sun sets on December 24, a section of Canyon Road and nearby streets are closed to traffic as pedestrians flood in to admire the soft glow of thousands of farolitos lining the sidewalks, stone walls, and flat adobe roofs before heading home or to church to continue their holiday festivities.
Pro Tip: Read here for more magical experiences in Santa Fe during the holidays.
3. Albuquerque
While it doesn't typically snow much in Albuquerque, the city's historic Old Town would surely be the perfect setting for two soon-to-be lovers to meet at the start of a Hallmark Christmas movie. Dating back to the early 1700s, a picturesque gazebo stands in the middle of the Old Town Plaza, the epicenter of holiday festivities in the state's largest city. Welcome the holiday season with the lighting of the Old Town Christmas tree. The streets are closed to traffic, giving visitors plenty of room to stroll through Old Town, admiring the luminarias and supporting the shops and restaurants.
Another delightful way to kick off the holiday season in Albuquerque is by attending the Twinkle Light Parade. Held annually on the first Saturday in December, hundreds of floats, trucks, cars, and even bicycles slowly roll through Historic Nob Hill aglow with lights. If you prefer to be the one in motion, then jump on an ABQ Ride bus at the convention center for a luminaria tour through Old Town and adjacent neighborhoods filled with soft, glowing lanterns.
Albuquerque's BioPark Botanic Garden is a beautiful destination year-round, but it's especially magical during the holidays when millions of dazzling lights, animated sculptures, and a music light show truly make it sparkle. Even better, this brilliant event is an important fundraiser, with proceeds from the River of Lights funding a variety of ABQ BioPark projects to help this jewel of a space shine for years to come.
4. Carlsbad
Located in the southeastern corner of New Mexico, you're not likely to see snowfall in Carlsbad during the holidays. But you will experience a romantic holiday outing that's unlike any other in the Land of Enchantment. By the river, homeowners spend hours lovingly transforming their backyards, boat docks, and islands into a floating Christmas parade known as Christmas on the Pecos. Bundle up with your cutest wool hat and matching striped scarf and climb aboard the Rudolph or Holly for an enchanting 40-minute ride past beautiful holiday displays that cast shimmering reflections that dance like sugar plum fairies in the calm water of the Pecos River.
Six boat tours a night depart from the Pecos River Village between Thanksgiving and New Year's Eve. Tickets are just under $20, with discounts offered to locals, children, and military service members. Both boats are accessible and you can indicate any accommodation needs when you purchase your tickets.

5. Mesilla
About 15 minutes from Downtown Las Cruces, Mesilla is a small New Mexico town with a big past. Before the Stars and Stripes, the flags of four countries flew over this important stop on the Butterfield Overland Trail that connected St. Louis and San Francisco. Today the historic Mesilla Plaza at the center of town is surrounded by unique boutiques and delicious restaurants. And on Christmas Eve, thousands of luminarias fill the historic plaza while Christmas carols float on the high desert air and visitors stay warm with hot chocolate.
These are my favorite shops in Old Town Mesilla — all of which are great places to finish your Christmas shopping (ideally before Christmas Eve) with unique and delicious gifts while supporting small businesses. And who knows, maybe you'll bump into a Hallmark Christmas movie-like stranger who will change your life!
Pro Tip: If you love Mesilla, here are seven other charming small towns you'll want to visit in Southern New Mexico.
Whether you visit a snowy destination in Northern New Mexico or a milder climate in the south, the holidays in New Mexico are filled with unique traditions, decorations, and foods that are sure to stoke your holiday spirit well into the new year.