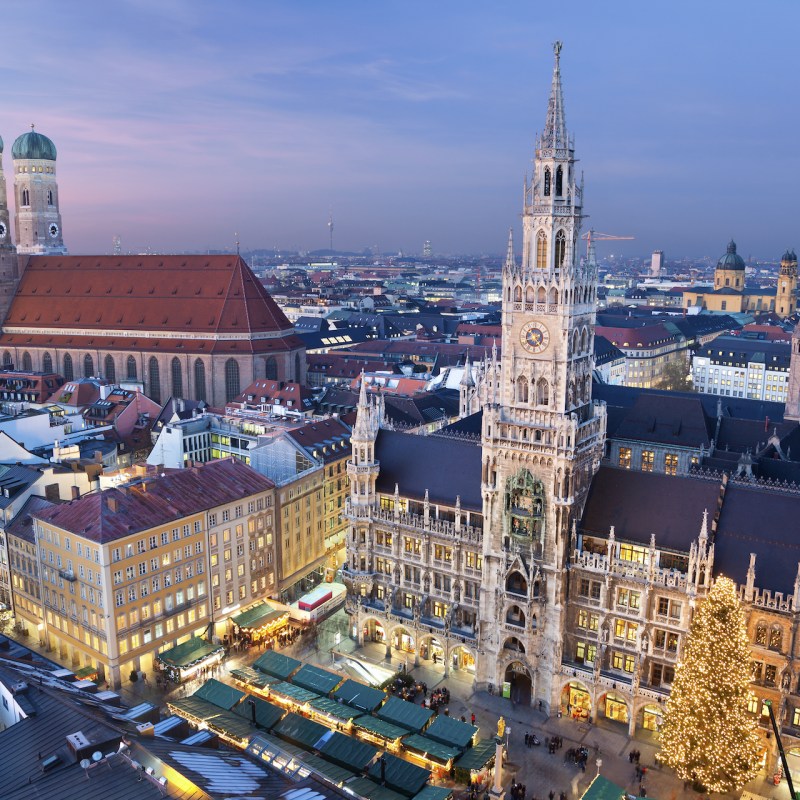 Sure, you could head to the mall to shop for the holidays like always, or you could check off your list in style at a European Christmas market. Shopping at a Christmas market surrounds you with the magic of the season as you hunt for the perfect hand-crafted gifts for your loved ones. Several Christmas markets across Europe invite you to sip on mulled wine, snack on gingerbread, listen to carolers, and delight in the decorations and lights all around as you wander the stalls.
Our travel advisors, Carie Skerritt and Bill Sharo from Dream Vacations, have selected a few magical Christmas market tours to get you in the holiday spirit. You'll also get up-close-and-personal with timeless local holiday traditions. As Skerritt says, "The best part about Christmas markets is immersing yourself in the culture of the community." Here are a few European Christmas market train and bus tours that you can still book now.
1. Oberammergau To Würzburg
Length: 8 Nights
Starting Price Per Person: $1,899
Dates: November 27–December 17
Company: Collette Tours
Hit up all of the classic Christmas markets in Innsbruck, Munich, Strasbourg, Nuremberg, and Würzburg on this train tour that goes through Germany, France, and Austria. Shop for intricate woodcrafts such as nutcrackers and cuckoo clocks as well as Hummel figurines in the Bavarian Alpine village of Oberammergau before moving on to Germany's Black Forest region.
Explore the Christmas markets in Strasbourg's small squares. In December, the entire old town is decorated with a 100-foot-tall Christmas tree standing proudly amidst it all.
Stop by Munich's historic city center, the Marienplatz, to see its remarkable glockenspiel, whose figurines represent essential elements of German history.
After a visit to Würzburg Christmas market, your tour concludes at the historic Nuremberg Christkindlesmarkt that dates back to 1628. Located in the heart of Nuremberg's Old Town, the market is dubbed "the little city of wood and cloth" because it is made up of hundreds of wooden stalls. Treat yourself to a Spekulatius almond cookie, and be sure to pick up a unique Zwetschgenmännle figurine carved out of dried plums.
2. Innsbruck To Munich
Length: 7 Nights
Starting Price Per Person: $2,149
Dates: November 27–December 19
Company: Collette Tours
This train and bus tour takes you to the magical Christmas markets of Austria and Germany, where the Christkindlesmarkt tradition began over 600 years ago. Most of the tour is spent in Innsbruck, which is a good thing since you'll need all five nights to explore all of the Austrian Alpine city's charming Christmas markets.
Take a train to the Alpine village of Seefeld, where you can sip on schnapps before riding in a real horse-drawn Christmas sleigh. Talk about a winter wonderland! In Salzburg, you'll take a walking tour and check out the city's Christmas markets before having dinner at St. Peter's restaurant, which is hundreds of years old. Finally, a stop in Munich lets you finish your holiday shopping at one of the largest Christmas markets in Europe.
3. Vienna To Zurich
Length: 7 Nights
Starting Price Per Person: $1,733
Dates: November 24–December 20
Company: Trafalgar
Experience the iconic Christmas market countries of Austria, Germany, and Switzerland on this bus tour. From candles and carolers to snowflakes and stollen, these markets are steeped in old-world tradition and local craftsmanship with mesmerizing city backdrops to boot.
Vienna, the capital of Austria, boasts 20 official Christmas markets alone! In addition to perusing Christmas markets in Salzburg, you can also see where Mozart was born.
While in Bavaria, you'll stop by the Marienplatz to visit Munich's famous Christkindlmarkt.
In the middle of the historic Old Town Innsbruck, you can see the famous Golden Roof reflecting twinkling Christmas lights. From there, you'll head to the Christmas markets of Vaduz, the capital of Liechtenstein. The tour concludes in Lucerne, where in addition to the Christmas markets and festive lights, you'll also get to check out the Lion Monument and Chapel Bridge. Before you head home, a local family will invite you to be their guest for a farewell dinner hosted at their home.
Book Your Christmas Market Tour With Our Travel Advisors Today
Ready to tour these charming European Christmas markets? Visit our Book A Trip page to contact our travel advisors. You'll be sipping mulled wine and shopping for your loved ones while surrounded by the sights, smells, and sounds of the season in no time!