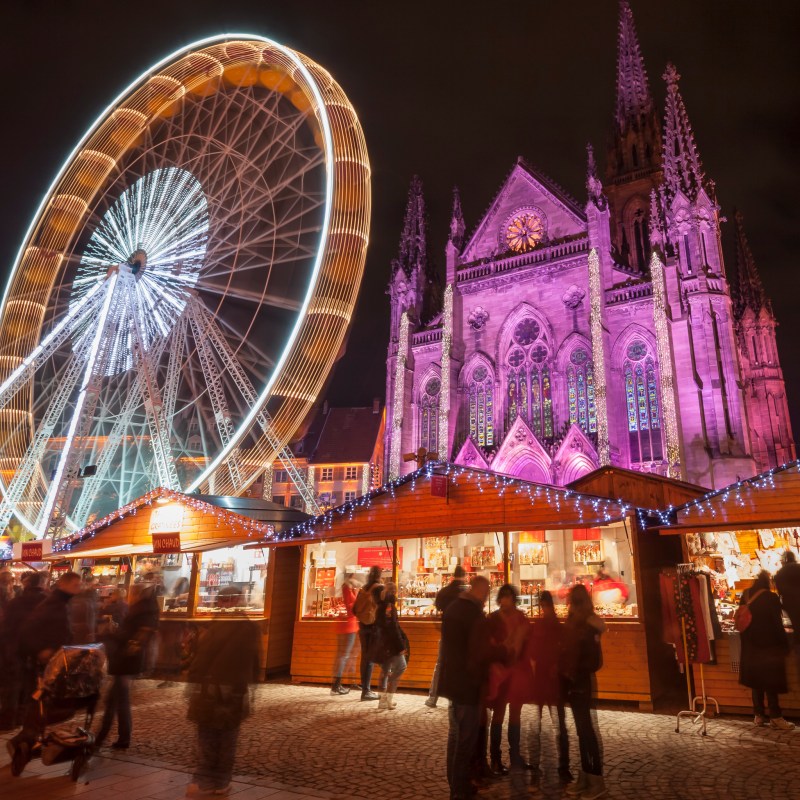 Christmas markets in Europe have become a popular tourist attraction for visitors from the U.S. in recent years. The markets represent a time-honored tradition that dates back hundreds of years. Multi-day cruises and bus tours of Christmas markets are much in demand. The markets pride themselves on locally produced goods and merchandise, so visitors can take home an authentic souvenir to remember.
Here's a list of the top villages and cities for Christmas markets in France.
1. Strasbourg
Strasbourg has the oldest Christmas market in France, which started in 1570. Today, the Strasbourg market is the largest in France with some 300 stalls and a total of 11 markets. Specialty markets include a children's Christmas village with toy stalls, handicrafts, and a merry-go-round, a book market, a section with wines, and local craftspeople.
The OFF Market in Strasbourg creates an alternative market experience by offering antique holiday merchandise, vintage furniture, clothing, toys, and lights and decorations.
If you are a foodie, the Alsatian producers market features stalls with 100 percent made-in-Alsace food products including jams and jellies, gingerbread, hot wine with spices, apple cider, and honey.
The Strasbourg Cathedral, the tallest structure in Strasbourg, is a UNESCO-listed site, and its construction dates back to 1015 A.D. It's considered one of the best examples of Gothic church architecture in France. Make sure you get to the cathedral no later than 12:15 p.m. to view the astronomical clock because at 12:30 p.m. there's a performance of animated figures representing the different ages of man with figures of a child, teenager, adult, and old man. Markets surround the four sides of the cathedral.
On Place Kleber stands the soaring 90-foot-tall tree, freshly cut from the nearby forest in the Vosges mountain range, and people crowd around to view the magical lights and decorations adorning the tree. There's also an ice skating rink in the square.
2. Colmar
The old part of Colmar is one of the most enchanting villages in France, located in eastern France in the Alsace region, near the German border. The Christmas market in Colmar is like an enchanted fairy tale and is always on the top of the list of the best Christmas markets in France.
There are actually six separate markets in Colmar, which are all within walking distance from the main town square. Markets include a food market with regional and local foods and a children's toy market.
Colmar is a canal city and on Wednesday and Saturday during the holiday season, children's choirs sing Christmas carols on illuminated boats floating on the canals.
Place Rapp has an ice skating rink, so rent a pair of ice skates and show off your best figure eights.
The Alsace region is known for its white wines and sweet dessert wines. Many wine cellars have Christmas decorations and are open to the public for tastings.
We suggest spending two to three days in Colmar because there is a bevy of other activities connected to the markets.
Three-day/two-night packages are available at very reasonable prices, starting at 190 euros per person, which includes two nights in a hotel with free breakfast, a Colmar City Pass that includes a free 90-minute guided walking tour of the city (only in French), a three-course dinner at a traditional Alsatian restaurant excluding drinks, and a hot mulled wine from the Christmas market.
Pro Tip: Colmar is only 35 minutes by train from Strasbourg, so you can even do a day trip.
3. Reims
How about sipping some of the best Champagne in France on a giant Ferris wheel? Reims is the gateway city of the Champagne region and a great place to visit for their holiday market, the third largest in France.
The gothic cathedral from the 13th century in the center square of the city (which made our list of 7 Incredibly Beautiful Churches In France Besides Notre Dame) is where the Reims Christmas Market is located, along with many other festivities. Over 100 stalls line the perimeter of the cathedral offering up handmade Christmas decorations and savory and sweet treats.
An artisan market is set up in a historic, former mansion, the Palace of Tau, with handicrafts, glassmakers, candlemakers, ceramicists, and embroiderers.
Kids will have a ball at the Children's Kingdom by enjoying ice skating, meeting Santa Claus in person, playing with woodblocks, and participating in various craft-making activities.
A red train tram decked out in holiday decorations travels around the city.
4. Montbeliard
Close to the Swiss and German borders in eastern France, Montbeliard takes on the traditions of Wurttemberg in Germany with its elaborate Lumières de Noël Christmas market and fair as 170 booths take over the town square. The city chooses mostly local craftsmen and manufacturers selling ceramics, paintings and drawings, glassworks, clothing, wool hats, gloves, and scarves. Every year the Montbeliard market chooses a guest host country or city and honors their culture. In past years Corsica, Louisiana, Brittany, Portugal, and Scotland have been honorary places.
During Advent, Montbeliard puts on a daily knockout light show, positioning over 100,000 lights all over the village.
Not only is there the myth of Santa Claus in Montbeliard; there's also Aunt Airie, a local fairy who walks around the village with a donkey dispensing gifts to children who are well-behaved.
5. Avignon
If the cold temperatures at the markets in the northern part of France are not for you, then Avignon, in Provence, puts on a good show with its Christmas market and seasonal activities.
Stalls are gathered on the Place de l'Horloge, where the historic clock stands. The streets are aglow with holiday lights. And don't miss the Chemin des Creches, a walkway lined with animated and colorful nativity scenes with santons, the hand-carved, hand-colored figures inside the nativity.
The town also sponsors folk dancing in native costumes, games for the children, and a Christmas parade.
6. Mulhouse
Also located in the Alsace region, Mulhouse has one of the most festive and grandest Christmas markets in France. Mulhouse is known for its textile industry, and every year an original holiday fabric is designed by a textile designer. The fabric is draped over the buildings, the town square, and the city hall.
Stalls around the Place de la Reunion and the Temple Saint-Etienne have workshops where children and adults can paint or draw on fabric. A section of the market has more than 30 chalets dedicated exclusively to artisans, seamstresses, and decorators selling jewelry, home accessories, hats, clothing, and gifts that are made in Mulhouse.
Bredalas, little tasty treats made with sugar, walnuts, and butter, are specially baked for Christmas time and sold at food stands in the market and local bakeries.
A giant Ferris wheel towering over the city and ice skating are just two of the fun holiday activities in Mulhouse.
7. Lille
On the Flemish border of Belgium, Christmas festivities have a slightly different twist. Ninety mini-chalets are clustered around Place Rihour, selling not only locally-made products but also crafts and items imported from Poland, Russia, Germany, and Canada.
In the old quarter of the city, Rue de la Grande Chaussee, Rue de la Monnaie, and Rue Esquermoise are the best streets for holiday and boutique shopping.
Meert is the oldest confectionery shop in Lille, with chocolates, caramels, flavored marshmallows, hard candies, and their famous dried waffles filled with vanilla cream, and their divine tea salon serves holiday-themed pastries and thick, rich hot chocolate.
On the Saturday before Christmas, the big event is when Santa Claus takes a giant fall off the belfry from the City Hall.
8. Paris
The City of Light has a neighborhood of 15 to 20 Christmas markets plus a number of pop-up markets.
The Hotel de Ville, the main city hall of Paris, has one of the more festive markets, along with a carousel and 40 stands.
Tuileries Garden combines a market and an amusement park. A mini ice skating rink, a Champagne bar, mulled wine, and a giant illuminated Santa and his reindeer are just a few of the delights.
Five hundred feet above Paris in the village of Montmartre is a small Christmas holiday market on the Place des Abbesses, the main square.
Pro Tips
Most markets are open starting the third week in November and close either the day after Christmas or on December 30. We advise going in November or the beginning of December to avoid the crowds.
Try to visit the markets during the week because the weekends tend to be more crowded because of locals doing their holiday shopping.
Bundle up and wear layers, plus hats, gloves, and scarves, especially if you are visiting the markets in Northern or Eastern France, or, better yet, wait till you arrive to buy them at the market.
Resist bargaining at the stalls unless you are buying two items or more, and if you do choose to bargain, don't ask for a reduction of more than 20 percent.
Many of these destinations are near Paris and can be easily reached by train, including Reims (45 minutes each way) and Lille (one hour each way), and can be visited during day trips.
Related Reading: