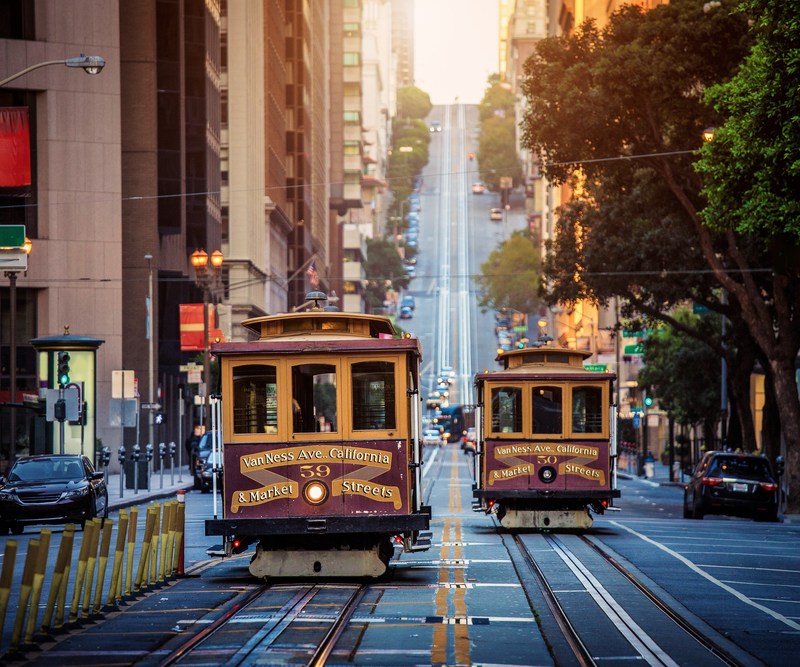 San Francisco: It's one of the most unique cities in America. With its famed hills, bayside views, and gorgeous green spaces, it's also one of the top tourist destinations in the country. Of course, you can and should head to the Golden Gate Bridge, Pier 39, and Alcatraz, but if you want to see San Fran as the locals do, be sure to check out these 12 incredible hidden gems.
1. Jackson Square
We all know about 1906, when a powerful earthquake leveled most of the existing buildings in the city by the bay. To get a feel for what San Francisco felt like before that catastrophe, visit the Jackson Square District, tucked between Chinatown and the Embarcadero in the heart of the city. It's as if the quake completely spared this section of the city; many of the ornate brick buildings that date back to the 19th century still remain. Once the design center of San Francisco, Jackson Square is now a vibrant retail and restaurant hub where you can find art, antiques, and fashion.
2. Belden Place
To dine like a local, make your way to Belden Place, a narrow alley in the Financial District. Dubbed the city's French Quarter, Belden is home to a stretch of eateries that will make you feel like you've been transported to Europe. Eight cafés line the alley, all offering locally sourced, high-quality snacks and full meals. During the warmer months, the crowds who flock there sit at tables in the middle of the street, which is closed to traffic. Enjoy your choice of French, Italian, or Spanish cuisine, and soak up the unique street food dining experience.
3. Spire
During your visit, you'll likely head to the Presidio, the famous park and former U.S. Army fort with scenic vistas and wooded, hilly hiking trails. While you're wandering the massive park, you might walk right by an amazing hidden gem: Andy Goldsworthy's incredible sculpture Spire. Towering 90 feet above the skyline, this massive work was commissioned by the FOR-SITE Foundation. The artist worked with the Presidio Trust's forestry crew to choose 37 cypress trees that had been cut down in a conservancy effort. He then painstakingly fastened them together to create Spire, which stands high above the remaining trees. Look for it while hiking on the Bay Area Ridge Trail of the park.
4. Cayuga Park
There's so much green space in San Francisco that it can be difficult to choose a favorite spot; however, Cayuga Park makes our list for its whimsical feel and interesting backstory. Located near the Mission, and tucked between Interstate 280 and the Bay Area Rapid Transit line, Cayuga Park was the brainchild and passion project of Demetrio Braceros. Braceros worked as a gardener for the San Francisco Recreation and Park Department and was assigned to the area. Over the course of two decades, he transformed the high-crime spot into the lovely place it is today, with its landscaped gardens and more than 300 hand-carved wooden sculptures.
5. Sutro Baths
To revisit a bygone San Francisco era, consider a trip to the Sutro Baths. Built in 1894 by businessman and self-made millionaire Adolph Sutro, the baths served as a swimming facility for all city residents. The complex was enclosed in glass and included seven pools at various temperatures. The Pacific's high tide could refill all of the pools in just an hour, and thousands of people flocked there. But the baths fell out of favor — and into disrepair — during the Great Depression. The owners converted them into an ice-skating rink in an attempt to turn a profit, but the complex was eventually shuttered. In 1966, a fire destroyed what was left of this once-grand destination. The ruins remain and are part of the Golden Gate National Recreation Area; be sure to take the time to explore this eerie oceanside site.
6. Palace Of Fine Arts
For a historic spot near the Presidio that's absolutely selfie-worthy, check out the Palace of Fine Arts in the Marina District. After the 1906 earthquake, San Francisco quickly rebuilt and was eager to show the world that it was grand once again. As part of its comeback, the city hosted the 1915 Panama-Pacific International Exhibition, and the Palace of Fine Arts is one of the few remaining structures from the event. Saved from the wrecking ball, this beautiful rotunda set alongside a picturesque reflecting pond has become one of San Francisco's premier wedding and special-event venues.
7. Parrots Of Telegraph Hill
These birds are so famous that a movie has been made about them! Be sure to say hello to the adorable green and red parrots of the city's Telegraph Hill neighborhood during your stay in San Francisco. No one's exactly sure how or why these cherry-headed conures got free and made this area their home. It's been decades since the first few were spotted flitting among the palm and cypress trees, and there are now almost 300 of them. While San Francisco's climate is mild, it's still rough for birds native to tropical rainforests. Telegraph Hill residents routinely help feed and care for their fine feathered neighbors, and a nonprofit has been founded to assist them as well. To glimpse some of the squawkers that call Telegraph Hill home, head to the intersection of Filbert and Kearny Streets, and just look up!
8. Cable Car Museum
Chances are you'll take a ride or two on the city's cable cars — they're cute, cheap, convenient, and might save you from walking up a few killer hills. To learn more about this historic mode of transportation, head to the Cable Car Museum on Mason Street, which was established in 1974. You'll see how the cars actually work, review maps of the routes that wind through San Francisco, and discover why the city chose to save the iconic lines when they were nearly shut down due to modernization. You can even step inside three historic cars from the 1870s. Be sure to pick up a genuine cable car bell at the gift shop! The museum is open daily and is free to all.
9. City Lights
To take a book break, be sure to stop by City Lights. This independent bookstore and publisher has been a San Francisco treasure since it opened back in 1953. Located just northwest of Jackson Square, this well-stocked store has played host to beatniks, bohemians, and hippies, and it retains a funky vibe that is true to its mission of preserving and promoting literary diversity. Once a hotspot for Beat poetry readings, the store still hosts events and signings, and it's a great place to browse and take a breather.
10. Golden Gate Fortune Cookie Factory
The carefully folded fortune cookie is the ubiquitous end to every Chinese takeout dinner. To see where these delicious, crunchy little desserts are made, head to the Golden Gate Fortune Cookie Factory, located in the heart of Chinatown. Since 1963, this place has been cranking out cookies, baking up to 10,000 a day on special griddles. The workers here still hand-fold each cookie into its distinctive crescent shape. Besides the plain variety, you can purchase strawberry, green tea, or chocolate cookies dipped in glaze or sprinkles. Take time for the factory tour, where you can watch the baking process as it happens — and even have your own custom fortune folded into a cookie. The factory is open seven days a week; tours are free, although you're sure to purchase some cookies to take home or enjoy as snacks on the go.
11. St. Francis Fountain
If during your San Francisco travels you find yourself ready for a bite to eat in the Mission, be sure to stop at St. Francis Fountain. The city's oldest ice cream fountain and diner opened back in 1918, and it has delighted generations of hungry customers. This place serves up sliders, scrambles, and decadent ice cream sundaes and banana splits. There are long lines during weekend brunch hours, but you won't want to miss the chance to check out this century-old gem. Surprisingly, there are a number of vegetarian and vegan options on offer. St. Francis Fountain is open daily from 8 a.m. to 3 p.m.
12. Bob's Donuts
Sometimes you just really need a donut … or a dozen. Go where the locals go: Bob's Donuts in Nob Hill. This family-owned spot has been making its donuts and pastries from scratch since 1960. Bob's offers the usual suspects — glazed, chocolate, sugar, maple, and jelly-filled — but the superstar is the "Big One." Plop down $10.95, order one of these enormous desserts with your choice of glaze, and if you can gobble it down in less than 2 minutes, you'll get your money back, a free drink, a T-shirt, and your name forever emblazoned on Bob's Hall of Fame wall. Bob's is open 24 hours a day, seven days a week.