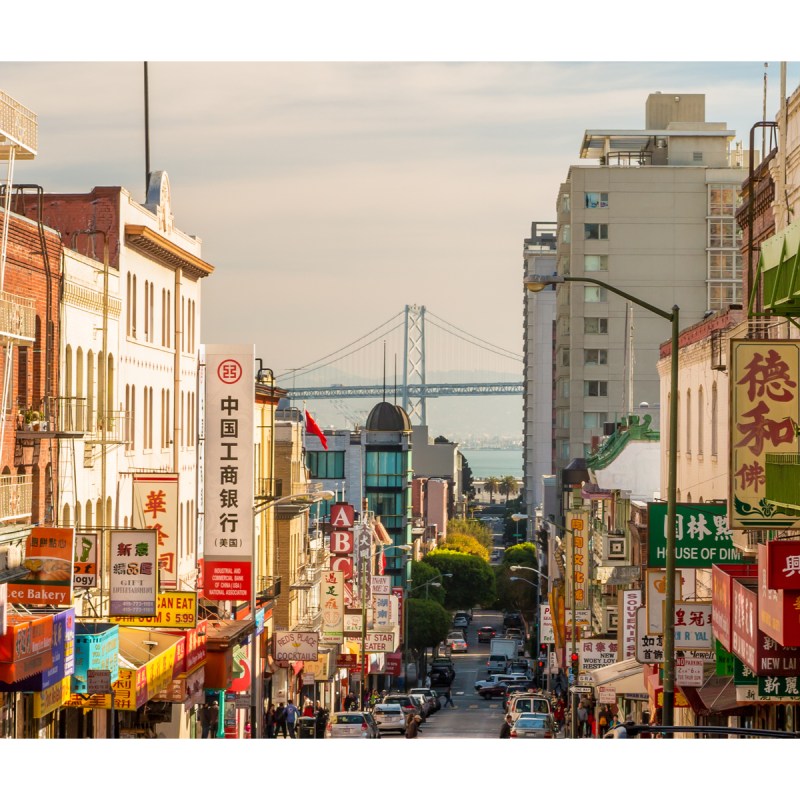 San Francisco's Chinatown is not only the largest Chinatown outside of Asia, but it is the oldest Chinatown in North America. From its busy seafood markets to its medicinal herb shops, San Francisco's Chinatown offers an up-close glimpse at Chinese-American culture and food. There's no better place to experience Asian-American culture, sample dim sum, sip a Mai Tai, purchase fresh fish and vegetables, or visit a fortune cookie factory.
Here are some of the best places to eat and drink in Chinatown.
All About Chinatown Tours
Start with a food tour to get a feel for the area and try some new dishes. You can easily become overwhelmed by all the options, and a tour guide can give you an idea of where you should return for a full meal — and what you ought to order, since many of the menus are not in English.
Consider following along as Linda Lee of All About Chinatown takes you through the streets of Chinatown to sample delicious bites. Lee has offered tours since 1983 and knows the streets, the people, and the food. As you walk, you'll learn about the history of the Chinese restaurants and how they became popular with Gold Rush miners as well as wealthy San Franciscans looking for exotic meals. Lee helps to demystify China's regional cuisines and discusses each area's distinct style of cooking — Cantonese, Shanghainese, Hunanese, Northern, and Halal.
China Live
In 2018, Time named China Live one of the world's greatest places. It's easy to see why. This 30,000-square-foot culinary destination offers shopping and dining on two floors.
On the ground floor, sip a cup of Chinese tea at Oolong Cafe; visit the marketplace to purchase spices, teas, condiments, and cookware; or view the charcuterie and oven station, the dumpling station, and a dessert bar.
On the second floor, enjoy a fine-dining experience at Eight Tables Restaurant, where you can sample a tasting menu for $225, a chef's menu for $325, or a seven-course menu for $175. Also on the second floor, you can enjoy craft cocktails such as the Shengliang Highball or Kung Pao Kitty at Bar Central.
Dim Sum Spots
The words dim sum literally mean "to touch lightly your heart," but also "to barely fill your stomach." It's an apt description, as a dim sum meal consists of bite-sized portions of steamed dumplings and other fried foods. At one of Chinatown's dim sum spots, you'll enjoy small plates of steamed buns, rice noodle rolls, and dumplings filled with everything from pork to prawn to chicken to vegetables. Dim sum is a great way to sample a variety of Chinese dishes.
Many restaurants in Chinatown serve dim sum, but a few of my favorites are Great Eastern, which serves up Hong Kong-style dim sum plus fresh seafood; City View, which offers dim sum cuisine in an upscale, contemporary setting; and Oriental Pearl, which has been in business since 1992.
Hakkasan
This international chain Hakkasan draws inspiration from all over the world. The menu selections are traditional Chinese dishes prepared from local and seasonal ingredients. Every location has signature dishes only available at Hakkasan as well as items created exclusively for that particular location.
One of the newer locations is in San Francisco's Chinatown. Try the Crispy Culver Farms duck salad with ruby grapefruit, pine nuts, and pomegranate, or the aubergine, tofu, and mushroom claypot served with chili and black bean sauce. The truffle-braised noodle is rich and savory, served with crabmeat and scallops.
Capital Restaurant
Locals often lunch at Capital Restaurant. It's in an unassuming location, but you can get a great meal for a reasonable price. The famous salt-and-pepper chicken wings are considered the best in town, and the black pepper vinegar that's available at the tables is also a hit. You might want to order an extra meal for your party, however, since the portions can be small.
Li Po Cocktail Lounge
You absolutely must sip an authentic Mai Tai at a lounge in Chinatown. The Mai Tai was invented in nearby Oakland, California, and originally consisted of aged Jamaican rum, fresh lime, a splash of orange curacao, simple syrup, and orgeat (a syrup made from almonds and a little orange flower or rose water).
Anthony Bourdain visited Li Po Cocktail Lounge in 2012, so you know it's a good one. Li Po is a dive bar where locals and tourists alike hang out — it's been voted the best dive bar in San Francisco for two years. Li Po's take on the Mai Tai consists of three types of rum, a Chinese liqueur, and pineapple juice.
Chinese Markets
There are two main streets in Chinatown: Stockton Street and Grant Avenue. Between those two main streets are alleys and side streets filled with unique offerings like medicinal herb shops. On Stockton Street, you'll find many authentic grocers and markets where the locals shop. Stroll in to one of them and choose from a variety of produce, plus live seafood, roasted birds, and dried seafood. Stockton Street is the heart of Chinatown, and you'll find many places where you can purchase authentic Chinese food.
Tea Shops
At Vital Tea Leaf, you can learn about the art of crafting Chinese tea and the health benefits of drinking it. Shop the large selection of green, black, and herbal teas; sample a few new blends; and take home some tea to remind you of your visit. Tisanes are flower and herbal infusions not made from the tea bush. They include fruits, herbs, roots, and spices. You can purchase tisanes to infuse alone, or combine them with other flowers and herbs to create a specialty fusion.
Red Blossom Tea Company sells artisanal loose-leaf teas and teaware that you can use to recreate your experience at home. Some of the rare teas they offer include aged tung ting, wild guava leaves, and others.
Aroma Tea Shop offers more loose teas as well as one-of-a-kind accessories such as a double glass Kung Fu travel tea bottle with a filter to prepare your tea on the go.
Or sit down for a glass of bubble tea at Steap Tea Bar, where you'll find bubble-tea inspired drinks made from premium loose-leaf and organic teas and served with local, organic milks and sugars and fresh organic produce. Their boba (tapioca starch pearls) and toppings are made in-house daily.
Chinese Bakeries
End your dining tour of Chinatown with a sweet treat from one of the many bakeries.
You'll find fortune cookies at many area bakeries, but you can purchase a freshly made bag straight from the factory at Golden Gate Fortune Cookie Factory, which has been hand-making fortune cookies since 1962.
In addition to traditional fortune cookies, Mee Mee Bakery sells chocolate- and strawberry-flavored cookies as well as breads, cakes, and pastries. Mooncakes are a Chinese delicacy traditionally eaten during the Mid-Autumn Festival. The mooncakes at Mee Mee Bakery come in a variety of flavors, including date, pineapple, black bean, and green tea, among others.
Locals line up for the custard tarts and other baked goods at Golden Gate Bakery. You'll find lines at Good Mong Kok Bakery as well, but it's worth the wait for the takeout dim sum and freshly baked breads.
Bonus: The Wok Shop
After tasting some authentic Chinese food, you might want to take home some cooking gadgets to help you recreate your experience at home. The Wok Shop sells cleavers, woks, crockware, steamers, teapots, and anything else you might need to prepare authentic Chinese cuisine. The specialty utensils such as the brass skimmers and oil pots will bring authenticity to your home-cooked Chinese meals. Chinatown restaurant owners shop here to acquire the best cooking utensils for their businesses.