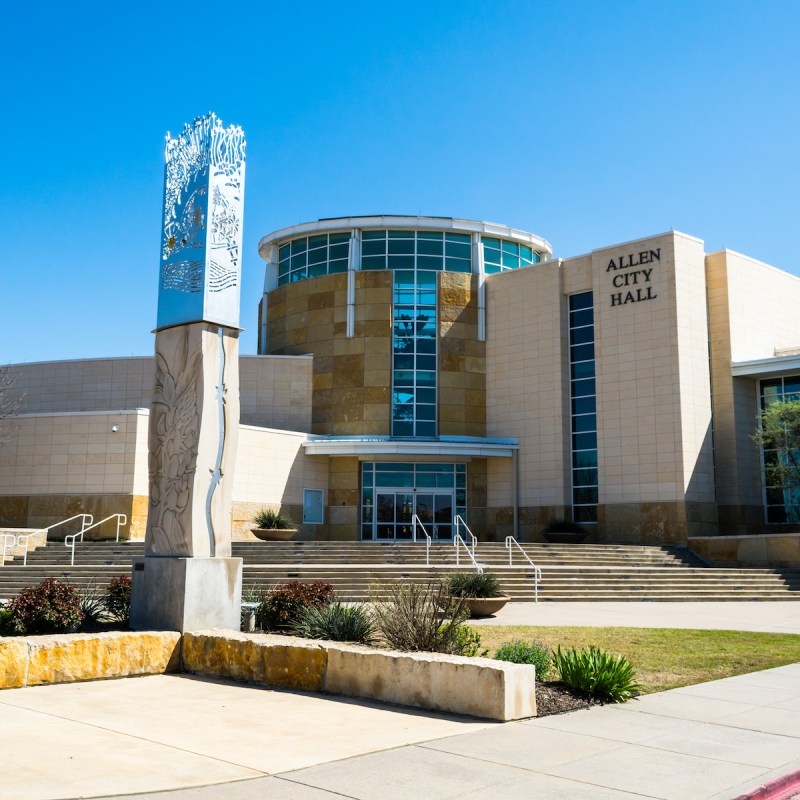 Ask anyone in Allen, Texas, what the big thing is about the town and almost unanimously they will say…FOOTBALL!!! The local high school team, the Eagles, have won five State Championships in recent years and been declared National Champions three times by High School Football America.
2018 Heisman Trophy winner Kyler Murray, current quarterback for the NFL Arizona Cardinals, is an Allen High School alum. The team plays in a $65-million stadium that seats 18,000 fans and sells out most every home game. They take football very seriously in this town.
Allen is one of the suburban communities north of Dallas that has exploded in recent years. I used to live there when it had one traffic light in 1985. Now it's a booming town with a population over 100,000.
Allen is located along U.S. Highway 75. When the highway was reconstructed to be limited access, interstate standards, the growth in Allen really started to boom. Many residents work in Dallas or North Dallas, which have become a reasonable commute instead of the traffic congested road network of the past.
Life in Allen centers around families, especially young families with young children. There are lots of things to do, mainly focused around sports. There are soccer fields in almost every neighborhood. Family sports is a way of life in Allen.
Allen believes in doing things big, like the high school football stadium. The city also has an Allen Events Center which seats 7,000 and is used for minor league hockey, soccer, and concerts. Attached to the center is an ice-skating arena.
Getting kids and active adults outdoors is a big deal in Allen. Allen Station is a huge park that includes baseball fields, a skateboard park, outdoor hockey, and a wakeboard park. Across town is Celebration Park, with acres of soccer fields, playgrounds, walking trail, and a splash park called Sprayground.
Recently, Allen added a hotel/conference center complex on the south side of town. Things have been pretty quiet because of COVID, but bookings are expected to be strong when things get back to normal.
Things To Do In Allen, Texas
Professional Sports Teams
Take in an Allen American's professional hockey game at the Allen Event Center. The team is almost always in the championship hunt for the Western Conference, the minor league they belong to. Games are fast-paced and players are quite skilled. The team is a minor league franchise of the NHL's Minnesota Wild.
Other sports tenants at the Event Center are the Allen Sidekicks, an indoor arena soccer team that is a member of the Major Arena Soccer League.
Fun In The Water
Swimming is a year-round sport in Allen. The indoor swimming at the Allen Natatorium has two pools. One is a large Olympic pool for swimming and diving competitions. It is regularly used by Allen High School for swim meets. There is also a shallow play pool with slides and fun sprays for youngsters, and a lazy river for adults. There is a large outdoor pool located at Ford Middle School.
Plenty Of Shopping In Allen
For adults, there is shopping — lots of it. A mall and shopping complex line both sides of Stacy Road on the northside of town. Just down the street is Allen Premium Outlet Mall. The outlet mall features stores like Nike, Columbia, J Crew, and dozens more. The shopping center is anchored by Macy's, Dillard's, and JCPenney. Behind the retail center, you'll find restaurants, a movie theater, bowling alley, and specialty retail stores.
On the south side of Allen is Watters Creek, with shops, restaurants, and a condo and apartment community. In addition to the shopping, live music in the small park is offered in the evenings during the summer months.
Heard Nature Museum
Located just north of Allen, in McKinney, is the Heard Nature Museum. It covers 289 acres and has nature trails and even a zip line. The property includes 50 acres of wetlands. Over 200 species of birds have been spotted at Heard. Try not to miss the Second Saturday Bird Walks. In addition, there are raptors who have been injured and can't be released back into the wild. There is a Science Resource Center and an outdoor amphitheater that can seat 500 people.
Performing Arts Center
Much of life in Allen centers around the high school, with over 5,000 students, one of the largest in Texas. High school facilities are often used for non-school-related community events. The Performing Arts Center is located in Allen High School. It is a state-of-the-art center for plays and musicals, not just for high school presentations. The center opened in 2011 and the grand hall seats 1,500 people.
Fishing
Allen is located about 20 miles from the popular fishing spots at Lake Lavon. The lake was created by a dam on the East Fork of the Trinity River, and managed by the U.S. Army Corps of Engineers. Bass fishing is said to be among the best in North Texas, with some lunkers lurking just below the surface. There are more than a dozen parks and boat ramps around the lake. They are occasionally closed due to changing water levels in the lake. Check the Corps website for details.
Restaurants in Allen
Uncle Julios, Allen Village Mall, Tex Mex: Uncle's serves up the best margarita in town. Combine that with sizzling fajitas and you have a great Tex-Mex meal. Sit inside or outside on its spacious patio.
Bonefish Grill, Allen Village Mall, seafood: Bonefish offers fresh seafood and has both a lunch and dinner menu. There is also a kid's menu for the little ones. The servers are called "anglers," and they can guide you through a variety of menu choices.
Grimaldi's, Watters Creek, pizza: Whether you like thin crust or regular, Grimaldi's has the best pizza in town. They have walk-up service on the sidewalk, sit down inside, or outside on the patio. Its wine selection is extensive, and Grimaldi's has a half-price wine-by-the-bottle night on Tuesday.
Brio's, Watters Creek, Italian: Upscale Italian restaurant that offers white tablecloth service and a fine wine list. Located in the Watters Creek shopping district, Brio's has a well-stocked bar, and outside patio seating. On Sunday, it holds brunch until 3 p.m. Brio's offers great appetizers, including lobster ravioli and flatbreads. The main menu covers pasta dishes, seafood, and steaks.
Allen Cafe: This is where the locals eat breakfast and lunch. Located in a former Dairy Queen on Main Street, in the heart of old Allen, Allen Cafe is open for breakfast and lunch. Try getting a breakfast seat on the weekends. The wait is often out the door. Of course, you can get grits with your breakfast, and chicken fried steak for lunch.
Big Ray's BBQ, where the locals eat, Texas BBQ: It wouldn't be a Texas town without a local barbecue joint. Big's Rays is one of the best. Slow-cooked ribs that practically fall off the bone, chicken, pulled pork sandwiches, and fried catfish. The Main Street location has been around since 2011.
Hotels in Allen
Hilton Garden Inn: Located off U.S. 75 at Bethany Road, the hotel has a small conference center, an outdoor pool, and a fitness center. The Inn is near the Allen Corporate Park, which is a convenient location for business travelers.
Courtyard Marriott at Event Center: If you are attending a game or concert at the Allen Event Center, this courtyard is located right next door. It is also near the shopping district along Stacy Road. It has a fitness center, pool, and is even dog friendly.
Hampton Inn: By the Premium Outlet Mall. Finding a parking space at the outlet mall is a challenge, but you have that beat when you stay at the Hampton Inn, located right at the Premium Outlet Mall entrance off Stacy Road. This hotel is for shoppers and reservations for the weekends should be made well in advance.
Hotel and convention center at Watters Creek: This is a 79,000 square foot convention center, combined with a 300 room Delta Hotel by Marriott. The complex is technology-rich, with meeting rooms wired with hi-speed internet, closed-circuit television, and WiFi. It is located across the street from Watters Creek shopping district, with restaurants and boutique shops. It opened just before COVID struck, and has quickly been building up bookings since Texas reopened.
Pro Tip
In Allen, the motto could be "Go Big or Go Home." Everything seems to be oversized in Allen…the high school, the football stadium, the parks. All big, even by Texas standards. Allen offers a variety of old versus new. It is an example of the boomtowns that have grown up in the North Dallas suburbs. It is more than a bedroom community, with a thriving corporate park, jobs, shopping, dining, and plenty of family things to do.
Many small towns in Texas have big ideas and aspirations and offer visitors a variety of things to do and see: