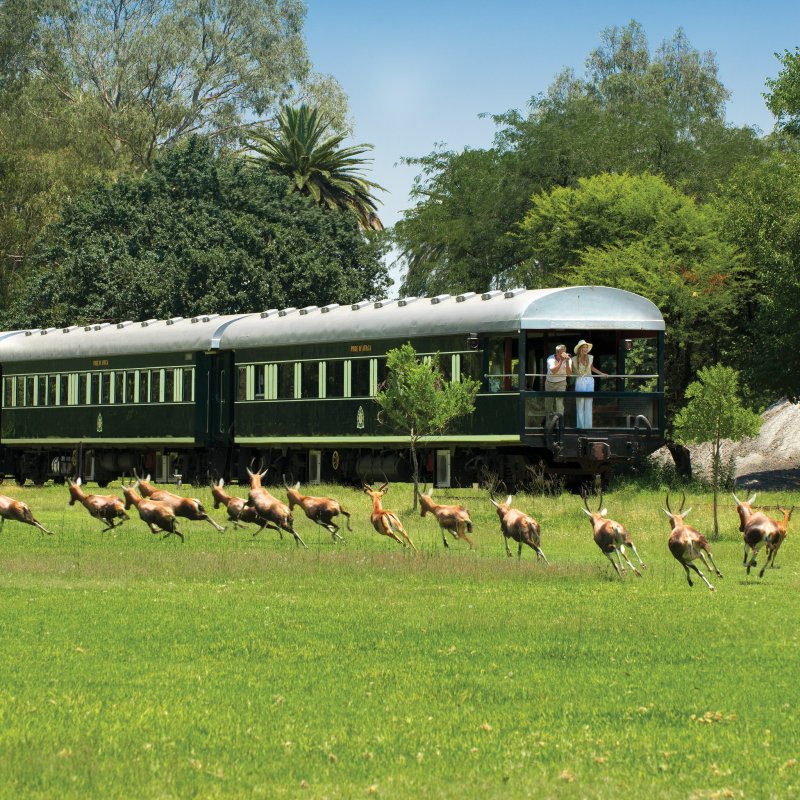 Two years ago, I started to do research for a three-week trip to South Africa and Botswana that would include safaris and visiting Cape Town and Johannesburg. A friend of mine suggested that I take the Rovos train that goes from Cape Town and Johannesburg in three days. I went on the Rovos website and discovered the world of luxury train travel.
Having always dreamed of going on the Orient Express, Rovos trains sounded similar in description. Here's what I learned, plus the details of my fantastic Rovos Rail trip through South Africa.
History Of The Company
Billed as the most luxurious train in the world, Rovos Rail just celebrated its 30th anniversary in 2019. The story begins in 1985, when Rohan Vos, who had a passion for vintage train cars, bought some old train cars at an auction, planning to hitch them on to an existing train as private cars. He eventually had the cars rebuilt and created his own trains and train service, naming the locomotive engines after his four children, Brenda, Bianca, Tiffany, and Shaun. Today, Rovos Rail offers nine train routes in South Africa, Namibia, and Botswana.
Arriving And Pre-Boarding
I flew to Cape Town from Paris, connecting in Amsterdam, the first week of December. The flight was 11 hours, and I landed at about 11 p.m. Cape Town time. Luckily, there was only a one-hour time difference between Paris and Cape Town, so I didn't have jet lag and could easily sleep that night. Rovos Rail works with a luxury hotel to put their guests up before their train voyages. They gave me an enormous suite at St James Manor, a five-star hotel in the fishing village of Kalk Bay. Sleeping soundly on the comfy king-size bed, I woke up the next morning, refreshed and ready for my train adventure. When I went out on the terrace of my room, before me was the deep blue Indian Ocean against a clear, turquoise sky — a very welcoming sight. After breakfast, I was driven in a van to the Rovos Rail station, about 35 minutes away, and I had the opportunity to see the rugged landscape of Cape Town.
Once inside the terminal, there was an elegantly furnished, opulent waiting room salon. Drinks, coffee, tea, and snacks including tea sandwiches were served while we were serenaded by a violinist. It also served as a way to meet and greet other people who were going to be on the train, and the staff was available to answer questions and provide information about the journey before we boarded.
The Rooms And Train Layout
The train boarded at noon, and I was escorted to my room. I was met by a brass plaque with the name of the suite, Mafeking, (after the Siege of Mafeking, a 217-day battle in the British action of the Second Boer War in 1899) and underneath it, a placeholder with my name. I was impressed!
The handsome stateroom had rich mahogany walls and window blinds. On the bed was a tapestry bedspread in autumn colors, hunter green sheets, and a welcome gift of a bottle of Champagne — a great way to start my voyage.
Once I settled into my room, I walked through the rest of the train to get the lay of the land.
Besides the staterooms, there were a number of lounges and salons decorated with cushy, plush couches and club chairs. The elegant dining room with wall sconces, wood paneling, and tufted leather chairs with wood frames had the tables set with fine, white china, crisp white tablecloths, sturdy flatware, and crystal glasses. It looked like a movie set from a black and white movie from the 1940s when people used to cross the U.S. on a train in a few days.
Dining On Board
The marvelous cuisine was a melange of contemporary and South African specialties, many of which I had never tasted before, including slow-roasted Karoo lamb shank; bobotie, an oven-baked dish of ground meat with an egg custard topping; and, for dessert, melktert, a pastry with a milk filling and cinnamon served with a local donut called a koeksister. Hands down the best dish served the entire time was the Cape Rock lobster tails, which were so good, I asked for another portion. The menu changed every day and lunch was equally as good as dinner.
However, I ran into a dress code problem at dinner time, as men were required to wear a jacket and tie. My Paris to Amsterdam flight was late, so I just made it to my connecting flight from Amsterdam to Cape Town. Unfortunately, my luggage didn't make it to South Africa in time for the train, and they had to ship it to my hotel in Johannesburg. Luckily, I had brought an extra T-shirt, underwear, and my cosmetics in my carry-on bag, but certainly didn't have my jacket and tie. The only clean shirt I had was a worn-out, Snoopy and Woodstock T-shirt, which would look embarrassing at dinner. I befriended a very nice man from Great Britain who was similar to me in size and height early on the first day of the trip, and he kindly offered me his extra shirt and tie, so I was correctly dressed for dinner.
Relaxing And Winding Down
It took a bit of adjustment after I learned there was no Wi-Fi access on the train, so I couldn't use my computer or mobile phone, which meant no Netflix, no Instagram, no Facebook or Pinterest — not even a television anywhere onboard. Also, there were not many activities on board, so much of my time was spent reading the quintessential book about South Africa: Cry, the Beloved Country by Alan Paton, published in 1948. I also socialized with the other passengers, napped, ate, and drank. I met many wonderful people from all over the world with the same love of travel as we regaled each other with our best and worst travel stories. We also shared future destinations we dreamed of going to. One highlight was the high-tea service on both afternoons at 4:30 p.m., during which tea and scones were served with clotted cream and jam, plus delightful pastries.
The best place on the train to view the scenery was the last car, which was partially open, so a good part of the day I spent looking at the varied landscapes, as we passed through Worcester in the Hex River Valley, a valley in a scenic mountain range surrounded by the largest producing vineyards in South Africa, which produces about 25 percent of the grapes for the country's wine.
Excursions
In the late afternoon on the first day of the voyage, we stopped in Matjiesfontein, a Victorian village built in the 1880s, in the Great Karoo region, which is known for its mountains and desert. I loved all the Victorian architecture and flourishes in the town, and I could imagine a time when horse-drawn carriages were the mode of transportation and when the railroad was the most advanced way of traveling. If you go, check out the Lord Milner Hotel, a beautiful white-washed Victorian mansion from 1884 that's now a hotel and spa.
On the second day, we visited Kimberley Diamond Mine Museum and the Big Hole. Kimberley, the capital of the Northern Cape, was established in 1871 after diamonds were discovered there. The Big Hole, the largest and one of the deepest man-made excavation sites in the world, has a depth of over 600 feet. The mine is on 42 acres and is 1,520 feet wide. It was an active mine from 1871 to 1914, and today is the most visited site in the county. I truly understood the plight of the diamond mine workers when the informative guide told us their fascinating story.
On the third morning of the voyage, after a hearty breakfast, we arrived in Pretoria at about 11 a.m.
The service on the train was impeccable and the staff was kind, courteous, and professional. There's also a small gift boutique and smoking lounge on the train. There are three cabin choices: Royal, which is 172 square feet; Deluxe, which is 108 square feet; and Pullman, which is 76 square feet and designed for a single passenger. Prices start at $1,470 per person for the Pullman and climb nearly $3,000 per person for the Deluxe suite. The cost includes all meals and beverages, room service, limited laundry service, and excursions include a guide.
The Rovos train is slow travel at its absolute best, and it sure beats the exhausting, If it's Tuesday, it Must be Belgium way of traveling, where you are in a different city and country every day.
More Train Routes
Other exciting Rovos Rail voyages include the Durban Safari, a three-day trip that includes game drives and an expert historical guide, a four-day excursion to Victoria Falls, one of the greatest waterfalls in the world, the Trail of Two Oceans, a 15-day voyage that departs from Dar es Salaam, the largest city in Tanzania, and includes a two-night safari in South Luangwa National Park in Zambia and a visit to Angola.
Rovos also offers charter and private train services plus bespoke itineraries. Additionally, the Cape Town to Pretoria trip can be done in reverse, boarding in Pretoria and ending in Cape Town.
Captivated by high-end travel? Read up on the top nine reasons to experience a safari on the luxurious Zambezi Queen (a riverboat like no other) and check out our other bucket-list trip ideas, too.