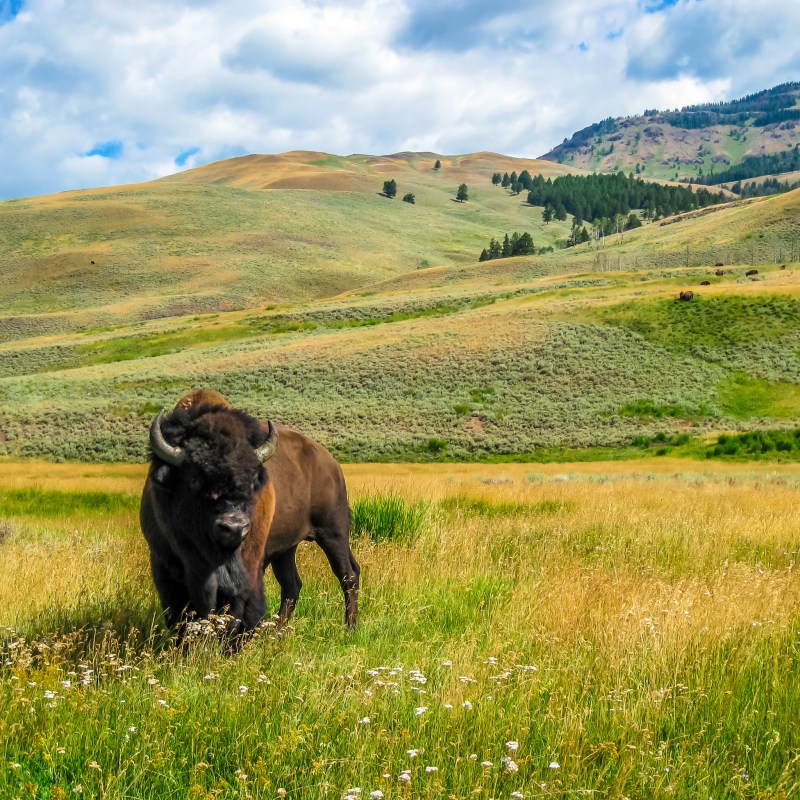 We have visited the beautiful state of Montana when the sun is shining and the leaves are green as well as when the state is covered with a glistening white blanket of snow. From bustling cities like Bozeman and Missoula to homey little towns like Big Timber and Livingston, we've met people whose common denominator is that they consider Montana the last great place.
Whether exploring the magnificent beauty of Yellowstone National Park, enjoying the mountains of Big Sky, dining on delicious local fare in Missoula, or whitewater rafting along a great river, this place stays with you long after your visit comes to an end. We want to share with you just a few of the many reasons we just can't stop dreaming about Montana.
Note: Some of our experiences during visits to Montana were hosted by Yellowstone Country and Destination Missoula.
How We Came To Montana And What What We Liked About It
Our first visit to Montana was to explore the booming city of Bozeman, home to Montana State University. We loved the vibe, which was a wonderful combination of trendy college town excitement with relaxed and classic western calm. We then went to Big Sky, one of the premier ski resort areas in the world, and had spectacular views, incredible food, and even a little adventure without being skiers. We then visited small towns like Big Timber, with a population of about 1,800, and Livingston, a charming town with the feel of an old western movie where many artists and writers choose to live in blissfully creative anonymity.
Our next visit to Montana was in winter. The snowy cold only added to the extraordinary pleasure of Yellowstone National Park without any crowds. We added a trip to Missoula and immersed ourselves in the local culinary scene, met cattle ranchers, went horseback riding, and got coaxed into some surprisingly delightful whitewater rafting. While we loved every visit, there is still much more to see. We dream about our next visit and the experiences awaiting us in Montana.
Warm Weather Experiences
From the moment we arrived in Montana, we knew we were going to like it there. Standing in the middle of any street in Bozeman, Missoula, and just about anywhere, big beautiful mountains dominate every view. Bozeman has an outstanding food scene. We ate everywhere from a stylish wine and charcuterie bar to a rustic cowboy joint with breakfast platters as big as your head. The vibe is energetic and fun but grounded by nature's beauty. The city and surrounding landscape are complementary parts of a whole, not conflicting ideals.
We encountered a gorgeous ski resort with lots to offer non-skiers as well in Big Sky. We could have spent all night enjoying the posh Vine and Dine event, where wine purveyors and talented chefs present a stunning array of delicious offerings. The soaring Lone Peak, at 11,166 feet high, offers the highest scenic overlook in Montana. We took the Lone Peak Expedition up to the top for one of the most spectacular views anywhere. The only thing that made it better was enjoying a glass of champagne at the top.
Mild Adventures
Although we are far from adventure travelers, we did go whitewater rafting near Missoula. The weather could not have been more perfect, the sun shining with a cool breeze. Beautiful scenery appeared in every direction. Even the rapids were not too scary, and the splashes we got were actually refreshing. The best part came when we saw several bald eagles soaring over our heads, calling to one another. For more outdoor fun, we went horseback riding at Dunrovin Ranch. A beautiful ride included cantering freely in an open field and crossing a river on our horses in water up to our heels. Although hardly cowgirls, we wanted to yell "Yeehaw!" more than once. Next time we'll buy cowboy boots and hats.
Incredible Montana Winters
While some would avoid visiting Montana in the winter, we'd suggest that it is the best time to go. We stayed at the Lone Mountain Ranch, with luxuriously comfortable accommodations and a low-key western vibe. A magical sleigh ride to a delicious cowboy dinner served in a cabin glowing with oil-lamps was unforgettable.
We also visited Yellowstone National Park. Encountering a herd of buffalo, seeing wolves, and watching the Old Faithful geyser without a crowd were just a few highlights. While surrounded by spectacular scenery, we had found a new favorite winter activity — snowshoeing. That was until going for a dog sled ride, which was truly the ultimate thrill for us. Montana's beauty is displayed more vividly than ever in the sparkling glow of winter.
Challenges During Our Visits
We did encounter some challenges during our visits, especially in the sometimes crazy winter weather. The weather changes quickly in Montana. Take care and plenty of extra time when traveling. There will be "traffic jams" when a herd of buffalo decides to take over the roadway. Just sit back and let them pass and enjoy the view.
Another challenge is the time it takes for you to do things or get places. The pace in Montana is unhurried. You simply cannot rush anywhere when the winter weather is active or the summer heat slows everyone down. On the positive side, we found ourselves enjoying the leisurely pace surrounded by beautiful views. Time passed quietly as we watched people fish in a river, paddleboard or kayak by, or just enjoyed seeing the water flow gently past. More than once, we whiled away hours longer than intended. That's perfectly okay with everyone and how Montana rolls.
Our Advice About Visiting
Our advice about visiting Montana is to go, see, and experience it for yourself. Don't take a quick trip either. Linger for a week or two, if you can. Explore Yellowstone in the winter when its beauty is unsurpassed and you can avoid the crush of summertime crowds. You'll feel like Mother Nature is putting on a show just for you. Visit busy cities as well as small towns. Each has much to offer and will give you a better sense of what is so special about Montana. Talk to local people and ask them about their state. Just hearing their stories will make you feel more like a friend than a tourist.
If you go when the weather is warm, get outdoors as much as possible. Explore the many wonderful farmers markets and take a picnic lunch to a park or pretty spot in nature. Watch the movie A River Runs Through It before you go to Missoula or really anywhere in Montana. It will get you into the mood and fill you with anticipation. Most of all, leave any desire to rush or hurry behind. Savor Montana, take it all in, and allow its charms to captivate you.
How Montana Changed Us As Travelers
We typically travel with a full itinerary and hit the ground running from the moment we arrive. Montana forced us to look around and just take in its breathtaking beauty. That's not something that we planned to do. It just sort of happened, and we're better for it. We became a bit more adventurous, heading to the top of a super-tall mountain, riding on horseback through a rushing river, and going whitewater rafting, all things we had never done before. We surprised ourselves by how much we loved every small adventure. Something about Montana just grabbed hold of us and made us want to explore it more and more. Each new place gave us more to discover and enjoy.
Even though we've lived in big urban areas most of our lives, Montana speaks to us in special ways. Integrating the best of both people and nature, it offers a state of mind that fills us with joy. That's why we can't stop dreaming about Montana and when we'll get to explore it again.