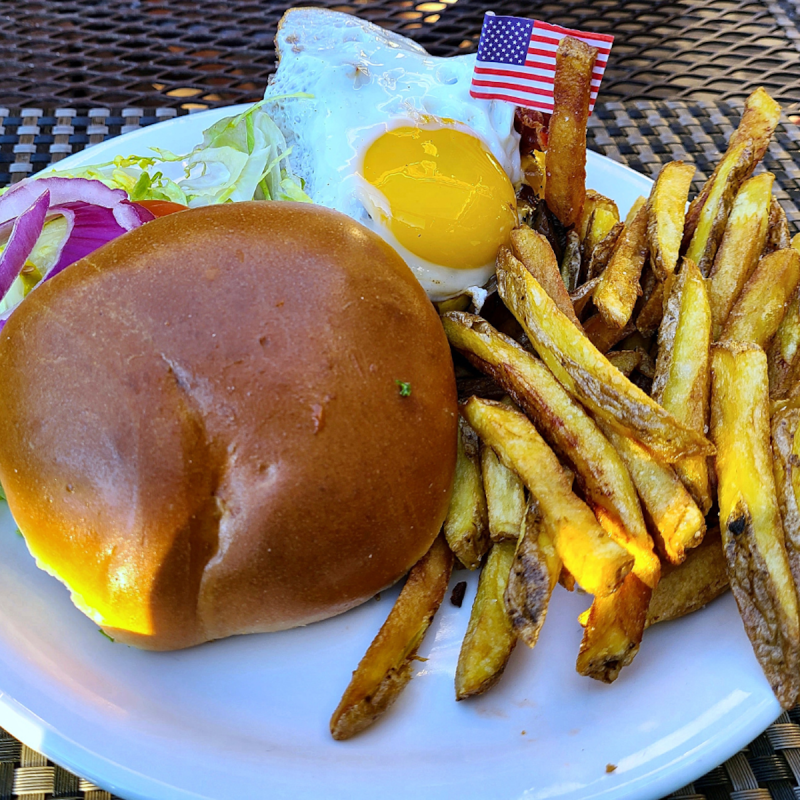 Montana is known for its majestic mountains, the country's first national park, and everything huckleberry. Under its big skies, herds of cattle graze and golden stalks of wheat rustle in the gentle breeze. Whether you crave fluffy organic pancakes, a delicious steak, or a scoop of huckleberry ice cream, these are the best restaurants to try in Bozeman, Montana (listed in no particular order).
1. Main Street Overeasy
If breakfast is your favorite meal of the day, then fuel up to explore Bozeman at Main Street Overeasy. From a variety of egg options to fluffy buttermilk pancakes, you'll find all the usual breakfast options on the menu, plus a few surprises. Embrace your time in this rugged Rocky Mountain state by trying the bison sausage patty served in the basic breakfast, scrambled with eggs and other stir-ins, or rolled up in a big breakfast burrito.
Visit Main Street Overeasy at 9 East Main Street, Bozeman, MT 59715.
Pro Tip: If you're visiting Bozeman with a food allergy or dietary restriction, you'll be glad to know that Main Street Overeasy serves a vegetarian omelet and Benedict as well as gluten-free pancakes.
2. Jam!
Just a few steps down the street from Main Street Overeasy is another delicious breakfast dining experience in Bozeman: Jam! While you can definitely find a few "basic" items on the menu (like the traditional breakfast with two eggs served your way, bacon, hash browns, and toast), what I love best are the unique dishes you won't find anywhere else.
Try the Benedict flight that lets you sample three of the eggs Benedict options, including basic, chicken and biscuit, tomato and mozzarella, and crab cake.
I also love the crepes at Jam!, especially the Elvis crepe with whipped peanut butter sauce, applewood bacon, and sliced bananas wrapped in thin pancakes, all topped with caramel sauce, vanilla icing, and powdered sugar. Or for a savory option, try the puerco verde crepe with a smoked pork shoulder, pork chili verde, and cotija cheese filling.
Visit Jam! at 25 West Main Street, Bozeman, MT 59715.
Pro Tip: Jam! is an incredibly popular breakfast and lunch spot in Downtown Bozeman, so be sure to plan ahead and prepare for a wait when you visit.
3. Nova Café
Also located on Main Street is Nova Café, another delicious option for breakfast or lunch in Bozeman. Supporting local and regional farmers (and organic production practices) as much as possible, the dishes at Nova Cafe are crafted from ingredients like organic cheese, locally baked bread made with Montana-grown grains, and hive-to-table raw honey. Even the espresso is made from locally roasted coffee beans! Try the fried green tomato or smoked salmon cake Benedicts for a fresh take on the classic, or the Nova Skosh scramble that folds eggs with smoked salmon, green onions, and cream cheese. 
Visit Nova Café at 312 East Main Street, Bozeman, MT 59715.
Pro Tip: Nova Café's menu is full of vegetarian options along with a few selections for vegan visitors and diners following a gluten-free diet.
4. Pickle Barrel
Two generations of MSU Bobcats have stretched their dining-out budgets to the max with sandwiches from the Pickle Barrel. Whether you order one of their steak sandwiches or a cold sub piled high with deli meat, cheese, and veggies, the portions are large enough to fuel an all-nighter of studying or an action-packed afternoon exploring Big Sky Country.
Visit Pickle Barrel at 809 West College Street, Bozeman, MT 59715.
Pro Tip: While both are college towns, here are seven key differences between Bozeman and Missoula.
5. Blackbird
This casual eatery serves upscale and unique Italian cuisine. When you dine at Blackbird, start by nibbling on freshly baked bread dipped in olive oil, marinated olives, or a cast-iron skillet of meatballs in red sauce topped with fresh Parmesan.
While the pasta dishes and plated entrees are delicious, the brick-oven pizzas are outstanding. Enjoy a classic — like the margherita, with tomato, fresh mozzarella, basil, and garlic — or a classic with a twist — like the spicy pepperoni that adds jalapeño to the usual tomato, pepperoni, and cheese toppings. For a pizza you're not likely to find elsewhere, order the rose harissa, which tops your pie with tomato, olives, kale, cheese, and an egg. It's easy to pair your selection with the perfect wine thanks to Blackbird's wine list.
Visit Blackbird at 140 East Main Street, Bozeman, MT 59715.
Pro Tip: Looking for more advice and inspiration for your trip? Here's how to spend a wonderful weekend in Bozeman.
6. Bridger Brewing
If you prefer to enjoy your meal with a cold pint of beer, this local brewery is the Bozeman restaurant for you!
To kick things off, sink your teeth into delicious, freshly baked bread topped with everything from Parmesan and parsley to basil pesto and walnuts by ordering an appetizer of Bridger pane. If you want a salad, you'll find everything from a classic Caesar side salad to a filling Bridger chop with oven-roasted herb chicken, bacon, garbanzo beans, and smoked mozzarella tossed with mixed greens.
Bridger Brewing also offers a wide variety of pizzas. And because you're in Montana, the pepperoni is made with bison! Try it plain and simple with marinara sauce and cheese, or go supreme and add onions, mushrooms, and olives. In addition to pizza-parlor classics like Italian sausage, look for specialty toppings like Thai marinated steak, oyster mushrooms, and pickled jalapeños on the Thai'd and True; or marinated steak, Cajun sausage, and honey-lime sour cream on the Peach Heat pizza.
Visit Bridger Brewing at 1609 South 11th Avenue, Bozeman, MT 59715.
Pro Tip: If you swing by Bridger Brewing before 4 p.m., you can order a Jurassic-size slice of pizza at a special happy hour price (instead of committing to an entire pie).
7. Ted's Montana Grill
My family tries to eat local foods as often as possible when we travel. But with "Montana" in the upscale chain's name, Ted Turner's ranch in Southwest Montana, and no more locations near us in the Kansas City metro, we disregard this unwritten rule of the road and always stop at Ted's Montana Grill when we're in Bozeman.
You won't need to spend much time in Montana to realize that chefs, bartenders, and patrons are all about huckleberries in this part of the country. Start with one of Ted's huckleberry margaritas (you can order the regular or the huckleberry jalapeño flavor) or a huckleberry lemonade that combines huckleberry vodka with freshly squeezed lemonade.
Then dig into the protein-packed, vitamin-rich alternative to beef by ordering the bison brisket, bison short ribs, or one of the many delicious burgers on the menu at this all-American restaurant. And if you aren't into bison, no worries! Ted's also offers a selection of poultry, seafood, and beef dishes.
Visit Ted's Montana Grill at 105 West Main Street, Bozeman, MT 59715.
8. Roost Fried Chicken
In a beef-ranching state that shares a border with Canada, Southern-inspired restaurants are rare. And that's part of what makes Roost Fried Chicken one of the best restaurants in Bozeman. Heck, the pressure-fried chicken that's juicy on the inside and crispy on the outside enticed Guy Fieri to point his red Camaro in that direction and put the pedal to the metal!
Make it a meal by ordering the perfect amount of fried chicken for your party — two pieces, a basket, a bucket, or a family meal — and selecting sides, which include options such as the mashed potatoes you'd expect and Southern classics like collard greens and cheesy grits. And you can bet it's served with biscuits! Chicken-and-waffle lovers may prefer the crispy fried chicken placed on a hot waffle and topped with honey pecan butter. And folks on the move will appreciate the genius of Roost's chicken on a stick.
Visit Roost Fried Chicken at 1520 West Main Street, Bozeman, MT 59715.
Pro Tip: Do you plan to spend the day on the river with a rod and reel? Roost will pack you a boxed lunch or supper.
9. Copper Whiskey Bar And Grill
Whether you prefer beef or bison, chicken or a chop, if you enjoy a smooth whiskey or specialty cocktail to round out your culinary experience, you'll love Copper Whiskey Bar and Grill. Pair your aperitif with beer-battered fried pickles, pretzel bites, or my personal favorite, truffle fries. Steak lovers can choose between steak frites, a tenderloin filet, or grilled rib eye, and bison fans will enjoy the bison meatloaf topped with applewood smoked bacon and a demi-glace sauce.
Visit Copper Whiskey Bar and Grill at 101 East Main Street, Bozeman, MT 59715.
Pro Tip: You can also find a Copper Whiskey Bar and Grill in Big Sky, Montana.
10. Montana Ale Works
Another great place for impressive adult beverages and great food is Montana Ale Works. By partnering with more than fifty farmers, ranchers, and culinary artisans, this eatery takes grain-to-glass and farm-to-fork to a whole new level.
If you're looking to quench your thirst, Montana Ale Works has a wide selection of beers on tap. And 95 percent of their draft beers are Montana made, with most of them handcrafted in or around Bozeman and the Gallatin Valley. If it's a craft cocktail you're after, the bartenders at Montana Ale Works tap into more than 30 artisan spirits distilled right here in the Treasure State.
And the food is every bit as delicious as the apéritifs! Start with the bison potstickers served with mango and garlic chili sauces, or order the housemade chipotle pepper jack tater tots. The Gallatin Valley salad shines a spotlight on local summer flavors with locally-grown organic greens, seasonal veggies, local chevre, and walnut pesto. The bacon-wrapped Montana meatloaf is one of our favorite entrees, along with the fish and chips made by dredging wild Alaskan cod in a beer batter.
Visit Montana Ale Works at 611 East Main Street, Bozeman, MT 59715.
11. MacKenzie River Pizza Co.
If you're craving pizza, you'll love MacKenzie River Pizza Co. in the heart of downtown Bozeman. They have a wide range of specialty pizzas including the Thai Pie with Thai peanut sauce, seasoned chicken, and mandarin oranges; and the jalapeño popper pizza with cream cheese, smoky bacon, and fresh jalapeños. Each pizza comes with a choose-your-own crust option allowing you to select either original, thin, or gluten-free. And don't let the word "pizza" in the name fool you — MacKenzie River also has a wide selection of salads, sandwiches, bowls, and pasta.
While Bozeman is a popular ski destination in the winter, my family loves to visit in the summer when we don't have to bundle up to enjoy the great outdoors in Big Sky Country. In addition to flowing waterfalls and rushing rapids, summer brings out a Montana-inspired menu at MacKenzie River Pizza Co. If you visit Bozeman in the summertime, be sure to check out the 406 Summer Fare menu highlighting Montana flavors, like huckleberry, sage, bison, and trout.
Visit Mackenzie River at 232 East Main Street, Bozeman, MT 59715.
12. South 9th Bistro
Just across West College Street from Montana State University, South 9th Bistro is a cozy eatery in a pumpkin-colored two-story Victorian house that was recognized as Bozeman's best restaurant by Tripadvisor in both 2020 and 2021.
Start with the pan-seared sea scallops or escargots in garlic butter. Steak lovers can embrace being in cattle country with a grilled ribeye or steak au poivre. And the rest of your party will be just as satisfied with the pan-seared Alaskan halibut, prosciutto-wrapped chicken breast, or black truffle wild mushroom risotto.
Visit South 9th Bistro at 721 South 9th Avenue, Bozeman, MT 59715.
13. Sweet Peaks
With cream produced in Montana dairies and other locally sourced ingredients, the best ice cream flavors at Sweet Peaks are inspired by the Rocky Mountains. Nothing screams "I'm in Montana!" like huckleberries, so you can't go wrong with a scoop of ice cream mixed with these small purple berries. Other flavors inspired by Big Sky Country include the Mountain Mint, made with mint extract from the Passmore Farm in Creston, and Bear Scat, with mini chocolate chips and dried blueberries in dark chocolate ice cream.
Visit Sweet Peaks East at 411 East Main Street Suite 102, Bozeman, MT 59715; and visit Sweet Peaks West at 628 West Main Street, Bozeman, MT 59715.
Pro Tip: Looking for more delicious ice cream shops in the U.S.? These are the best from coast to coast.
And if you're enraptured by Montana, here's a sampler: