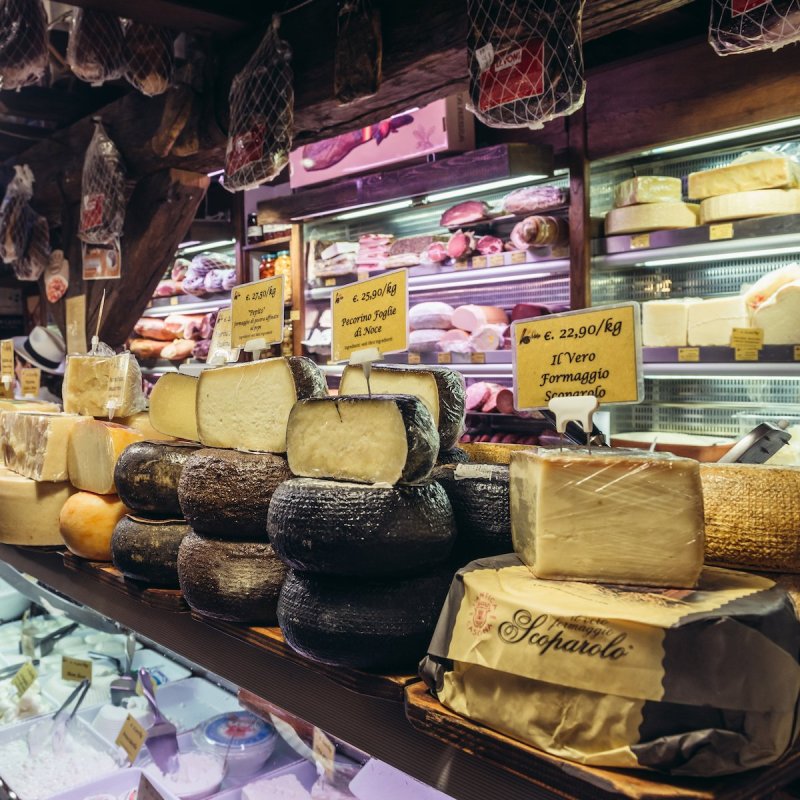 The Northern Italian region of Emilia-Romagna is a foodie's paradise. Along with the production of some of Italy's most prized commodities — Parmigiano-Reggiano, balsamic vinegar, and prosciutto — the food of the region presents a satisfying and seductive gastronomic persona all its own.
More affordable and less crowded than other Italian regions, Emilia-Romagna is replete with stunning landscapes: mountains, rolling hills, rich, verdant farmland, and a 55-mile-long Adriatic coastline. The combination makes this region a treasure trove of extraordinary food production and consumption.
Emilia-Romagna is hot and more crowded in summer, and parts of the region see snow in winter. The best times to take advantage of fewer vacationers, off-season prices, and a bounty of fresh options are spring and fall.
The following food experiences are located in Bologna or are an easy drive from the city.
1. Trattoria Del Rosso In Bologna
Bologna is the capital of Bologna Province and the heart and belly of the Emilia-Romagna food experience. My husband and I have delighted in several meals at Trattoria del Rosso. Although the interior is welcoming, there's nothing like sitting outdoors and savoring a light evening breeze along with pasta and wine. Service was efficient and friendly, but it was the outstanding food that drew us back.
Tagliatelle Bolognese, long wide pasta with a thick, robust meat and tomato sauce, is one of the region's signature dishes, and Trattoria del Rosso's is superb. My favorite, however, was Tortellini in Brodo, tender pasta circles filled with meat and cheese basking in a rich chicken broth. Next time, I'll try the Gramigna with Sausage, a squiggly egg pasta that makes it easy for the sauce to cling to its curls.
Trattoria del Rosso is wheelchair accessible. Make reservations, as this is a popular spot with locals, students, and tourists.
Pro Tip: An excellent way to work off all that pasta is to take a paid or free (tip-based) Bologna walking tour. It also serves as a perfect introduction to this remarkable city.
2. The Quadrilatero In Bologna
In Bologna's historic center lies a magical network of enticing shops near Piazza Maggiore. This is the oldest market in Bologna, with some structures dating back to the 13th century. Although food is by no means the only commodity vying for attention, it nevertheless will tempt and enthrall. Mouthwatering displays of freshly sliced cured meats, Parma ham, salamis, and aged Parmigiano-Reggiano will call your name. And gorgonzola so ripe it will appear to be rushing to rendezvous with your tastebuds will beckon you.
The Quadrilatero has expanded since its medieval beginnings. Today, the market area is bounded by a large quadrant of streets. High-end boutiques, jewelers, blade-smiths, fishmongers, produce stands, and more will occupy you for hours. Of course, a bounty of cafes and restaurants will see that you remain fully fed and hydrated.
The cobblestone streets may make walking less than comfortable, so leave the heels at home. The terrain will also give wheelchair users somewhat of a bumpy ride.
Pro Tip:FICO Eataly World is a 20-acre foodie's playground located outside Bologna's busy city center. It features vendors and restaurants showcasing high-quality foods from all of Italy's regions.
3. Acetaia Cavedoni Balsamic Vinegar Tour In Castelvetro
Acetaia Cavedoni is a sixth-generation balsamic vinegar distillery owned and operated by Paolo Cavedoni and his son, Marcello. Take the small-group tour, and you will never see those mass-produced bottles of balsamic the same way again.
A history of balsamic from the Romans to today will lead to an introduction to the dedication, patience, and painstaking techniques that result in the world's finest aged balsamic vinegar. A stop at the building where the aging barrels stand in perfect rows from largest to smallest will help put the process into perspective.
The Cavedoni family has been producing certified DOP, artisanal balsamic vinegar since 1860. Each generation has strictly adhered to the traditions and values that enable them to produce the finest balsamic on the market.
Shifting the focus from brain to palate. You will taste a range of vinegars from thin, lip-puckering acidity to smooth, thick, sweet liquid gold, giving you a unique understanding of how aging affects the final product.
Following the tasting, you will enjoy a generous sampling of crusty homemade bread, aged Parmigiano Reggiano, peppery mortadella, and of course, wine. The family also produces the ruby-red Lambrusco, a refreshing, slightly sparkling, organic wine.
Pro Tip: If you're looking for something to take away for a treat or gift, you can purchase aged Parmigiano-Reggiano, balsamic, and Lambrusco onsite.
4. Casa Selene Outside Modena
Located on Via Monticelli, a country road a couple of miles off the main road running between Bologna and Modena, sits Casa Selene on an incline overlooking gently rolling countryside. Here we feasted on a traditional Emilia Romagna lunch. This restaurant/hotel is an agro-tourism business. We had high expectations of freshness and quality, and Casa Selene didn't disappoint.
We lunched with a group, so our meal was served family-style. This enabled us to sample small portions of several dishes. From the thick and savory pasta e fagioli to the beautifully presented rich, sweet creme caramel, each dish was an edible work of art.
Casa Selene makes its own pasta, and makes it well. I dream of someday sitting down with a hot bowl of their tagliatelle Bolognese and nothing other than a glass of wine.
Casa Selene is wheelchair accessible, and the staff is friendly and accommodating.
Pro Tip: Even if you're not a car enthusiast, the Ferrari Museum in the nearby town of Maranello will fascinate you and keep your mind off food, at least for a couple of hours.
5. Mercato Albinelli In Modena
Since 1931, this covered food market has been a go-to place for locals and tourists alike. We perused stalls offering fresh locally grown fruits and vegetables as well as fresh and cured meats, cheeses, wine, flowers, and anything else one would want to grace a traditional Emilia-Romagna table.
Located near Modena's Piazza Grande, this market is not as large as others in Europe, but what it lacks in size, it more than makes up for in quality and charm. The corner restaurant where we had lunch tempted us with homemade baked pasta, pizza, roasted chicken, and a variety of cold offerings. We shared a cheese plate and a hot pork sandwich, washed down with Lambrusco. All were excellent, but the pizza will be my next choice.
There is plenty of architectural eye-candy on which to feast, as well. Wrought iron spirals and a sculpture of a little girl holding a flower basket on her hip lend an artsy touch to the homey atmosphere.
Pro Tip: You don't have to be an opera lover to be fascinated by Casa Museo Luciano Pavarotti, the place Modena's native singing son called home. Become acquainted with this operatic icon through his private collection of memorabilia, costumes, awards, and personal artifacts.
6. Italian Days Food Experiences Tour Originating In Bologna
Indulge yourself in a 10-hour Bologna Food and Wine Tour from Italian Days Food Experiences. This tour that dives into the production of Parmigiana-Reggiano, balsamic vinegar, and prosciutto will feed both body and mind.
The small-group tour includes transportation to and from your accommodations in Bologna and tours of a Parmigiano-Reggiano production plant and a prosciutto production facility not generally open to the public. Also included are a tour and breakfast at the aforementioned Acetaia Cavedoni, generous samples throughout the day, and a sumptuous late lunch at a restaurant or winery serving traditional Emilia-Romagna dishes.
We took this tour and developed a strong affection and respect for the families who keep alive the traditions that result in some of the finest foods in the world. Our guide was friendly, informative, and highly entertaining, making the entire experience all the more enjoyable.
Disclaimer: My husband and I were guests of Italian Days Food Experiences. However, all opinions are entirely my own.
Pro Tip: Resist the temptation to nap in the van between stops. Instead, take in the lush landscape rolling by, and glean as much information as you can about what else to see, do, and eat in the area from your driver.
Related Reading: