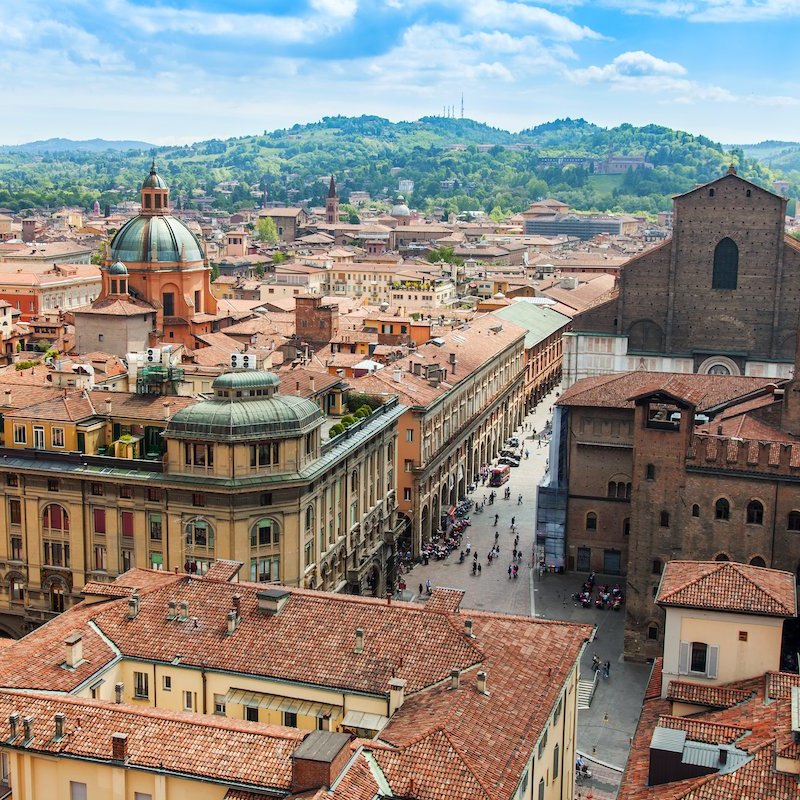 Bologna is the capital city of the northeast province of Emilia-Romagna, a bustling city rich with history, classic Italian cuisine, and the oldest university in Europe. Less traveled than Rome, Florence, and Venice, Bologna holds its own in terms of art, culture, and architecture. Immerse yourself for a two- or three-day weekend filled with all that Bologna has to offer.
Things To Do In Bologna
Piazza Maggiore And Piazza Del Nettuno
Piazza Maggiore is the main square and meeting place of Bologna, which is connected to another important square, Piazza del Nettuno. Dating back to the 12th century, the square didn't acquire the name Piazza Maggiore until the 1600s, when it grew to importance. A number of former palaces occupy the perimeters of the square including Palazzo della Podesta, the oldest, from 1200; Palazzo Communale, from 1400; Palazzo Re Enzo, from 1246; and Palazzo dei Notai, from the 13th century. Other significant buildings on the square include Basilica di San Petronio, a gothic Italian style church, and the Palazzo Communale, which houses the Municipal Collection of Art and the Morandi Museum.
Piazza del Nettuno was constructed in 1567 and has a beautifully sculpted statue of Neptune and a fountain below it.
Bologna Towers
Pisa is not the only place in Italy that has a leaning tower, and in fact, Bologna has two of them. Both towers are named after prominent Bolognese families and were built in the 14th century. Varying in height, the Asinelli is 320 feet high and was once a prison, and the Garisenda, standing at 157 feet tall, has an overhang of 10 feet. If you have the stamina, climb to the top of one of them and get an extended view of the city and beyond.
Portico Di San Luca
Portico di San Luca has the special distinction of being the world's longest covered walkway, measuring almost 2.5 miles. The terracotta and mustard-yellow colored portico was constructed in 1674 to provide access to the Sanctuary of Madonna di San Luca at the top of a hill. The Sanctuary was founded in the 12th century and expanded and altered throughout the following centuries, and the current structure is from 1723, designed by Carlo Francesco Dotti, one of the great architects of the 18th century. Walking through the Portico di San Luca beginning at Arco del Meloncello, a baroque overpass, you will discover a number of significant sites along the way, including the ancient part of the city, the Bologna Towers, Basilica di San Petronio, Colle dell'Osservanza, and Via Saragozza.
Pro Tip: Bologna Uncovered, a local tour company, gives an informative walking tour of the Portico di San Luca.
Archiginnasio
One of the most important buildings in Bologna is Archiginnasio, which was the main building of the University of Bologna, the oldest in Europe. Located on the Piazza Galvani, three minutes from Piazza Maggiore, Archiginnasio was commissioned by Pope Pius XV and inaugurated in 1563. It combined two important branches of the university, Canon and Civil law and the natural sciences, philosophy, mathematics, medicine, and physics schools, in one building. The imposing external architecture of the building has a 450-foot-long portico with thirty archways and sandstone columns. The university was moved to another location in 1803 and the school was converted to the Archiginnasio Municipal Library. Today the library contains 850,000 volumes, including 2,000 pamphlets, approximately 15,000 16th-century editions, 8,500 manuscripts, and collections of autographs, letters, drawings, and prints.
Archiginnasio Anatomical Theater
Located in the Archiginnasio, Archiginnasio Anatomical Theater is one of the most fascinating and unusual sites in Bologna. Part of the original university, it was the laboratory where medical students would take anatomy classes and watch bodies being dissected in front of their eyes. The magnificent wood carvings are a highlight as is Ercole Lelli's Spellati (Skinless) a life-size wood replica of man, complete with musculature and skeletal structure in full detail.
La Piazzola Market
Outdoor markets have been an essential institution in Italy for hundreds of years, and La Piazzola, just north of the center of the city, is the quintessential Italian market. Started in 1251 as a cattle market, today the cattle are long gone and replaced with 400 stalls featuring almost everything under the sun, including jewelry, fashion and accessories, shoes, flowers, pottery, ceramics, and more. La Piazzola Market is located on Piazza VIII Agosto and is open every Friday and Saturday from dawn until dusk. Bring an extra shopping bag so you can stock up on local merchandise to take home as gifts.
Pro Tip: It's actually customary to bargain with the vendors, and if you buy a number of items at one vendor, your bargaining power increases.
Bologna National Gallery
The premier museum of the city, Bologna National Gallery exhibits artworks and sculptures of the Emilia- Romagna region from the 13th to 18th centuries. Divided into two main collections, the Accademia Clementina displays 13th-century Byzantine works, and the Gallery of the Academy of Fine Art exhibits latter-day artworks. Noted artists at the museum include Raphael and Titian. A number of important works confiscated by the French and displayed in the Louvre under the reign of Napoleon in the early 1800s have been returned to the museum.
FICO Eataly World
Billed as the largest food park in the world, FICO Eataly, on the outskirts of Bologna, is a 20-acre food and culture extravaganza. FICO Eataly has 40 food stands selling the best Italian food products, 25 themed restaurants serving the various regional cuisines of Italy, stables and open fields with over 200 animals, six amusement park rides, and 40 farming factories that produce fish, cheese, meat, pasta, olive oil, and sweets. Thirty different events and 50 cooking classes are offered every day in on-site theaters, kitchens, and classrooms.
Best Restaurants In Bologna
Bologna is where the world-famous Bolognese pasta sauce was invented, made with tomatoes, ground meat, garlic, and red wine. Almost every restaurant in Bologna serves a version of it, and we have included the best places to find it. Other regional food specialties include Parma ham, mortadella, balsamic vinegar, and Parmigiano-Reggiano cheese. Tagliatelle al ragu (tortellini in broth) and lasagna also originated in Bologna.
Ristorante Da Cesari
Mama is whipping up her own versions of classic Bolognese dishes in the kitchen at Ristorante Da Cesari while her son helms the front of the house with his passion for mama's cooking. The 60-seat restaurant, with wood-paneled walls lined with wine bottles, has been open for over 50 years. Dishes include homemade pasta with Bolognese sauce, ravioli with black truffles and porcini mushrooms, meatballs with tomatoes and peas, and for dessert, their outstanding panna cotta.
Mozzabella
If you want to switch from pasta to pizza, look no further than Mozzabella, a popular pizzeria with two locations. The pizza is served al taglio in large, rectangular pans, and sold by weight.
Polpette E Crescentine At Mercato Delle Erbe
Inside the Mercato delle Erbe, a produce and food market, Polpette e Crescentine serves crescentine fritte, a dish with lightly fried dumplings that are stuffed with Bolognese, soft cheese, squacquerone (a fresh cream cheese, and finely cut slices of cured meats. Another specialty is the variety of house-made meatballs.
Al Pappagallo
The only Michelin star restaurant in Bologna, Al Pappagallo, which means parrot in Italian, has been host to local and international celebrities, including Sharon Stone, Alfred Hitchcock, and Gina Lollobrigida. Al Pappagallo prepares familiar Bolognese dishes like you've never tasted them before, Including tortellini in broth (considered one of the best in the city), spinach lasagna with meat sauce, and beef tagliata with roasted vegetables. Leave room for their light-as-air tiramisu.
Best Hotels In Bologna
Grand Hotel Majestic Gia Baglioni
Indulge in Italian luxury at its best at the only five-star hotel in Bologna, Grand Hotel Majestic Gia Baglioni. Opened in 1812, the hotel has been home to Italian and international celebrities and royalty including Clark Gable, Ava Gardner, Frank Sinatra, Sophia Loren, Anna Magnani, the Dalai Lama, and Princess Diana. All rooms have antique furniture, Murano glass chandeliers, and bathrooms with separate showers and bathtubs. The I Carracci restaurant offers a superior Bolognese menu, and the dining room has hand-painted frescoes from the 16th century by the Carracci brothers.
Casa Bertani
At the six-room Casa Bertagni bed and breakfast, each room is individually decorated based on the theme of virtues, including temperance, charity, strength, justice, hope, and faith. The decor includes a melange of precious antiques from the owners' family collection, plus contemporary pieces. Casa Bertagni is about a 15-minute walk from the center, close to the university.
Art Hotel Novecento
A member of Bologna Art Hotels, the decor Art Hotel Novecento is done in Viennese Secession style, which is similar to Art Deco. The four-star boutique hotel has amenities such as a free breakfast, a car park, and bicycle rentals.
Pro Tip
Bologna is served by the Bologna airport, which services mostly flights from inner-Europe. Alternatively, Bologna is easily reachable by train from other major Italian cities including Rome, voyage time 2 hours and 45 minutes; Florence, voyage time 45 minutes; Venice, voyage time 90 minutes; and Milan, voyage time one hour and fifty minutes.