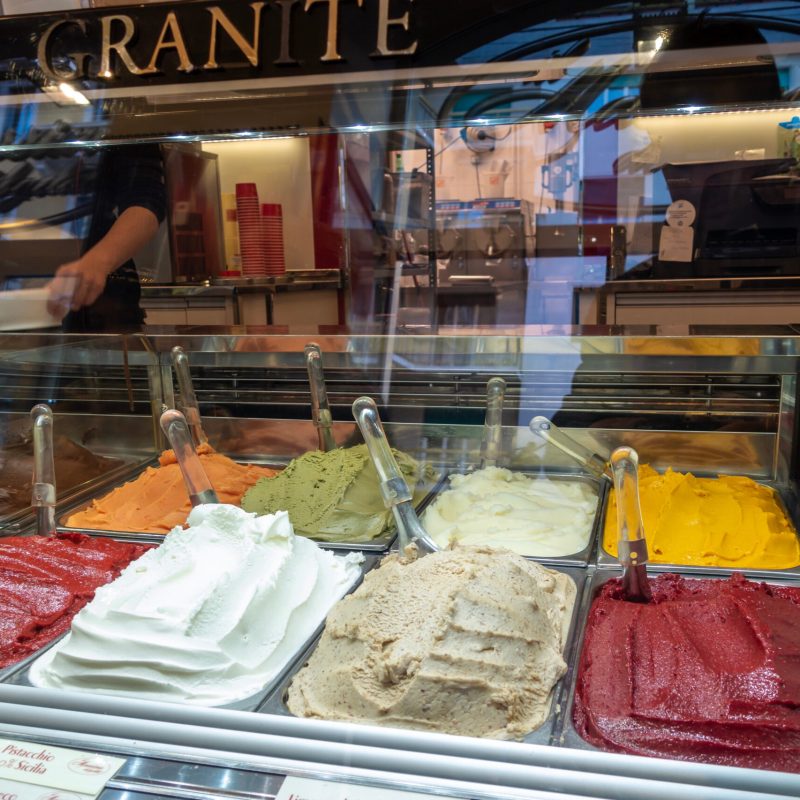 Few people travel across the world for a scoop of ice cream, but then again, gelato isn't just ice cream.
True Italian gelaterias make their product with less cream and more milk than American ice cream, which results in a denser, more flavorful dessert. The differences don't stop there. Italians take gelato very seriously, and established gelaterias take pride in using high-quality, fresh ingredients. That means that if you stop into a gelateria in May, you might see a completely different menu than you'd see in December.
If you're fortunate enough to find yourself in Italy, you'll want to experience real gelato for yourself. Here are a few excellent gelaterias to visit throughout the country. But be warned: Once you try Italian gelato, it'll be hard to go back to that big pint of Rocky Road that's sitting in your freezer!
Il Massimo Del Gelato, Milan
Italian gelato is made with a simple set of ingredients, but they produce a taste that's almost overwhelming for the uninitiated. The goal isn't to create entirely new flavors, but to highlight the features of the natural ingredients.
Il Massimo del Gelato in Milan is a gelateria that stays faithful to those ideals. Each of its gelatos brings out the strength of the raw ingredients while maintaining an elegant balance. This shop is slightly off the beaten path, but it's worth a lengthy taxi ride, particularly if you like chocolate (the store carries more than 10 distinct chocolates, all of which are outstanding).
Fatamorgana Gelato, Rome
If you're craving variety, you can't do much better than Fatamorgana. This world-famous gelateria recently opened locations in California, but its original shop in Rome remains its most iconic.
Choose from dozens of sweet and savory flavors, meticulously designed with natural chocolates, mints, nuts, and spices. Fatamorgana is known for its pistachio gelato, so if you're overcome by the options, that's a safe place to start.
Sorbetteria Castiglione, Bologna
As you walk up to Sorbetteria Castiglione, the first things you'll notice are the gorgeous arches that line the storefront, which dates to the year 1000. The gelateria itself features unpretentious modern decor, but the masterful gelatos and ice cream cakes will certainly catch your eye.
Like many of the other establishments on this list, Sorbetteria Castiglione doesn't skimp on ingredients, so every flavor tastes fresh and balanced. Consider a scoop (or two — or three) of the Piedmont hazelnut.
Gelatoteca Suso, Venice
Be prepared to wait at Gelatoteca Suso, since it's one of Venice's busiest dessert shops (and that's saying something). While this is one of the trendier options on this list, Venice is a trendy city — and hey, great-tasting gelato is going to draw crowds.
The flavor options here are fairly simple, but the menu changes regularly. While you can't go wrong with classic vanilla or chocolate, look for a seasonal sorbet.
Gelateria Crispini, Spoleto
With a variety of flavors and a true dedication to Old World techniques, Gelateria Crispini draws travelers from around the world to Spoleto, a historic city with some incredible architecture.
Gelateria Crispini's pistachio flavor won the top prize in the 2017 Gelato World Tour, so if you're a fan of pistachio, that's an easy recommendation. Its tiramisu flavor also gets high marks from visitors.
RivaReno
RivaReno is a chain of gelaterias, but chains aren't always a bad thing, especially if you're looking for a quick bite while you're out exploring Italy. Each location carries a fantastic array of gelatos, including dairy-free options. The traditional products are rich, intense, and, shockingly enough, comparable to some of the more gourmet options on this list.
If you're in the mood for something refreshing, try the mint flavor, and if you'd prefer something decadent, the dark chocolate fudge should suffice. That said, any of the shop's many specialties should satisfy travelers.
Gelateria I Caruso, Rome
Look for reviews on Gelateria I Caruso, and you'll read the same words over and over again: "old school," "classic," "authentic." I Caruso doesn't try to do too much, since they're already experts at their craft. Here, you'll find excellent gelato in a traditional setting, served at a fair price.
There's a reason that I Caruso is one of the most famous gelaterias in Rome, and there's a reason that the business remains in a humble, unassuming storefront: This isn't a place for innovation — it's a place for perfection. The pistachio gelato is especially popular, but you'll probably want to make a few visits to explore the menu. After all, this is where locals head for their gelato, and, well, when in Rome… ah, you know the rest.
Craving more Italian specialties? Here are 15 delicious types of pasta to try in Italy.