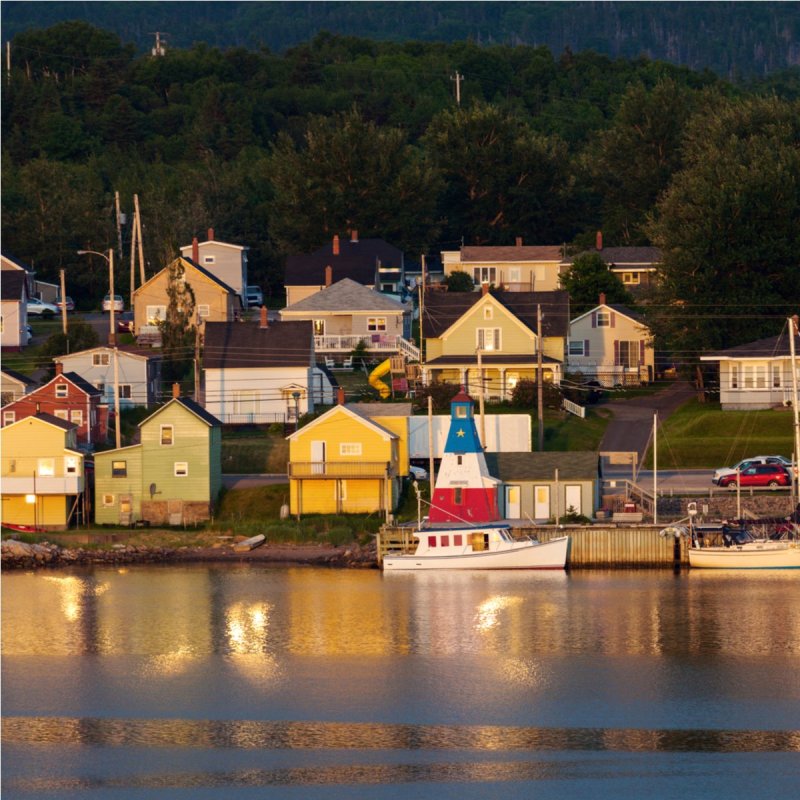 Is Nova Scotia the prettiest part of Canada? I'd like to think so, but, then again, I'm biased. I grew up in this small, eastern province where you're never far from the beach. It's hard to narrow down the list of quaint Nova Scotia towns to just a few, but this list does a good job of representing the area's diverse natural beauty, rich culture, and unique things to do. And, of course, they're all standouts when it comes to local food and wine!
1. Cheticamp
This traditional fishing village in northwest Nova Scotia is recognized around the world as a leader in preserving Acadian culture. Song, dance, and folk art thrive in Cheticamp, and the community is home to Les Trois Pignons. A hybrid cultural, historical, and genealogical center. Les Trois Pignons helps visitors arrange tours, plan self-guided adventures, and even trace their family history. Inside, their Elizabeth LeFort Gallery celebrates the art of the world's foremost hooked rug artist. But it's not just culture-vultures who will love Cheticamp. The community is one of the best in Nova Scotia for whale-watching excursions and is the gateway to the Cabot Trail, one of the world's great scenic drives.
Pro Tip
My favorite thing to do in Cheticamp isn't based on nature or culture. It's eating! Aucoin's Bakery is beloved in Cheticamp and throughout northern Nova Scotia for its homemade bread and treats like old-fashioned donuts, muffins, and cookies.
2. Pleasant Bay
There are few Nova Scotia communities quite so remote as Pleasant Bay. This tiny community marks the center of the Cabot Trail and is the whale-watching capital of the province.
From June to mid-October, the Whale Interpretive Centre is open, and kids, in particular, will love seeing the life-size model of a giant pilot whale, as well as a tank of live sea creatures. A number of local outfitters also operate whale-watching boat rides. The Timmons Folk Art center is a must-visit spot for anyone who appreciates handicrafts, while those seeking solitude and reflection will appreciate Gampo Abbey. This Buddist monastery welcomes visitors to its grounds and nature trails and, when available, their community events and indoor programming.
Pro Tip
At Cardinal Points Gift Shop, you can pick up ice cream cones and chocolate along with locally made souvenirs.
3. Louisbourg
Not every quaint town in Nova Scotia is of the modern era, and that's certainly the case with Louisbourg — or at least, for part of it. In northeast Nova Scotia, the tiny fishing village of Louisbourg sits side by side with its 1700s counterpart. Fortress Louisbourg National Historic Site is often described as the crown jewel of all Canadian historic sites. It's an apt term, considering how precious this fortress was to the French several hundred years ago when they battled the English for control of North America.
By the mid-1700s, Fortress Louisbourg was the second most important French settlement in North America (after Quebec City). But as conflicts subsided, so did the importance of the fortress. It fell into disrepair and ruin until the mid-1900s when it became one of the world's largest archeological and restoration projects. Today, visitors can enjoy exploring life in a recreated French fortress, from eating bread at the soldier's bakery to putting friends in the stockade. There's even an overnight camping program for the truly adventurous. However, most guests will appreciate the homey comforts of Louisbourg village, where welcoming bed-and-breakfast establishments sit next to casual seafood restaurants.
Pro Tip
The weather at Fortress Louisbourg is notoriously finicky. No matter what the forecast says in the village, pack a spare sweater, a raincoat, and some sunscreen for your fortress visit.
4. Annapolis Royal
Annapolis Royal has the distinction of being one of the oldest settlements in Canada. European settlers first arrived in 1605, at which point the area was already long established as a Mi'kmaq community. Modern-day visitors can enjoy the town's National Historic District, which features heritage homes, lush perennial gardens, and old-growth trees. In fact, Annapolis Royal has one of the highest concentrations of historic buildings, and specifically wooden frame buildings, in Canada. Not surprisingly, antique shops thrive here, as do art studios, craft shops, and farmers markets (available every Saturday come summer.) The community's beauty and charm are showcased each year in late May when the entire region celebrates the Apple Blossom Festival.
Pro Tip
At the Annapolis Royal Historic Gardens, 17 acres of botanical gardens await. With a rose garden, modern sculpture, and a reconstructed Acadian home based on mid-1600s design, there's plenty here to keep you occupied for hours. While you explore, keep your eyes open for tiny ceramic birds hidden in the trees. They're part of an art installation by local artist Shauna MacLeod.
5. Margaretsville
Tiny Margaretsville, home to just over 200 people, is the kind of quiet, genteel seaside hamlet that people dream of discovering when they travel to Nova Scotia. You could spend a few short hours exploring the seashore or maybe a few weeks reconnecting with your inner artist here. A highlight of any visit is a stop into the waterfront Art Shack, which is celebrating its 30th anniversary in 2021. Owned by the Artist's Circle, a member of the collective is always on hand to answer questions about the local arts and crafts scene. At low tide, you can walk along the seafloor (perfect for finding unusual pebbles, shells, or bits of sea glass for your own creative inspiration!) and take a look at the Margaretsville lighthouse, which locals are proud to say once served as the inspiration for a Canadian stamp design.
Pro Tip
Just down the road in East Margaretsville is the Evergreen Theatre. Set in a repurposed, 1860s-era Baptist church, this non-profit puts on diverse cultural events in an intimate setting that's renowned for its acoustics.
6. Malagash
Tiny Malagash is sometimes overlooked, thanks to its position on a small spit of land in the Northumberland Strait, but those who journey here will be well rewarded. Malagash is home to Jost Vineyards, Nova Scotia's preeminent winemaker and a must-visit destination for wine lovers. However, there's much more to see in the area than just the wine tasting room (though there's no judgment if that's where you want to spend all your time!) The area is also home to the tiny Malagash Salt Mine Museum, which operates seasonally, and gorgeous beaches, including Blue Sky Beach. A Nova Scotia provincial park managed property, this family-friendly beach has picnic tables, changing rooms, and washrooms.
Pro Tip
In nearby Tatamagouche, train enthusiasts will love the Train Station Inn, which has converted vintage locomotive cars into bed and breakfast-style accommodations. I can personally attest to the fact that a meal in the dining car is nothing short of spectacular. Local seafood like salmon is often on the menu and soft, fluffy homemade biscuits are always on the table.
7. Yarmouth
The largest destination on this list, Yarmouth is still a small town of some 6,500 people. Located on the southern tip of Nova Scotia, it's a popular road trip destination for cyclists, RVers, and motorcyclists doing a provincial tour — as well as visitors riding the ferry over from Maine. With its gorgeous Victorian-style homes, fine cultural institutions (Yarmouth is home to a branch of the Nova Scotia Art Gallery), and excellent museums, it's a dynamic, vibrant, artistic community. But its roots are never far from the sea. Lobster fishing is a major industry in Yarmouth, as are tourism activities like kayaking throughout the harbor.
Pro Tip
If you love mysteries, Yarmouth has a real puzzler for you. The Yarmouth Runic Stone, discovered in the early 1800s, contains runic inscriptions that have never been conclusively translated. Could they be ancient Norse, proof that the Vikings landed in this spot nearly 1,000 years ago? Or perhaps they're Japanese, Basque, or Greek? One theory is that they're not runic inscriptions at all but naturally occurring geological etchings. You can weigh in on the debate yourself at the Yarmouth County Museum.
8. Lunenburg
If only one destination could be awarded the title of the quaintest town in Nova Scotia, it might just be Lunenburg. Designated a UNESCO World Heritage Site in 1995, the community's protected status ensures that the town's rare architecture and civic design, one of the best examples of a planned British colonial settlement in Canada, will endure for generations. A true maritime destination, fishing and shipbuilding are integral to Lunenburg's spirit. The community is the birthplace of the renowned racing schooner The Bluenose (and its successors), which was built in Lunenburg's ship docks. A short drive from Halifax, Lunenburg is the perfect day trip for anyone visiting the city.
Pro Tip
Crafting beautiful boats and buildings isn't the only thing that Lunenburg does exceptionally well. The area also excels at making fruit wine! The Lunenburg County Winery opened in 1993 on a commercial blueberry farm. In addition to making blueberry and other fruit wines, visitors are welcome to come harvest their own u-pick blueberries in season.
For more area inspiration, consider How To Spend A Day In Halifax, Nova Scotia and 10 Things To Know About Driving The Cabot Trail.