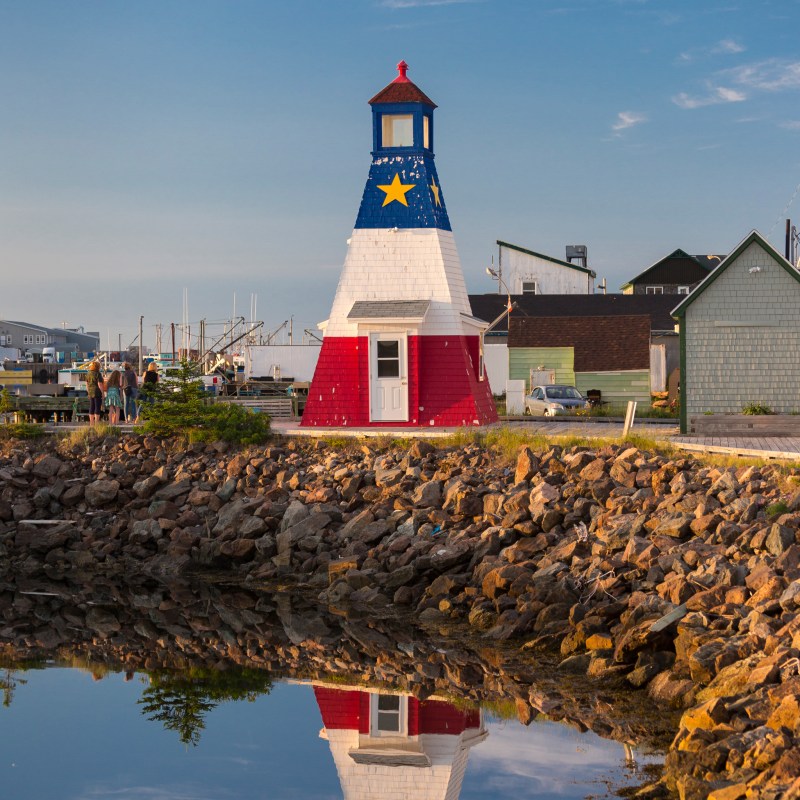 A traditional fishing village in northern Nova Scotia, Cheticamp is recognized as a worldwide leader in preserving Acadian culture (more on the Acadians below). Visitors who come to Cheticamp as part of a more extensive tour of the region often linger for days, and the residents are known for their hospitality and friendliness.
Whether you love history and culture or nature and wildlife, this tiny community of fewer than 4,000 people has plenty for you to enjoy. I can say this with confidence, since this is where my ancestors are from! I visit every time I'm in Nova Scotia, and this is exactly the list I'd give to a friend traveling to the area.
Cheticamp is located in the northwestern corner of Nova Scotia on Cape Breton Island. The community is a 2-hour drive from the JA Douglas McCurdy Sydney Airport in Reserve Mines and about 4.5 hours from Halifax, where most major international flights arrive. There is no public transportation to Cheticamp — in order to reach the community, you'll have to have your own transportation.
Learn About Acadian Culture At Les Trois Pignons
The Acadians are the descendants of French settlers who first came to North America in the early 1600s. They made their homes in New Brunswick and Nova Scotia and on Prince Edward Island, as well as in parts of Quebec and Maine. The Acadian community was distinct from the French colony of Canada (now modern-day Quebec) in terms of customs, culture, and dialect.
Eventually, the violent struggle to control North America found its way to the Acadians. A simplified explanation is that while the Acadians were neutral during the French and Indian War, the British feared that the Acadians would eventually support the French. The Acadians refused to sign an oath of allegiance to the British, in part because they feared they'd be forced to fight the French and also because it would have hurt their friendship with the Mi'kmaq people.
From 1755 to 1764, the British carried out the Great Expulsion of the Acadian people. An estimated 11,500 Acadians were displaced and deported, and up to a third died from drowning and disease. Many of those who survived eventually returned to the area, while some settled in Louisiana and helped establish Cajun culture there.
The story of the Acadians has a happy ending. Their culture is thriving in New Brunswick, in many areas of Nova Scotia — including Cheticamp, which is considered an Acadian "capital" of sorts — and elsewhere in the region.
Les Trois Pignons is a major cultural, historical, and genealogical center in Cheticamp. Guides are always on hand to help with travel planning and provide tour information, maps, and local tips. You can also make plans to meet with the center's volunteer genealogists if you want to trace your Acadian roots.
Les Trois Pignons is also home to the Hooked Rug and Homelife Museum, which has two distinct sections worth exploring.
Elizabeth Lefort Gallery
Elizabeth Lefort was one of the best-known hooked rug tapestry artists in the world. The craft of rug hooking first took off in Cheticamp in the 1920s. An American artist, Lillian Burke, came to Cape Breton Island to teach the children of Alexander Graham Bell (whose workshop was just 2 hours away in Baddeck). Burke eventually made her way to Cheticamp, where she taught local women new techniques for dying wool and using the finished product.
From that early group of rug hookers, Elizabeth Lefort quickly emerged as a prominent artist. She was able to make complex portraits, including the likenesses of Queen Elizabeth II, Prince Charles, Popes Pius XII and John XXIII, Jacqueline Kennedy, President Lyndon Johnson, and Prime Ministers Lester B. Pearson and John Diefenbaker, among others. Her work is displayed around the world, including in Buckingham Palace, the Vatican, and the White House.
The Elizabeth Lefort Gallery at Les Trois Pignons was officially opened in 1983. About two dozen of her works are on display, as well as the tools of her trade and information about her life. To this day, rug hooking is a prominent part of Cheticamp's artistic culture.
Marguerite Gallant Collection
Marguerite Gallant was an ordinary woman who lived an extraordinary life. Her work as a housekeeper, assistant, and senior's companion took her across North America, and she kept company with antique dealers, artists, and all kinds of people. Slowly, she began to acquire knick-knacks, bric-a-brac, unique treasures, and even priceless antiques.
As her reputation as a collector grew, people started to drop things off at her home that they didn't want to keep but also didn't want to throw away. After her death, Gallant's extraordinary collection was moved to Les Trois Pignons, where it was catalogued and put on display for the public to enjoy.
Visit Saint Peter's Church
I've often been told that Cheticamp's Saint Peter's Church is the largest church east of Montreal — but perhaps that is just local lore, since it seems impossible to verify! Regardless of whether or not this is correct, Saint Peter's is indeed a massive church, one that seems even larger when you consider the small size of the community. Listed on the Canadian Register of Historic Places, Saint Peter's is one of the few stone churches on Cape Breton Island and a very fine example of French-Canadian neoclassical architecture. Its grand interior is well worth a visit.
While the architecture of Saint Peter's is certainly showstopping, the architecture of the rest of Cheticamp stands out as well. Squat, square homes are common, and they're built that way for good reason: Cape Breton Island regularly experiences winds that exceed 125 miles per hour. Thankfully, while there have been some dangerous and dramatic storms in the past, the winds bring remarkably little damage, all things considered, in large part due to the carefully designed architecture.
Go Whale Watching
Whale watching is one of the most popular activities in Cheticamp, and you can find a variety of outfitters advertised at Les Trois Pignons and at the seasonal ticket kiosks at the harbor. Finback whales, pilot whales, minke whales, humpback whales, Atlantic white-sided dolphins, and even the occasional blue whale are seen in the area. Captain Zodiac Whale Cruise offers small-group tours in zodiac boats, while Love Boat Whale Cruises offers tours in traditional fishing boats.
Even if you don't fancy whale watching, the Harbour Restaurant and Bar offers great views of all the activity taking place on the water, all while serving up a wide variety of local seafood, shellfish, and popular pub classics.
Explore Cape Breton Highlands National Park
Home to superb fly-fishing, hiking, camping, and wildlife watching, Cape Breton Highlands National Park is just a short drive from Cheticamp. A significant part of the Cabot Trail, which is considered one of Nova Scotia's best attractions, runs through the park. If at all possible, set aside one day to tour the park and take your time enjoying the drive.
Some things to keep an eye out for include the Cap Rouge exhibit — a rare opportunity to observe sedimentary, igneous, and metamorphic rocks — and the Lone Shieling, a Scottish crofter's hut nestled in an old-growth forest.
Stop At Flora's Gift Shop For A Unique Souvenir
Since the 1950s, Flora's Gift Shop has been a tourist destination for authentic Cheticamp hooked rugs. What started out as a small operation in a general store has grown into one of the largest gift shops in the region. Visitors can buy hooked rug products from small coasters to large wall hangings and rugs.
Those keen to try rug hooking for themselves can watch a demonstration by the local "hookers" (yes, that is the proper term for the artists!) and pick up kits to try at home, as well as hand-dyed yarn. Other items for sale include locally made jewelry and pottery, plus the usual assortment of novelties.
Sample Authentic Acadian Food
Acadian cuisine is simple, hearty, and filling. It focuses on local, seasonal cuisine, and dishes like vegetable soup, corn and potato chowder, seafood chowder, fresh fish and shellfish, roasted meat, potatoes, root vegetables, homemade bread, and baked goods like cinnamon buns and molasses cookies are common.
If you try just one traditional dish, make it fricot, a thick Acadian chicken stew with potatoes, onions, and drop dumplings cooked in a steamy broth. No matter what you order, if your dish is served with bread or rolls on the side, it probably comes from Aucoin Bakery. For me, no visit to Cheticamp would be complete without a visit to Aucoin to stock up on bread, muffins, pies, sweets, and cookies!