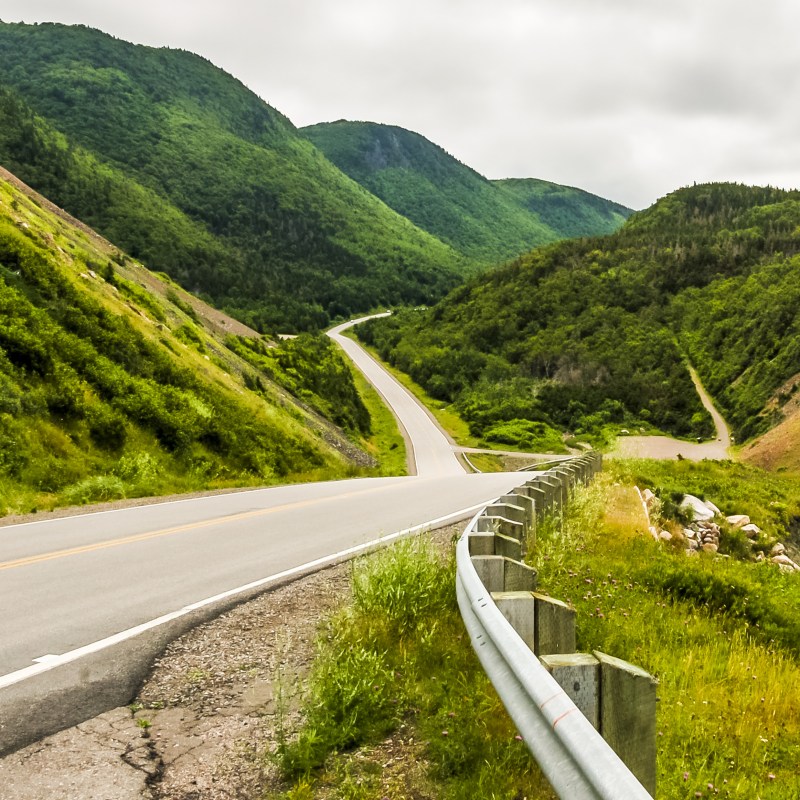 The Cabot Trail is a scenic highway in the northern part of Cape Breton Island, Nova Scotia. However, the word "scenic" is a bit misleading. This isn't just a pretty drive, but rather one of the most famed roads in the world, renowned for its views of the Atlantic Ocean and the Cape Breton highlands.
It is a frequent entry on "top 10" lists of the most beautiful driving routes in the world and is a favorite for the top slot on many "best drives in Canada" roundups. Therefore, it's no surprise that it's on so many travelers' bucket lists. If you're planning a trip to Nova Scotia, here are 10 important things you should know about driving the Cabot Trail.
1. More Than Hills And Highlands
Fans of Ireland and Scotland love visiting Cape Breton Island and the Cabot Trail because the rolling green hills look so familiar to what you'll see on the other side of the ocean. However, while the most famous part of the Cabot Trail is indeed the oceanside drive along the highlands, that's just one portion of the adventure. For instance, a common starting point is the town of Baddeck. This inland town is flat and miles from the sea, and life here is centered around the Bras d'Or Lakes. Other areas of the drive are heavily forested with old-growth trees. In short, the Cabot Trail is more diverse than you might think!
2. The Drive Is Longer Than You Think
At 185 miles, the Cabot Trail is longer than most people think. Driving it is a lot slower, too. There are narrow roads, plus plenty of big bends and dips. All in, you have a drive that can take the better part of a day. If you have just a day to explore, I personally recommend an early morning start to minimize traffic and have some of the scenic lookouts all to yourself.
3. Take A Day — Or A Week
You can easily drive the Cabot Trail in a day, even taking into account the slower traffic and plenty of scenic stops. However, a lot of people recommend that you take three or even five days to complete the trail.
This isn't just a driving route — it's also a lifeline that connects dozens of small towns and even smaller villages. Along the way, there are plenty of attractions, including beaches, community shops, museums, churches, and special events including festivals, concerts, and more. The Cabot Trail also goes through Cape Breton Highlands National Park, a superb hiking destination. You could easily spend several days along the route, enjoying slow travel at its finest.
4. Whale Watching
Whether you're doing the Cabot Trail in one day or several, make some time for Pleasant Bay. The tiny community of Pleasant Bay marks the Cabot Trail's midway point and is the whale watching capital of Cape Breton Island. From June to mid-October, the Whale Interpretive Centre is open and kids, in particular, will love seeing the life-size model of a giant pilot whale, plus a tank of live sea creatures. A number of local outfitters also operate whale watching boat rides.
5. Plan Your Meal Stops
In major towns, like Baddeck, Cheticamp, and Margaree, there are several restaurants to choose from. In smaller areas, like St. Ann's and Ingonish, you'll likely find just one or two choices open year-round. But in smaller villages, the selection is understandably limited and in the off-season, restaurants may be closed or only open part-time. It pays to plan ahead. You can find a comprehensive list of Cabot Trail restaurants here, including information on hours of operation and menu choices. Note that if you have a seafood allergy or prefer vegetarian dining, you'll want to scope out your options well before you travel. Seafood — and especially shellfish — are the undisputed stars on local menus.
6. Book Accommodations In Advance
In the peak summer months and during the autumn Celtic Colours festival season, you might not get your first-choice accommodations unless you book in advance. Along the trail, you'll find cottages, rental properties, campgrounds, motels, old-fashioned bed and breakfast properties, and a few elegant inns and holiday "resorts" (mostly privately owned and operated hotels by the Bras d'Or Lakes). There's even a Hosteling International property in Pleasant Bay! However, there are no international chain hotels and many accommodations are seasonal in nature.
7. English Isn't The Only Language
English isn't the only language spoken in communities along the Cabot Trail — and it's definitely not the only language you'll see on the signage! Along the way you'll probably spot signs in Mi'kmaq, an indigenous language, too.
French is a local lingua franca as well, as a significant portion of the route goes through traditional Acadian French land in the north. The town of Cheticamp is one of the largest French settlements in Nova Scotia. Finally, you'll find Scottish Gaelic around the route's center and eastern areas. Keep an eye out for the community of St. Ann's, home to the Gaelic College, which provides programming about the Gaelic language, music, dance, and crafts.
8. The Most Important Word of All: Ceilidh
Of all the words in all these languages, there's just one that's essential to know during your road trip: ceilidh. Pronounced "kay-lee", this is the Gaelic word for a social gathering or kitchen party, and it's a word you'll hear a lot of along the Cabot Trail, no matter what language you're speaking!
On Cape Breton Island, a ceilidh can be a casual affair of neighbors gathering for music and drinks at home or a more-organized event at a community center, church hall, or cafe with a slate of musicians, a host, and a small admission fee. You'll hear about them in local newspapers, such as the Inverness County Oran, on bulletin boards at restaurants and other popular spots frequented by tourists, and by word of mouth. At most public ceilidhs, admission and concessions are cash only. You can often buy small concessions like soda or coffee on site, and many ceilidhs include a "tea" or "lunch" midway in the evening. This is a buffet of coffee, tea, sweets, and sometimes light sandwiches and is especially common at ceilidhs designed as community fundraisers.
9. Watch Out For Wildlife
Moose are common along the Cabot Trail, especially the portion of the drive that goes through Cape Breton Highlands National Park. While they look goofy in photos, these are strong, sturdy, agile animals who won't hesitate to protect their young and should never be approached. The Cabot Trail is popular with bird watchers and, while not common, bears, wolves, coyotes, and foxes are sometimes seen on the route. Staff at the park can advise on the best wildlife viewing areas.
10. Clockwise Vs. Counter-Clockwise
Which way should you drive around the Cabot Trail? Better brace yourself for an opinionated answer before you quiz a local! Strong preferences are part of the local culture, and there are plenty of arguments to back up each perspective! Of course, in some circumstances, you may have your route dictated to you by default depending on where you are going and what is on your itinerary. But many travelers with a flexible itinerary must choose between going clockwise, which means your car is hugging the interior of the road against the forest and rock face, or counterclockwise, which means your car is on the exterior lane of the road — closest to the ocean, the scenic lookouts, and the plunging cliffs.
Cyclists — and yes, there are many hearty, experienced souls who bike the Cabot Trail — prefer going clockwise in order to benefit from the prevailing winds on the west side. This also means a more gradual climb along Cape Smokey. Driving clockwise is also considered easier for those in small vehicles. If you want to read more opinions about the pros and cons of taking on the Cabot Trail in both directions, the tourism board surveyed its staff to get their personal recommendations, which you can read here. No matter which route you take, you're in for an amazing drive!
Whether you visit before or after cruising the Cabot Trail, here's how to spend a day in Halifax, Nova Scotia.