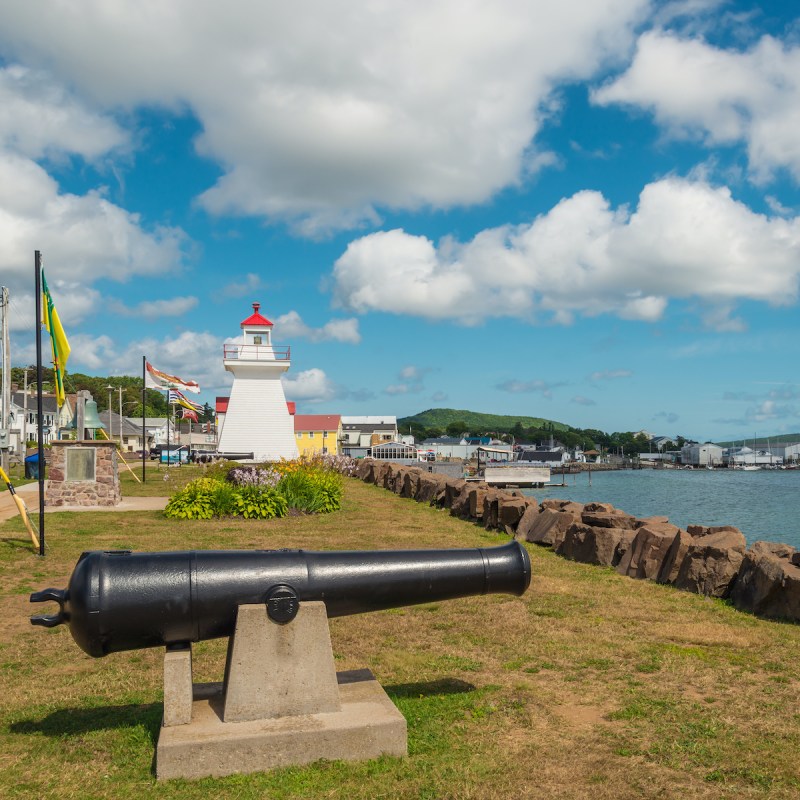 The little Nova Scotia town of Digby has one big claim to fame. It is renowned for having the best scallops in the world! Fishing is at the heart of everything happening in this small community of 2,000 people and they're justifiably proud of their famous catch. I've visited this pretty area many times, most recently on a press trip, and I had the opportunity to dig deep into what exactly makes Digby scallops so remarkable and delicious.
What Makes Digby Scallops So Good?
I wanted to know exactly what made Digby scallops so delicious, so I went to an expert source. Dale Nichols is the head chef at the Digby Pines Golf Resort and Spa, a historic property whose roots date back to 1903. Chef Nichols reports that there are several factors contributing to the Digby scallop's well-deserved reputation. He says that the waters of the area are cold and deep, giving the scallops a consistent environment in which to grow. Additionally, Digby is located on the Bay of Fundy, home to the highest tides in the world. As such, the water is constantly flushing back and forth, bringing in fresh food for the scallops. Chef Nichols said that the scallops hang out on the ocean floor with their mouths open all the time (what a life) constantly eating and getting subtle exercise from the flow of the tides.
However, the most significant factor is how fresh the scallops are. Chef Nichols points out that the fishing fleet is right in the heart of Digby. As such, the scallops are remarkably sweet. He says that the smell of truly fresh scallops is one that you never forget after the first time you experience it.
What's The Best Way To Eat Scallops?
To illustrate his point about freshness, Chef Nichols shared a story with me about his student days at Nova Scotia's Acadia University back in the 1990s. Back then, you could get a license to catch 100 scallops for just $1! He had the opportunity to go scuba diving with some friends, catching scallops that were down 20 to 25 feet of water. After preparing their catch, the group then, "Fried them on a two burner stove and ate them up with buttery toasted English muffins. I'll never forget it."
I asked him what was the best way to eat scallops (assuming you can't go diving for them yourself and there's no camp stove handy!) He reports that you should keep it simple, not unlike how he prepared them all those years ago. The chef recommends using just some salt, pepper, and butter, maybe a bit of lemon, and not much more. "Pan fry them until you get a nice color on them and that's it." Scallops are, after all, a mussel, and the more they're handled or cooked, the tighter and tougher they get.
To enjoy a touch of Chef Nichols' talents at home, pick up a copy of the book he created alongside artist Lynda Shalagan. Titled From Palette to Palate: Culinary Artworks from the Digby Pines Kitchen, it combines his recipes with her artwork.
Local Restaurants Excel At Seafood
If you love seafood, you'll be spoiled for choice in Digby. The Crow's Nest is my go-to spot when I'm in the area. One of the most popular eateries in town, this small nautically-themed restaurant on the main street offers several scallop-based dishes. The "Scallops Three Ways" dish is a crowd favorite and includes pan-fried, deep-fried, and bacon-wrapped scallops served on a real scallop shell (plus a choice of vegetable and side). They also offer a scallop burger, a thick seafood chowder with scallops, lobster, haddock, and a seafood platter with scallops, clams, and haddock.
Some delicious non-scallop menu items to consider include haddi-bits (deep-fried pieces of haddock with your choice of side (the waitress told me that this is what locals order the most if they don't go for scallops). The dessert case has many tempting options, including giant cinnamon buns, and even the bread rolls that accompany the chowder are huge and delicious.
Some other highly rated restaurants in the area include The Wheelhouse Seafood and Pasta (a solid, all-round choice that also does breakfast), Antonio's Seafood and Grill (located a short drive outside Digby, it gets rave reviews for both seafood and coconut cream pie), Ed's Take Out (imagine a greasy-spoon hamburger joint meeting an English "chippy" that only accepts cash), The Fundy Restaurant (by the Dockside Suites, it's a good spot for seafood pasta) and The Shoreline (there are a few inventive options here, including scallop kebabs and scallop stir fry). Finally, on the Digby Pines' menu, you can order Coquille St. Jacques, which is scallops in a rich white wine cream sauce with mushrooms butter mashed potatoes, asparagus, panko-breaded fried scallops, and a "sea-cuterie" platter that includes scallop ceviche.
While there's no seafood involved, I can't help but recommend two delicious appetizers you'll see at most Digby restaurants. Deep-fried pepperoni (prepared with Nova Scotia-made Brothers Meats pepperoni) with honey mustard dip is a local favorite. Another must-try is mozzarella sticks or garlic fingers with donair sauce. This sweet, creamy, garlicky dip is adored by Nova Scotians and is a must-try when you're in the area.
Digby Even Has A Scallop Festival
What better way to celebrate Canada's scallop capital than a festival that celebrates all aspects of this food and industry? Digby Scallop Days takes place every year in early to mid-August. This four-day event is described as "the longest-running festival in the Digby area: a celebration of scallops, the scallop fishing industry, and the people who brave the seas to harvest them." Visitors can expect barbecues, scallop shucking competitions, children's events, dinner theater, live music, a ball tournament, fireworks, and much more.
Scallop Days isn't Digby's only seafood festival. Lobsterbash takes place each year in early July! Events include a lobster trap hauling competition, row boat races, and a children's costume contest.
Finally, it may sound like a nautical celebration, but the Wharf Rat Rally doesn't have anything to do with fishing. The Rat Rally is Canada's largest multi-day motorcycle rally. However, local restaurants often create special dishes for this annual September event and it's a good occasion to try some creative recipes.
While There, You Can Experience The Ocean For Yourself
Fishing for scallops is serious and sometimes dangerous work. As such, there aren't any scallop fishing tours in Digby in the same manner that some destinations have salmon fishing experiences or deep sea fishing excursions. That doesn't mean there aren't ample opportunities to experience the ocean for yourself in an up close and personal way. Some whale-watching tours leave from both Digby and many other communities along the Bay of Fundy. In addition to seeing whales, you'll also likely spot porpoises, sea turtles, tuna, sharks, and many seabirds.
There are also opportunities for kayaking in the area, as well as several family-friendly beaches for swimming.
While Digby doesn't have a scallop museum (but wouldn't that be amazing), there is a neat spot where you can learn more about the community and its seafaring history. The Admiral Digby Museum is a great rainy-day stop and you can pick up a copy of The Digby Scallop Cookbook in their gift shop.
Digby Scallops Have Been Immortalized In Art
The community of Marshalltown, just outside Digby, was the long-time home of renowned Canadian folk artist Maud Lewis. Lewis was famous for painting on anything she could get her hands on, from cookie sheets to her own home, and scallop shells were one of her favorite canvases. In her early career, Lewis painted on hundreds of scallop shells as they were free and readily available. Alas, there is no gallery in the area that displays them. However, you never know where you might spot one, as many local residents still own Lewis originals from the days when they were sold for just a few dollars.
Final Pro Tips
Where It Is
Digby is about a two-and-a-half hour drive west of Halifax, Nova Scotia. The town is also connected to Saint John, New Brunswick, via a ferry that runs several times a day. Alas, there is no public transit in the area so you'll need your own car to explore.
When To Visit
Things in Digby get quiet in the winter when many small businesses close or offer reduced hours of operation. During summer, advanced reservations are highly recommended.
Where To Stay
The Digby Pines Golf Resort and Spa has just made a big change. For the first time in its history, it's now a year-round operation. Guests can expect luxurious rooms, fine dining, and elegant public spaces. Come From Away B&B offers homey charms and an affordable price point. The Digby Campground is an RV-focused private campground with modern bathrooms, situated just a short walk from downtown.
For more tips on traveling to Nova Scotia, check out these articles: