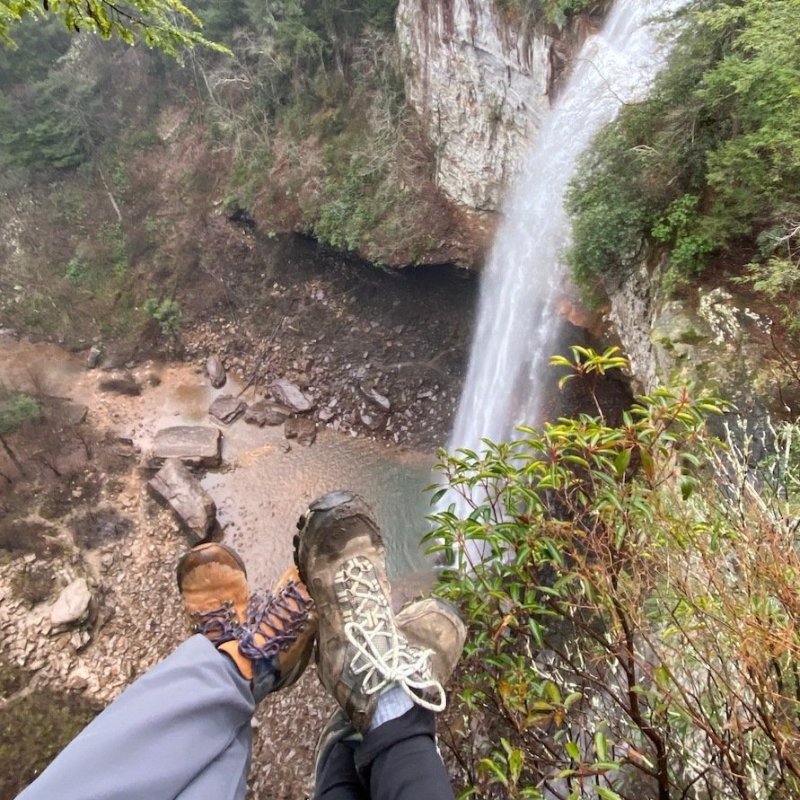 I wasn't planning on chasing waterfalls in Tennessee, but after spending a week in and around the Cookeville, Tennessee area, I caught myself seeking those wondrous sights of plummeting water out.
In February, my friend Emily and I hopped in my car to road trip from Oklahoma to Tennessee to escape the drab dullness of winter and the loneliness that was 2020 to get some "nature therapy." As guests of the Tennessee Department of Tourism, we specifically wanted long, verdant hikes into the wild places of Tennesee, deep gulps of brisk, fresh air, and the healing quiet of nature that is so abundant in Tennessee.
Within that quest, we also discovered an unexpected obsession with waterfalls, of which Tennessee has more than 500.
We were based in and around Cookeville, which is located between Nashville and Knoxville along Interstate 40. Cookeville is in the Upper Cumberland Region of Middle Tennessee and is the county seat of Putnam County.
Cookeville is a stone's throw and mere hours drive from some of the prettiest state parks, historical sites, and fun adventures in Middle Tennessee, so if you have a few days to explore the area, take a side trip off of Interstate 40 and check out these best places to visit near Cookeville, Tennessee.
1. Cookeville Depot Museum, Cookeville
Listed on the National Register of Historic Places, the Cookeville Depot Museum houses artifacts and history related to the Tennessee Central Railway. The depot, which was originally built in 1909, includes such historic train items as the 1912 Baldwin steam engine, a 1960s caboose, a 1920 classic red caboose, and more. For train enthusiasts and curiosity seekers alike, it's a great place to indulge in train lore, history, and love.
Pro Tip: From May to October, History Hikes are held every second Saturday of each month from 10:30 a.m. until 2:30 p.m.. The hike includes both the Cookeville Depot Museum and the Cookeville History Museum. Entries can be found at either museum, and the hike goes along Broad Street between the two museums.
2. Cumberland Mountain State Park, Crossville, Tennessee
From Cookeville, head 31 miles east on Interstate 40 to Crossville, which is located near Cumberland Mountain State Park. A popular state park to visit (due to its proximity to Interstate 40), Cumberland Mountain State Park originally began as part of the greater Cumberland Homesteads Project, a New Deal-era initiative by the Resettlement Administration that helped relocate poverty-stricken families. In 1938, 1,720 acres were turned into the park and many of the original Civilian Conservation Corp buildings and projects still exist at the park.
The park has four miles of dedicated biking trails, 14 miles of easy to moderate hiking trails, boating opportunities, paddling opportunities and even a dedicated golf course, the Bear Trace at Cumberland Mountain course.
In addition to the 145 tent and RV campsites with hookups provided, the park also has historic CCC cabins, deluxe cabins, rustic cabins and standard cabins.
Pro Tip: Just a short drive from Cumberland Mountain State Park is Ozone Falls Natural Area, which boasts a 110-foot waterfall that plunges into a pool that disappears underground. This was the first waterfall Emily and I found on our Tennessee road trip, and it was the one that made us fall in love with all the waterfalls! If you feel like hiking, be aware that the three-quarter-mile trail that starts along the bluff near the falls is a bit rugged, and you'll have to backtrack uphill to return to the trailhead.
3. Fall Creek Falls State Park, Spencer, Tennessee
As Tennessee's largest and most visited state park, Fall Creek Falls State Park is worth the visit. Another park that called to us with the promise of waterfalls and sloping hiking trails, the park is more than 26,000 acres. Fall Creek Falls itself is one of the highest waterfalls in the eastern United States, plunging down more than 256 feet in an impressive roaring display.
Luckily, you can drive to a lookout point for the falls, but the park also has a hiking trail from the Nature Center that brings you past smaller, but just as impressive, waterfalls. The park, in fact, has 56 miles of hiking trails with both short and long walks around the lake and to and from the base of Fall Creek Falls.
Rock climbing, boating, biking, and fishing are all popular activities at the park, and you'll be sure to see deer all over the place, so drive slow!
Pro Tip: For a real high-flying adventure, try out the Fall Creek Falls Canopy Challenge Course. With more than 70 obstacles and seven zip lines, this aerial adventure park has courses suitable for all ages that range from easy to extreme.
4. Cumberland Caverns, McMinnville, Tennessee
I'm a nut for exploring underground worlds, and if you're as big of a fan of caves as I am, then Cumberland Caverns in McMinnville should be on your to-do list. With more than 30 miles of underground spaces to explore, most people opt for the Discovery Walking Tours, which are held every hour on the hour.
On this tour, you can expect an easy walk down to the cave entrance through pretty woods, and the path inside the cave itself is also easy to moderate. The tour brings you to some of the most well-known and easily accessible parts of the cave with impressive formations, the Volcano Room with its massive, priceless chandelier (they have concerts, dinners, and weddings in this room), and, of course, an underground waterfall.
The waterfall's origins have never been discovered — trust me, they have tried — which makes the cave even more mysterious. The tour guides are extremely knowledgeable and the history behind the cave is interesting and entertaining.
Be sure to wear closed-toe shoes because the tour is considered mildly strenuous with a minimum 1.5 miles of walking with steps and slopes. It is not handicapped or stroller accessible.
5. TN Flying Machines, Sparta, Tennessee
If you'd rather fly high instead of going deep underground, head to Sparta for TN Flying Machines, which offers air tours in three unique aircraft — including two World War II-era planes — over Center Hill Lake, where you can see some of Tennessee's most beautiful waterfalls from the skies.
If you are super brave, ask for The Decathlon, which is mostly used for aerobatics. You can ask the pilots to do some rolls, loops, and inverted flying, but if you are a bit nervous in the air like me, the pilots will also keep the plane level and calm.
6. Burgess Falls State Park, Sparta
Head south from Cookeville to Burgess Falls State Park to hike through the lush scenery and witness spectacular views of three waterfalls. Another popular park in the Upper Cumberland, the scenery along the Falling Water River, which was used for hydroelectric power for the city of Cookeville from 1928 to 1944, leaves no doubt why this state park is so beloved.
Though no camping is allowed at this park, you can spend the day exploring the waterfalls before setting up camp at nearby Standing Stone State Park, Rock Island State Park, and Edgar Evins State Parks.
You can also make a quick detour in Sparta to the Eli Simms home, which historians believe is the first brick house built in White County.
Pro Tip: Near Burgess State Park is the Willow Cliffs Natural Area, which is managed by the park. You can hike to the prominent cliff ridge, but the 2.7-mile trail is considered one of the most strenuous trails in the area. The 5.4-mile roundtrip hike has 18 creek crossings that have only cables and rock crossings and becomes impassable if the water is too high. Always check the weather reports before attempting this hike.
7. Go Fishing At Cane Creek Park, Cookeville
If you want to stay in Cookeville for a day, Cane Creek Park and Recreation Area is a popular spot for walking, paddle boating, and fishing. The 262-acre park has two fishing piers, a boat ramp, and paddleboat rentals. Grab your rod and reel, because the lake is full of rainbow trout, large-mouth bass, bluegill, crappie, carp, and catfish. Cane Creek Lake is a fishing favorite because it is stocked regularly — just be sure you have your Tennessee Fishing License in hand.
Whether you spend all your time in Cookeville or use it as a home base for your adventures in Tennessee, its central location makes it an easy place to stay. Numerous hotels and restaurants are available, and you'll have no shortage of parks, lakes, rivers, and natural areas to explore within a short distance of this town. For more area inspiration, also consider