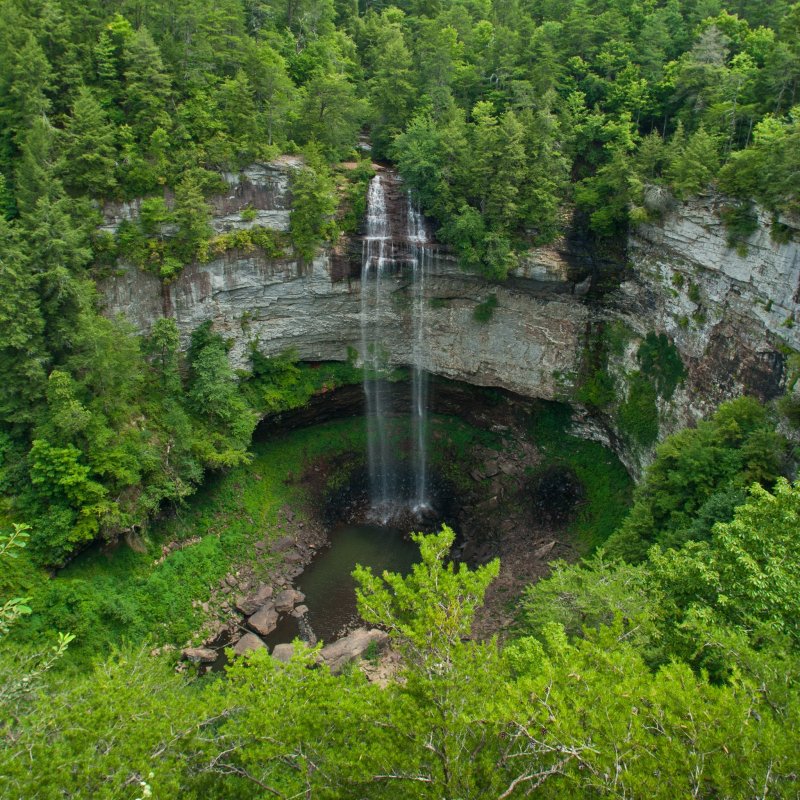 Fall Creek Falls State Park lives up to its name. Within the park's 20,000-plus acres, five waterfalls cascade down the slopes of the Cumberland Plateau. Fall Creek Falls has one of the highest vertical drops (256 feet) in the Eastern United States. Fall Creek Falls and 250-foot Coon Creek Falls share the same plunge pool.
Rockhouse Falls plunges 125 feet, while Cane Creek Falls drops 85 feet. Piney Creek Falls drops 40 feet into Cane Creek Cascade's 45-foot waterfall. All of them are breathtaking.
Every season is the perfect time to visit. Each spring, wildflowers bloom, and the park is full of migratory birds. Escape summer's steamy heat in the park's swimming holes or beneath one of the waterfalls. Fall turns the leaves into flaming colors while migratory birds seek refuge from the upcoming winter. In the winter, icicles hang like Christmas decorations from every water-soaked vertical surface. Frost clothes the trees in white.
The deep gorge provides multiple habitats. Plants at the gorges' bottoms are from southern Canada, which is a long way from Tennessee. If you're a tree lover, you'll adore the virgin hardwood forest. Oak and hickory trees cover much of the park. In the gorges, the forest becomes tulip poplar and hemlock. Look for mountain laurel and rhododendron.
Pro Tip: Tennessee State Parks offer free admission.
Things To Do In Fall Creek Falls
As spectacular as all those waterfalls are, they are only the park's leading attraction. Tennessee's most popular state park offers plenty of outdoor recreation. Fishing, birding, swimming, hiking, biking, boating, rock climbing, golf, hunting, and a challenge course are all available. You can spend days here and still have more to enjoy.
We recommend Fall Creek Falls as one of eight must-see Tennessee waterfalls. The park is a photographer's dream. With plenty of wildlife, spectacular waterfalls, abundant forest, and gorgeous gorges invite stunning photos. Instagram stardom awaits!
Pro Tip: Download park maps. Wear sunscreen and bug repellent.
Hiking
The park has a beautiful and comprehensive trail system. When you arrive at the park for the first time, walk the easy 2.6-mile Paw Paw Trail. You'll understand the park's layout better and will enjoy Fall Creek Falls and Cane Creek Gorge's overlooks.
When we went, we wanted to see as many of the waterfalls as quickly as we could. We joined the Woodland Trail at the Visitor Center to hike the 1.1-mile Cane Creek Gorge Trail. The Woodland Trail crosses Cane Creek Cascades via a swinging bridge. The gorge trail includes the Cane Creek Overlook, Cane Creek Gorge Overlook, and the Fall Creek Falls Overlook.
When we arrived at the Fall Creek Falls Overlook, we were sweat-soaked. Strangely, no one else at the overlook showed any sign of exertion. Then we learned we could have driven there.
However, I'm glad we didn't drive. The hike through the beautiful rocks and trees was worth a little sweat. We got an up-close view of the park's gorgeous waterfalls.
On scorching-hot days, the half-mile Turkey Pen Ridge Trail is the right choice. Plenty of trees offer refreshing shade.
Pro Tip: For the best view, take the cable trail down to Cane Creek Falls and the base of Fall Creek Falls Trail. Both of them are strenuous, but, again, the views are worth the sweat. Enjoy a cooling dip in the plunge pools. Or, for the ultimate Fall Creek Falls trail experience, take one of the two overnight trails.
Biking
Do you want to push your cycling skills? Try Fall Creek Falls' bike trails. Take the Upper Loop Trail. Its twisting single-track sections will challenge you. Want an adventure? Chinquapin Ridge Mountain Bike Trail takes cyclists to the park's more remote parts.
Pro Tip: Rent a bike at the Canopy Challenge Course near the park office.
Boating
Row or troll on Fall Creek Falls Lake and in the creeks. Bring your canoe or kayak and enjoy the scenery. Or rent watercraft for the day or week. The virgin forest cradles the lake.
Pro Tip: Privately owned boats and gasoline motors are prohibited. Rent an aluminum Jon boat and bring your trolling motor.
Fishing
The 345-acre Fall Creek Falls Lake has produced two state record fish: channel catfish and bluegill. In the spring, early summer, and fall, the state stocks Cane Creek with trout. Fishing is best in the spring and fall. Anglers 13 and over need a fishing license.
Pro Tip: Check the state's trout stocking schedule (PDF).
Swimming
In the steamy summer, take a cooling plunge. Fall Creek Falls' swimming area, including a small beach, is near the campground. Jump into the water from a rock formation. The water is seven feet at its deepest and three feet at its shallowest.
For serene solitude, find the Cane Creek Gorge. Wading pools are nearby. At the suspension bridge, walk down to the creek for a cooling dip. You'll want to bring a change of clothes because reaching the stream requires some hiking.
Pro Tip: Enjoy a dip in the park's Olympic-sized pool.
Canopy Challenge Course
Do you believe you can fly? Release your inner Tarzan at the challenge course. First, you'll be outfitted and complete Ground School. Choose routes from easy to extreme. The full system includes more than 70 obstacles and seven zip lines.
Pro Tip: Arrive 15 to 30 minutes before your scheduled departure time.
Rock Climbing
Copperhead Rock Climbing Area offers top roping and rappelling routes for beginners to advanced rock climbers.
Pro Tip: Register for a free permit before climbing. Stay more than 300 yards from the waterfalls.
Golf
Golf Digest has named Fall Creek Falls' golf course as a top 100 public course three times. The red tees play 5,181 yards, while the blue tees play 6,669 yards. Par is 72. Expect to see wildlife. Enjoy the driving range and practice green. Rent pull carts and clubs.
Pro Tips: Fall Creek Falls will challenge your sand game. Course designer Joe Lee scattered 71 bunkers through the course, most of them defending the pin. Book tee times in advance.
Birding
Fall Creek Falls is birding heaven (PDF). Find more than 140 common and rare species in the park during various seasons. From Buzzard's Roost, buzzard hawks ride thermals with turkey and black vultures. Barred owls, Cooper's hawks, red-headed woodpeckers, and nuthatches are always present. From mid-March to October, look down from the bluff for warblers, vireos, and other migrants. Waterfowl find refuge at Fall Creek Lake during the winter.
The best places to find birds are on the Paw Paw Trail, Wheeler Farm Loop, the Gilbert Gaul Trail, and at Millikan's Overlook.
On Paw Paw, look for woodland birds, owls, woodpeckers, and whip-poor-wills. On Wheeler, look for warblers, flycatchers, and vireos. Hawks and turkey vultures soar above Millikan's. Gilbert Gaul follows Fall Creek Lake's shore. Look for swallows, ducks, herons, and loons.
Pro Tip: Do not use electronic sound devices during nesting season from May to July.
Betty Dunn Nature Center
Learn about the park's history, geology, environment, plants, and animals at the nature center. It's named for a former Tennessee first lady. Buy a souvenir to support the Friends of Fall Creek Falls. Book ranger programs here.
Camping In Fall Creek Falls
Fall Creek Falls has 222 campsites spread over five areas. Additionally, the park has 16 backcountry campsites. Thirty rental cabins are available. Reserve campsites and cabins early.
Pro Tips: Check in at the Visitors Center. Also note that the 85-room Lodge Fall Creek Falls is set to open in the fall of 2021.
Where To Eat In Fall Creek Falls
Snack Bars
The golf course and the pool offer snack bars. We enjoyed the Restaurant at Fall Creek Falls' relaxed feel and buffet. It was the perfect way to unwind after a busy day. (The restaurant is currently under renovation until 2021.)
Pack A Picnic
Twelve picnic areas are scattered throughout the park. For a large gathering, the park offers five picnic pavilions. Reserve them in advance. The general store in The Village sells groceries.
Pro Tips
To explore nature in the wild, visit nearby Virgin Falls Natural Area. Virgin Falls drops 110 feet before disappearing into a cave. The area features more falls. Hiking to it requires a strenuous hike that lasts from five to eight hours, depending on your route.
More To Explore: Enjoy more epic Tennessee hikes. Delightful Chattanooga is only an hour away.
Editor's Note: The information presented in the first paragraph of this article comes from Tennessee State Parks' Fall Creek Falls State Park page and list of 10 waterfalls within an hour of Cookeville.