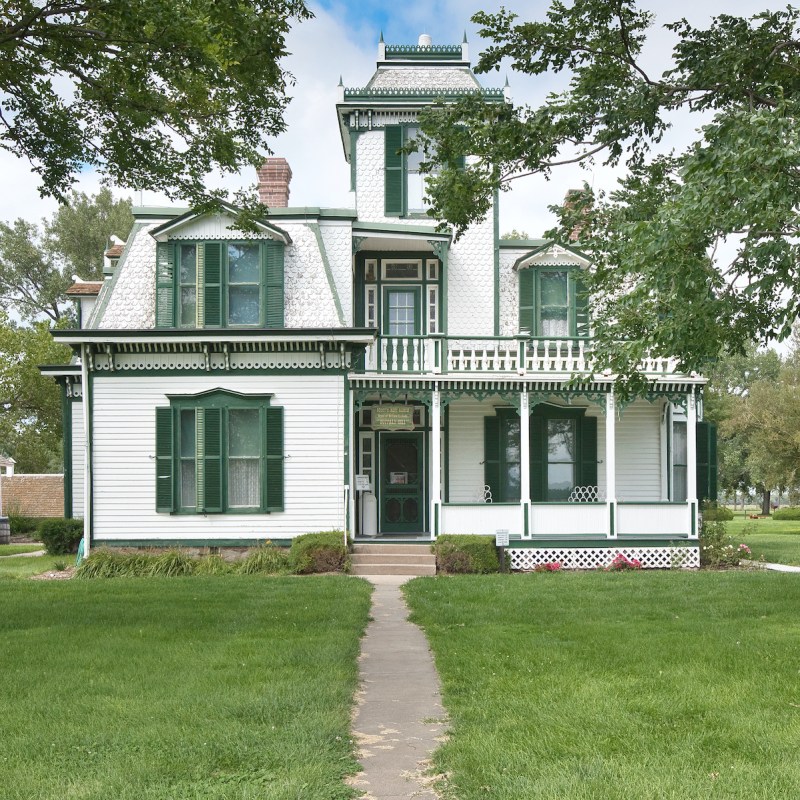 Dedicated in 1913, the Lincoln Highway — officially U.S. Highway 30 — connected the United States from New York to San Francisco as the nation's first transcontinental highway. Crossing through 13 states and covering more than 3,300 miles, plenty of cities along the way sought to be included on the highway. In Nebraska, the Lincoln Highway traverses more than 450 miles from Blair to Kimball. While it's undergone changes over the years — originally including Omaha before being rerouted through Blair — today, the Lincoln Highway is home to interesting and historical attractions and delicious restaurants.
1. Blair
On the eastern edge of Nebraska, Blair is the gateway to the Lincoln Highway in the Cornhusker State. With DeSoto National Wildlife Refuge only a few minutes from town, it's a great spot for wildlife viewing during spring migration, as thousands of waterfowl, such as Canadian geese and a variety of ducks, make their way north. You may also see pelicans spending time on the lake. DeSoto Wildlife Refuge has an excellent auto tour that takes you deep into the refuge's dense trees, allowing for a few pull-offs to hike some of its nature trails.
Downtown Blair is home to interesting architecture, with buildings dating back to the mid-1800s. With a variety of stores and boutiques, such as Bra-Ta Boutique and Tighe it with a Bow, you can enjoy plenty of local shopping. If you prefer a cup of tea and crumpets over coffee and donuts, Our Specialtea is an outstanding choice. With tables named after family members, and using their antique china, Our Specialtea offers an excellent outing.
History buffs will enjoy a visit to Black Elk-Neihardt Park, with 80 acres of trails as well as colorful mosaic art honoring the directions that play a significant role in many Native American tribes' cultures. For an authentic Mexican dining experience, check out Fernando's.
2. Kennard
The village of Kennard may only have a population of about 300, but Hot Rod's Dew Drop Inn packs a powerful punch when it comes to its home-cooked meals and friendly service. Enjoy a handmade burger with a side of fries or onion rings, or enjoy one of their special nights, such as Taco Tuesday or a prime rib sandwich on Friday. Hot Rod's is also an excellent spot to catch a game on one of its many TVs. Afterward, enjoy a walk through the historic downtown area that takes you along a few blocks of older buildings, such as the Methodist church and the city park, once the site of the old Kennard school.
3. Fremont
Known for its antique shops, you'll want to check out downtown Fremont. With each store offering a variety of vintage products, from clothes, dishware, and home accessories to cookbooks and jewelry. While downtown, grab a coffee at Milady Coffeehouse, located inside the vintage May Brothers Building. During the summer months, you'll want to reserve a tour of the Platte River with Bryson's Airboat Tours. The hour-long tour takes you up and downriver on the Platte River, crisscrossing sandbars in only inches of water. You'll be awed by the magnificent views of the bluffs overlooking the river, along with eagles and herons. Whether you're in the mood for Mexican, Tex-Mex, or American fare, La Hacienda can satisfy everyone's palate.
4. Columbus
Home to the oldest tavern west of the Mississippi River, Glur's Tavern has hosted almost every politician seeking office in Nebraska, as well as historical figures such as Buffalo Bill Cody. You can enjoy a burger or sandwich during your visit. Columbus is the hometown of Andrew Jackson Higgins, better known as the man who designed the Higgins amphibious vehicles that transported soldiers from ships to the beach on D-Day during World War II's Normandy Beach invasion. The life-sized Andrew Jackson Higgins National Monument of the Higgins Boat and soldiers hitting the beach is displayed at Columbus' Pawnee Park, along with other patriotic monuments.
5. Grand Island
Home to the Lincoln Highway's second Seedling Mile, one of the paved mile-long stretches — ripe with historic Burma Shave signs roadside — that cities established in order to be included on the route, Grand Island recognizes its role on the national highway. Kensinger Service and Supply has been around since 1937 and continues to be one of the few remaining full-service filling stations on Lincoln Highway. The Stuhr Museum of the Pioneer Prairie offers a look at early life in central Nebraska through exhibits in two buildings, including the uniquely designed Stuhr Building. The museum is home to a living history town that includes a childhood home of Oscar-winning actor and Nebraska native Henry Fonda.
For an off-the-wall humorous attraction, check out Fred's Flying Circus with its cartoon character-based cars, including Snoopy and Shrek, on top of tall poles. For a Key West experience, grab a handmade pizza at Wave Pizza. With its south Florida ambiance, you may feel like you're at a Jimmy Buffett concert. For dessert and coffee, Grand Island's Chocolate Bar is a must. Enjoy the smooth sweet taste of treats such as carrot cake squares, chocolate cake, or almond butter rainbow cake.
Editor's Note: For more on Grand Island, consider Tim's top seven reasons to visit Diverse Grand Island, NE.
6. Kearney
The Classic Car Collection, along with its 200 vintage vehicles, is perfectly situated as part of the Lincoln Highway. Nothing tells the history of the automobile and the road like a car museum, and, from Model-T Fords to a DeLorean, you'll have a blast reliving history through the vehicles, displayed in settings such as a drive-in theater and mechanic's garage. The Archway also offers a look at the road, first from the pioneer's viewpoint of crossing the prairie on wagon trains, and then from the Lincoln Highway, with campgrounds and an old-fashioned soda fountain exhibit. For a look at Nebraska-themed art, stop in at the Museum of Nebraska Art, including a sculpture garden featuring the founder of CliffNotes.
Editor's Note: For more, add these seven fantastic things to do in Kearney, Nebraska, to your itinerary.
7. North Platte
An excellent location to spend a long weekend or few days, North Platte takes pride in its connection to Buffalo Bill Cody and the Union Pacific Railroad. The Buffalo Bill Ranch State Historical Park covers the Western entertainer's ranch. Tour the home where America's first real showman entertained celebrities and dignitaries, along with a barn where he kept his horses and wagons as well as an old cabin used during hunting adventures. Fort Cody Trading Post is a mix of museum and gift shop. With a fort exterior, the trading post has a miniature collection of a Wild West show as well as a two-headed calf, and it's a unique place to visit. Don't forget to leave with gifts for friends and family, as well as some tasty candy treats. The Golden Spike Tower is home to an observation deck overlooking Bailey Yard, the world's largest rail yard, where you can watch up to 150 trains pass through daily, with their railcars getting routed to their final destination. Grab lunch or dinner at a highway classic, the Lincoln Highway Diner, which features a menu of burgers and sandwiches.
Editor's Note: Want to stay a while? Here's how to enjoy a perfect weekend in North Platte, including Tim's pro tips for where, to shop, eat, and stay.
8. Paxton
What started as a place to hang a couple of hunting trophies has grown into a world-famous steakhouse. Ole's Big Game Steakhouse and Lounge features great steaks, burgers, and other entrees. As you enjoy your dinner, check out the trophies on the wall, with hundreds of animals such as monkeys, bighorn sheep, and buffalo. A stuffed polar bear greets you as you arrive.
9. Ogallala
From the petrified wood gallery to the cowboy cemetery, Ogallala is a true cowboy town. Enjoy Western-themed shows during the summer at the Front Street Steakhouse. Enjoy a day at the beach or on the water at Lake McConaughy, Nebraska's largest manmade lake. Popular year-round with eagle watching during winter and all types of water sports during summer, Lake McConaughy offers some outstanding natural scenery.
10. Sidney
Built to protect railroad workers during the mid-1800s, Fort Sidney Museum and Post Commander's Home offers a look at the life of a U.S. soldier. Stop by the Pony Express Monument to learn about the 1860s mail delivery system that used fast horses to deliver mail from St. Joseph, Missouri, to Sacramento, California.
11. Potter
With three lanes, Potter's Duckpin Bowling Alley has been around for about 100 years. One of the country's last handset bowling alleys, you'll have fun playing a few games on the old-fashioned wooden surface. While you can enjoy a delicious breakfast or lunch at Potter Sundry, the real treat is dessert. Known as the home of the Tin Roof Sundae, the eatery's ice cream creation has been named as one of the best desserts in the country by Food Network. Order yourself a Tin Roof Sundae, featuring vanilla and chocolate ice cream, along with chocolate syrup, marshmallow cream, and nuts.
Pro Tips
As you drive America's Main Street through Nebraska, consider pulling off the main road to explore the small towns that dot the landscape. You'll find hidden gems such as a diner, county museum, or historical marker that teaches you something you didn't know. Sutherland, only a few minutes from North Platte, has murals along the highway, as well as the Sutherland Reservoir State Recreation Area. So, you never know what you'll find as you explore the Lincoln Highway, the country's first transcontinental highway.
Editor's Note: More information about the Lincoln Highway, and the source for the information provided in the first paragraph of this article, can be found here.