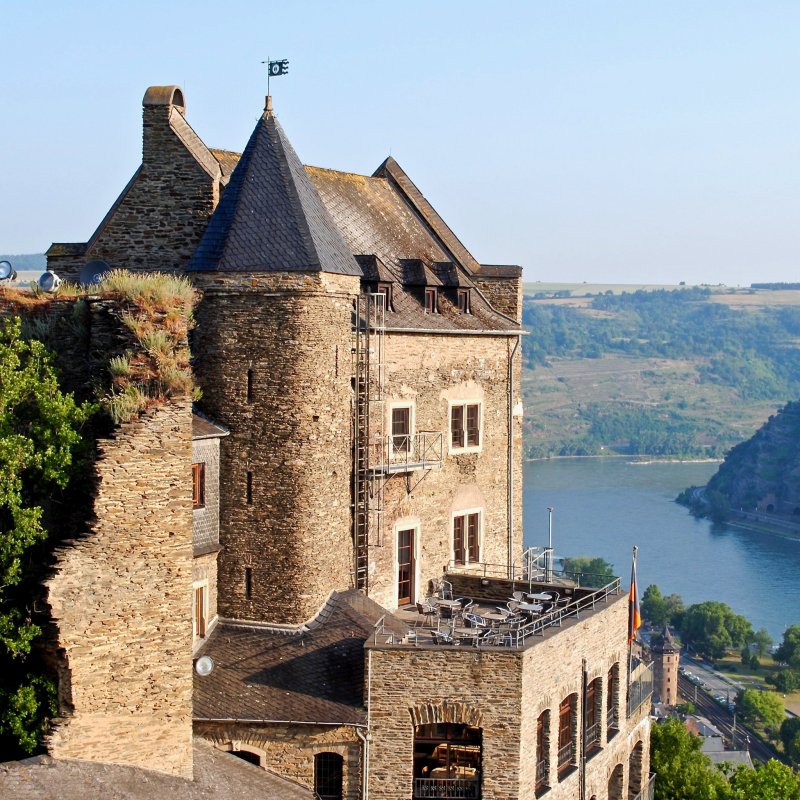 Europe is strewn with historic castles. Some are sturdy fortresses built to protect the resident from marauding invaders; some are palaces, not good against enemies, but pretty and usually with magnificent gardens designed to stroll and enjoy the pretty surroundings away from the commoners the palace's residents ruled over.
While many castles have fallen into ruin, others are still in the hands of the original families, yet others have been turned into glorious hotels where you can play at being royalty for a night or two.
The following list gives you not only great accommodation options for your next visit to Europe, but it also highlights the variety of castles available across Europe. Some are positively ancient, others have an impeccable pedigree when it comes to history, and yet others might not be that old, but are lovely places to call home for a short while.
Thornbury Castle
Thornbury, South Gloucestershire, UK
This sturdy castle turned luxury hotel dates to the 1500s and was once owned by King Henry VIII. This is where he came with his ill-fated second wife Anne Boleyn on their honeymoon, and where his daughter from his first wife, who was to become Queen Mary I, lived for several years. Turrets, walled gardens, paneled rooms with decorated ceilings, rooms decorated with cozy wall hangings, open fireplaces, and four-poster beds: You can practically taste the history. You can even try your hand at royal pastimes such as falconry and archery.
Thornbury Castle lies 12 miles out of the city of Bristol and within easy reach of the Cotswolds, should you get bored with being royalty.
Pro Tip: The castle has been undergoing renovations and modernizations and will be reopening in spring 2021.
Ashford Castle
Cong, County Galway, Ireland
Ask anybody to draw a castle, and chances are that their picture will look something like Ashford Castle in County Galway: castellations all around, more towers than you can shoot an arrow at, all set in huge grounds at the water's edge overlooking forested islands. Eight-hundred years of history have since been turned into a luxury hotel, and the grounds are simply screaming country pursuits, from walking and horseback riding to golfing and salmon fishing. With a renowned restaurant to boot, you will need to stay more than one night to really get the most out of this stunning place.
Pro Tip: The 80-odd rooms are all vastly different from each other, with some brightly colored options, some with lower ceilings, others huge and spacious. Put in some time researching to make sure you book the room that suits your tastes.
Glenapp Castle
Ballantrae, South Ayrshire, Scotland
Despite only dating to 1870, this is a fairytale castle set in vast grounds with walled gardens designed by famous garden-designer Gertrude Jekyll. Located on the wild, western shores of Scotland, overlooking the Hebridean Islands, you can not only enjoy being utterly spoiled in the hotel and its superb restaurant, but you can embark on a sea safari, exploring the remote islands, watching the castle's resident eagle dive for fish, and stop for lunch in one of the villages along the coast.
Pro Tip: Don't miss the sumptuous Afternoon Tea with views across the Italian Garden. You will feast on scones, cake, macarons, and finger sandwiches all washed down with a pot of tea or maybe a glass of champagne.
Hotel Schoenburg
Oberwesel, Germany
This castle hotel, with the apt name of Schoenburg, meaning beautiful fortress in German, high above the Rhine Valley overlooking the gorge and the surrounding forests, is a stunner. The castle dates back to the 900s but has been added to, changed, and restored since then. It not only has a lengthy history but also its own myth that after seven virgins refused multiple marriage proposals, they were eventually turned into rocks in the Rhine. And it is the Rhine valley with its (other) castles, vineyards, and medieval towns that is the main attraction, even if the castle has an in-house museum about its history. But wander the private gardens, head down to the medieval town of Oberwesel, or take advantage of the nearby vineyards for a tour and tasting, and you won't need much more.
Pro Tip: The rooms and the bathrooms here are spectacular, but it is the nooks and crannies, such as the tiny balcony for two hovering high above the Rhine, that need to be explored and enjoyed.
Obidos Castle
Obidos, Portugal
Rising high above the town of Obidos, roughly 50 miles north of Lisbon, this 12th-century castle has played host to royalty over the years and offers great views across the town and the Atlantic Coast. Its fortified city wall embraces the old medieval center of Obidos. The old town's narrow streets are steep, and the approach up to the castle might take a slow and steady walk, but it is worth it. And you can easily stop for the views on your way up.
Pro Tip: The hotel has a wide variety of rooms, from bare stone walls to beamed ceilings, pastel-hued suites, and accommodation with a private balcony. Be aware, though, that there are rooms in the old castle and the new wing. While the new wing offers more modern amenities, it loses the splendid atmosphere and character of the old setting.
Chateau De Mercues
Cahors, France
A turreted 13th-century French castle with sumptuous and cozy rooms set in a vineyard with a Michelin-starred restaurant? This is one for food and drink enthusiasts. In the Occitanie region of France, 70 miles north of the Pink City of Toulouse, the chateau lies just outside of the town of Cahors with its stunning medieval bridge adorned with three towers. Not that you'd want to go sight-seeing. Not if you can enjoy wine tasting workshops in the chateau or dine in one of the in-house restaurants. These range from the fine-dining La Dueze with its Michelin star, to the more low-key Bistro, located in the castle's stone-walled courtyard, or the Table du Chef, a personal experience at the chef's table complete with a superb tasting menu.
Pro Tip: After all the wining and dining, make sure you at least walk down once to the Lot Valley, with its amazing scenery and picturesque villages.
Ruthin Castle
Ruthin, Wales
Dating back to the 1200s, the castle was originally owned by the well-connected de Grey family. Henry VII later bought it and passed it down to Henry VIII, Edward VI, Mary I, and so on. The royal history is quite staggering, even continuing with the now castle-turned-hotel, as reportedly Prince Charles, Prince of Wales, stayed a night at the castle hotel, with the large suite named after him. Other guests include, as legend has it, a resident ghost and noisy but pretty peacocks.
The hotel offers access to the countryside of Wales, known for its trails and national parks, and also a day spa and several in-house restaurants where you can sample Welsh cuisine.
Pro Tip: If you want to embark on a historic hike, nearby passes the Offa's Dyke Path. A 177-mile-long coast-to-coast path, following for many miles along Offa's Dyke, the UK's longest ancient monument.
Chateau De Chantore
Bacilly, Normandy, France
This is an example of a palace-like chateau rather than a medieval fort-like chateau. And it is pink. This beautiful castle lies in Normandy in the north of France, across the bay from Mont Saint Michel and historic Saint-Malo. Even better, you can see Mont Saint Michel from the hotel, especially if you decide to stay in the Mont Saint Michel Suite with its private balcony where you can enjoy the spectacular view. The chateau rooms are plush and comfortable with patterned wallpaper, chandeliers, canopied beds, and furnished with palace-appropriate antiques. The 45-acre gardens with streams, ponds, ancient trees, meadows that erupt in flowers every spring, and views across the bay are perfect for lengthy walks through the forest.
Pro Tip: If you intend to stay longer to enjoy all that Normandy has on offer, then you could stay in the pretty Orangery Gite, a small house set in the chateau gardens, which comes with a kitchen and a washing machine.
Hostel Heemskerk
Heemskerk, Netherlands
Not all castles with rooms are luxury hotels that will put a serious dent in your travel budget. This one, a 13th-century castle with a moat and superb French-style architectural gardens, is a hostel. Basic, simple, cheap, but clean, modern, and functional — with all rooms having private bathrooms. Despite a distinct lack of four-poster beds and chandeliers, there is still plenty of atmosphere and history all around. The bonus here is not just the castle, but the location. Rent a bicycle from the lobby, and you can head to the North Sea or the inland sea called Ijsselmeer — to the tulip fields, past canals, and the many picturesque villages and towns within easy reach.
Pro Tip: With Amsterdam only 18 miles away, roughly 1.5 hours per bicycle, or 30 minutes on the local train, this is a viable alternative to staying in expensive hotels throughout your trip.
Related Articles: