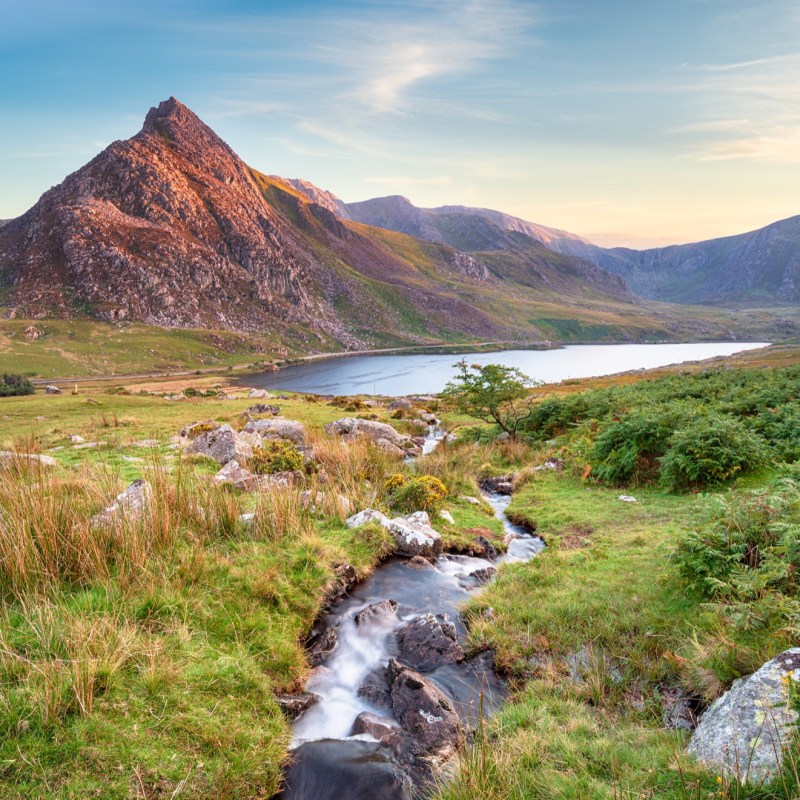 Enchanting Snowdonia is the pride of Wales: 823 square miles of pristine vistas, and craggy valleys carved by glaciers long ago.
Snowdonia is famous for its phenomenal hiking and trekking, as well as its multitude of fluffy white residents. Sheep dot the Welsh landscape and add a pastoral air to Snowdonia, reminding visitors that they are indeed in another world altogether.
No trip to Wales would be complete without visiting this massive national park. Before you lace up your hiking boots and head out into the wonderful Welsh wilderness, there are a few things that you should know about majestic Snowdonia.
Glaciers Carved Its Distinctive Valleys
Snowdonia's valleys, or corries, are the remnants of long-ago glacial activity. As the massive glaciers passed through Wales, they carved out Snowdonia's most famous valleys, including Cwm Idwal and Cwm Clyd. It's speculated that the icy behemoths slowly crawled over Snowdonia 18,000 years ago, leaving their telltale traces in the valleys and peaks of the park.
It's The Final Resting Place Of A Famously Loyal Pup
Snowdonia is home to several small villages, including Beddgelert, which is named after a fiercely loyal canine companion who lost his life in a tragic misunderstanding. The legend of Gelert is the story of Prince Llywelyn the Great's trusty hunting dog. While the prince was away, Gelert slew a wolf to save the prince's child. The prince mistook the wolf's blood for his infant's and killed Gelert. When the misunderstanding came to light, Gelert was honored for his bravery and remains one of Wales's favorite sons to this day.
Its Resources Have Been Valued Since Roman Times
Snowdonia is rich in copper, gold, and slate. Its bountiful hills have been mined for riches since Roman times. You can still visit some of the restored mines today and learn about Snowdonia's remarkable history in the Welsh economy. Today, Snowdonia is primarily an agricultural district and tourist destination.
It Boasts The Highest Peak In Wales
Snowdonia's Yr Wyddfa peak is the highest in Wales. At 3,560 feet, Yr Wyddfa's summit offers a spectacular panoramic view of Snowdonia. It's a popular place to visit, and you can take the scenic train ride up or tackle Snowdon's peak on foot. Reaching the summit takes 6 to 8 hours, and the climb can be strenuous. There are six ways to summit Yr Wyddfa, and if you take up the challenge, it's advisable to bring your own food and plenty of water.
It Contains Nine Mountain Ranges
Considering Snowdonia's sheer size, it's no surprise that this Welsh park has plenty of jaw-dropping natural features. One of the most impressive is its many mountains. No less than nine mountain ranges crisscross Snowdonia. Snowdon's Yr Wyddfa is the tallest, but Cadair Idris and Tryfan are certainly not to be missed. Snowdonia's plethora of peaks are part of what makes it an adventurer's paradise.
Its Trails Trace The Paths Of Dragons
Wales is a land steeped in mythology, and one of the most famous tales comes from Snowdonia. The Dinas Emrys Trail leads to a famous place where two ancient dragons are said to have sparred for control. According to lore, the red and white dragons emerged from below the surface and battled epically. The red dragon won and has been slumbering deep below Snowdonia for centuries. Today, you can hike the moderately difficult Dinas Emrys Trail to walk in the footsteps of these two mythological dragons.
26,000 People Call It Home
Unlike many national parks, Snowdonia has a thriving population: About 26,000 people live in the many small towns in the park. The vast majority of the residents speak Welsh, and the vast majority of them are involved in the agricultural sector. Wander through Snowdonia, and you're bound to come across farm animals and fields of crops, as well as the pleasant country folk who call the park home.
Snowdonia is one of the world's most unique natural spaces. Forged by glaciers, mined by Romans, and currently the heart of Welsh agriculture, Snowdonia is a special place. Next time you're in England or Wales, put this beautiful Welsh gem on your bucket list.