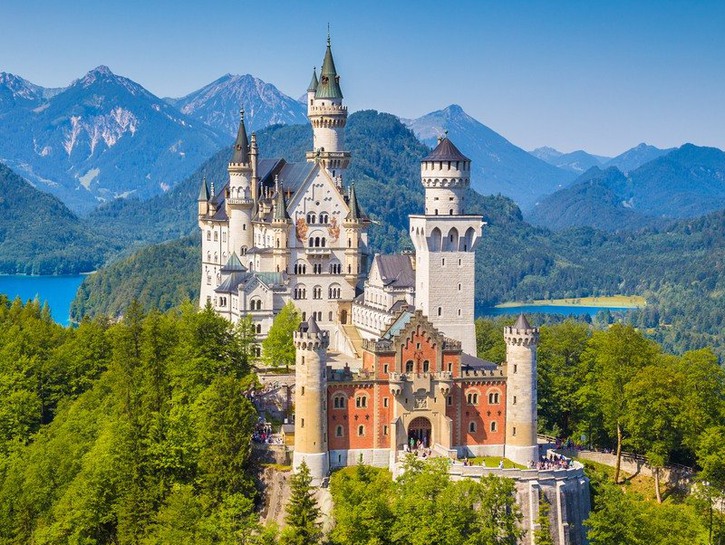 Most fairytales have one thing in common: the spectacular spires, colossal columns, and marshy moats of an imposing and impenetrable castle. Our team of world travelers has highlighted some of the most exciting and picturesque castles from Europe to the United States, and we have collected their stories here for your reading convenience. Here are our favorites, along with tips on how you too can walk where kings and nobles once lived. Make plans to visit when you can, or simply enjoy a virtual world tour of classic and contemporary castles.
Neuschwanstein Castle: Bavaria, Germany
While Walt Disney was inspired by numerous real-life castles, Neuschwanstein in Bavaria was certainly one of his most obvious muses. The Swan King's views of the nearby Alpine lake make this picturesque castle suitable for anyone's bucket list. Click to read our top 15 tips for touring historic Neuschwanstein Castle.
Alcazar De Segovia: Spain
The Alcazar de Segovia was yet another potential European influence for Cinderella's Castle, depending on who you ask, that is. Learn more about the castle's (potential) connection to Disney as well as how to visit this magnificent Spanish castle for yourself.
Cite De Carcassonne: France
With a location that put the area in the heart of active avenues of trade between the Atlantic and Mediterranean, this region was unsurprisingly held by numerous ruling powers over the years, all set to capitalize on the prime real estate. Learn how to explore the fascinating fortified city of Carcassonne as well as the newer city center that has developed around it.
Chateaus Throughout Loire Valley, France
France's Loire Valley is known for its fertile soil fed by the Loire River and is home to many lush vineyards as well as its many impressive castles and larger-than-life country homes. The area is certainly worth your time, so we have compiled a list of the Loire Valley's must-see castles and chateaus for your convenience to ensure you make the most of your time in the area.
Edinburgh Castle: Scotland
Dating back to the early 12th century, Edinburgh Castle has certainly stood the test of time. Caught in a bitter feud between the Scottish and the English over the centuries, the castle's location — perched atop Castle Rock — gave defenders a strong advantage over those who sought to conquer them. Here is everything you need to know before visiting beautiful and historic Edinburgh Castle.
Windsor Castle: England
The castle predates the royal house of the same name by nearly 850 years. Construction of the now-famous royal residence began around 1070 by William the Conqueror, whereas King George V of the United Kingdom made the name change from Saxe-Coburg and Gotha to Windsor in 1917 during the first World War. In fact, the king chose Windsor in part as the family name due to the family's longstanding history with the country home. Today, the castle remains a major tourist attraction for both British and world traveler alike. Read our suggestions on how best enjoy your visit to Windsor Castle during your time in England.
Highclere Castle: England
Fans of the acclaimed series Downton Abbey should immediately recognize the exterior of the stately residence home to the Crawley family and their ever-faithful staff of butlers, maids, and cooks. Read up on our recommendations for how to visit Highclere Castle for yourself so that you don't miss your opportunity to become part of one of your favorite shows.
After you've visited Highclere and had your fill of the Crawleys, consider one of these seven majestic movie castles you can visit in real life as six are located in England. The seventh is located in New York, which makes a great transition into our next entry on the list.
Boldt Castle: New York
Situated on Heart Island in the Thousand Island region along the St. Lawrence River between the State of New York and the Province of Ontario, the partially finished Boldt Castle has a unique history filled with intrigue. Here are our suggestions for how to spend a perfect day at Boldt Castle while learning more about its fascinating story.
Hearst Castle: California
This 115-room West Coast mansion may have less history than other castles on this list but earns its moniker as a castle nonetheless thanks to its expansive grounds and stately facade. Don't arrive unprepared as there are numerous tour options available that you will want to consider. Here are our eight tips for touring Hearst Castle.
If your castle cravings have not yet been satiated, take a look at these other great articles highlighting even more spectacular citadels: