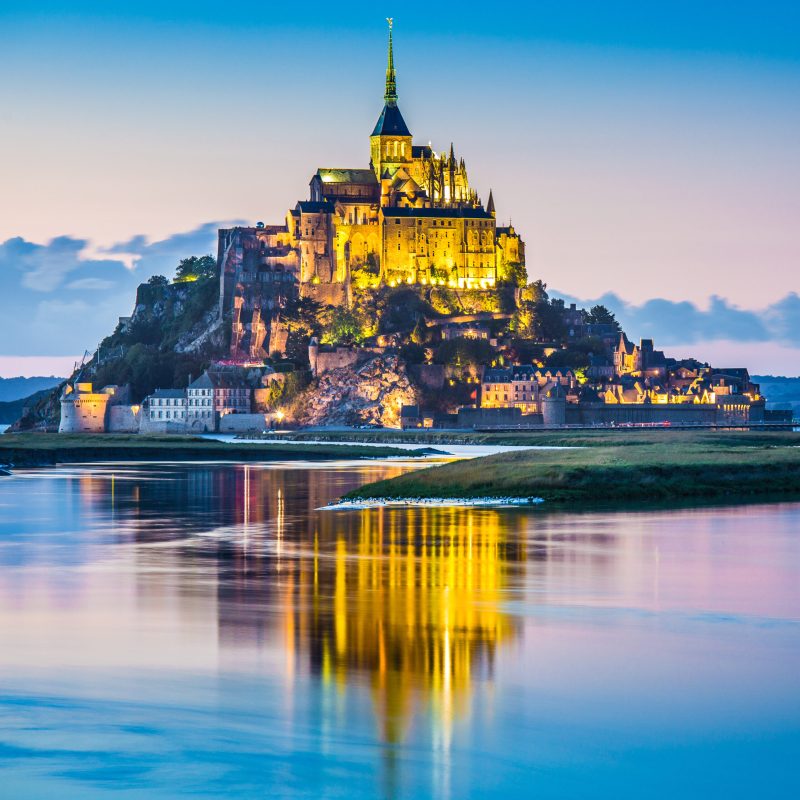 Mont-Saint-Michel is a unique island just off the coast of Normandy, France. Each day, the road leading to the island is swallowed by the tide. That alone is enough to make it an interesting stop on a vacation to France, but the island's historic significance and UNESCO status make it especially appealing.
You won't be able to visit this small island on a whim, so you'll need to do some planning. If you're going to be visiting France and want to make a stop at Mont-Saint-Michel, here are a few tips to keep in mind.
1. Decide How You Will Get To The Island
Mont-Saint-Michel is not the dictionary definition of accessible. Because of this, you'll want to take some time to determine how you'll get to the island. If you're hoping to make Mont-Saint-Michel a day trip from Paris, know that the drive is more than 4 hours long. However, the island is just 90 minutes from Rennes, France.
Another thing that might surprise you is that you aren't allowed to drive your car directly up to Mont-Saint-Michel. Instead, you must park in an auxiliary lot on the mainland and take a shuttle over. Parking in the auxiliary lot is pricey, especially for larger vehicles during the busy season, so be sure to work the cost into your budget. You're charged for a 24-hour period, so you pay for the whole day even if you only stay for 12 hours, and you're charged for another full day if you stay just a little longer than 24 hours.
If you're up for an adventure, you can walk the footbridge to the island instead of taking the shuttle from the auxiliary lot. This will give you a wonderful view of Mont-Saint-Michel and plenty of fantastic photo opportunities.
You can also reach the island by train or bus. Several services to the island's train and bus stations are available from surrounding cities. You can check the schedules and book tickets on Omio or Trainline.
2. If You Can't Stand Crowds, Consider Visiting During The Off-Season
July and August are some of the busiest times of the year for Mont-Saint-Michel. The small island can become very crowded during these months, since the warmer weather and lower amounts of precipitation attract droves of visitors. If you're okay with this, summer is a wonderful time to visit.
If you'd prefer not to battle the crowds, traveling to Mont-Saint-Michel between October and May would be best.
3. Beat The Crowds By Staying Overnight
If you're traveling to Mont-Saint-Michel during the summer, you can avoid the tourist rush by staying overnight on the island. Mont-Saint-Michel sees thinner crowds in the early morning and late evening, when most tourists either haven't arrived yet or have already left for the day. This kind of visit is ideal for photographers looking for the best shots, since staying the night offers a chance to see the island at night — it's simply breathtaking!
There are a few hotels to choose from on the island, and they range in price. La Vieille Auberge tends to offer lower rates than the surrounding hotels. Among the other options is La Croix Blanche, which serves up incredibly tasty, fluffy omelets.
4. Purchase Tickets Ahead Of Time
During the busy season, Mont-Saint-Michel is teeming with tourists and visitors. This means you'll spend more time waiting for shuttles and more time waiting for tickets. You can, however, purchase tickets ahead of time in some instances. This will allow you to skip the lines and make your way directly to the ticket check.
Some people, including those under the age of 18, may qualify for free tickets. Visitors ages 18 to 25 from countries outside the EU pay a reduced price. These people are required to present their identification and can't use the electronic ticketing system ahead of time.
If no one in your party qualifies for free or reduced admission, you can get the most out of your visit by purchasing tickets before you arrive. Tickets aren't for a specific day and are valid up to one year after they are purchased.
5. Check The Tidal Calendar Before You Visit
When high tide rolls in, most of the bay around Mont-Saint-Michel fills with water. During extreme high tides, which take place only a handful of times each year, the land surrounding Mont-Saint-Michel is completely submerged in water, turning Mont-Saint-Michel into a true island. The most aggressive high tides take place a few days after the full moon. Check the tidal calendar while planning your visit if you want to witness the most dramatic tide changes.
During the periods where the tides differ the most, the water can rise up to 50 feet, and during low tide, the water will retract 9.3 miles out to sea and return very quickly. The speed at which the tide rolls in has been compared to that of galloping horses, so it's a wonderful event to try and catch on your visit to Mont-Saint-Michel. It's also a reason why you shouldn't explore the bay during low tide without a professional guide.
6. Allow Plenty Of Time For Your Visit
The island itself may be small, but you'll still want to give yourself plenty of time to explore all it has to offer. You won't want to miss the food, the abbey tour, or the walk around the castle simply because you didn't leave enough time to experience them.
The landscape is steep, and there are plenty of steep stairways to accompany it. These might slow you down a bit, so be sure to factor the extra time into your itinerary. Take your time on the stairs and allow yourself to catch your breath between flights.
7. Bring Layers
If you've spent any time near the ocean, you know that coastal areas can feel quite chilly at times. Mont-Saint-Michel is no exception — it's constantly exposed to sea breezes that can make it feel colder than the mainland. Average temperatures float between the 40s and 50s before wind is factored in, so even a nice summer day in Normandy can be chilly on the island. Pack some warm layers that are easy to carry. Checking the weather ahead of time can help you decide what clothing you'll need to bring.
8. Make Sure You've Got Lots Of Room For Photos
There are a lot of stunning sights in and around Mont-Saint-Michel. Whether you're using your phone or a separate camera, make sure to leave plenty of room for new photos. Bring along some extra batteries for your camera or a power bar for your phone to make sure you don't miss a single photo opportunity. Both daytime and nighttime bring spectacular vistas, so if you're looking to take lots of unique photos on your trip, be sure to stay at Mont-Saint-Michel from sunrise to sunset.
9. Arrive Hungry
Bring your appetite with you when you travel to Mont-Saint-Michel — there are a couple of foods the island is famous for! First, there are the iconic omelets at La Mère Poulard, which are made from a recipe that has been a secret for more than 100 years. Guests can watch the fluffy delicacies being whipped up and cooked over an open wood fire.
Another tasty treat found on Mont-Saint-Michel is shortbread, which is sold at several shops on the island.
Normandy is also famous for its apples — particularly, its cider apples. The apples of the region are bright and acidic, making them perfect for hard cider and fresh-pressed apple juice.
Mont-Saint-Michel is a French landmark that is not to be missed on any adventure to the country's northern regions. Its unique history and one-of-a-kind landscape are simply marvelous, and if you follow our travel tips, you'll be sure to make the most of your time there.
Planning a trip to France and want to enjoy Paris off the beaten path? Check out these hidden gems, delightful shops, surprising things to do, and lesser-known churches in the city.