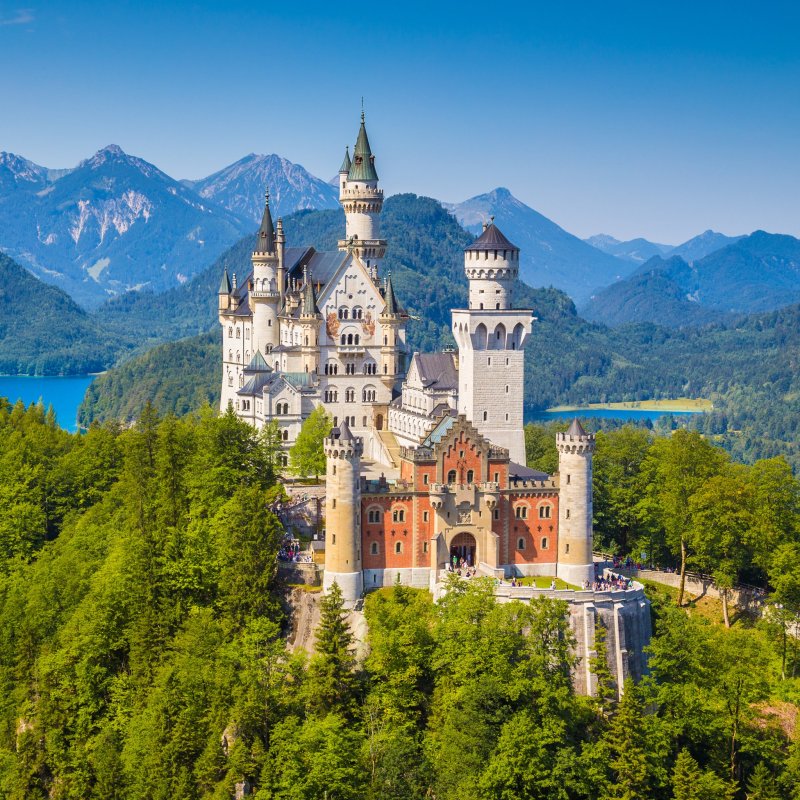 Perched high on a hill overlooking an Alpine lake and the largest nature preserve in Bavaria, Neuschwanstein Castle was constructed as a retreat for Ludwig II. He's known by many nicknames, including the Fairy Tale King and the Mad King, but you'll see ties to the moniker Swan King woven throughout Neuschwanstein, from its name to its decor.
While the reclusive King of Bavaria wouldn't live to see Schloss Neuschwanstein (New Swanstone Castle) completed before his death in 1886, the lavish palace with soaring circular towers was Walt Disney's real-life inspiration for Cinderella's castle. Here are 15 helpful tips for visiting this fairy tale castle in Southern Germany near the Austrian border.
1. It's Easy To Visit By Car, Train, Or Tour Bus
Neuschwanstein Castle is located in the Bavarian town of Schwangau, about 70 miles southwest of Munich. The castle is about a 90-minute drive from Munich. Whether you travel by car or with a tour group, driving is the most direct way to visit the castle.
However, you can also visit Neuschwanstein Castle via public transportation. Take the train to Fuessen and then take an 8-minute bus ride to the "Hohenschwangau Neuschwanstein Castles, Schwangau" stop. If you choose this option, it's important to note that it's about a 1-mile walk from the bus stop to the castle.
2. Getting Up The Hill To Neuschwanstein Castle
If you visit Neuschwanstein Castle by car, you'll want to park in one of the private parking lots in the town of Hohenschwangau. While you can certainly ascend the steep hill to the castle on foot, the 1-mile route is quite steep and will consume about 30 to 45 minutes of your visit.
If you prefer to see the sights more quickly, you can also climb the hill in a horse-drawn carriage or shuttle bus. However, neither of these options can drop visitors right at the castle door. Instead, dropoff and pickup are at Marienbrucke (more on that later). It's an additional quarter-mile uphill walk from the dropoff spot to the castle.
Pro Tip: While it's certainly a fairy tale experience, a carriage ride to Neuschwanstein Castle can take quite a bit of time. Consider taking a carriage ride down the hill once you've completed your visit.
3. Purchase Your Tickets In Advance
If you plan to see the interior of the castle (and are skimming through this article), slow down and read this section very carefully.
Can you go inside Neuschwanstein Castle? Yes, but you can only purchase tickets to Neuschwanstein Castle at the Hohenschwangau ticket center. Do NOT head up the steep hill to the white palace without tickets in hand if you plan to tour the castle's interior. If you have limited mobility, be sure to read this before you plan your visit to the 19th-century castle, as there are about 300 steps to climb inside.
Can you visit Neuschwanstein Castle without a tour? Visitors can only see the inside of Neuschwanstein Castle as part of a guided tour at a fixed admission time. There are limited tickets available each day, so be sure to plan ahead, especially when visiting Neuschwanstein Castle during peak travel periods. Tickets can be purchased online at least 2 days in advance of your visit, and you will want to allow ample time (up to 90 minutes) to pick up your tickets. If you miss your timed entry (and Germans come by their reputation for being precise honestly), your spot may be given to another visitor, and your tour may not be rebooked.
Once inside, your 30-minute guided tour of Neuschwanstein Castle will wind through 14 rooms of the 65,000-square-foot castle, including the throne room, dining room, bedroom, dressing room, study, grotto, and conservatory.
Pro Tip: There is no fee to tour the outside of Neuschwanstein Castle, so if there aren't any tickets available on the day you visit, you can still explore the grounds and see the castle's exterior.
4. There's A Good Chance You'll See Scaffolding
Keeping one of the world's most popular castles in tip-top shape requires constant upkeep, so don't be surprised if portions of the interior and exterior are under construction when you visit. The throne room's current renovation is expected to last until fall 2021.
5. Backpacks And Other Large Items Are Not Allowed
Large backpacks and other bulky items are not allowed inside Neuschwanstein Castle, so it's best to leave them in your vehicle, on your tour bus, or at your hotel. If you have a small backpack, you'll be asked to wear it across your front to ensure you don't accidentally bump any items inside the castle.
6. The Swan King's Symbol
Like the interlocking C symbol representing Catherine de Medici in castles in the Loire Valley in France, the Swan King incorporated the long-necked elegant bird throughout Neuschwanstein Castle. Look for swans etched into glass windows and adorning fixtures. It's also said that the comforters at the castle are stuffed with swan feathers instead of the more traditional goose down.
7. The Link Between Ludwig II And Composer Richard Wagner
The beautiful fairy tale castle was dedicated to German composer Richard Wagner, who King Ludwig II admired since he was a teen. In fact, some historians and psychologists have suggested that the Swan King was madly in love with the musician.
When you tour the interior of Neuschwanstein Castle, look for works of art inspired by Wagner's operas. For example, in the bedroom, you'll see frescoes featuring scenes from Tristan and Isolde (which reminds me a bit of Romeo and Juliet). And, it's probably no surprise that Richard Wagner's romantic opera Lohengrinfeatures a swan knight who is believed to be the namesake of Ludwig II's fairy tale castle.
8. See The Latest Technology (For The 1880s)
Neuschwanstein Castle was designed as a place for Ludwig II to escape from the rest of the world. As a result, he paired his love of medieval architecture with the latest modern conveniences. Decades before it would become commonplace in upscale homes across Europe, Neuschwanstein included hot and cold running water and automatically flushing toilets. Ludwig II's living quarters incorporated a central heating system that was sure to take the edge off the cold winters in the Bavarian Alps.
In France, King Louis XV's dining room at Versailles was so far from the kitchen that he often ate his meals cold. But a century later at Neuschwanstein, Ludwig II's meals were efficiently delivered via an elevator rather than walked up several flights of stairs. He also had an electric bell system and telephones at his disposal to summon servants and connect with the world beyond his hilltop castle.
9. Photography Is Not Allowed Inside Neuschwanstein Castle
Unfortunately, visitors are not allowed to photograph or take videos inside Neuschwanstein Castle. While you cannot fly drones outside the castle, you may take as many photos of the exterior as you'd like.
10. Food With A View
If you'd like to grab a drink or bite to eat after your tour, check out the cafe and bistro on the second floor of Neuschwanstein Castle. Or, for a change of scenery, you can pack a picnic and enjoy it on the castle grounds.
11. Don't Miss This View Of Neuschwanstein Castle
One of the most beautiful exterior views of Neuschwanstein Castle is from Marienbrucke (Mary's Bridge). Named for Ludwig II's mother, this footbridge nearly 300 feet above the Poellat Gorge offers bird's eye views of the fairy tale castle.
During inclement weather, the Marienbrucke may be closed. Find the latest details on bridge closings and shuttle bus tickets to the bridge here. (If you're looking to burn off some schnitzel and beer calories, you can skip the shuttle bus and take a strenuous 45-minute hike uphill to the castle.)
12. Neuschwanstein Castle Is Beautiful Year-Round
Neuschwanstein Castle attracts the most visitors in the summer months when as many as 6,000 people a day wander through the ornate palace. In addition to avoiding heavy crowds, see the castle in a different setting by visiting when colorful fall leaves, powdery snow, or new spring buds frame the white limestone building.
13. If You Crave More Castle
In addition to Neuschwanstein, you can also tour Hohenschwangau Castle. Down the hill and across Alpseestrasse, you already know Hohenschwangau as the destination to purchase admission tickets to Neuschwanstein. But what you may not know is that it was the childhood home of Ludwig II. If you choose to see both castles in one day, your ticket will direct you to the Hohenschwangau Castle first and then up the hill to Neuschwanstein.
Pro Tip: In addition to Neuschwanstein Castle, here are nine other beautiful places to visit in Bavaria, Germany.
14. If Time Permits, Explore The Ammergebirge Nature Reserve
Just to the east of the castle, what is now the Ammergebirge Nature Reserve was once Ludwig II's royal hunting ground. Hike the trails that wind through the thick Alpine forest and feed wild deer.
15. Where To Stay Near Neuschwanstein Castle
If you'd like to linger near the castle, search for accommodations in the town of Fuessen. If you're visiting Neuschwanstein Castle as part of a larger itinerary in Germany and Austria, the castle is located about halfway between Munich and Innsbruck. This makes it a perfect day trip from either city as well as a great stop en route.
Pro Tip
While it's a somber destination, I recommend visiting the Dachau Concentration Camp just north of Munich before leaving Bavaria. In stark contrast to the elegant extravagance of Neuschwanstein Castle and natural beauty of Bavaria, touring the memorial is a way to honor the memories of the 32,000 innocent people who died there and help ensure that we never forget this dark chapter of human history.
Related articles: