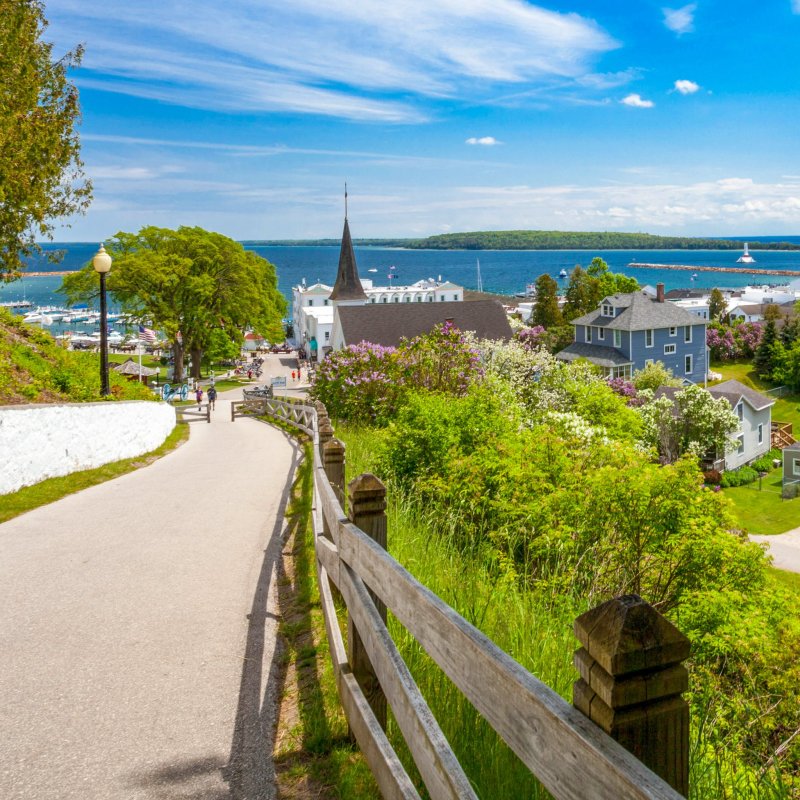 A visit to one of these quaint U.S. islands will make you feel like you're stepping back in time. The pace of life is often slower, and these islands offer an escape from the hustle and bustle of bigger, more touristy cities. But that's not to say there isn't plenty to do and see! Explore our list of the best quaint U.S. islands to visit in 2021, and you'll find more than enough reasons to add one of these locations to your travel plans this year.
Mackinac Island, Michigan
Chock full of history, horse-drawn carriages, and natural wonders to explore, Mackinac Island, located between Michigan's Upper and Lower Peninsulas, is the perfect place to escape. We recommend visiting during the summer when you'll enjoy low humidity, lake breezes, and temperatures that hover in the mid-70s. Part of the adventure is just getting there — with no cars allowed on the island, you'll have to either fly or take a ferry to visit. While on the island, be sure to sample its famous decadent fudge, and check out our other recommendations of things to do and see while on Mackinac Island.
Block Island, Rhode Island
Home to the smallest town in the smallest state, Block Island is a wonderful setting for a relaxing vacation. Though the island is only 7 miles long and 3 miles wide, it has an impressive array of activities to choose from including hiking, exploring lighthouses, and relaxing on one of 15 beaches. Like many of the other islands on our list, you'll need to plan your arrival by plane or ferry, so be sure to account for some extra travel time. Luckily, we have everything else taken care of with our list of where to eat, stay, and play during your Block Island adventure.
Kelleys Island, Ohio
One of our favorite aspects of visiting small islands throughout the country is how well history is preserved on them, and Kelleys Island is no exception. Here you'll be able to view Inscription Rock, a large limestone boulder covered in Native American petroglyphs, and the Glacial Grooves, which were formed by shifting sheets of ice during the last ice age. During your visit, if weather permits, we suggest renting a golf cart for a fun and unique way to explore the island. Check out some of our other recommendations for how to enjoy your stay on this beautiful island.
St. Simons Island, Georgia
One of the barrier islands that hugs Georgia's coastline, St. Simons Island is a magical escape filled with opportunities for sailing, golfing, biking, and more. St. Simons is a perfect jumping-off point for day trips to the other barrier islands, and there's no shortage of things to see. While on the island don't miss the spectacular sunrises — they are definitely worth the early wakeup call! Here's our full list of the best things to do during your trip to St. Simons Island.
Catalina Island, California
A short ferry ride off of Southern California's mainland, Catalina Island is the perfect spot for a day trip or weekend getaway. From the shops and sights of Avalon to wildlife watching (88 percent of the island is part of a nature preserve), there's a bit of something for everyone here. The oceanfront views on Catalina Island can't be beat, and you may be tempted to sit and stare all day, but you won't want to miss out on all of our suggestions for how to spend the perfect day on Catalina Island.
Chincoteague Island, Virginia
The outdoor lover will be blown away by Chincoteague Island. The island offers so many opportunities for viewing wildlife in its natural habitats, including the famous wild Chincoteague ponies. You may be lucky enough to spot the ponies in the wild, but there are also several tours and other events that offer perfect viewing opportunities. In addition to wildlife, you'll find rugged beaches, rich history, and delicious seafood on this island. Review our full list of the best things to explore on Chincoteague Island here.
Amelia Island, Florida
Amelia Island is a stunning spot for the host of outdoor activities you'll find here. Chock full of top-notch golf courses, Amelia Island is the perfect place to hit the links. If you're not a golfer, you will enjoy the diverse wildlife you can view in the state parks or the Amelia Island Nature Center. We think one of the best excuses to visit Amelia Island is that it's a food lover's dream, with mouthwatering seafood and other delicacies to sample. Find our full list of the best things to see and do during your trip to Amelia Island here.
Dauphin Island, Alabama
This scenic barrier island that separates Mobile Bay from the Gulf of Mexico offers an escape from the crowds that tend to flock to the Gulf area year-round. On Dauphin Island, you'll find very few chain restaurants and no chain hotels, so you're getting a truly local and unique experience during your visit. You can explore Civil War history, take in local wildlife, and enjoy all the amazing seafood the island has to offer. For even more inspiration, we have an entire list of things to do and see during your Dauphin Island getaway.
Whidbey Island, Washington
One of the 15 major islands of Puget Sound, Whidbey Island is only 25 miles northwest of Seattle and is a breathtaking spot for a day trip or weekend getaway. There are several ways to travel to the island, but by far the most scenic is taking a ferry; you can look forward to wildlife sightings on your journey. Once on the island, enjoy exploring quaint harbor towns, schedule a whale-watching tour (check schedules for the best times), and see gorgeous sunsets. For a comprehensive list of what to do and see during your trip, don't miss our recommendations for Whidbey Island.
Feeling inspired to add some of these quaint islands to your 2021 travel plans? We also have recommendations for other small town travel opportunities on the mainland. Check out our list of the best quaint towns we traveled to in 2020.