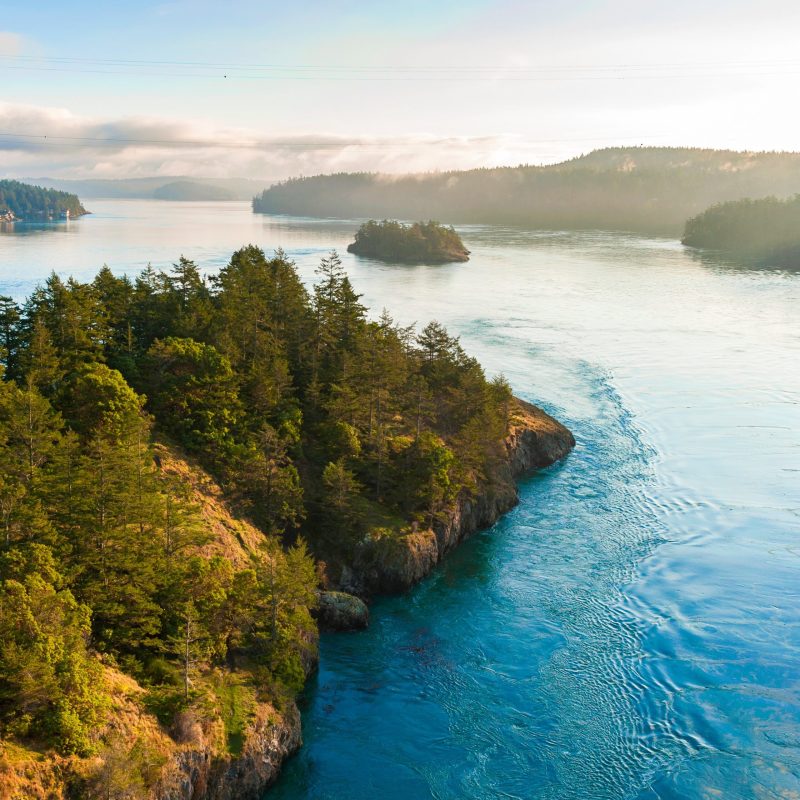 Northwest Washington is known for its beautiful Puget Sound. This estuary, or body of water where rivers meet the sea, is a massive network of rivers, bays, and islands. The area is home to major cities like Seattle and Tacoma, small harbor towns like Gig Harbor and Bremerton, and everything in between. Perhaps the best-kept secret of all the 15 major islands of Puget Sound, however, is Whidbey Island.
Located only 25 miles northwest of Seattle across Puget Sound, Whidbey Island is a long linear island that stretches for nearly 50 miles. From the south end of the island, you can see parts of Seattle across the water. From the north end of the island, you can see the San Juan Islands and dozens of whale-watching boats crisscrossing the adjacent straits and sounds.
Here are some of the best things to do when visiting Whidbey Island.
Take The Ferry
While it's possible to get to Whidbey Island by car by taking the Swinomish Channel Bridge to Fidalgo Island and then the Deception Pass Bridge to Whidbey Island, the absolute best way to get to the island is by ferry. That's how my wife and I chose to travel to Whidbey.
There are several ways to do this. If you're coming from Seattle, the quickest way to get to Whidbey Island is to take the Clinton-Mukilteo Ferry. This ferry takes you across the shortest passage from the mainland to the island. You'll see lots of birds — and maybe even some sea life — on the 20-minute ferry ride.
My wife and I had all day to get to the island and nothing on our schedule, so we decided to take the most scenic route possible. Leaving Seattle, we went south (in the opposite direction of the island), drove across the Tacoma Narrows Bridge to the western side of Puget Sound, stopped for lunch in Gig Harbor, and then drove an hour north though many quaint harbor towns to the town of Port Townsend. From Port Townsend, we took the Port Townsend-Coupeville Ferry to Whidbey Island. This ferry ride is about twice as long as the Clinton-Mukilteo Ferry, but it's also twice as scenic.
All told, we turned a 90-minute trip from Seattle to Whidbey Island into a 3-hour-and-30-minute adventure. But that was the point. The drive from the Tacoma Narrows Bridge to Port Townsend was the perfect precursor to our trip to Whidbey Island, and the ferry ride from Port Townsend to Whidbey was sublime.
Explore Oak Harbor
Whidbey Island can best be described as a collection of several small harbor towns. There is a naval air station on Whidbey Island approximately 3 miles north of Oak Harbor as well as some naval facilities in Oak Harbor itself, so the harbor can be quite active.
My wife and I found one trail that allowed us to see everything. We were up for a morning walk, so we got our coffee and headed for Windjammer Park near our hotel. There we discovered a walking trail that wound around the entire comma-shaped harbor. It ended at a point across the harbor that offered incredible views of the town. We saw sailboats moored in the harbor, the entire downtown — it was quite the view. All told, it was a 4-mile walk there and back, but the views were certainly worth the trek. My wife captured this photo of all the sailboat masts in the harbor:
The path provides a great introduction to the island, since on it, you'll see most of what Whidbey has to offer, including the shops in downtown Oak Harbor and the public park right on the harbor. As you round the corner toward the end of the trail, be sure to look off to the east for a great view of Mount Baker, an active stratovolcano that's covered with snow all year long.
If you're not feeling up for that much exercise, you don't have to walk the full 4 miles. Since it's an out-and-back trail, it can be shortened to any distance you'd like.
Take A Whale-Watching Tour
While the San Juan Islands are perhaps the best-known spots for whale watching in Puget Sound, Whidbey Island offers many whale-watching tours as well. The tours vary depending on the time of year. Here are some tips for whale watching in the area.
If you hope to spot a gray whale, you'll only be able to do so in March and April. Given that this is the off-season, tours are typically limited to the weekends.
Summertime is when the majority of the whale-watching tours take place. This is when the salmon runs, which bring the whales to Puget Sound, are happening. Minke whales, humpback whales, and orcas are all visible on these tours. Most tours on Whidbey Island take place in and around Deception Pass, the narrow, 450-foot-wide pass from the Salish Sea into Skagit Bay.
Even if your visit to Whidbey Island doesn't coincide with any whale-watching tours, there are still ways to get out on the water. Deception Pass Tours offers an hour-long tour of Deception Pass on a whale-watching boat. During these times, the area is not devoid of sea life — on your tour you might see seals, porpoises, and perhaps even a bald eagle.
Watch The Sunset From Washington Park
Okay, so I'm cheating a little, since Washington Park isn't technically on Whidbey Island. Once you cross the narrow Deception Pass Bridge, you're on Fidalgo Island. But the two islands function as one, much like Martha's Vineyard and Chappaquiddick Island — so much so that it wasn't until returning to the mainland that my wife and I learned that we had left Whidbey Island.
The main attraction on Fidalgo is the sunset in Washington Park. I can honestly say that it's the most amazing sunset I've seen in my life. From the town of Anacortes, head west on Highway 20 toward the ferries and then turn off onto the aptly named Sunset Avenue. This will take you directly to the entrance of the park.
At the entrance of the park, you'll see that the road around the park is a single one-way loop. Follow the loop road until you see Puget Sound. Park in one of the parking spaces and take a quick walk to one of the viewing points overlooking the water.
What will you see? Lots of boats, the San Juan Islands in the distance, and, if the weather is right, a sunset over the San Juan Islands like this one:
Eating On Whidbey Island
My wife and I spent three full days on Whidbey Island and ate at all kinds of restaurants. There are many seafood restaurants, of course, but there are also several other dining options.
These were some of our favorites.
Front Street Grill
Coupeville is the county seat for Island County, which includes Whidbey Island. It's a small harbor town right on Penn Cove, a large body of water tucked into Whidbey Island. If you're looking for waterfront dining in Coupeville, consider Front Street Grill.
The dining room has views of Penn Cove and the historic Coupeville Wharf that extends out into the cove. If you look off into the distance, you'll see the snow-capped peaks of Mount Baker.
Front Street Grill has seafood, of course, and it's fresh from Penn Cove. Penn Cove is the largest mussel farm in the United States, so you must try the mussels when you're in Coupeville. At Front Street Grill, they're served 12 different ways! Saffron mussels, coconut curry mussels, bourbon cream mussels, and Thai peanut mussels are just a few of the inventive varieties on the menu.
Frasers Gourmet Hideaway
Frasers Gourmet Hideaway is indeed hidden away on a side street in Oak Harbor. And it's located in what appears to be an old home, so it doesn't stick out as a restaurant at first. But once you are inside, you'll see why the word gourmet is in the title as well.
Frasers Gourmet Hideaway offers daily specials, and we were fortunate to be there on a day one of its most popular specials was on the menu: the crab-cake risotto. But that wasn't the only winner.
If you weren't able to try mussels anywhere else on the island, try the Caesar salad with smoked mussels at Frasers. For the main course, Frasers serves everything from chicken and waffles to duck breast to seafood fettuccine made with crab claws, scallops, shrimp, and — of course — mussels.
Adrift Restaurant
Technically, Anacortes is on Fidalgo Island. But a meal at Adrift Restaurant is certainly worth the journey across the Deception Pass Bridge, especially if you go there for breakfast. Adrift offers the standard breakfast fare — eggs Benedict, biscuits and gravy, and pancakes — but also some fantastic local options you have to try.
The restaurant's breakfast tacos are to die for. Made with two grilled corn tortillas and scrambled eggs, they are topped with avocado (lots of avocado), chipotle sour cream, and roasted tomatillo salsa. You can get them with bacon or roasted pork.
Adrift is also known for its "Veggie Starts" breakfast. You "start" with roasted potatoes sautéed with a medley of vegetables and topped with mozzarella and Provolone cheese, and then you add whatever protein you want: bacon, roasted pork, tofu, or Italian sausage. Top it off with an organic egg, and you'll have the perfect breakfast.