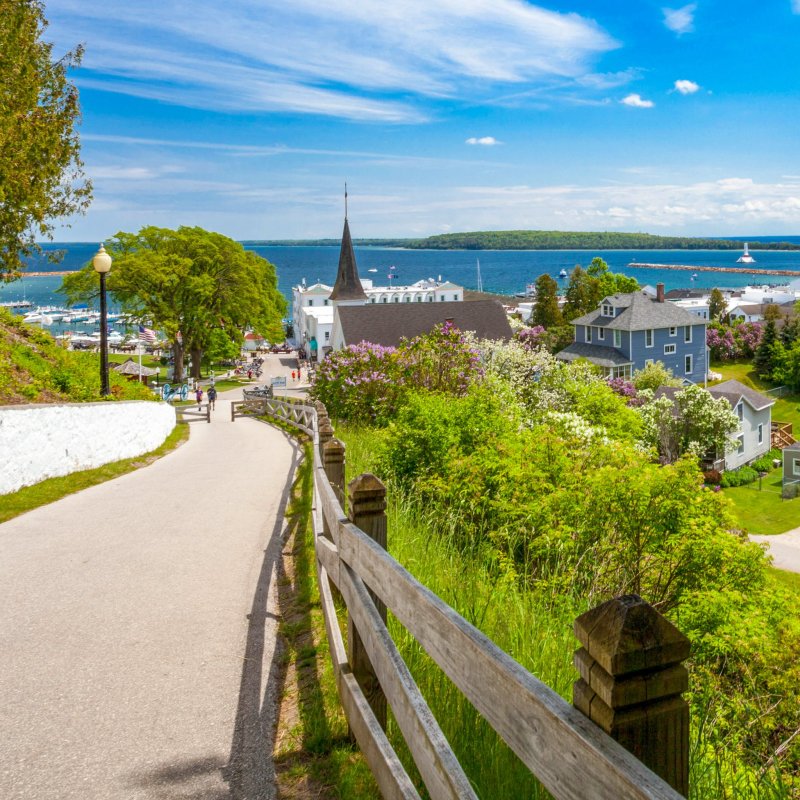 Mackinac Island is a charming resort-like retreat, full of history and natural wonders. Located in Lake Huron between Michigan's Upper and Lower Peninsulas, this special place has served as a vacation spot for generations of families. Its far-flung location and quirks (no cars allowed!) only add to its incredible charm.
Here are nine things to know about this enchanting island.
1. It's Full Of History
When French fur traders first stumbled upon the island in the 1600s, it was being used by Native Americans as a burial ground. They called it Michilimackinac, or "Great Turtle." The British realized the island's strategic importance and built a fort there in 1780. (Now called Fort Holmes, it still stands and, along with the adjacent Fort Mackinac, remains a top tourist draw.) The United States fought for and won the fort back from the British in 1783. The island would go back and forth between Britain and the U.S. until after the War of 1812, when the U.S. took it from the Brits once and for all.
In the 1820s, when business mogul John Jacob Astor made the island the headquarters of his American Fur Company, Mackinac began to boom. It became a center of commerce and tourism, with people from industrial cities throughout the upper Midwest flocking there for a summer respite.
Today, many of the Victorian buildings from that era still stand and are meticulously preserved. Strolling Mackinac Island's downtown district is like taking a walk back in time. And you'll certainly feel this rich history come to life at the island's legendary Grand Hotel, built back in 1887. If only those walls — or that incredible porch — could talk!
2. You Can Either Ferry Or Fly In
As I mentioned previously, no cars are allowed on Mackinac Island, which means that getting there takes a bit of planning. Ferry service is offered from Mackinaw City, Michigan, and Saint Ignace, Michigan, both of which are about a 4.5-hour drive from Detroit and a 6.5-hour drive from Chicago. Once you get on the ferry, expect to be on the island in less than 20 minutes.
Flying to Mackinac is a bit trickier. The nearest commercial airport to the island is Pellston Regional Airport, 15 minutes south of the ferry dock in Mackinaw City. There are nonstop flights there from Detroit and Minneapolis. While the island does have a small airport, it's for private and charter flights only.
As with most magical vacation spots, getting here is an adventure and certainly part of the experience.
3. You Can Take A Horse-Drawn Taxi
Once you get to the main dock at Mackinac, you've got a few transportation options. You can walk to your accommodations, rent a bike to reach them (if you're traveling light!), or call a Mackinac Island taxi in the form of a horse-drawn carriage. It's a wonderful, old-fashioned way to travel, and you'll become accustomed to the clip-clop sound of horse hooves during your visit. The taxis operate just like they do at home: 24 hours a day, radio-dispatched, and with similar rates. Keep in mind that most operate on a cash-only basis, so make sure to hit the ATM before you call for your ride.
4. You'll Marvel At Its Natural Beauty
History and architecture aside, a good deal of Mackinac's appeal comes from its incredible natural beauty. The island is just 8 miles around, and suffice it to say there's not a bad view anywhere. Its sweeping lakeshores, dramatic limestone outcrops, and features including Sugar Loaf, Arch Rock, and Skull Cave are perfect places to explore. Spend some time hiking to these beautiful sights, all just a bit north of downtown, or rent a bike, circle the island, and make stops along the way.
If you're lucky enough to visit in June, you'll get an extra-sweet incentive to get outside: That's when Mackinac's thousands of lilac bushes burst into bloom, perfuming the air all over the island.
5. A Cult Classic Was Filmed Here
In 1979, Hollywood came to far-flung Mackinac Island, transforming most of it into a movie set for the romantic drama Somewhere in Time. The movie, starring Christopher Reeve and Jane Seymour, was released in 1980 and was mostly panned by critics. But the poignant story of a playwright who travels back in time to find his love struck a chord and developed a passionate fan base.
Today, some 40 years later, the movie is still celebrated here. A visit to the Grand Hotel will take you straight back to the film, from the porch to the dining room to the resort's gorgeous grounds. The hotel hosts an annual Somewhere in Time Weekend, when fans flock to meet people who were in the movie, hear stories about its production, and get insider views of the places it was shot.
The Somewhere in Time Gazebo, where a pivotal scene takes place, still stands just north of downtown. It's a popular spot for selfies and weddings.
6. It's The Perfect Place To Beat The Summer Heat
Mackinac really comes alive during the summer, and for good reason. Its cool lake breezes and low humidity are a delight. During the dog days of summer, average temperatures only reach the mid-70s.
That said, the island shutters after the autumn, with most businesses closing at the end of October. The winters here are brutal, as the lake that keeps things so pleasant in the summer brings a frigid, frosty chill. While there are holiday celebrations and even a winter festival, they're for the heartiest of souls — and the thickest of long underwear!
7. You'll Love The Slower Pace
Mackinac has an incredible, time-bending quality to it. Life really slows down here. There aren't any brand new, cookie-cutter developments. Instead, there are historic homes and resorts that have been painstakingly preserved. Instead of cars, there are horse-drawn carriages. And instead of a frenetic nonstop pace, there is a laid-back vibe. Perhaps it's the incredible lakeshore views, the natural beauty, or the sensation that you're leaving your stress behind when you step onto the ferry, but it feels different here. And that's a very good thing!
8. It Offers Both Luxe And Budget Experiences
On Mackinac, there's something for every budget. You'll find top-notch spas where you can be pampered from head to toe, an opulent high tea service at the Grand Hotel, and several private golf clubs offering sweeping lakeshore vistas.
But if you're looking for a budget experience, you're also in luck. Since most of the island is a state park, many of its top attractions are free and open to the public. And while rooms tend to sell out quickly during the high season, you can find accommodations at reasonable prices on home-sharing sites.
9. Save Room For The Chocolate
Of course, we saved the sweetest thing about Mackinac for last: the island's legendary fudge. There are more than a dozen small shops downtown that sell this famous, decadent export. They crank out five tons of the sweet stuff a day during the summer! Chocolate is by far the most popular flavor, but you'll see variations including vanilla, rocky road, and pecan.
The history of the confection here stretches back more than 100 years, when the Murdick family settled on Mackinac and opened a small candy store. They started making the fudge on marble slabs, which enticed the tourists and put on quite a show. The rest, as they say, is history. Be sure to save room for this traditional dessert — after your meals on the island, and in your luggage to take home. It's a sweet reminder of a special place!