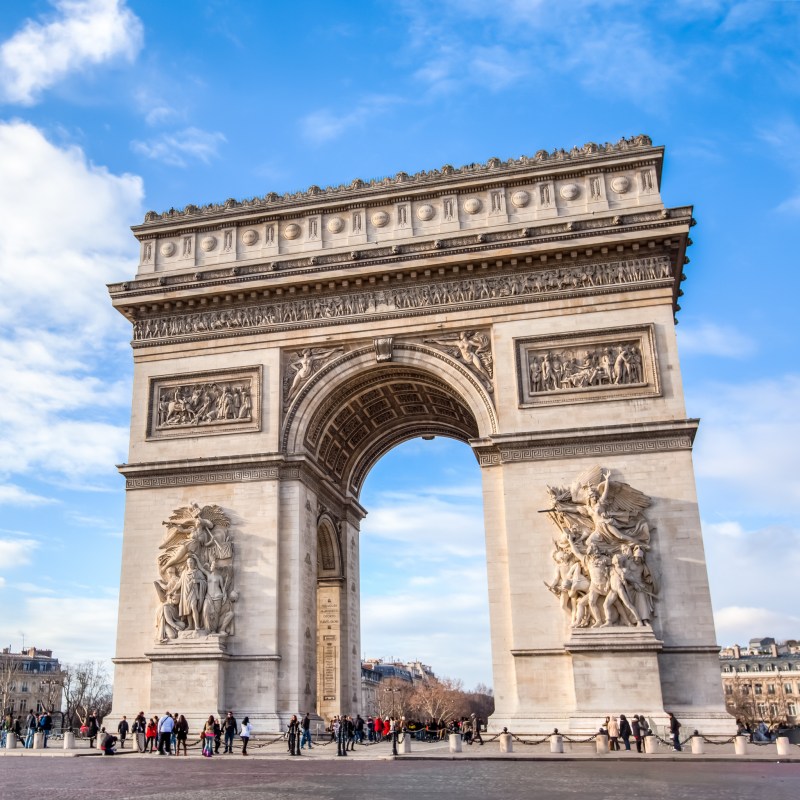 Although Paris is the most visited city in the world, it's frequently listed in the top 10 most expensive cities. It's not uncommon to pay around $10 for a coffee (without a free refill) at an upscale cafe or $300 per night for a cramped hotel room. However, since I've been living in Paris since 2005, I've found many ways to enjoy the city at a much lower cost than what tourists usually pay for things. Here's a list of ways to save money in Paris but still enjoy all the pleasures. Even if you aren't on a budget, these are great tips to get more bang to your euro.
1. Don't Buy A Museum Pass
Even though a prepaid museum will have the advantage of skipping long lines, the price is not worth it. The cost of a two-day pass is 52 euros, which means that you would have to visit three to four museums in that period to justify the cost. Most of these museums would take at least two to four hours each to visit without rushing, which would mean, in effect, you have to spend the entire two days in museums. There are only five museums in Paris that usually have lines; the Louvre, Musee d'Orsay, the Centre Pompidou, the Musee de l'Orangerie, and Versailles, and you can buy timed/skip the line tickets separately on the internet. If you buy tickets on their websites, you get either special or skip the line access.
Pro Tip: Most major museums in Paris have free admission the first Sunday of the month, but there may be a long wait.
2. Book Museum Or Main-site Tickets On Their Own Websites
When you Google tickets for the Eiffel Tower, the Louvre, and other top Paris attractions, a paid ad will almost always come up first. Those ads are from big tour companies, such as Viator, that always charge more than the price printed on the ticket. Make sure you go to the official website of each attraction to buy tickets directly and save money. If you want last-minute tickets and the tickets at the museum websites are sold out, that's when sites like Viator and GetYourGuide come in handy. Here's a list of links to purchase your tickets directly from attractions' websites:
Pro Tip: Unfortunately, most attractions do not have reduced ticket prices for seniors, but people under 21 are let in free or at a discount.
3. Have Lunch As Your Main Meal (And Other Restaurant Tips)
Food and meals will be one of your biggest expenses when you are in Paris, especially if you want to enjoy a multitude of great French delicacies, pastries, and desserts. Here are a few tips to save money.
There are an astounding amount of restaurants and cafes in Paris at all price points. Many restaurants, especially in office and tourist neighborhoods, have prix fixe menus at lunchtime during the week that are one-half to one-third lower in price than at dinner, when the menus are a la carte. For instance, one of my favorite restaurants in the Latin Quarter, Le Reminet, a delightful neighborhood bistro, offers an outstanding three-course lunch for only 20 euros, but dinner can cost over 60 euros per person. If you want to splurge for a meal at a Michelin-star restaurant or at a five-star hotel, they usually offer a lunch prix fixe anywhere between 95 to 150 euros, which is still expensive, but at dinner, it will cost 250 euros to 350 euros per person. The famous Le Jules Verne in the Eiffel Tower has a three-course menu at lunch for 135 euros per person.
Pro Tip: It's always recommended to book reservations in advance especially at the Michelin restaurants, where you can make an online reservation.
4. Eat At Cafes
If you decide to have your big meal at lunch, cafes are a great option for light or casual dinner. Most cafes have full menus that are served anytime of the day or night. Some of the popular dishes at cafes include a goat cheese salad, croque monsieur (a grilled cheese and ham sandwich), and quiche. Crepe restaurants are another inexpensive option, where you can have savory crepes, such as ham and cheese, egg and bacon, or melted cheese for a main course, followed by a dessert crepe for usually under 20 euros per person.
5. Have Takeout Food And Picnics
One of the best and least expensive meals you can have in the warmer weather is a takeout lunch or picnic at Paris's numerous parks, gardens, squares, and outdoor spaces. Imagine having a delicious lunch for under 10 euros at the Medici Fountain in the Luxembourg Gardens or on the magnificent grounds of the Palace of Versailles or on the banks of the romantic Seine River. Most boulangeries, or bakeries, in Paris have a lunch special where you can purchase a freshly prepared sandwich, a dessert or pastry, and a soft drink for under 10 euros. If you are vegan or vegetarian, go to the Rue des Rosiers in the Marais district and get a yummy falafel sandwich in a pita bread for just 6 euros. Enjoy your falafel sandwich at the Joseph Migneret Garden located at 10 Rue des Rosiers.
6. Have Breakfast At A Cafe, Not In Your Hotel
If your hotel doesn't have free breakfast, they will usually charge anywhere between 10 to 15 euros for a continental breakfast of orange juice, coffee, and a croissant. You are better off going to an authentic Parisian cafe and having the same options for between 5 and 10 euros. Plus most hotels water down the coffee.
7. Have Your Coffee At The Counter In The Cafe
If you want to act like a local and mingle with Parisians, have your coffee at the counter of the cafe instead of sitting down. It's almost half the price of sitting down at a table. Typically, a cafe au lait (coffee with hot milk) at the counter will cost 2.50 euros, and if you have it at a table, it will be 3.50 to 4 euros.
8. Stay In An Airbnb Instead Of A Hotel
Paris has a very diverse selection of hotels, from two-star hotels with the bare essentials to the presidential suite at the Ritz. The good thing is that there's a wide variety of high-quality three-star hotels. Even though the rooms are well appointed and have good amenities, they're small, usually ranging from 150 square feet to about 225 square feet. Unlike the large hotel chains in the U.S. that usually have two double- or queen-size beds to a room, in Paris, there's just one bed, and it's usually a double or queen size. A good alternative is to rent an Airbnb, where for the same price or less than a hotel room, you get a substantially larger space.
9. Drink Wine Instead Of Soft Drinks
For some inexplicable reason, a 5-ounce glass of wine and an 8-ounce bottle of Coca Cola are the same price, and in certain cases, the Coca Cola is even more expensive. I am a tour guide, and I remember a time when I was with a client and we stopped for a drink at a cafe. I ordered a Diet Coke, and she ordered a glass of Bordeaux wine, and when the bill came, the Diet Coke was 6.50 euros and the wine was 5 euros.
10. Use The Metro Instead Of Taking Taxis
The metro system in Paris is not only fast, efficient, and inexpensive, it's easy to follow. Instead of taking taxis and getting stuck in traffic, take the metro to save time and money. You can buy a weekly pass that goes from Monday to Sunday, or you can buy a 10 pack of tickets, which costs around 30 percent less than buying them individually. All the metro stations have automated machines in English to purchase tickets.
11. Tipping In Restaurants
This is a really important tip that can save you a lot of money. In France, your restaurant check will always include what is called the service charge, which translates to the tip. Restaurant workers in France are paid a full salary and benefits and do not have to rely on tips to make a living. Even though it's not required, it's customary to leave a 3 to 5 percent tip in cash. For instance, if you went for lunch and spent 25 euros, you would leave an extra euro coin on the table. But if you don't have the change on you, it's perfectly acceptable not to leave something. If you go to a more upscale restaurant for a meal, and there's exceptional service, leave a 10 percent tip. Remember, don't leave 15 and 20 percent tips, so you have more money to spend on shopping.
Further Reading: