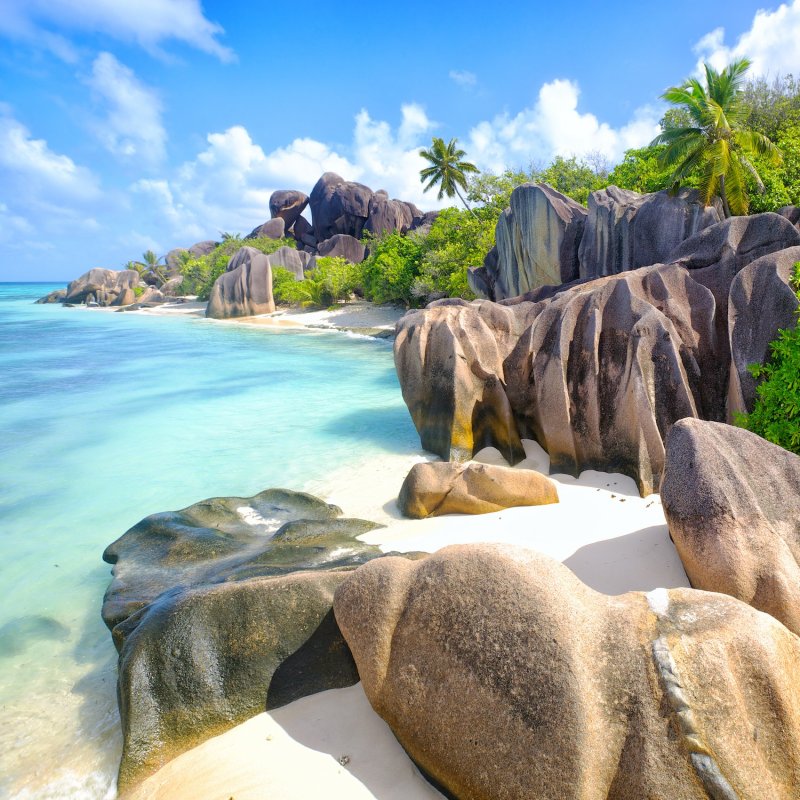 Social media reminded me one morning that I had been to a bunch of Indian Ocean islands several years apart yet on the same date. It made me look at why I keep returning to the Indian Ocean for some island R and R. I think it is because the islands in the Indian Ocean are remarkably diverse, and there are so many more to choose from than in any other ocean. Stretching all the way from Africa, nudging the Middle East, all the way past Asia, and then hitting Australia, this is a vast ocean that offers an island for everyone, whether you like nature, beaches, history, action-packed breaks, or wildlife. So, I picked a few of my personal favorites to highlight the wide variety found in this ocean and to offer you some inspiration for vacations to come.
1. Zanzibar, Tanzania
Zanzibar is a small archipelago off the Tanzanian coast in East Africa. A mix of African and Arab influences throughout history formed the capital, Stone Town, into a unique and picturesque destination. Because there are no direct flights from the U.S., or indeed from many places, this is an off-the-beaten-track island. Zanzibar is perfect for a two-stop vacation — a historic and shopping-heavy city break in Stone Town, followed by some relaxing in a beach resort. Both locales are perfect for enjoying the very special Zanzibar cuisine. When in Stone Town, start your day with breakfast at the Stone Town Cafe in the heart of the city, and finish each day off with cocktails at sunset on the terrace of the Zanzibar Serena Hotel.
Pro Tip: Close to the equator, Zanzibar enjoys roughly the same temperature all year, but there is a slightly more pronounced rainy season between March and May.
2. Mauritius
Twelve hundred miles off the southeast coast of Africa, over 500 miles further east than Madagascar, lies Mauritius, a popular island for honeymooners and beach lovers. Surrounded by 100 miles of white, sandy beaches, the island's interior is green, mountainous, and has endless fields full of sugarcane. Its capital Port Louis is a cosmopolitan city with a buzzing restaurant scene and a fabulous waterfront. One of Mauritius' main attractions is that any time is a good time to visit, with a pretty uniform temperature throughout the year in the mid-70s, with December to April being a little hotter than June to September.
Mauritius has an amazing array of resorts, ranging from the super luxurious to the more budget-conscious end. They all offer superb water sports facilities, from scuba diving and water skiing to catamaran sailing and glass-bottom boat excursions. And on an occasional day away from the beach, must-sees include the rugged Black River Gorges National Park with its jungle forest and waterfalls and the stunning botanical garden with its huge water lilies and plants you are desperately trying to raise at home.
Pro Tip: For a special dinner, visit the stunning Flamboyant restaurant, and for a snack on the go, don't miss the Port Louis Central Market for typical local treats.
3. Seychelles
An archipelago of some 115 islands, the Seychelles are best known for their private resort islands attracting celebrities and royals from around the globe, the large, smooth rocks lining brilliant white beaches, and those cheeky-looking coco-de-mer nuts that are even found on the passport stamps. Landing on the main island Mahe, where the tiny capital Victoria can be found, you can easily spend the rest of your vacation there, as it has plenty of resorts, plenty of activities, and plenty to see. But you can move on to the larger La Digue or Praslin Islands, or some of the private resort islands such as Fregate, or North Island, depending on what your budget and occasion are. But whichever area you choose, you will find stunning flora and fauna, a sea that is as clear as spring water, and a cuisine that is a tasty mix of creole, French, Indian, African, and then some.
Pro Tip: Year-round good weather makes it easy to choose, but in summer, the resorts get very busy, so the best times are probably from April through May and October through November.
4. The Maldives
The Maldives are as picturesque as a beach vacation can possibly be. When you are about to land, you will see many of the roughly 1,200 islands from your airplane window, and the magic begins right then. From the airport island, you will be whisked away either by boat or by seaplane or helicopter to your very own island, as most islands are only big enough to accommodate one hotel resort at a time. The problem is which resort island to choose. All offer amazing scuba diving, and all have restaurants, bars, and cafes on the island. The main difference between islands is the accommodation and the distance from the airport, as the two atolls stretch for hundreds of miles and some transfers can be quite lengthy, if beautiful. The Maldives are also very expensive, probably because everything has to be shipped in, apart from fresh fish and coconuts, and visitors are a truly captive audience, so whilst you might sniff at all-inclusive deals normally, here it might just save you dollars.
Pro Tip: Southwest of Sri Lanka by 430 miles, many people combine Sri Lanka tours with a beach vacay in the Maldives. They are close enough together to make it worthwhile, giving you a chance to soak up history and culture in Sri Lanka and then just sit back and relax on an island resort.
5. Sri Lanka
Sri Lanka is an island full of history and full of gems, quite literally. Colombo is a bustling capital, but inland, towns like Kandy are well worth visiting, as is the famous Sigiriya or Lion Rock. Then there are the various beach resorts along the coasts, especially in the south, and the beautiful old town of Galle. Despite being only half the size of Florida, Sri Lanka has a very varied climate north to south and coast to inland. Still, roughly speaking, if you travel in the summer months of late July to early October, you will be just in between the two monsoon seasons with a few showers at the tail ends.
With so much to see, the best advice is to start in Colombo, get your bearings, then go on a tour of the inland sights and move on southwards, staying a night or two in Galle before retreating to a beach resort or hopping across to the Maldives.
Pro Tip: In Galle, stay at the wonderful Galle Fort Hotel, which also offers great local cuisine, including hoppers for breakfast; and when in Colombo, make sure you have cocktails on the terrace of the old Galle Face Hotel overlooking the sea.
6. Bali, Indonesia
Bali is a little like Zanzibar when it comes to alluring names, with Bali's magic reaching you before you even get there. The island is home to lush green countryside dotted with high volcanoes, from the top of which you can catch unparalleled views; serene rice paddies worked on by ducks; artist communities, yoga and meditation retreats, and stunning beach resorts, full of water sports and fun. Bali is also home to the only Hindu majority in Indonesia, resulting in many beautiful temples and having to step over lovely little offerings left along pavements outside shops.
Depending on what you wish to get out of your vacation, there are several centers where you could base yourself. Ubud is the artistic inland town brimming with galleries, retreats, and great restaurants, all surrounded by swaying green rice fields. In contrast, resort towns such as Kuta are loud, fun, and young, with fabulous surfing waves beckoning. Smaller and more traditional seaside towns such as Sanur might not have the nightlife, but that can be a good thing. In Sanur, you get the best of both worlds: traditional Bali and a good beach resort, plus great little restaurants such as Soul in a Bowl, perfect for breakfast, and the tasty traditional street food at the Sindhu Night Market.
Pro Tip: Best time to enjoy Bali is in the summer months, June, July, and August, when there is also less rain.
7. Rottnest Island, Australia
Rottnest Island is not your typical palm-fringed Indian Ocean Island, but that is exactly why I have included it. Rottnest, Dutch for rat's nest, simply called Rotto by locals, lies 11 miles off the coast of Perth in Western Australia and is a protected nature reserve with a permanent population of 300 humans and some 10,000 quokkas. The wildlife brings around 800,000 visitors each year, who come mostly for the adorable quokkas. A small member of the marsupial family, really a bush wallaby, quokkas are indigenous to this island and are known as the friendliest animals in the world because they seem to have a constant smile on their little faces. While the island won't offer you a Maldives-style luxury beach vacation, and the majority of visitors come over by ferry just for the day, there is a range of accommodation and a handful of restaurants and cafes on the island, allowing you to stay a night or a few. Activities include quokka-spotting and hikes and bikes around the island, watersport activities, and yes, beautiful beaches. While there, go for a typically Aussie breakfast at Geordie's Cafe and Art Gallery and later pop over to Frankie's on Rotto for a decent sourdough pizza.
Pro Tip: The weather is generally fine throughout the year, but if you can, avoid visiting over a weekend, as the island gets busy with day-trippers.
8. Madagascar
Madagascar must be one of the most fascinating islands in the world. The sheer diversity of things to see and experience is incredible, but so is its size: it is the fourth largest island in the world, just slightly smaller than Texas. It is also officially considered megadiverse, enjoying some of the world's most biodiverse habitats with roughly 200,000 species, of which 150,000 are endemic. Just think aye-ayes and lemurs and then some. Add to that the fascinating Avenue of the Baobabs and the amazing rock formations in the Tsingy de Bemaraha Strict Nature Reserve and you will be kept busy. Because of the island's size and the (luckily) still basic infrastructure, it is difficult to get around and see everything, so the best way is by an organized tour.
If you are going alone, base yourself in the capital Antananarivo in the central highlands. Once there, head for the historic Analakely district for their ever-changing cafes and restaurants.
For a perfect stay with grand views, head to the Grand Hotel Urban, whose roof terrace is a perfect spot for drinks.
Pro Tip: The best time to visit is between April and October when there is less rain, and the roads are in better condition. Ready to learn more? Here's everything you need to know before visiting Zanzibar.