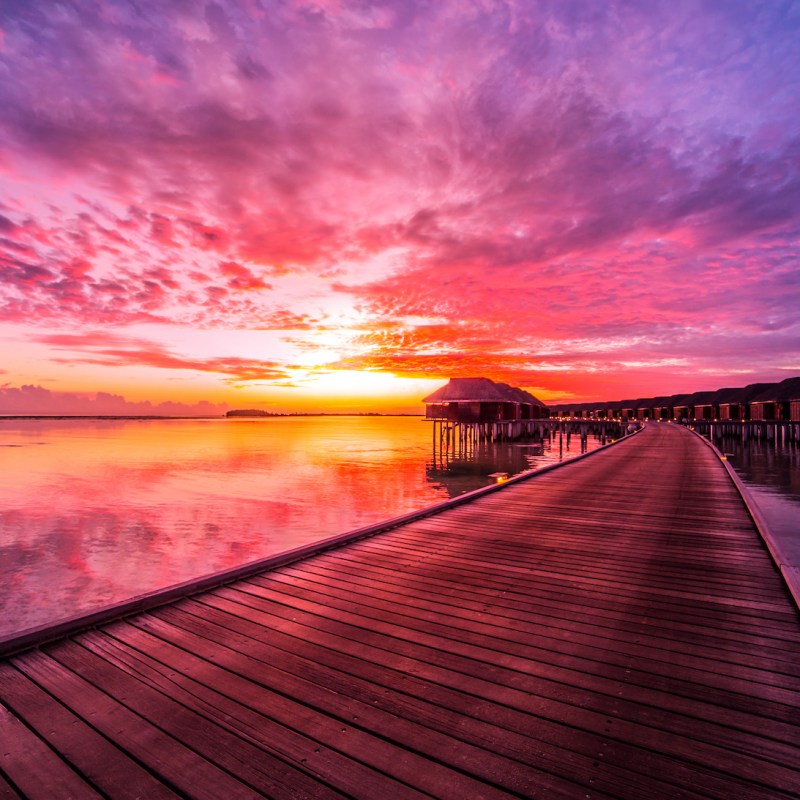 Among vacationers, the Maldives are considered legendary; with ivory-white beaches, spectacular sunsets, and crystal-blue waters, the country offers some of the most breathtaking views on earth. Luxury resorts are scattered across the remote islands, offering visitors a once-in-a-lifetime experience. If you've ever wanted to spend a few days on your own private island, this is the vacation destination for you.
Relax on pristine beaches. Watch dolphins sporting around the bow of a chartered sailboat. Ready to try snorkeling? The Maldives offers some of the greatest dives in the world.
Whether you prefer restorative pampering or world-class adventure, you'll find what you're looking for in the Maldives. Here are a few things you should know while you're planning your dream vacation.
Where Are The Maldives?
The Maldives are located in the Arabian Sea, about 430 miles southwest of Sri Lanka. It's made up of 1,200 islands and sandbanks, including many man-made islands — only about 200 of which are inhabited year-round.
How To Get To The Maldives
Because the Maldives are fairly isolated from major landmasses, you won't be able to fly to any of the islands directly from the United States. That's not necessarily a bad thing, but it does mean that you'll need to plan carefully for the best possible experience.
Traveling By Air
Almost every great vacation starts with a decent flight. And while the lack of direct flights from the U.S. to the Maldives guarantees a certain level of tropical-paradise seclusion, it also means you'll have to make at least one connection before you can relax on the beach.
U.S. travelers will have to make a connection in Europe, Asia, or the Middle East before heading to Velana International Airport, which sits on the island of Hulhulé, in the North Malé Atoll. From there, it's just a quick ferry ride to the capital island of Malé. There's even a bridge — the Sinamalé — that can take you via car from the airport to your resort.
Budget-minded travelers might find the best fares by flying into Colombo, Sri Lanka. The flight from Colombo to Malé takes less than two hours and often beats prices from more distant airports.
However you get to Velana International Airport, if you booked a stay at a resort, a representative will probably meet you on arrival and escort you the rest of the way. That's what we call five-star service!
All that said, the last thing you want to worry about when planning your vacation is a complicated series of flights. Talk to your travel agent or look for a travel package that includes airfare. Why worry about the details when you can dream about the feeling of sand between your toes?
Traveling The Islands By Boat
Remember that the Maldives consists of more than 1,000 islands, both inhabited and not. That means it's an ideal nation to explore by sea.
If you're staying in a resort on Malé, talk to the staff about chartering a dhoni, the island nation's traditional sailboats. You might pay a pretty penny — something between $400 and $800 per day, according to Lonely Planet — but it's the most exciting way to see islands both remote and closer to your home-away-from-home.
A cheaper option is to take a series of ferries from one island to the next. Note that the national network of ferries is known for changing departure times and even canceling trips without much notice, so this method of travel is best for those with a relaxed schedule.
Ferries tend to travel only between islands that remain inhabited all year round. To reach the uninhabited islands, you'll have to hire a speedboat. Lonely Planet puts speedboat travel from Malé to distant islands at anywhere from $80 to $450 — but this may be your best bet if you're looking for a private island experience.
Traveling By Cruise Ship
If you've got the time, a cruise to the Maldives can be a life-changing experience. Only a few major cruise lines visit Malé, and most itineraries take a few weeks to get to the island; you'll likely spend a week or more on the ocean. Princess Cruises' Singapore to Cape Town trip, for instance, lasts for an entire month and visits 10 ports of call including Malé.
Most cruises will visit other countries in the Indian Ocean, and if you travel to explore other cultures, that's an appealing prospect. That said, for other travelers, a cruise is decidedly not the true Maldivian vacation experience. If you can get to Malé via another method and want to take to the Maldivian waters for a shorter amount of time, consider local cruises like those offered by MV Yasawa Princess.
When Is the Best Time To Visit The Maldives?
The Maldives has a warm climate all year, but it has a rainy season, which typically lasts from May to October. If you're traveling on a budget — and we should note that the Maldives are fairly expensive, even under the best circumstances — you could book your visit during that stretch and hope to get lucky. The rainfall usually only lasts for a few hours, and if you're heading out for snorkeling or scuba diving, you'll see a greater variety of wildlife during monsoon season.
With that said, if you're hoping for a picture-perfect vacation with clear, sunny skies, you'll want to schedule your trip sometime between November and April.
Because the Maldives is an Islamic nation, some travelers avoid booking trips during the month of Ramadan, which usually starts sometime in May or June (it's based on the Islamic calendar, so the exact dates change from year to year). If you're staying at a resort, your trip will be mostly unaffected, but if you're planning on hanging out with the locals, know that almost all restaurants will be closed until sunset during the celebration.
What Is There To Do In The Maldives?
As we mentioned, visiting the Maldives is expensive — period. The experience is well worth the money, but to make the most of your trip, you'll want to plan your excursions carefully. You'll definitely want a resort as your home base — the country's restrictive laws don't apply to the resort islands, and that's where you'll find the best beaches.
Living The Resort Life
Most travelers spend the entirety of their Maldivian vacations at resorts, and there's absolutely nothing wrong with that. If you're the type of vacationer who likes to kick back and enjoy the view, don't bother packing your itinerary with day trips; the Maldives are a perfect place to lay back and relax.
Remember: It's easy to spend a ton of money very quickly. Some resorts charge upward of $5 for a single bottle of water, so try to find an all-inclusive package. If you drink, make sure that alcohol is included with your reservation (or be prepared to pay much higher prices than what you'd find in the States).
Snorkeling And Scuba Diving
The islands are surrounded by gorgeous coral reefs with abundant sea life, and most resorts in the Maldives offer snorkeling excursions. Scuba diving is also available at some resorts; the Laamu Atoll, for instance, offers scuba courses for divers of all experience levels. Book early to ensure your spot, especially if you're vacationing during the peak tourist season (November through April).
One important note: Maldivian drinking water doesn't have the electrolyte content Americans are accustomed to, since it's demineralized during the desalination process. If you're embarking on a physical excursion, you'll want to bring along a few rehydration salt packets, available at the airport pharmacy and at some resorts.
Exploring Malé
Most travelers head to the Maldives to enjoy the beaches, but the country's capital offers a unique cultural experience that certainly justifies a visit. Head to Malé and visit the Old Friday Mosque, the nation's oldest house of worship. Built in 1658, it's open to non-Muslims, and it's a fascinating building for architecture buffs. Malé's National Museum has a number of interesting cultural exhibits, although many of the museum's pre-Islamic artifacts were destroyed during the 2012 protests.
After you've explored the city, enjoy a meal at the Salt Café, located in the Malé market district. With fresh seafood and a variety of Western-influenced dishes, it's a great place to relax while planning your next adventure.
Things To Keep In Mind
When visiting any of the inhabited islands of the Maldives, remember to respect the local laws and customs. That means no alcohol, no public displays of affection, and conservative clothing; bathing suits, for instance, are strictly off-limits. That can be something of a culture shock for some travelers, especially since these rules don't apply on resort islands — so plan accordingly.
Also, while the Maldives has relaxed visa regulations (you can stay for 30 days without a visa), understand that the country's constitution is based on a strict interpretation of Islamic law. When packing, don't bring any alcohol, and be prepared for a thorough bag search. You'll be able to find alcohol at most of the nation's resorts, albeit with a hefty markup.
The Maldives also bans any sort of "indecent" photography, and customs agents might confiscate materials that seem fairly tame by U.S. standards (for instance, swimsuit photos or romance novels). On your way out of the Maldives, you won't be able to bring seashells, coral, or sand, so if you're bringing home souvenirs, keep that in mind.
Planning a trip to the Maldives isn't necessarily easy, but it's worth the effort. Evaluate resorts carefully, paying close attention to the cost of food and drinks, and you'll be able to experience the ultimate island vacation while keeping your budget (somewhat) in check.
Most visitors find that, whatever they spend, it ends up being worth it for the memories. After all, you can't put a price on paradise.
Related Reading: