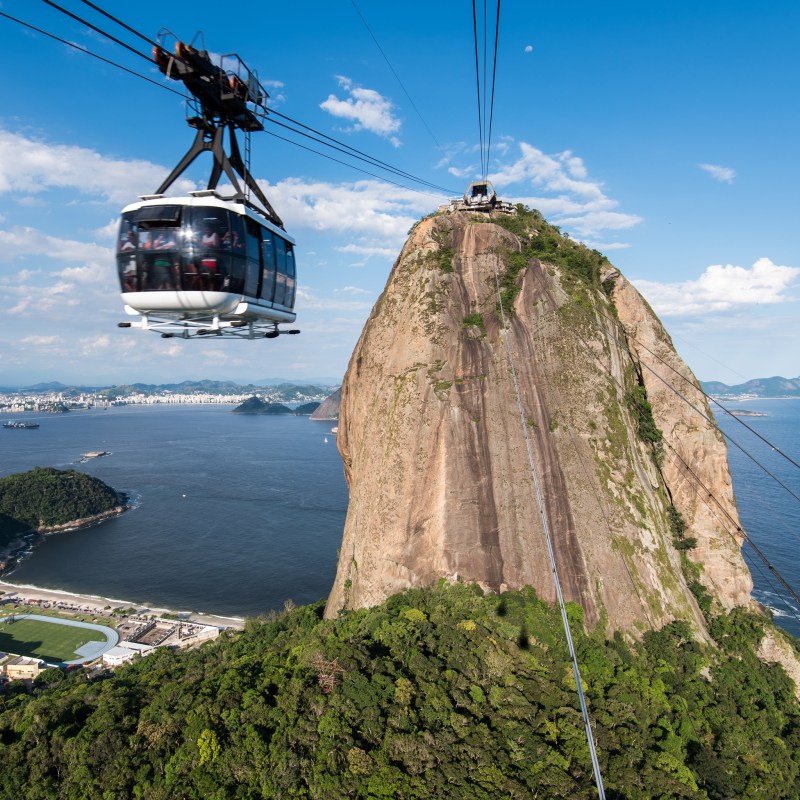 Recently, strange metal monoliths reminiscent of the film 2001: A Space Odyssey have been appearing in Utah, Romania, and California, only to disappear again. This mystery has added some welcome thrill and intrigue to the world's quiet pandemic life, and we are all waiting to find out what is behind these monoliths. Speculations range from international out-of-work artists coming together on this project to alien interference to locals adding a little spice to lockdown life, not unlike the crop circle phenomenon that kept everyone enthralled back in the 1980s.
However, while there's no doubt these installations will be fleeting, there are some impressive monoliths around the globe that are just as intriguing, and that will not disappear in a hurry. By definition, a monolith is a large single upright block of stone, not metal, especially one shaped into or serving as a pillar or monument, but just as often the term is used for naturally occurring large, single-mountain formations.
If your interest in all things monolith is piqued, then here is a list of fabulous monoliths around the world, both natural and man-made, that are highly unlikely to disappear before you have a chance to pack a bag and get there to see them firsthand.
1. Uluru, Northern Territory, Australia
Uluru, formerly called Ayers Rock, is the emblematic symbol of Australia, a red rock in the middle of a desert, hundreds of miles from the nearest civilization. Often deemed the world's largest sandstone monolith, the huge rock is around 550 million years old and is a sacred site for the local resident Anangu people, whose culture dates back some 60,000 years. According to the aboriginal stories, Uluru was formed during the Dreaming, a term that refers to the era when the earth and its people were created by ancestral spirits. There had been a long ongoing debate as to whether tourists should have been allowed to climb Uluru, experiencing the climb and the stunning views from the top, yet distressing and insulting the local people, who revere the rock as holy and not to be touched by outsiders. Luckily, the climbing has now been stopped, but visitors can still appreciate the various facets of this stunning monolith from up close by walking around its base, taking in ancient rock carvings and sacred sites along the way.
See a fellow TravelAwaits writer's recommendations for the 12 best ways to experience Uluru.
2. Zuma Rock, Nigeria
At 2,379 feet tall, twice as high but only a third of the length of Uluru, Zuma Rock in Nigeria is an impressive sight, and one wrapped in many myths and legends. The face-like pattern that can be seen on the side of the rock is thought to be a depiction of a deity, while the local Gwari people believe the monolith to be a gateway to the afterlife. During the rainy season, the rock is said to catch fire, a natural phenomenon of rain-loosened falling rocks creating sparks but seen by many locals as a divine phenomenon, while the rock is also said to have powers to scare enemies away. Whichever way you look at it, the fact is that this is a truly stunning natural formation that is well worth taking the Abuja-Kaduna expressway next time you find yourself in Nigeria.
3. Sugarloaf Mountain, Rio De Janeiro, Brazil
Another iconic monolith, Sugarloaf Mountain is one of the sights to visit when in Rio de Janeiro and has a unique shape that truly looks like the conical way sugar was sold until loose sugar was introduced in the late 1800s. Although a conical sugarloaf was first recorded back in the 12th century, this sugarloaf is somewhat older — around 600 million years old, in fact. You can access the top by two-stop cable car to enjoy fantastic views across the city and the Atlantic Ocean while saying hello to some small Marmoset monkeys that live at the top.
4. Gibraltar, UK/Spain
Talking about monkeys, on this rock at the southern tip of Europe, a mere 14 miles from the northern African coast, a population of 200+ Barbary macaques call Gibraltar home and hold the distinction of being the only wild monkeys in Europe. The monolith itself, which you can ascend by cable car, is a 1396-foot-tall limestone rock, heavily debated as belonging to the British Overseas Territory, but part of mainland Spain, and in a strategic location at the entrance to the Mediterranean. Visiting the rock of Gibraltar is like stepping into another world when you are coming from Spain: Suddenly you are surrounded by pubs and fish and chip shops and everybody speaks English. And for an added thrill, rather than just gazing at Africa, you can take a ferry across to Tangier for the day.
5. Sigiriya Rock, Sri Lanka
This Lion Rock in Sri Lanka is a hardened magma plug from an extinct volcano. Towering over the surrounding jungle, the vantage point was used to build a fortress on the top plateau, the ancient complex of which was also used as a monastery. The fort, various gardens, and the spectacular views from the top attract many visitors each year, all of whom must ascend via the steps that wind their way up along the side of the rockface. After an impressive entrance through the feet of a lion, you must climb up 1,200 steps, clinging onto the side of the mountain, with traffic going both ways. Worth it, but it is certainly not for the faint-hearted — or those with weak knees.
6. El Capitan, Yosemite, California
From ancient magma and sand or limestone rocks, we move onto this 3,000-foot granite monolith, El Capitan in Yosemite National Park. At 2.5 times the height of the Empire State Building and three times the height of the Eiffel Tower, you might be surprised to hear that this is a favorite spot for rock climbers, but there you are. One person, Alex Honnold, has even free climbed the sheer walls of this monolith. Personally, I think it is a stunning enough rock to just look at while you are hiking or merely strolling through the national park's beautiful landscapes, but there is nothing quite like a challenge.
7. Devils Tower, Wyoming
Of all these rocks, I think the Devils Tower is one of the most stunning. Formed from igneous rock, which makes it another extinct volcano plug, it stands 5,112 feet tall, towering over the landscape and looking quite eerie. Eerie enough indeed to feature in Spielberg's film Close Encounters of the Third Kind made back in 1977. The imposing structure is deemed sacred by many Indigenous American peoples, whose names for the monolith refer to bears rather than the devil, making it seem less scary. With its columns reminiscent of the Giant's Causeway in Ireland and the basalt columns in Iceland, it is another popular place for rock climbers, and there was even, at one time, a wooden ladder that could be used by daredevils.
8. Stone Of The Pregnant Woman, Baalbek, Lebanon
From natural monoliths to the largest man-made monolith in the world: The Stone of the Pregnant Woman was discovered by a team of German and Lebanese archaeologists in 2014 in the city of Baalbek in Lebanon. Baalbek, formerly known as Heliopolis, is located in Lebanon's interior and is home to fantastic Roman temples, which play host to the annual Baalbek festival. The Stone of the Pregnant Woman, whose name remains shrouded in legend, is one of a series of three huge man-made monoliths found in a quarry here. All were likely destined for the Roman complex, but the ancient project was halted for unknown reasons.
9. Gommateshwara Statue, Shravanabelagola, Karnataka, India
Last, but certainly not least, the Gommateshwara statue, which is the largest manmade monolithic statue in the world — that is, the largest statue hewn from a single piece of stone, in this case, granite. Standing 57 feet tall and carved in around 981 A.D., it depicts Bahubali, the founder of Jainism. Not unlike in Baalbek, where there is one, there are others: In this region, there reportedly are five large, freestanding monolithic statues of Bahubali, all standing more than 20 feet tall, but this one is the tallest.
This is only a very brief selection of interesting monoliths around the world, and there are so many more that will not disappear at a moment's notice,. And all have intrinsically more history and legend to their name than the current newsworthy metal monoliths. Just think of Stonehenge and Avebury, the moai on Easter Island, and even the fabulous Stone Mountain in Georgia (the U.S. state) with its bas relief. Once you start looking, finding a monolith near you, or on your next trip, should prove just as much fun as keeping track of the current metal ones.