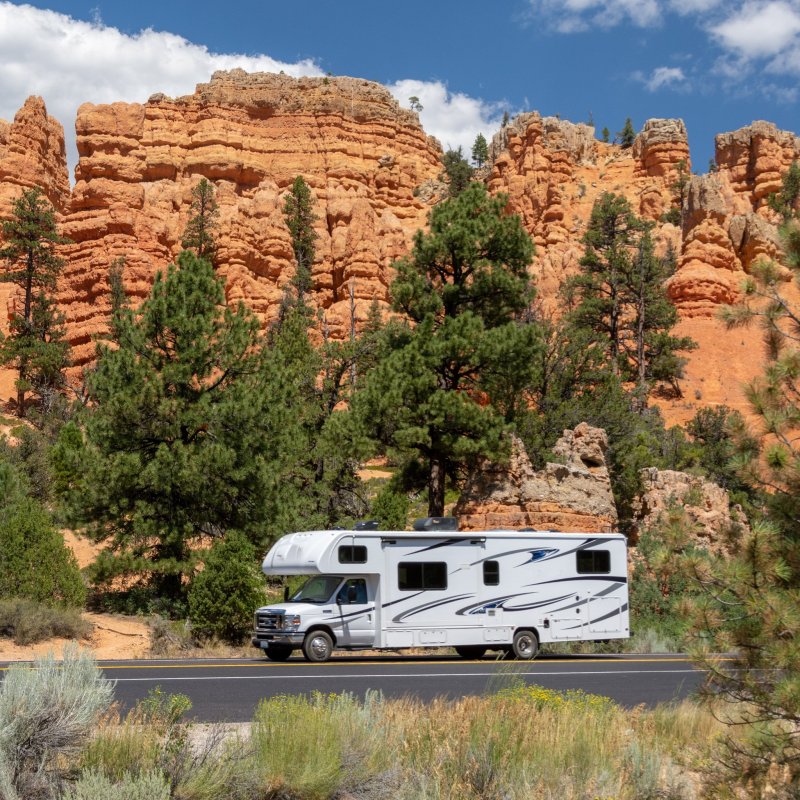 With social distancing and wide-open spaces a must since the pandemic, RVing emerged as a favorite way to safely travel. From newbies to experienced travelers, many tried RVing for the first time. And of course we love our national parks, so it makes sense that RV renters headed to National Park Service (NPS) gems near home and across the country this year.
RVshare, which facilitates RV rentals and conducts industry research, released a list of the top five national park destinations for RV travelers this year. We were inspired by their picks — and even a bit surprised by the beautiful park that came in at number five! With so many beautiful parks from which to choose, it's difficult to pick only five, but these are the parks RVers visited and enjoyed most in 2020.
1. Yellowstone National Park
The first designated national park in the U.S. is also RVshare's top pick. The parkland spans three states: Idaho, Montana, and Wyoming (where the majority of the park is located). Each year, more than 4 million people witness Yellowstone's immense beauty highlighted by its hydrothermal dynamo, Old Faithful. The world-famous geyser is located in Yellowstone's Upper Geyser Basin.
The National Park Service recommends RVers study all the campgrounds in the park, because your vehicle's size may affect where you can camp. Some campgrounds require reservations, so plan ahead by visiting the park's website.
Yellowstone National Park is beautiful in every season, so check out our best things to do, plus the best hikes to try while enjoying its beauty in your RV.
2. Zion National Park
Close runner up: Utah's Zion National Park — a collection of the world's most beautiful red sandstone canyons and peaks. Cutting through it is the Virgin River, which means Zion attracts all sorts of outdoor enthusiasts including boaters, kayakers, hikers, climbers, bikers, and walkers.
The National Park Service recommends RVers avoid peak season, which is lengthy, running from February to November, but the park's beauty in winter is unmatched. See our tips to make the most of your Zion visit, and prepare yourself with our guides if you plan to hike the park's famous Angel's Landing or The Narrows trails.
3. Great Smoky Mountains National Park
Stretching from East Tennessee into North Carolina, covering more than 500,000 acres, this park remains one of the most popular parks in the U.S. in part due to its proximity to the more densely populated East Coast, and RVshare situates it squarely in the Top 3 NPS destinations for RVers. Lush forest, beautiful mountains, flowing streams, and plant and animal life abound. Be sure not to miss pastoral Cades Cove or the many beautiful Smoky Mountain hikes available for all hiking levels.
The National Park Service recommends making reservations in advance, especially if you're planning on visiting around Christmas or July 4th, which are peak times for visitors.
One special event in the park happens every June: Don't miss it when the Smoky Mountain's synchronous fireflies put on their magnificent show.
4. Grand Canyon National Park
The grand jewel of Arizona, Grand Canyon National Park covers 277 miles and is highlighted by the Colorado River and the immense canyon it cuts through. Millions of years of geologic history are visible via the many colorful bands of rock along the canyon walls.
As big as the park is, there actually are limited parking and camping options for oversized vehicles. The National Park Service recommends the South Rim for RVers, but even there, parking is at a premium. The North Rim does close in the winter, so plan accordingly. No matter which season you visit, be sure to check out these tips for hiking this gorgeous national park.
5. Sequoia National Park
Known as the Land of Giants, this breathtaking California park features painting-like landscapes that display nature's beauty and size. Mountains, rugged canyons, and caverns, and of course the Sequoias, the world's largest trees.
Sequoia actually features its own RV park in Three Rivers, California, which is just a few minutes' drive from the main park entrance. The campground is known for its beauty and convenience and is often compared to private resorts.
Tips For RVers
Inspired by these beloved national parks? You may want to invest in a National Parks Season Pass before you hit the road. If you're new to RVing, take a look at these essential tips for first-time RVers, and if you're new to RV renting, we have tips as well as a checklist for you. Thinking about trying boondocking? You'll definitely need to be prepared with these tips to have the best experience and know how to stay safe. If you don't know what boondocking is or why people love it yet, find out here.
RVshare is the world's first and largest peer-to-peer RV rental marketplace. With thousands of satisfied customers and a broad inventory ranging from travel trailers to luxury motorhomes, RVshare has the perfect RV for your vacation, tailgate, or temporary lodging needs.