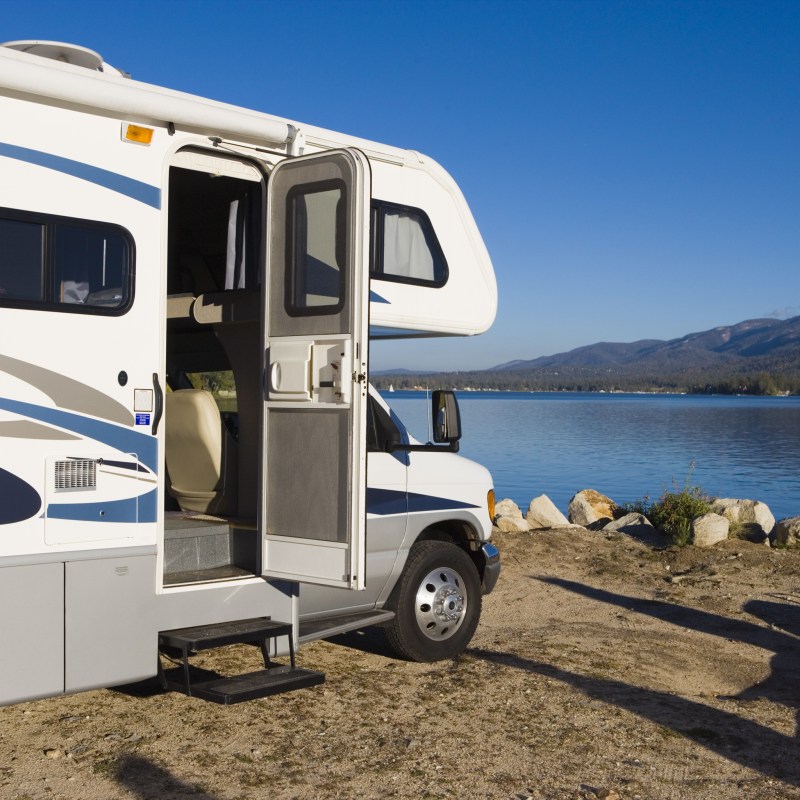 As the daughter of a career United States Army officer, I grew up as part of a community of modern-day global nomads affectionately called military brats. This upbringing shaped my adult life in several ways. It led to my decision to raise my four children in one spot, allowing them to grow deep roots while exploring beyond their bubble through travel. But after living in one spot for the past 20 years, I've considered spending my empty-nester years exploring North America in a new nomadic way: in an RV.
It turns out that my 50-something self is not alone in wanting to embrace RV travel. A study conducted by the Recreational Vehicle Industry Association found that the average age of today's RV traveler is 48, and members of Generation X and Baby Boomers make up the largest segments of the market.
But jumping into a full-time life on the road in an RV can be a big step. That's why I recommend easing into it with an RV rental. Whether you rent through Cruise America, America's largest RV rental firm (and spend your trip in a rig that serves as a moving billboard), or you use a person-to-person RV rental marketplace like RVshare or Outdoorsy (which match RV owners with RV renters a la Airbnb or Vrbo), here are seven things to know before renting an RV.
1. Be Mindful Of Mileage Allowances
While I can't remember the last time I rented a car and had to worry about mileage, an RV rental is quite different. Most RV rental agreements include a daily mileage allowance of around 100 to 150 miles. Each additional mile driven comes with a charge that can range from $0.25 to $0.40 per mile.
While it is relatively easy to estimate how many miles you'll travel on your journey from Point A to Point B, it's more difficult to predict the unknowns. You might want to add attractions to your itinerary after a persuasive billboard or a local's recommendation piques your interest. You might also encounter unexpected detours due to road construction or simply want to see where a certain road leads.
If you plan on taking a one-week RV road trip across Missouri from Kansas City to Saint Louis, it's easy to calculate the 500-mile round-trip distance on Interstate 70. With a 100-mile-per-day allowance, a seven-day adventure leaves plenty of room for flexibility. But according to the experts at RVshare, it's not uncommon to drive double the miles you intended in your RV rental. If additional miles are billed at $0.38 per mile and you end up driving 1,000 miles on your vacation, expect to incur an additional $114 fee when you return the rig (300 extra miles x $0.38/mile = $114).
Pro Tip: If minding your mileage is a concern, consider an RV rental with unlimited miles. While they're not always offered, many RV rental companies do have select vehicles that come with unlimited miles.
2. Guard Your Generator Use
As with mileage allowances, most RV rentals charge for excess generator use. If you'll be spending your nights at campgrounds that include electrical hookups and will only be using the interior lights, outlets, and other amenities powered by electricity, you should be able to enjoy your trip without worrying about added fees for generator use.
But if you will be dry camping or boondocking — that is, overnighting in an area without electrical hookups — you'll want to be mindful of the daily allowance for the generator. RV rentals often include 2 to 4 hours of generator use per day, charging $4 per hour (or more) for each hour of additional use.
So if you're spending the week off the beaten path, running the generator to watch movies, keep the interior lights on well past sundown, and heat or cool the RV can quickly add up.
3. Understand The Pet Policy
As midlife travelers ease into their lives as empty nesters, fur babies often take center stage. So it's no surprise that more than 65 percent of RVers bring Fido on the road with them. If you'd like your four-legged friend to join you on your RV adventure, you need to understand the rental's pet policy.
Cruise America offers pet-friendly RV rentals at every location in North America. There are no restrictions on the number of animals or size or breed of dog or cat traveling with you. Additionally, there are no pet deposits required or additional fees charged. The company simply asks that you return the RV in its original condition and clean up after your pet. Only if you fail to do so will you be charged an additional cleaning fee.
At RV rental companies that match RV owners with RV renters, the pet policy is left up to the RV owner.
4. Inquire About Insurance
Just like insurance is mandatory to operate a car, it is required to operate an RV. Insurance policy coverage, deductibles, and cost vary by RV rental company, so be sure you fully understand each before renting an RV.
As a first step, contact your automobile insurance provider to understand what is already included in your current policy. As a military brat, I'm fortunate to have USAA as my insurance provider. My existing automobile policy covers RV rentals with the same levels of coverage and the same deductibles as my personal vehicle.
If that's not the case for you, then the next step is to explore add-on options available through your automobile insurance provider or the RV rental company. Most RV rental companies will offer insurance coverage for an additional fee. But be mindful of the fees and deductibles associated with the insurance offered. And do your research so that you aren't paying for coverage that's already included in your existing policies.
5. Research Roadside Assistance
Nothing will put a damper on your RV road trip faster than an overheated engine, flat tire, or other inconvenience that has you sitting by the side of the road rather than exploring. Similar to liability and collision insurance, you should research and fully understand your options for roadside assistance before renting an RV. You might already have coverage through your existing personal policy. A certain level of support may be included in your RV rental, and additional coverage is likely to be offered.
Pro Tip: Many RV rental companies include a spare tire and tire jack in the rig and will not send someone out to your RV to change your tire as part of their roadside assistance plan. If it's been a while since you've changed a tire, you might want to refresh your skills or establish a backup plan before you hit the road.
6. Return The Rig With A Full Tank Of Gas
The gas tank in an RV can range from 25 to 150 gallons, and you'll be expected to return the rig with a full tank of gas. Failure to do so will likely result in additional fees.
Most RVs use regular unleaded gasoline, just like the average American car. But some rigs may require diesel. Be sure you know what sort of fuel is recommended for the RV before departing on your trip.
If you're renting a smaller RV, like a camper van or another Class B option, fueling the vehicle may not be any different than fueling your personal vehicle. But when it comes to fueling a large RV, like a Class A rig, you might want to fill up at an RV-friendly station like Pilot or Flying J. Not only do their parking lots allow ample space to navigate a 45-foot-long RV, but there are also dedicated pumps for RV drivers.
7. Empty The Tanks
RVs have two used water holding tanks: one for gray water and one for black water. The black water tank holds everything that is flushed down the toilet, and the gray water tank holds everything else. Before you return your RV, you need to empty both of these tanks. Otherwise, you'll likely be charged an additional fee for the rental company or RV owner to perform this task for you.
Renting an RV is a great way to take RV travel for a test run. It allows you to try a variety of camping options — from campers and trailers you pull with your own vehicle to motorized RVs in a variety of sizes — to determine what specifications work best for you and your camping needs. And, based on your experience, budget, and future plans, you might find that renting an RV is a better option for you than purchasing your own.
For more on RVing, see all our RVing content here. You can also find inspiration in our suggested road trips.