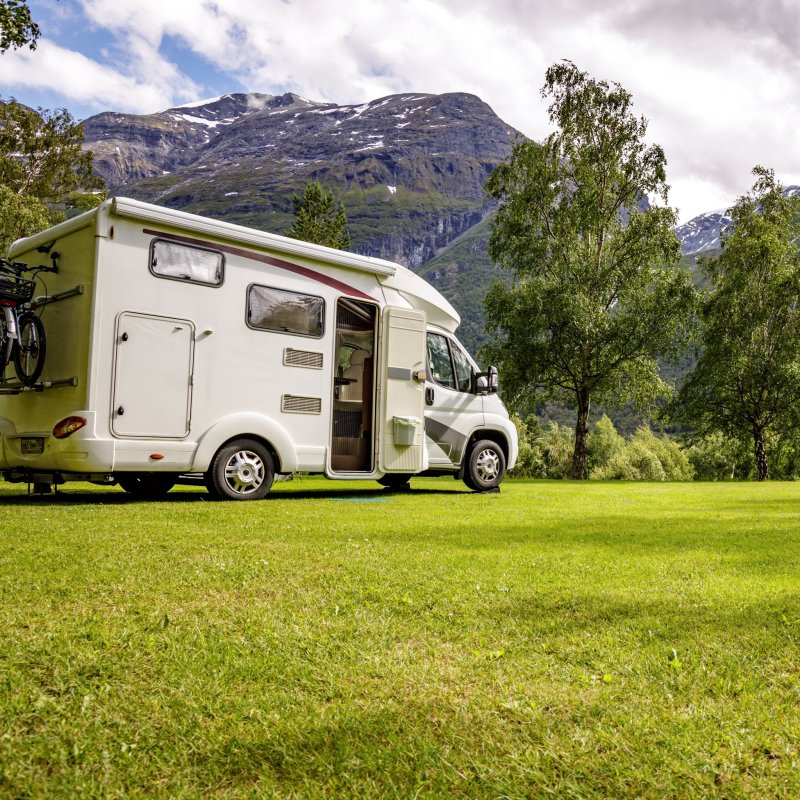 For many, the first RV trip is filled with excitement and a dash of fear. Or a few tablespoons. But your first time heading out doesn't have to be a recipe for disaster.
My very first trip went incredibly. I got the RV hooked up cleanly, safely, and without issue. I took my foot off the break — and then remembered to release the emergency break — and I slowly drove away. I was a bit in awe that I was suddenly towing 11,000 pounds of my life behind me. And it was … easy. This was until I got to the RV resort. Within 10 minutes of arriving, I managed to dent the side of my truck trying to back into my spot, sit in a pile of fire ants while trying to place the wheel chocks, and step in overflow sewage from a big storm that came through the night before while trying to hook up my water. But aside from that, I looked like a pro!
Here's a little about what I've learned during my first three months of full-time RVing to hopefully help you avoid some of the same newbie mistakes I grew from.
1. Do Your Homework
Get answers on your concerns, but don't feel like you have to become an expert before you even start. YouTube is available on your phone while you're on the go for anything that comes up. There is literally a video for almost everything. There are social media groups for RV newbies that offer a ton of helpful information as well. There are kind people who want to help you at the parks. Many RV resort managers are helpful people who get lots of questions they want to help their guests with. You can even ask them to have someone help you to your site. They will ride a golf cart or truck in front of you and guide you into your site so you can avoid many of the truck-denting mistakes I made. Just plan to arrive during business hours, but some will even have people come help you after hours. You'll learn quickly at campgrounds — people really are inherently good.
2. Practice Basic Driving Safety
Always check your mirrors. It takes a bit to get used to your rearview mirror being useless. Still, you always need to know where all of the cars are on the road around you. I personally never drive faster than 60 miles per hour and often try to cap it at 58. I'm sure I've annoyed a few people on the road, but this has been a huge contributing factor to having zero accidents and minimal damage during four separate tire blowouts. (I've since replaced all of my tires.) On this note, I highly recommend that you get a TPMS system for your rig. This is a Tire Pressure Monitoring System that includes sensors you put on your tires that track to a device to give you warning if your tire inflation increases or decreases past a safe, predetermined measure. I also have a Good Sam membership so that I'm covered with help when these instances come up (I also receive 10 percent discounts at many campgrounds and at Camping World). One word of caution: When you have an inflated spare, as a member you pay nothing for the help that arrives. If you don't, be prepared to pay $400 for a $100 tire replacement.
3. Book A Pull-Through Site
If you're not sure about your ability to back into a spot, start your first trip (or more) searching for places with pull-through sites you can reserve. You truly just pull right into the spot and hook up — no left-turn, right-turn, backward magic needed. By looking at the photos and reviews on campsites, I've been able to accurately choose sites that are right for the experience I'm looking to have. I've found nearly all of the RV resort sites I've gone to have provided nature, some equally as beautiful as what a state or national park would provide. Paying attention to the logistics of where you're heading, consuming the info that matters to you, and booking appropriately will be a big contributing factor to how much you enjoy your stay.
4. Getting Places Takes Longer
I don't recommend traveling more than 350 to 400 miles a day. If your GPS tells you it's going to take you six hours to get somewhere, you can and should add on at least 1.5 to two hours with an RV as you burn gas quicker, should drive slower, and sometimes have unique things happen. I've been flagged down when my bedroom windows decided to pop out of their locked position and start flapping around in the wind. As a full-time working RVer, I also choose to travel on Saturdays so I have a day extra in case anything goes wrong. This gives me a day to unpack and settle in before starting work on Monday. Whatever your reason for RVing, make sure to plan extra time for travel days and assume things may go wrong. Don't expect them to, but if you've planned for breaks and potential delays, when you arrive early with no issues, it will be an added reward.
5. Stick To A Safety Checklist
Finding my car keys can sometimes be a five-minute obstacle challenge. The idea of remembering every step I need to take to ensure my rig is safe and securely set up was daunting. I started establishing a numbers rule. For example, I have five things I need to do to hook up my 5th wheel:
Close ball mount to lock
Lock padlock into place to avoid lock lever from slipping
Secure safety chains
Secure safety release pin
Plug in electric
Remembering that I accomplished five things helps me walk through the list in my mind and do a double check before hopping out of the truck bed while ensuring I didn't forget anything. I do the same with the outside of my RV to ensure I remember to turn off the gas, check that the windows are securely shut (lesson learned), and other small things that can be very easy to forget. Some people prefer a checklist, but I've found the number game helps me set up or tear down much faster without relying on a list that I most likely misplaced in the same place I left my car keys.
6. Safety First
It's easy to have concerns of safety whenever you're traveling. Especially when heading into the outdoors where things seem to be a bit more open and free. Most RV parks and campsites are incredibly safe. The majority of people are on vacation, relaxing with families and having a good time. Full-timers are just trying to live their best life and not be bothered with things. Most people aren't going camping to add to their cooler collection. That's not to say it hasn't happened, so you should use your best judgement. I have a $100 lawn chair that I used to bring in every night and eventually got tired of the hassle. It's been safe for three months and counting. If I had a $400 YETI cooler, I'd probably lock it up or keep it inside my RV or truck. Same with bicycles. Side note: It's best to not leave your coolers outside regardless of value. You don't want to be a target for all of the critters looking for a free meal, and you don't want to train them that being around people is a smart idea.
As far as personal safety goes, I'm a female traveling alone. I have read hundreds of articles on what to look out for, what to be concerned about, et cetera. The reality is, most people who are out camping are having a good time with loved ones. If you feel uncomfortable for any reason, listen to your gut. Campsites aren't that expensive, and it's better to leave and be safe than take your chances. There is a very random possibility of someone getting drunk and disorderly at some of the less-policed sites, but even then, they'll most likely only hurt themselves (with a massive hangover) and won't really bother anyone else outside of being loud after curfew. More on that in my final tip.
7. Avoid A Stinky Situation
So many people fear the black tank. If funneling your poo through a tube with a chance of backsplash doesn't unnerve you a little bit, then you most likely lead a very eccentric lifestyle, and I hope you write a book someday. For the rest of us, here are a few things to do to not be intimidated by your poo:
Always dump your black tank first.
Dump your gray tank after, and ensure it's at least two-thirds full so that it washes your hose out well.
Once your hose is connected to the ground dump outlet, you can leave your gray tank open if you'd like so that shower, dishwashing, and other water isn't something you need to worry about overflowing your tanks. But don't leave your black tank open. You need the black water to collect to ensure all of the particles will wash out and not dry up and create blockages.
Most sites also have heavy stones or bricks to place on top of your hose to ensure it doesn't break free from the dump drain when the pressure of the valves release. Unless odds are often in your favor and you're feeling lucky, I recommend using these. And for the love of germophobes everywhere, please wear gloves.
Add a tablespoon and a quarter cup of grease-fighting dish soap to your sink and shower drains with half-full gray water tanks before hitting the road. The shaking will provide a dishwasher-like experience that will clean out residue that can block your sensors and cause a foul smell in your RV. If you do experience a nasty smell coming from your drains, don't use bleach. It can damage your PEX piping. Some people use vinegar and baking soda or the dish soap treatment. There are also commercial products to help clean your pipes, but homemade remedies work just as well and save you money. You can also buy an attachment to your RV that will allow you to rinse it and break up some of the collective debris.
8. The Golden Rule
Most of the smaller sites I've gone to have excellent guidelines for their property, which they email to you in advance of your stay. There are strict curfews for noise, rules for pets, guidelines for trash, and limitations on light pollution. (Yes that's a thing. If you're not familiar, at a certain hour, please turn off your outside lights so people can enjoy looking at the stars and being in nature without the glow of the sweet new halogen beams you installed last week. I'm talking to you, guy posting your lawnchair one foot from my slideout, yelling into your cell phone about your super rad lights you installed). These kinds of disturbances can happen. Some people assume everyone else likes country. Or rap. Or mariachi. They are going to TURN. IT. UP. because it's their weekend OUT! Usually, when this happens, it's the weekend and people have gotten into an unfamiliar environment (nature) and forget they're not in their own backyards. Odds are, their subdivision neighbors think they're annoying, too. Thankfully, you only have to deal with them for a few days.
Can you listen to music? Of course! Can you have lights on when you're busy outside? Heck yeah! Can you enjoy a great time with friends and family? That's the best part of camping! Just use the golden rule and read the room. (In this case, the grand, outdoor room.) If you'd be annoyed if someone else was doing the same thing to you, then stop doing it. If you really don't want to deal with weekend noise, I recommend reading up on site reviews to ensure you'll have the kind of stay you're looking for. There are plenty of incredible sites that have well-monitored and enforced rules. If you're looking to party and want to ensure fellow campers will be tolerant of the rave you have scheduled for your family reunion, then the reviews will also guide you to the right park where you can out-drink and out-yell each other all night long.
The experiences you have while RVing are memories you'll have for the rest of your life. Every trip will be etched on the timeline of the story you're creating. You'll meet new people from all walks of life. You may realize you're capable of more than you've realized, whether it's replumbing your sink lines or cooking the perfect s'more. Though I've had a few unexpected setbacks, this experience has allowed me to feel empowered, energized, and excited about the things I was learning — even when it meant finding the cure for fire ant bites and the best way to disinfect tennis shoes from sewage as thoroughly as possible.
You're about to embark on a level of exploration that's impossible to imagine. Finding beauty in the simplest of things. Finding patience you've been too impatient to experience. Finding relaxation in the abundance of nature. Finding strength that's been dormant in a scheduled life. I'm excited for you and the incredible opportunities that RVing will allow you to uncover.
For more inspiration, consider
RVshare is the world's first and largest peer-to-peer RV rental marketplace. With thousands of satisfied customers and a broad inventory ranging from travel trailers to luxury motorhomes, RVshare has the perfect RV for your vacation, tailgate, or temporary lodging needs.