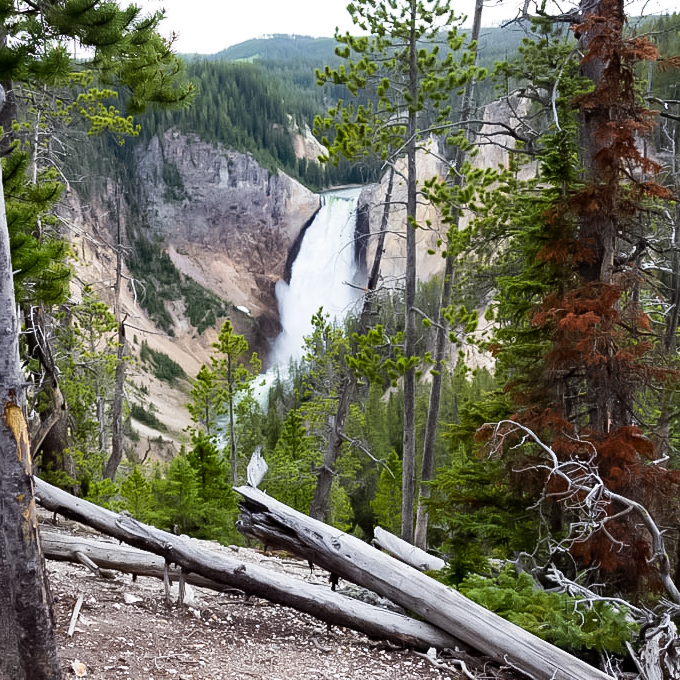 Home to majestic mountains, big skies, and everything huckleberry, Montana is a uniquely beautiful (and delicious) place. My favorite time to visit the Treasure State is in the summer. As warming temperatures and longer days melt snow into crashing waterfalls, abundant sunshine helps fill grassy meadows with wildflowers.
One of the best places to witness the untouched natural beauty of this Rocky Mountain state is Yellowstone National Park. Not only is it America's first national park, but it's unlike any other park in the system when it comes to spotting a wide variety of wildlife in its natural environment. So it's no wonder that these trails are best experienced between May and September.
Because my in-laws live near Yellowstone National Park, we visit regularly, exploring the 2.2 million acre park by car, by boat, or on foot. While there are more than 900 miles of hiking trails throughout Yellowstone National Park, my favorites lean toward easier hikes with views that are worth the strain they put on my knees.
1. Fountain Paintpot Trail
Located in the Lower Geyser Basin, the Fountain Paintpot Trail is a half-mile, boardwalk trail that exposes visitors to all four hydrothermal features on display at Yellowstone National Park: geysers, mudpots, hot springs, and fumaroles. As is the case with the majority of the boardwalk trails at Yellowstone National Park, the Fountain Paintpot Trail is a relatively flat, short, and even-surface trail with plenty to see. As posted on warning signs throughout Yellowstone National Park, visitors must remain on the boardwalk at all times so as not to injure themselves or disturb the natural features.
During one of our visits, a bison who was still sloughing his heavy winter coat trotted up the middle of the boardwalk, parting stunned tourists like the Red Sea. When he reached the Red Spouter, a hissing fumarole that spews rust-colored scalding water, he hopped off of the boardwalk trail and rolled around in the red dirt like a dog rolls in the grass. (Clearly, he didn't read the warning sign about staying on the boardwalk!)
2. Artist Paintpots Trail
A short drive south from Fountain Paintpot Trail, the Artist Paintpots Trail weaves through colorful hot springs, bubbling mudpots, and other geothermal features. Beyond the fascinating scenery, this one-mile loop is one of my favorite hikes in Yellowstone because of the sheer number of thermal features. On this hike, you'll see approximately 50 deceptively cool-looking hot springs, spouting geysers, and gurgling mudpots.
3. Midway Geyser Basin Trail
Another relatively flat boardwalk trail is the Midway Geyser Basin Trail. This 0.8 mile loop winds past the Turquoise Pool and the Opal Pool before reaching the Grand Prismatic Spring. Although it looks like a cool and inviting pool encircled by a misty rainbow, the Grand Prismatic Spring is a scalding 170 degrees. And, as the largest hot spring in the United States, this colorful attraction is nearly as famous as Old Faithful.
4. Grand Prismatic Spring Overlook
While the Grand Prismatic Spring is an impressive sight from the Midway Geyser Basin Trail, it's spectacular when viewed from the Grand Prismatic Spring Overlook. This hiking trail is a little longer and a little more challenging than the Midway Geyser Basin Trail. Expect to hike about 1.6 miles roundtrip and to ascend a steep incline and some stairs to reach the ideal viewing spot.
5. Observation Point Trail
The most famous thermal feature at Yellowstone National Park is Old Faithful. And as its name suggests, rangers can predict its 17 daily eruptions with 90 percent confidence. What you can expect with 100 percent confidence is that the viewing area around the world-renowned geyser will be packed with people waiting to watch Mother Nature's water fountain show.
For a different perspective, hike the Observation Point Trail, which gives you a bird's-eye view, instead. Similar to the Grand Prismatic Spring Overlook, this hike is about 1.6 miles long with some strenuous parts, including steps, required to reach the optimal viewing point.
6. Mystic Falls Trail
Also near Old Faithful, the Mystic Falls Trail is a relatively flat (only 150-foot elevation change) 2.5-mile out-and-back trail that treats hikers to a 70-foot waterfall. Given the area's geothermal activity, this trail is often surrounded by steam seeping from the earth, creating an eerie mist.
7. Mammoth Terraces Trail
After the rainbow of colors on display at the Artist Paintpots Trail or surrounding the Grand Prismatic Spring, the Mammoth Terraces Trail is more black and white than technicolor. In fact, the native Shoshone and Bannock tribes collected minerals from Mammoth Hot Springs to make white paint for ceremonies. This 1.3-mile trail is considered easy to intermediate with a total ascent of about 400 feet.
Pro Tip: To see more of this area (but give your feet a break), motor through Upper Terrace Drive. This 1.5-mile one-way loop provides a different view of the terrain in this part of Yellowstone National Park. (Note: No busses, RVs, or trailers are allowed on Upper Terrace Drive.)
8. Brink Of Lower Falls Via North Rim Trail
Despite many trips to Yellowstone National Park, my first visit to the Grand Canyon of Yellowstone was this past summer. Not as grand as the similarly named feature in Arizona, this canyon is still nearly 25 miles long, between 0.25 and 0.75 miles wide, and as deep as 1,200 feet. While there are many trails surrounding the Grand Canyon of Yellowstone, the Brink of Lower Falls via North Rim Trail treats hikers to a waterfall. This relatively easy trail is about 2.3 miles from start to finish with a total elevation change of just under 500 feet.
9. North Rim Trail
If you want a bit more of a challenge (and still want to see a waterfall), then consider the North Rim Trail. Hugging the north side of the Grand Canyon of Yellowstone, the North Rim Trail is about eight miles out and back with a total elevation change of just over 1,100 feet.
10. Uncle Tom's Trail
At the western edge of the Grand Canyon of Yellowstone, Uncle Tom's Trail is short but steep. This 0.6-mile out-and-back trail is essentially a metal staircase and paved ramp that descends 20-stories into the Lower Falls. (And remember, if you climb down all of those stairs, you'll eventually need to climb back up!) But if you're up to the task, this hike will give you a unique (often rainbow-filled) perspective of the canyon and waterfall.
Tips For Hiking In Yellowstone National Park
No matter which trails you choose to hike at Yellowstone National Park, it's important to remember that you are surrounded by untamed wildlife. Yes, the herds of bison lazily grazing on prairie grass or sitting in a wildflower-filled meadow look docile, but despite their size, they can move fast and their horns are sharp.
And every animal mother is protective of her young. If you plan to hike in more remote areas of Yellowstone National Park, be sure to wear bear bells and carry bear spray. Even experienced hikers can be injured or killed if they surprise a mother bear with cubs.
Speaking of animals, if you plan to visit Yellowstone National Park with your pets, they are allowed in public areas, parking lots, and within 100 feet of any road. Your dog must be leashed at all times, and dogs are never allowed on hiking trails.
From half-mile, relatively flat boardwalk loops that weave through hot springs to long and steep treks that hug the Grand Canyon of Yellowstone, these are my favorite hikes at Yellowstone National Park. We hope you find one that's perfect for you, too.
Want to hit the trails in Colorado? These are the best hikes in Rocky Mountain National Park.